Top 5 Quiet Scroll Saw Options for Apartments and Workshops
Looking for a quiet scroll saw for your projects?. Well, then you've come to the right place.  In this guide, you can expect to learn the following:
What scroll saw is
How does a scroll saw work?
Our top-rated quiet scroll saw picks
What to look for when choosing a scroll saw
And more…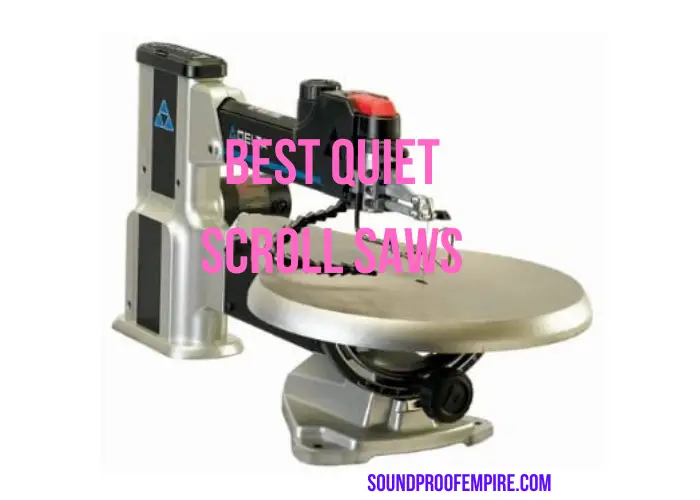 If your projects require intricate cuts, such as those needed when you craft gingerbread trim or fashion elaborate jewelry boxes, wood signs, or birdhouses, your go-to carpentry tool may be out of its league.
For a more equipped option, consider the scroll saw. These specialty saws are considered essential tools for woodworking, particularly indispensable for craftsmen and artisan woodworkers looking to add finer details.
It is tough to beat the precise cutting action that a scroll saw brings especially one that's of high quality.
If you are looking for a quiet scroll saw, then this guide may be the one for you. Here, tips on choosing the best quietest scroll saw and the best-rated quiet scroll saws are covered to help you make an informed decision.
Also read:
Best reciprocating saws with less noise
The top-rated quietest miter saws
Our highest rated quietest chainsaws
What is a Scroll Saw and How Does It Work?
A scroll saw is a small electric or pedal-operated saw used to cut intricate curves in wood, metal, or other materials. The fineness of its blade allows you to cut more delicately than a power jigsaw and more easily than a hand-coping saw or fretsaw.
Unlike other saws, the scroll saw is capable of creating curves with edges by pivoting its table.
Even though the scroll saw is not the top-of-the-list tool for most DIYers or woodworkers, it's more of a specialty tool, but making intricate cuts in small, delicate parts makes it an indispensable tool.
The scroll saw works in such a way that it uses a compact machine with a fine saw blade that moves up and down in a quick motion.
The up-and-down movement lets you cut through the wood rapidly while the small blade width allows you to make more complex cuts.  It is a machine made mainly for delicate pieces.
A scroll saw is very similar to a band saw in that you push the wood up against the blade to get the desired cut that you need.
Scrow saws allow you to drill a starting hole and make inside of a piece of wood or cut from the outside and work your way inside. Unlike a band saw, the blade is short, very thin, and simply reciprocates up and down.
Scroll saw blades are available in various sizes and tooth patterns for use with different materials.
Best Quiet Scroll Saw Reviews
Whether you are a serious DIYer, artisan, or professional, an escrow saw can place an important role in your workshop. Here are some of the top-rated quietest scroll saws.
1). DEWALT DW788 Variable Speed Scroll Saw
The Dewalt DW788 is the whole package when it comes to scroll saws—this model is relatively quiet, easy to operate, and versatile enough to meet the needs of beginner and more discerning woodworkers alike.
As one of the top overall scroll saws for hobbyists in the market, the DEWALT DW788 has a depth of 20 inches that enables you to cut up to 2 inches deep or as shallow as ¾ of an inch. This escrow saw only accepts pinless (straight ) blades. One great thing about this is that it allows for tool-free blade changes which is a lifesaver.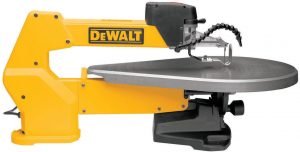 The points of control like the switch, speed control, and tension lever are conveniently located and easy to reach and control while you are working.
The oversized cast iron table also provides ample workspace for your projects and the machine has a double parallel-link arm that helps reduce vibrations.
In my opinion, the DEWALT DW788 is the best hobbyist-level scroll saw on the market right now. It is an excellent option for woodworkers of any skill level and provides a wide array of options at a mid-range price point.
---
2). Delta Power Tools 40-694 20 Inch Variable Speed Scroll Saw
Tackle larger woodworking projects with a scroll saw that offers plenty of power and greater throat depth. Delta Power Tools offers a 20-inch scroll saw with enough room and plenty of power to handle projects of all shapes and sizes.
This Delta scroll saw only accepts pinless blades out of the box. However, you can use pinned blades with it by using an adaptor.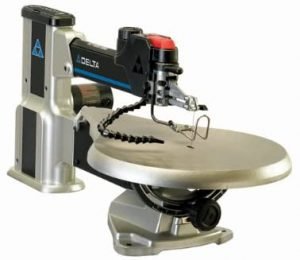 The Delta escrow saw has a 20-inch throat, thereby allowing you to cut thicker pieces of wood. Its table tilts between 0 and 45 degrees to allow for beveling.
When tackling large projects, it offers plenty of power and speeds up to 1,750 SPM to cut through even tough woods like walnut, according to real-life users.
The dust collection hose helps to keep the pattern lines or the work surface free of debris and dust.
Overall, this Delta 40-694 20-inch Variable Speed Scroll Saw is a great investment that is capable of helping you tackle scrolling projects of all sizes, making it a great option for bigger jobs.
---
3) Shop Fox W1713 16-Inch Variable Speed Scroll Saw
This Shop Fox W1713 16-Inch variable speed scroll saw is one of the best budget scroll saws in the market. So, if you feel like the DEWALT scroll saw is out of your price range, then this is an available option for you. This saw has a 16-Inch maximum cutting width.
The Shop Fox W1713 comes with a table that is slightly smaller than the Dewalt version, is still a hefty 16″ wide which should be plenty big enough in most cases.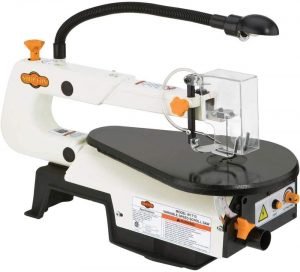 This saw comes with a couple of nice features like built-in light, dust collection ports, cast iron construction, variable speed control, extra cutting capacity, dust blower, large 45° tilt table, and easy blade changes.
The W1713 accepts standard plain or pin-end saw blades and is designed to make blade changes easy with the included adapters. This saw is also designed with quick blade changes in mind. This affordable quiet scroll saw is great for apartment use as well.
---
4). King Quiet Industrial 16-Inch Scroll Saw
The King Industrial 16″ Variable-Speed Scroll Saw has all of the power you need for continuous use.
This time-tested design provides a stable platform when cutting straight or on an angle. Unlike other scroll saws where the table is tilted for angled cuts, the entire head of this saw tilts 30° to the left and 45° to the right.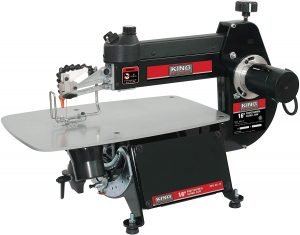 This allows the user to better control the workpiece on a flat table surface, for a more safe and more accurate cut.
The large 12″ x 18-1/2″ table surface provides stability and the 120V 1.3 amp constant torque permanent magnet motor provides the power.
Also, the solidly built upper and lower parallel arms keep the blade straight with minimal blade deflection, allowing for precise cuts and making this one of the most sought-after scroll saws on the market. This quiet scroll saw is ideal for professionals and larger projects.
---
5). Jet Scroll Saw with Stand
 This Jet escrow saw is innovative and has a thoughtful design. It has Jet's own exclusive upper mechanism clamps that tension the blade in one step. The toolless lower blade holder is removable and the table also has a slot for the blade.
The large 12-7/8" x 23" cast iron table provides a stable working surface while also limiting vibration and the slotted table allows for easier and quicker blade changes.
This scroll saw has a 22" throat capacity, ideal for cutting thicker materials. The arm can tilt at 45° right and 40° left, keeping the work table flat for more accurate cutting.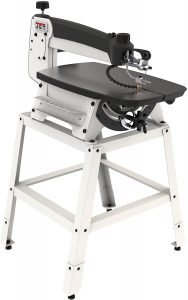 The integrated blade storage features slots for pre-loaded blades and a built-in wrench for changing blades, the stand can be adjusted to 4 different heights – 24-3/4″, 26-3/4″, 28-3/4″ or 31-3/4″ (using the leveling feet) and it has a variable speed range of 400 – 1550 strokes per minute.
In addition, the Onboard Dust Blower makes it easy to have a clean workstation to cut accurately and all controls are conveniently located.
 This saw is designed to optimize your scrolling experience. From the variable speed range to a top lift, spring loaded arm it comes fully loaded with all the features you'd expect.
The best part is that is also amazingly quiet and has almost zero vibrations. Even though it is pricey, it is well worth the price.
Factors to Consider When Choosing the Quietest Scroll Saw
If you decide that a scroll saw is precisely what you need to add to your workshop, here are a few things you will want to consider before making your final purchase.
Noise Levels
Almost all saws make noise when in use. But some are a lot quieter than others. If noise is a concern to you, then you need to factor that in when choosing a scroll saw. Luckily, all the models above are quiet in operation.
Speed
Most scroll saws will have a variable speed option allowing you to select the speed that is ideal for your work. If you are a beginner, you can set the scroll saw to a lower speed to allow you to learn how to control things before increasing it to high.
Size
If the material you intend to cut is thin, then the size of the saw may not be important to you. However, if you plan on cutting materials 10 or 20 inches thick, then you have to make sure the scroll sure you purchase will be able to do the work.
Blade Type
With the exception of blades made for very light-duty saws, typical scroll saw blades are five inches long. The major types are:
Skip tooth (or single skip tooth) which has a tooth, a gap, and then another tooth;
Double skip tooth (two teeth, a gap, then two teeth);
Crown or two-way, which have teeth facing both up and down so that the blade cuts on both the down-stroke (as with all other blades) and the up-stroke;
Spiral blades, which are essentially regular flat blades with a twist, so that teeth project on all sides;
Metal cutting blades made of hardened steel;
Diamond blades (wires coated with diamond fragments), for cutting glass.
Pin end blades are generally a bit thicker and are made to use on scroll saws that require pin end blades which are generally older, less expensive, or made for entry-level scrollers. Most newer higher-end scroll saws do not accept pin-end blades.
Blade Change and Tensioning
When cutting you may need to make some adjustments to the blade. It could be tightening the blade or changing the blade altogether. Sometimes, in the middle of a project, you may need a new blade. With some scroll saws, you can do this without using a tool.
If you find a scroll saw with a toolless blade change, then it is a great product.
Dust Collection
Visibility is critical especially if you are cutting a very detailed or intricate pattern. Dust collection will enable you to see what you are doing so you can cut your things well. Some dust collection systems will just blow dust away, and others will collect the dust as you cut. Either option is fine as long as it works well.
Price
Like any other saw on the market, a scroll saw is going to vary widely in price. Some lower-end saws will be priced around $100, and others will make it into the thousands. Be realistic about what you need the saw for and how often you will use it.
Latest posts by Josephine
(see all)