Looking for the quietest reciprocating saw for your cutting tasks?. Great, then you're in the right place. In this guide, you can expect to learn the following:
What reciprocating saw is
How does it work?
Our-rated quiet reciprocating saw picks
Factors to consider when choosing a reciprocating saw
And More…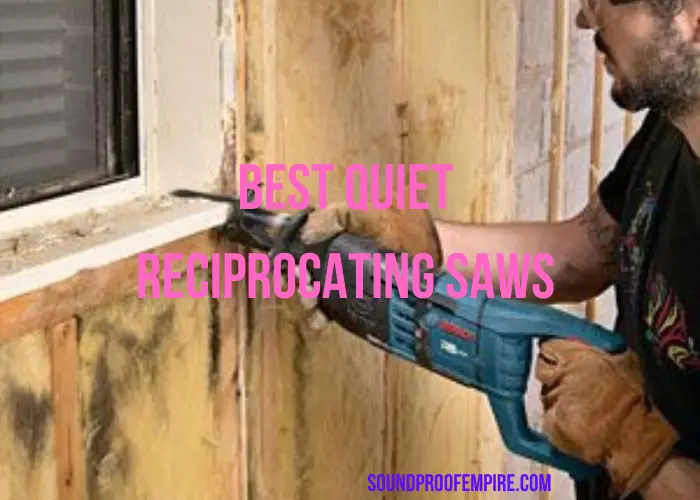 Quick Preview of the Best Quietest Reciprocating Saws
In a hurry?. I understand. Here is a quick overview of the best quiet reciprocating saws for your cutting jobs.
Whether you are trimming branches, cutting floorboards, cutting copper pipe, cutting plastic pipe, or cutting holes in plasterboard for installing electrical fittings reciprocating saws are incredibly useful and versatile.
They are highly versatile cutting tools capable of cutting a massive range of materials and one of their strong points is they are also very adept at being able to gain access to tight work areas that many power tools just cannot get into.
But even though these saws can be used for cutting everything, they also come with high noise levels just like most power tools. However, some brands have put in some effort to reduce the level of noise that their reciprocating saws make.
Today, after doing intense research and gathering other users' experiences, I represent to you some of the best reciprocating saws with less noise.
Also read:
Top-rated quiet tables saws for your workshop
Top-rated reciprocating saws with less noise
The highest-rated quietest miter saws
Our highest rated quietest chainsaws
How Does a Reciprocating Saw Work?
A reciprocating saw is a tool that uses a push and pulls motion that creates the desired cutting action.  You can rest the foot of the saw on the cutting surface which helps to control it when in motion.
Depending on the saw model, most reciprocating saws have a variable speed that can be controlled through either a dial or trigger on the side of the unit.
These saws also use oscillation, which makes the blade move in an elliptical manner, therefore allowing for faster cuts.
The saw blades of reciprocating saws are designed to be able to cut wood and/or metal, depending on the tooth and size of the configuration. That is why they are so versatile because they can handle pretty much any job you throw at them.
Best Quiet Reciprocating Saws With Less Noise
Below are some of the best quiet reciprocating saws in the market that gets the work done with less noise.
1). KIMO Brushless Cordless Reciprocating Saw
This KIMO reciprocating saw is lightweight and compact making it ideal for work in tight spots and great for electricians, plumbers, or any professional who desire a vibration control system.
Its cordless feature makes it great to work in areas where a power cord might be a problem with movement.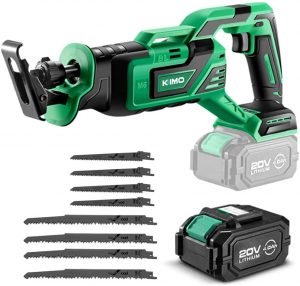 It is quieter and versatile in operation. Comes with 6 blades for wood and 2 blades for metal to meet all your cutting needs.
Plus, it is easy to change blades with its tool-free blade change system. You cut wood, metal, ceramic, tile, plastic, fiberglass, and almost any material you want to cut with.
The 20V 4.0 Ah Li-ion battery is long-lasting and fast charging. You can get it fully charged within 1 hour. It also delivers 0-3,300 SPM.
The brushless motor also helps to provide 2.5X more runtime to get the job done. With 1″ stroke length and a variable speed trigger delivering up to 3000 SPM, this saw combines the power of a corded reciprocating saw with the portability and convenience of a cordless one.
---
2). Makita JR3070CT 15 Amp AVT Reciprocating Saw
This quiet Makita reciprocating saw also uses anti-vibration technology to reduce the level of the saw vibration when in use to 2 times lesser.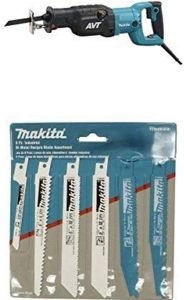 It is equipped with a 15.0 AMP motor with 0-2. 800 SPM, giving you the ability to cut through materials fast. The built-in clutch technology reduces gear damage by disengaging gear if your blade binds.
It also features a 4-position orbital/straight cutting action, and a variable speed control dial that enables you to match the speed of the saw to the job at hand.
This reciprocating saw is versatile, long-lasting, high quality, and comes with a versatile pack for your workshop including 6T, 10T 18T, and progressive teeth.
---
3). WORX Jigsaw/ Reciprocating Saw
If you are looking for a quiet two-in-one reciprocating saw, then this combined jigsaw reciprocating saw comes recommended for you.  This affordable unit saves you both time and money.
It has a compact design that saves you from the ache in your hands and arms that typically come with using saws like these.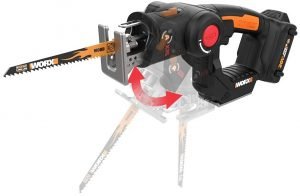 It runs at 3000 RPMs with a ¾" stroke length, which is enough to cut 2" into wood and PVC pipe and go 5/32" into steel plate as a jigsaw, and as a reciprocating saw, it'll cut 2" into the wood, PVC, and steel pipe.
The tool-free blade change system accepts all common and reciprocating saw and jigsaw blades that you can find in any local store.
The orbital cutting help get the task done fast and you can cut materials like wood, metal, ceramic, tile, plastic, tree limbs, PVC pipe, fiberglass, aluminum, copper, thin steel, even roots, and more with this quiet power tool.
This saw comes with a 20V 1.5 Ah battery and a 0.4 A charger, which you can also use with any tool in the Worx power share family.
---
4). HYCHIKA Cordless 20V 2Ah Reciprocating Saw
This quiet cordless reciprocating saw has a powerful motor that is great for cutting wood, PVC, and metal, pruning, and doing small projects around the house.
Whether you are a professional or a person who enjoys DIY projects at home, this power tool is good for you.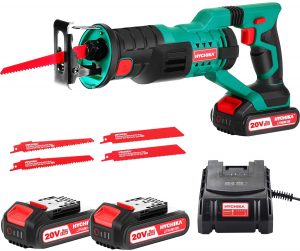 Its high-quality motor provides up to 2800 fantastic RPM and you can increase the cutting speed for different materials by adding pressure on the trigger. The Max Cutting Capacity: Wood: 11.8'', Metal: 0.6''.
The saw is equipped with dual 2.0 Ah batteries of long-lasting performance, you can replace the battery when the one in use is out of power, 2x Blades for Wood, 2x Blades for Metal and1 h fast charger with LED battery indicator. The safety button also help avoids accidental start-up.
---
5).  Ryobi P517 18V Lithium-Ion Cordless Brushless Reciprocation Saw
The Ryobi P517 is on the smaller, lighter side of the scale. It's just 17.5 inches long and the bare tool weighs just 5.8 pounds. We tested it with a 9.0Ah battery in our head-to-head review and that pushed it into the middle of the pack for weight.
The Ryobi Brushless Reciprocating Saw features orbital action – and that's good news. Just a few years back, only Ridgid's Gen5X had orbital action on the cordless side, but that's changing.
With a 1-1/8″ stroke length and 3200 strokes per minute, the Ryobi brushless reciprocating saw is definitely Pro-level on paper. The proof is in the pudding, though, and is one of the silent reciprocating saws in the market.
---
Factors to Consider When Choosing  a Silent Reciprocating Saw
Whether you are a handyman or you simply want to do DIY projects at home or in the workshop, you will quite agree with me that a quiet reciprocating saw is a handy tool to have among your quiet power tools.
If you already don't know what to look for when looking for the quietest reciprocating saw, then these tips here will guide you in the selection process.
Noise Level
All power tools make some level of noise. But some make more than others. hence reciprocating saws are not different because they also use motors to move the blades at high speeds to get the tasks done.
Being aware of the noise issues with saws, some brands and models have gone the extra mile to use quieter motors on their reciprocating saws to minimize noise levels while delivering maximum power output.
So, when looking to get a reciprocating saw, it is always wise to pick one that makes lesser noise to help protect your hearing and prevent angry neighbors.
Luckily, these quietest reciprocating saws I reviewed above make less noise when running.
Corded or Cordless Reciprocating Saw
You will have to decide when buying a reciprocating saw, what power source you'd like – Whether cordless or corded.
Modern advancement in battery technology means you can get the best cordless reciprocating saw which can do the job of the top corded models. So it is not as much an issue with power as it was a few years ago.
Cordless reciprocating saws don't have any cords to manage and they tend to have more features than corded models.
They're more expensive and you may need 2, 3, 4, or more batteries to work uninterrupted. They are also ideal when working in environments where a power cord can be a hazard.
Corded models have the benefits of nearly infinite runtime and lower cost. They can also be lighter weight than some of the top cordless models with their massive batteries.
Power Level
When selecting a reciprocating saw, the higher the voltage or amps, the more powerful and stronger the saw will be.
If you are doing medium to heavy-duty jobs, then you should consider a high voltage saw. But they are more complex and tend to be heavier. Otherwise, a low-voltage saw should do lighter tasks.
Blade Size and Type
Depending on the kind of work you intend to do, then you will choose your saw blade accordingly. There are different blade sizes varying from 4, 6, and 12 inches in length.
Reciprocating saws with smaller blade lengths are easy to handle, which results in greater cutting efficiency. You also need to choose your saw based on the type of blade it has, which could vary from wood, metal, or hybrid which is also known as demolition or bi-metal blade.
Quick Change Adaptor
Some reciprocating saws usually come with a hex wrench clamp for holding the table, which is advisable for use especially when working indoors.
Also, the wrench pattern is a standard hex pattern, which you can easily replace if it gets lost. However, there are times you will work in busy places, where blades may easily get bent or broken.
As such, you will need to get a quick change adaptor so that you don't have to spend a lot of time when changing the blade.
Strokes per Minute and Stroke Blade
The higher the number of strokes your saw makes per minute, the faster you will cut and get a lot of work done in less time.
However, the saw should have variable cutting speed in its settings, considering that there are times when you need slow cutting speeds.
The blade stroke point means that saws with a longer stroke have more teeth and will finish cutting faster when compared to those with a shorter stroke.
Latest posts by Josephine
(see all)