Quiet Table Saw:9 Best Quietest (Silent) Tables Saws
Looking for a quiet table saw for your workshop?. Perfect, then you've come to the right place. In this guide, you can expect to learn the following:
What a table saw is
How does a table saw work?
Our top-rated quiet table saw picks
types of table saws
What to look for when choosing a low noise table saw
And more…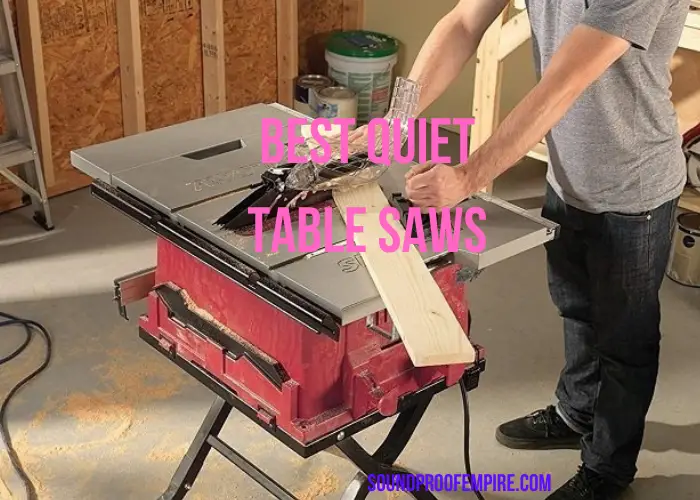 In the woodworking industry, most of professionals believe that a table saw is the centerpiece of a proper woodworking shop. But with the market flooded with a lot of table saws, how do you find the quietest table saw that will strike a perfect balance between the price and quality?.
That is the question this article will answer for you. There is no doubt that table saws are also some of the noisiest power equipment in the shop. Because many people can't really tolerate high noise, the best option is to always find quiet equipment to work with and a table saw is no exception.
Read on to find out some of the best quiet tables that will help you make an informed decision and the factors to consider when choosing a table saw.
Also read: Top-rated quietest miter saws
What is a Table Saw and How Does It Work?
A table saw also often referred to as sawbench or bench saw in England is a woodworking tool that consists of a circular blade, mounted on an arbor, that is driven by an electric motor either directly, by gear, or by the belt.
The blade protrudes through the top of the table, which provides support for the material cut from most wood.
In most modern table saws, the depth of the cut can be adjusted by moving the blade up or down. The higher the blade is protruding above the table, the deeper the cut that is made in the wood.
A table saw is used for cutting large pieces of wood quickly compared to a band saw or scroll saw which is used for detailed cutting.
Top-Rated Most Quiet Table Saw Reviews
Below are some of the table saws that have low noise. They are not completely silent but have lower noise levels.
1). SAWSTOP 10-Inch Professional Cabinet Saw
This SawStop table saw is ideal for hobbyists, DIYers, and craftsmen. Its 1.75 horsepower delivers the perfect performance needed quietly.
It's equipped with quiet and poly V-ribbed belts for best power transfer without making unwanted noises and with very minimal vibrations.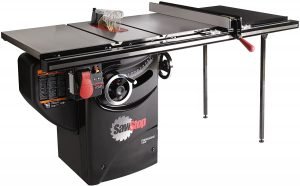 When it comes to safety concerns, this table saw is equipped with a safety system that stops a spinning blade on contact with skin. The blade stops in less than 5 milliseconds, and drops below the table, minimizing a potentially life-altering injury to a mere scratch.
For added precision, the saw comes with a T-Glide fence system. This woodworking tool features a sawdust-collecting system that collects 99% of all the dust above and below the table. This is to ensure you are safe from any carcinogenic disease.
The saw is also compatible with 8-inch dado sets and 10-inch standard blades.
Features
It's a quiet table saw
Lightweight and weighs 471 pounds (213kgs)
Uses multiple belt drives- these two help significantly reduce vibration and unwanted noise (screeching noise) while at the same time enhancing efficiency.
It's perfect for DIYers, hobbyists, and shops with limited working space.
---
2). Jet XACTA Saw  Table Saw
The JET 708675PK saw runs on a poly-V belt drive system that guarantees efficient and quiet operation. It's fitted with a quick-release riving knife that significantly reduces both kickback and binding risk.
The Deluxe XACTA SAW offers an upgraded Poly-V belt drive system for smooth operation and optimal power transfer, and fully shrouded blade for highly efficient dust collection. Its equipped with a 3 HP motor for powerful cutting.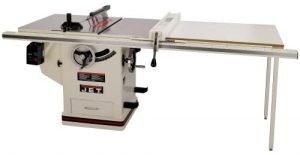 The integrated riving knife and arbor lock keeps the operator safe. In addition, the table saw is fitted with an independent leaf safety guard that protects the user from the blade while operating the machine even when the blade is at 45 degrees tilt.
The 26″ x 30″ wings and deeper table gives you even more cast iron to work on. Plus, the built-in 12.5″ x 18″ x 4 " storage drawer sealed from the cabinet keeps your necessities within arms reach, also includes an on-board fence and miter gauge storage.
Features
Built-in storage drawer to keep accessories within easy reach
Three v-belts to deliver full power
Rail-mounted magnetic switch for overload protection
Deluxe miter gauge
50-inch rip fence
3 HP motor
A high efficient dust collection system
X 30in. wings
---
3). Powermatic PM1000 Table Saw
This quiet cabinet table saw by Powermatic is a heavy-duty saw that runs off a 1-3/4 horsepower motor and it's powered by  115 voltage source. Its a great low noise table saw with a small footprint.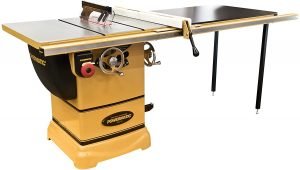 This saw uses a poly-v belt drive that significantly reduces noise and vibrations and also increases motor efficiency. In addition, the unit has an efficient dust collection power.
Another good thing about this saw is that it's fitted with a sturdy miter gauge that pivots 60 degrees on either side hence allowing for a seamless adjustment for a wide range of cuts.
Features
10 inches blade length
75 horsepower
Sawdust collection hose
Tool-less guard assembly

A sturdy miter gauge pivots 60 degrees to either side, allowing easy adjustment for a full range of cuts
---
4). Shop Fox 10-Inch Table Saw with  Riving Knife
Equipped with a 3 horsepower motor, the Shop Fox is a quiet saw that will power through any of your home and job site projects. It's not only powerful, but it's also safe and comes with a clear polycarbonate guard for protection and also gives the user the ability to observe the blade when in operation.
Even though some customers have complained about its cheap miter gauge, it's not necessarily a hindrance to the working power of this saw. You can always replace the cheap miter gauge with a durable one.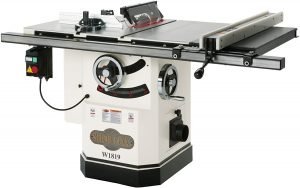 Besides that, this table saw features a riving knife to help prevent kickback and keep the user safe. The dust port collects all the dirt produced during woodworking and hence will save you time that you would have otherwise spent cleaning.
This Shop Fox designed in a way that it is easy to assemble without help because putting it together is straightforward.
Features
Precision-ground and polished cast iron table and wings

Massive cast iron trunnions

4-inch dust port

Miter gauge with adjustable T-slot and anodized fence with extension and flip stop

Camlock fence with HDPE face

Includes standard and dado table inserts

Quick-release blade guard with independent-lifting sides and retractable pawls

Magnetic switch with thermal overload protection
---
5). DEWALT DWE7491 PortableTable Saw
This quiet portable table saw by DEWALT is powered by a 15.0 AMP motor with enough power to cut a hardwood and pressure-treated lumber. It also features a 2-inch dust collection port that is easily connected to a vacuum for faster dust extraction to keep your workshop clean at all times.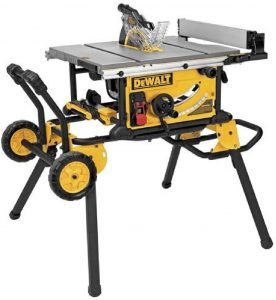 This quiet Jobsite table saw also offers 2-1/4 inch at 45 degrees and 3-1/8 inch depth of cut at 90 degrees. The rolling stand features a rack and pinion fence system which makes fence adjustments fast, smooth and accurate. is
Features
Rack & Pinion Telescoping Fence System Make fence adjustments fast, smooth and accurate

32-1/2″ rip capacity easily cuts a variety of larger shelving and trim materials

Rolling stand designed for easy setup and breakdown with excellent stability

Flip over ripping fence allows for narrow rip cuts

2-1/2″ Dust Collection Port easily connects to a vacuum for efficient dust extraction

21-7/8″ X 26 – 3/8″ table provides superior material support
---
6). SKILSAW Portable Worm Drive  Saw
This 8-1/4 inch quiet portable table saw delivers worm drive power in a light and portable design. This is one of the quietest Jobsite table saws for Jobsite productivity.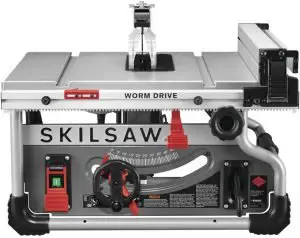 This saw features a 2-5/8 in. depth of cut and 25 in. rip capacity to tear through sheet goods and slice up to 3x. Durable, all-metal construction stands up to Jobsite abuse. The rack and pinion system makes for fast, smooth fence adjustments for precise cuts.
Features
Built-in cord wrap keeps it neat and on-tool accessories storage keeps you productive
Patented Dual-Field™ Motor runs cooler so it can work harder, longer
Includes SKILSAW® blade
Legendary Worm Drive gearing offers maximum torque for ripping applications
Precision rack and pinion system makes fence adjustments quickly and smoothly for accurate cuts
Lightweight and compact footprint make it easy to move around the Jobsite
Tear through sheet goods and slice up to 3x with the 2-5/8 in. depth of cut and 25 in. rip capacity
---
7) Oliver 10-Inch Quiet Jobsite Table Saw with Rolling Stand
This Oliver quiet Jobsite table saw features reduce motor noise and vibration. The variable-speed motor is easy to adjust and produces constant torque over its entire RPM range.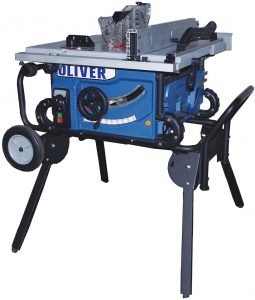 This saw is equipped with a magnetic switch to prevent unwanted start after power interruptions, the rapid blade elevation help with a quicker setup, and its lightweight aluminum table makes for easy lifting.
This product comes with Sanding Disc, 10" 40T Carbide Tip Blade, Riving Knife, Miter Gauge, Blade Table Insert, Push Stick, and the fold-up stand features roller wheels for easy transportation at Jobsite.
---
8). Grizzly G0690 Table Saw
The Grizzly G0690 is a quiet saw that boasts three-horse powers for heavy-duty cutting. Even though it's not as a high end three horsepower table saw, the Grizzly G0690 surpasses the essential strength in a quality workshop tool.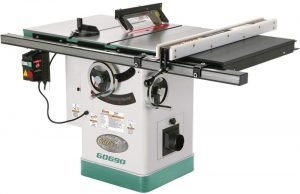 The saw is constructed from heavy-duty and durable cast iron trunnions, heavy-duty cabinet, ground cast iron table with miter gauge T slots, and powder coated paint. It's one of the quietest table saws even though it's pricey and may take time to setup.
The unit consists of a quick-release riving knife that moves up and down and also tilts with the blade.
Features 
Maximum depth of cut @ 90-Degree
220V single-phase Lesson
Arbor size: 5/8-Inch
Arbor speed: 4 300 RPM
Overall dimensions: 62-inch (L) x 41-Inch (W) x 40-Inch (H)
Maximum rip capacity: 291/2-Inch
Maximum dado width: 13/16-Inch
Maximum rip capacity: 291/2-Inch
---
9). SKIL 10-Inch Table Saw with Folding Stand
The saw runs on a 15 Amp motor capable of ripping through different varieties of wood. The sturdy steel folding stand with a quick-mount makes the setup quick and eases and also account for ease of storage.
If you want a table saw that would quietly handle all your DIY woodworking projects in and around the house without breaking the bank, SKIL 3410 is the ideal saw for you.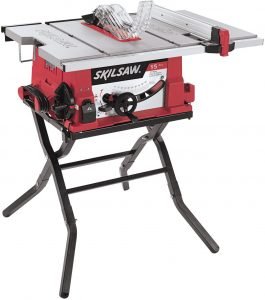 It can cut cross cut smaller pieces; rip longboards, miter or bevel. It features a 3 ½ inch cut height capacity and a 20×26 inch cast aluminum table to support your work.
If you prefer an affordable and quiet small table saw under $500, then I would recommend SKIL 3410-02 saw
Features
15 amperes motor unit
Max Cut Depth at 45 Degrees: 2.5-Inches
No Load RPM: 5,000
Rating: 120V
Max Dado Width: 13/15-Inch
Max Cut Depth at 90 Degrees: 3.5-Inches
Bevel: 2-47 Degrees
---
Types of Table Saws
There are several different types of table saws in the market today. Ranging from portable to stationary. Here are the different types of tables saw that you may want to know.
Benchtop Table Saws
Benchtop table saws are lightweight and are designed to be placed on a table or other support for operation. This type of saw is most often used by homeowners and DIYers. They almost always have a direct-drive (blade driven directly by the motor) universal motor. These are the least expensive and least capable of table saws.
Jobsite Table Saws
Jobsite table saws are slightly larger than benchtop models and usually are placed on a folding or stationary stand during operation. These saws are mostly used by carpenters, contractors, and tradesmen on the Jobsite (hence the name).
Compact Table Saws
Compact table saws are much larger than portable saws and sit on a stationary stand. The motor is still a universal type motor, however, these are usually driven by small toothed belts.
Contractor Table Saws
The contractor table saw can do the large, heavy, and complex tasks to compete with other tables saws based on the stand or wheels. A contractor table saw has the blade on the back and facility to collect the dust.
Cabinet Table Saws
Cabinet table saw consists of huge iron metal and steel to do its work. It works to minimizing vibration while it's doing its cutting works.
A cabinet saw is characterized by having an enclosed base. Cabinet saws usually have induction motors in the 3 to 5 hp (2.24 to 3.73 kW) range, single-phase, but motors in the 5 to 7.5 HP (3.73 to 5.22 kW) range, three-phase, are common in commercial/industrial sites.
Mini and Micro Table Saws
Mini table saw is the smallest saw among all other saws. In a mini table saw a 4-inch diameter blade has given to do the cutting work instantly. This table is mainly used by the people who are hobbyists and model makers.
Sliding Table Saws
The sliding table saw is often known as a European table saw. We know that the sliding table saw is used for the huge board and slip belongings. In a saw, we find a slide on the behind of the blade which remains folded under the table of the saw.
What to Look for When Choosing the Quietest Table Saw
When picking any woodworking tool or equipment, you need to consider a couple of factors in order to be sure you are investing in the right tool. Here are some tips to guide you when choosing the quietest table saw.
Blade
The blade of the saw is important in determining the performance of the table saw. The blade will be effective if they are set to the correct depth of cut. It is important when buying a blade for your saw, you consider one that will enable you to get the price and smooth cut and one with the correct setting blade.
 Noise Levels
In terms of the noise levels, no table saw can give you absolute silent operation without any noise. However, different table saws have different noise levels. The ones reviewed above have manageable noise levels and are considered quieter table saws than a loud traditional table saw. The belt drive systems are quieter than the direct-drive systems.
Speed and Control
The speed of the blade is determined by the motor. A motor with a higher rating is proof that the blade will spin faster and hence very high RPM and this result to better cut.
On the other hand, more power more control, and more control will give the ability to cut even the most robust materials.
Cutting Capacity, Cutting Depth, And Bevels
The cutting depth of a table saw is determine when it is not cutting a bevel. This will enable you to determine the accuracy and maximum cutting at zero degrees. For bevel cutting, make sure that the base plate is adjustable. Check for adjustment allowance that the saw offers- 45, 50, or 90 degrees.
Latest posts by Josephine
(see all)