Quiet Mattress Protector:5 Silent Mattress Covers
Looking for a quiet mattress protector for your mattress?. Perfect, you've come to the right place. In this guide, you can expect to learn the following:
What a mattress protector is
Our top-rated mattress protector
What to look for when choosing a mattress protector
And more…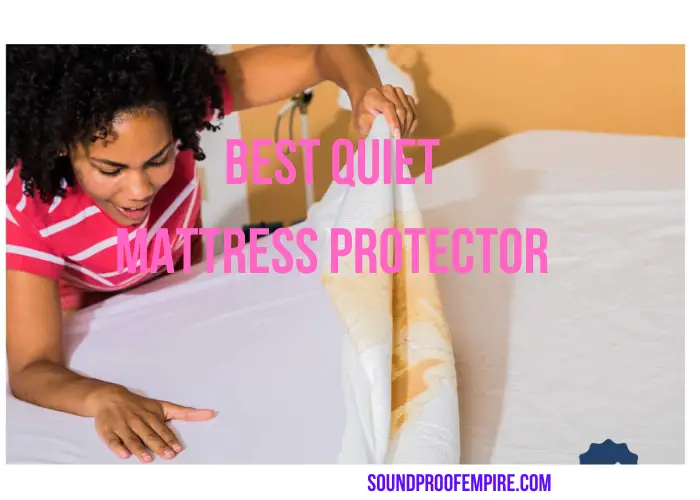 Quick Preview of the Best Quiet Mattress Protectors
In a hurry?. I understand. Here is a quick overview of the quietest mattress protectors in this guide.
So, you just got yourself a new expensive mattress, and it's awkward for you to replace it just because of spills and stains. That is why it's important to shield it with a mattress protector which is comparatively cheaper to use than to clean stains and spills.
Mattress protectors are considered an essential part of bedding for this reason, whether you're accident-prone or just looking to prolong the life of your mattress.
Mattress protectors are also important because they help keep your mattress warranty in good standing for as long as possible. I believe you will want that warranty if something happens to their mattress and they need it replaced or refunded.
However, finding a quiet mattress protector among the many brands out there is not easy. Hence, I compiled this guide with some of the best quiet brands to help you decide which would be best for you.
Related Reads: Best quiet mattresses for quieter nights
What is a Mattress Protector?
A mattress protector is a material that is removable bedding that sits on top of or encases a mattress to protect it from stains and spills. Some mattress protectors also provide protection to the person sleep on the mattress from allergens and irritants such as dust mites, mold, and bed bugs.
Although the surface of a mattress can be cleaned with a vacuum cleaner, it is very difficult to completely clean most standard mattresses. That is why using a mattress protector is a better option because, you can easily remove it when it's dirty and wash it, then put it back on the mattress.
Best Quiet Mattress Protectors
Below are some mattress protectors that will protect your mattress and give you quieter sleep.
1). UltraBlock 100% Waterproof Premium Mattress Protector
This UltraBlock waterproof mattress protector is available in all mattress sizes, from twin to California king. This quietest mattress protect uses advanced technology that allows the waterproof barrier to breath while the super-soft surface wicks away moisture.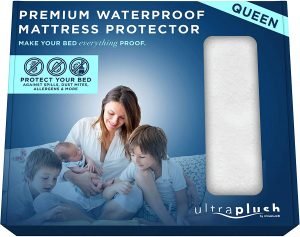 This mattress protector makes your bed everything proof. allowing you to get your peace of mind knowing that your mattress is protected from liquids, spills, urine, pet accidents, and more. This is one of the best waterproof mattress protectors for bedwetting.
The top surface is hypoallergenic and free of toxins, protecting you and your family from harmful substances.
The UltraBlock mattress protector is stretchy that it can cover mattresses up to 18″ thick. It is also a washing machine washable.
---
2). Coop Home Goods Mattress Protector
This Coop Home Goods mattress protector is another top-rated best mattress protector for hot sleepers. Its top layer has waterproof protection and it's breathable on both sides. This gives your mattress the protection it needs against sweat, drool, bodily fluids, and spills.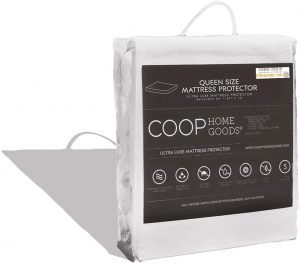 The Coop Home Goods Mattress Protector is created with our proprietary Lulltra Fabric. This means it is breathable, soft, and silent so you can sleep in heavenly peace and comfort. With this, you can say goodbye to all the crinkle sounds on every moment.
Just like the UltraBlock mattress protector above, this protector is available for all mattress sizes, its machine washable, and can cover up to 18″ thick mattress. Plus, it OEKO-TEX certified to be free of toxins.
This Coop Home Goods Mattress Protector comes with a 5-year warranty to protect your rest.
---
3). SafeRest Premium Waterproof Mattress Protector
SafeRest mattress protectors are well known for their premium protection against dust mites, fluids, urine, perspiration, allergens, and bacteria. This has made them especially helpful for those with kids, pets, allergies, asthma, or incontinence.
This mattress protector is also available on all mattress sizes.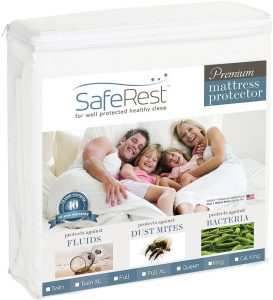 In to keep this mattress protector cool and quiet, SafeRest used soft cotton terry material for the surface which makes it breathable, hypoallergenic, and 100% waterproof with the membrane layer. Cotton terry is known to naturally absorb moisture and silent.
This product can also be maintained and clean using a washing machine, making it easier to clean.
---
4) PlushDeluxe Premium Bamboo Mattress Protector
This mattress protector is made of a bamboo quilted surface that is soft and has a luxurious feel. You actually lay on it alone without a bedsheet. This protector is available for all mattress sizes including crib and mini cribs.
Just like the rest above, this bamboo mattress protector is also 100% waterproof and breathable allowing air to move around while blocking spills and leakages from going into your mattress.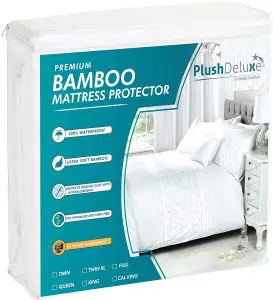 This mattress topper is designed for all types of mattresses including memory foam, latex, or spring. It is completely silent and produces no crinkling sound. Also, it fits any mattress depth up to 18".
It is hypoallergenic and comes with a 10-year warranty.
---
5). ZAMAT Premium 100% Waterproof Mattress Protector
This waterproof mattress protector is water-resistant and comes in 6 sizes including Twin, Twin XL, Full, Queen, King, and California King. It fits up to 14″ deep.
Constructed from high-quality hypoallergenic fabric, this mattress encasement features an 80/20 cotton/polyester blend to extend the life of your mattress.
The fabric is easy to clean and maintain. You can either wash it in a washing machine or use your hands to manually clean it.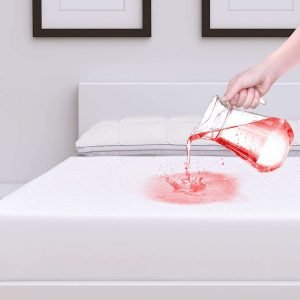 This OEKO-TEX Certified bed bug mattress cover is designed to safeguard from dust, fluids, perspiration, allergens. It also ha premium waterproof backing that is breathable and protects you and your family from whatever may come your way.
Additionally, it is constructed with vinyl-free materials, an ideal mattress pad cover for children with allergies or asthma.
---
What to Look for When Choosing the Quietest Mattress Protector
Purchasing a mattress can be a sizeable expense. To ensure your investment lasts as long as possible, it is recommended you protect it by purchasing a  mattress protector. But if you are new to mattress protectors, you may not know what to look for. Here are some factors to consider when choosing a mattress protector.
Protection and Prevention
In general, mattress protectors help to provide the following protection; liquid stains, dust mites, allergens, bed bugs, keeping the mattress clean and dry, help stabilize body temperature overnight, and increase the lifespan of the mattress.
Noise
No one wants to hear squeaking sounds on their bed when they turn every time. If you want your quietness and peace of mind on your bed, then you need to choose a quiet mattress protector. Luckily, I have done that above for you in this guide.
Type
Not all mattress protectors look the same. Here are the general types available:
Encasement (or zippered): The protector covers 100% of your mattress from the top to the bottom. The protector is often closed with a zipper.
Fitted: A popular type of protector, this fits your mattress in the same way a fitted sheet would (tucked under your mattress with pocketed corners.
Elastic strap: This protector lays on the top of your mattress while elastic straps wrap around the four corners. This anchors the protector to the mattress.
Materials
Protectors come in a variety of different materials. They may also come in a blend of more than one material. Some materials include cotton, down, polyester, vinyl, and polyurethane.
If you are looking for a quiet waterproof mattress, then you should look at those made with vinyl and polyurethane materials.
Size and Care
Protectors come in all different sizes – there are even protectors to cover crib mattresses and mini-crib mattresses.
If people anticipate needing to clean their mattress protector frequently, consider purchasing one that is machine washable and dryer-friendly. Just keep in mind that allowing high heat to a waterproof mattress protector may damage it, and to avoid this, always follow the manual instructions.
Cost
In general, the more features such as technology used, functionality, and service the protector provides the more expensive it will become.
There are plenty of simple mattress protectors on the market for less than $50.