5 Quietest Cordless Jigsaws with Low Vibration
Looking for the quietest cordless jigsaw for your workshop?. Perfect, you've come to the right place. In this guide, you can expect to learn the following:
What a jigsaw is
How does a jigsaw work
Our top-rated quietest jigsaw picks
How to choose a jigsaw
And More…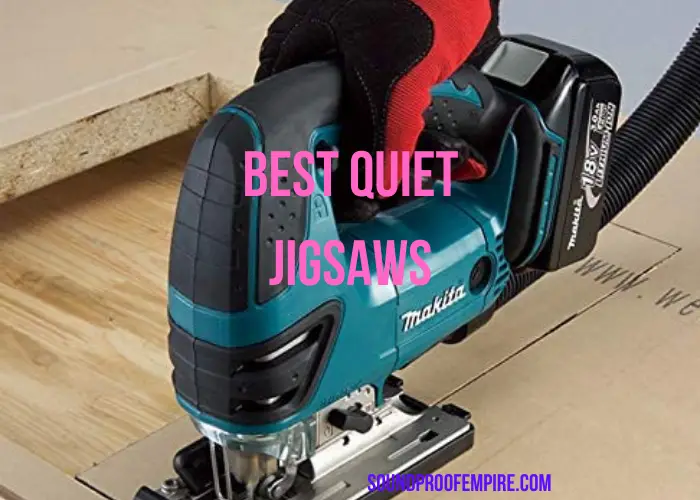 whether you are a contract worker or love home improvement projects, having a quiet jigsaw among your power tools is a must. But with the many jigsaws in the market, it can be difficult to know which ones have low noise and vibrations.
Hence I decided to write this article after deep research and gathering users' experiences to help you pick the best quiet jigsaw for your woodworking jobs. There are three main types of jigsaws and I will cover them below.
What is a Jigsaw and How Does It Work?
A jigsaw is a saw which uses a reciprocating blade to cut irregular curves, such as stenciled designs in wood, metal, or other materials. A jigsaw is a powerful tool that is made up of an electric motor and a reciprocating saw blade.
Jigsaws for contract works mostly have replaceable blades, better user control, and a sturdy build. Those for home improvement jobs are light and portable jigsaws with single-blade offset and are less expensive.
Also read:
Top-rated quietest tables saws
Best reciprocating saws with less noise
The top-rated quietest miter saws
Our highest rated quietest chainsaws
Types of Quiet Jigsaws
There are three main types of jigsaws in the market to choose from with its advantages and disadvantages.
Cordless jigsaws. Their first advantage is portability with regard to the corded jigsaws. Cordless jigsaws need constant charging of the batteries when continuous work is expected.
Corded jigsaws. These types of jigsaws are the most popular ones because they are more powerful in comparison to the cordless ones because of the constant current power supplied through the cord which doesn't require a battery and ensures continuous work. Its only disadvantage is the limited portability.
Pneumatic jigsaws. These types of jigsaws are the least popular due to the need for additional tools. There are not many of them on the market.
Best Quietest Cordless and Corded Jigsaws Reviews
Here are some of the top-rated quiet jigsaws for your workshop, home improvement projects, and hobbies.
1). DEWALT DCS331B 20V Max Jigsaw
This 20V MAX* Jig Saw has an all-metal, lever-action keyless blade clamp designed for quick and easy blade changes and an all-metal keyless shoe bevel with four detents at 0°, 15°, 30°, and 45° to make bevel adjustments easy.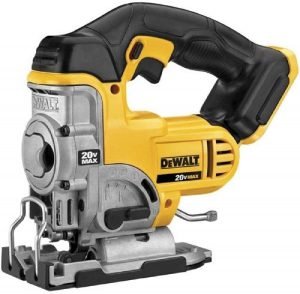 This quiet battery jigsaw is equipped with a variable speed trigger that provides 3,000 strokes per minute, 4-position orbital action for cutting wood. This allows you to easily adjust speeds during cutting.
The adjustable dust blower keeps cleans up the dust to keep the line of cut clear for accurate cutting. The removable shoe cover also protects materials from scratches.
It is important to note that the battery and battery charger are sold separately.
---
2). Makita DJV180Z 18V LXT Cordless Jig Saw
Makita makes some of the best power tools around. This jigsaw is one of their quiet cordless jigsaws for your workshop or home improvement projects.
It features 3 orbital settings to enable the user to obtain a more aggressive cut and the large variable speed 2-finger trigger switch enables you to change the speed of the moving blade to the level that is suitable for you to cut your material.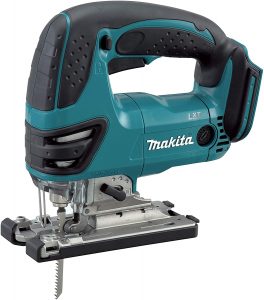 It's also equipped with an LED to light up your work area. Plus, the dust blower helps to keep your line of cut free of sawdust.
---
3). Bosch 7.Amp Corded Variable Barrel-Grip Jigsaw
This quiet bosch corded jigsaw is powerful and its 7.0Amp delivers up to 100 strokes per minute.
It's powerful enough to handle your heavy-duty jobs and the variable speed dial set allows you to set the operating speed of the saw to the speed that works best for you.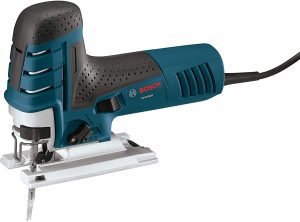 Featuring internal precision control with a precision-machined plunging system, this Bosh JS470EB barrel-grip jigsaw comes with a low-vibration mechanism for enhanced accuracy.
It is ergonomically designed for comfort for you to have maximum control and precision. Also, its toolless blade changing system allows for fast insertion while the blade ejection lever prevents you from touching the hot blade.
---
4). Bosch JSH180B Cordless Jigsaw
The Bosch JSH180 lithium-ion 18-Volt jig saw is compact and lightweight, enabling you to work for long hours without fatigue.
Its T-shank blade change system allows the user to insert the blade just without the need for any tools, and when it's time for a blade change, a turn of the knob ejects the blade, so there is no need to touch a hot blade.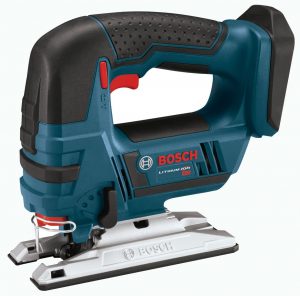 This jigsaw also features an always-on blower and integrated LED light for enhanced visibility in the cutting area.
Other electronics that ensure that this saw last long include the electronic motor protection, which protects the motor against overload and ensures a long lifetime, and the electronic cell protection protects the motor battery against overload and deep discharge. The battery and charger for this jigsaw are sold separately.
---
5). BLACK + DECKER Smart Jigsaw
The BLACK+DECKER BDEJS600C is the ideal jigsaw for any person who is looking for a heavy-duty, cost-effective tool that is not too expensive. It is a well-built jigsaw that provides a total of 5 amps of power and 3,000 SPM.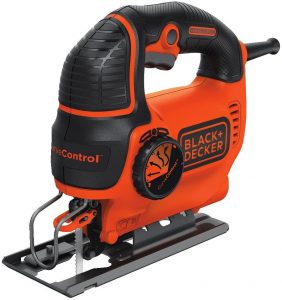 With the capability to make bevel cuts, 4 orbital settings, and an adaptable shoe, the BDEJS600C jigsaw is stacked with a lot of the same characteristics that you'd find in the high-priced models on the market today.
Whether you are a pro or a novice, this well-rounded tool is a great deal for anyone looking to invest in a reliable machine that is sure to last for years.
How to Choose a Silent Jigsaw: Buying Guide
When picking a jigsaw, you need to consider certain factors so that you can choose the right saw for your work. Here are some factors to consider when picking a jigsaw.
Corded or Cordless
Most power tools are generally powered by electricity. So depending on your needs, whether you work at the workshop, home projects, or worksites, you need to choose between the two.
For workshops and worksites, some people choose the corded jigsaw because it is the most powerful and allows for a continuous power supply to enable you to work for long hours without worrying about power.
But corded jigsaws are not suitable for projects where there is no power supply source to connect to.
On the other hand, cordless jigsaws are very portable to work with and are very handy power tools. They come with batteries to power their motors.
You need to recharge their battery in order to power them. They are very suitable in situations where there is no power or in remote job sites. They are light-duty and not very suitable for long-term use.
Noise Level
All power tools make some amount of noise but some are quieter than others. If you are noise adverse, then it is best to pick the quietest jigsaw in the market.
I am by no means saying that you will get a jigsaw that is completely silent, but the noise level will be low. Luckily, all models covered in this article are low-noise jigsaws.
Grip
The grip of the jigsaw is another important factor to consider when choosing a jigsaw. There are many quiet jigsaws with top handles in the market. But they are other models with barrel grips which makes the jigsaw look actually fancier.
The top-handle grip and barrel grip offer many similar features. However, you will be holding the jigsaw differently and that's where things get changed.
The choice will be a matter of preference and which type of grip you will feel more comfortable with when using your tool.  You should consider the way you are going to hold this tool when using it. If it seems comfortable, then look for the models with that grip.
Motor Power
A jigsaw equipped with a high amperage motor is going to produce better cutting power. The cordless or battery-powered jigsaws feature 5amp motors.
There might be some exceptions, but that's what you should expect when buying a cordless jigsaw. Corded jigsaws can provide 6.5-7amp motors for more cutting power.
Bevel Adjustment and Capacity
The bevel adjustment and capacity is another essential feature that allows you to cut the object right according to the demand for the final product.
Some of the latest jigsaws allow the user to adjust the bevel position. You can tilt the saw housing according to the job requirement. Not all these saws allow for the same bevel capacity and adjustment features.
Some jigsaws are designed to preset stops at standard angle intervals. These tools are equipped with a level that allows you to make a quick adjustment.
These minor bevel adjustments can make a huge difference in the quality and angle of the cut. That's why bevel adjustment is a crucial feature to consider before buying a jigsaw.
Vibration Control
All types of power tools vibrate and that is a fact. This problem can affect the quality of work if the vibration is too much. However, you can find some models that create fewer vibrations.
Therefore, you should be careful about the type of saw you choose. pick a jigsaw that has low vibration when the saw is running.
A standard Action or Orbital Action?
There are jigsaws that move the blade in orbital motion which is often preferred by professionals and there are also standard action jigsaws that move the blade in an up and down motion.
This is how the blade moves while cutting a blade. Standard action is not the best when it comes to ensuring the blade will survive longer.
The saw blade moves slightly back and forth along with moving up and down when moving in orbital motion. This type of movement of the blade reduces the wear on the blade and prevents chattering action.
Quiet jigsaws with orbital action are preferred because they provide smoother cuts and have a longer lifespan for the cutting blade.
Variable Speed
Jigsaws with variable speeds allow you to adjust the speed of the moving blade as per the demand of the job. This feature is necessary when you are cutting metal objects.
It allows you to reduce the blade speed in order to cut the metal with better precision. If you are only cutting wood with your jigsaw, you may not find this feature all that important.
Pick a jigsaw with variable speed if you are going to be cutting through a variety of materials.
Trigger-Lock Feature
Whether you have the quietest cordless jigsaw or a quiet corded jigsaw, your hands can get tired when working for longer hours. A jigsaw with a trigger lock feature allows you to continue cutting without holding the trigger.
Latest posts by Josephine
(see all)