7 Quietest Treadmills for Home and Office
Looking for the best quiet treadmill for your workout?. Perfect, you've come to the right place. In this guide, you can expect to learn the following:
What a treadmill is
How does a treadmill work?
Do you really need a treadmill?
Our top-rated quiet treadmill picks
Factors to consider when choosing a treadmill
Benefits of using a treadmill
And more…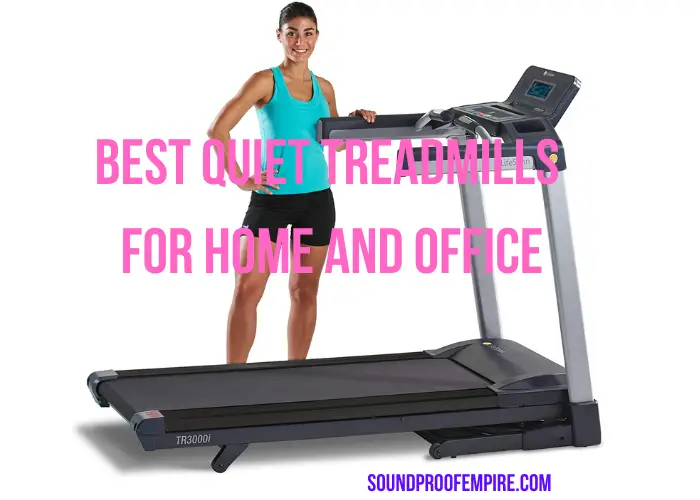 With the best treadmill, you can run, jog or walk at home — no matter the weather or current social distancing regulations.
The best treadmills can provide a heart-pumping cardio workout even if the local gym remains closed. That is one of the beauties of having a home gym equipment like a treadmill.
In today's busy work life and pandemics, it can be difficult to find time to go to the local gym or even go for a run or walk on the pavement or the trail.
Weather conditions can affect the outdoor running and walking regimens. But having one of the best treadmills that have a quieter operation will ensure you never miss a workout and you do so with peace of mind.
However, with the many treadmill brands and models out there, it can be overwhelming shopping for a treadmill that is right for your needs and with low noise of operation. That is why this guide we compiled helps you make an informed decision.
Also Read:
Best quiet under desk treadmills for burn calories whiles you meet deadlines simultaneously
What is a Treadmill and How Does It Work?
A treadmill is a piece of equipment that is generally used for walking, running, or climbing while staying in one place.
When treadmills were introduced first, they were used to harness the power of animals or humans to do work such as a person or animal treading steps of the treadwheel to grind grain.
But in recent years, treadmills have been used as exercise machines for running or walking in one place.
Treadmills are operated by a motor that turns the belt. Without the motor, the machine is useless. That is why the motor is sometimes referred to as the "heart" of the treadmill.
This motor is typically between a 1.5 to 3 horsepower motor that allows for the belt to rotate as you walk, jog or run.
Even though the motor size is important, it is not what makes the best treadmill. Rather, the design of the belt, rollers, and deck that all come together to determine the performance of the treadmill.
Do You Really Need a Treadmill?
If you are wondering whether is worthwhile to invest in a treadmill, then the reasons below may motivate you to get one. Treadmills are pretty expensive and to be sure your investment is worthwhile, here are some benefits of having a treadmill at home or at the office.
Treadmills are a time saver, as they allow you to get your workout done at home or in the office. This means you don't have to pack water and all those necessities that you need to go for a run.
Running or walking does amazing things to your health. They are the most comprehensive workouts. They improve, blood circulation, increase your metabolism, and can help you shed some weight.
Having a treadmill gives you the privacy you desire. If you are a beginner at treadmills, you can feel shy working on them. Having one at home will give you the confidence you need to learn how to work out on it.
It also gives you the flexibility you need with your workout. You can work out at any time without interference from anyone.
If you feel like you are sinking your money in gym members you can hardly keep up with, then it's time to invest in a treadmill. It's a sizable one-time investment that can last you for years.
Best Top-Rated Quiet Treadmills Reviews
Treadmills are not exactly silent when running. But there are some that are a lot quieter than others. Here are some of the top-rated quietest treadmills.
1). NordicTrack T Series Treadmill
The NordicTrack T Series Treadmill sports a powerful 2.6 CHP* DurX Smart Response Motor, which is ideal for keeping things quiet while you're walking, jogging, and running in your home.
With a 300 pounds weight capacity,  this 20-inch wide belt gives you more room to run. Additionally, this quiet motor treadmill has a well-cushioned belt that cushions your footfalls with each step, further reducing unwanted noise.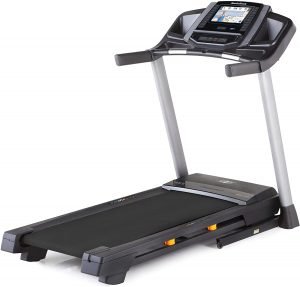 It also features an immersive 10-inch interactive HD touchscreen streams on-demand iFit workouts directly to your equipment and provides easy stat tracking using its advanced Bluetooth technology. The motor has SMART-Response for the effective running and cardio training.
Furthermore, this treadmill is also great for those with limited space at home or office because with its innovative SpaceSaver design with EasyLift, you can easily fold it up after your run for compact storage.
This treadmill also has 10 MPH SMART oneTough speed control, 10% OneTouch incline control and the iFit trainer automatically adjusts your treadmill speed and incline to suit your body for an optimal workout.
This product comes with a 10-year frame warranty, 2-year parts warranty, and 1-year labor warranty. It is one of the best quiet treadmills for home use.
Features
Dimension:

54" H  x 36" W x 73.5" L

Powerful 2.6 CHP* DurX Smart Response Motor
10 MPH SMART oneTough speed control
10% OneTouch incline control
Advanced Bluetooth technology
20-inch wide belt
Maximum weight capacity of 300 pounds
---
2). Fitness Reality TR100 Manual Treadmill
This quiet manual treadmill by Fitness Reality puts you in control of the noise produced by this budget-friendly home exercise machine.
The Fitness Reality TR1000 Manual Treadmill gives you the benefits of a compact design, uses no electrical power, and is virtually maintenance-free.
This exercise machine features twin cast iron flywheels that deliver a smooth and quiet walking experience.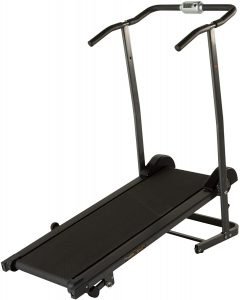 Also, this manual treadmill is able to support a weight capacity of up to 230 pounds. It is strong and durable enough to support the average user's weight.
Additionally, the treadmill folds down for easy storage and includes a built-in LCD screen that displays the elapsed time, distance walked and speed.
The Incline adjustments feature quick and easy 2 position incline levels of 6 and 10 degrees.
Plus, oversized belt rollers start the Treadmill belt easily with a very smooth and consistent walking experience. Its design also allows for easy 'on and off capability. It comes with a 1-year limited warranty.
So, if you are looking for something manual and very affordable, then this  Fitness Reality manual treadmill is for you. If you are looking for the best small and cheap treadmill, then this is recommended.
Features
Weight capacity of up to 230 pounds
It comes with a 1-year limited warranty
Compact design and manual
Easy 2 position incline levels of 6 and 10 degrees
Built-in LCD screen

Treadmill belt size 43″l x 13 1/4″ w.

Twin cast iron flywheels for smooth and quiet walking

Folded dimensions: 21″L x 23″W x 51″H
---
3). XTERRA Fitness TR150 Folding Treadmill
The XTERRA Fitness TR150 Treadmill combines the quality and performance you desire with the flexibility of a machine that can be easily folded up and stored away.
With its 12 preset programs, quick speed buttons, and five-inch LCD display, the XTERRA Fitness TR150 Folding Treadmill provides an intuitive and user-friendly experience during workouts.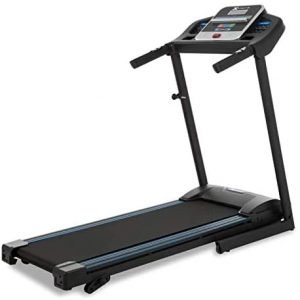 Specifically designed for the home environment, the TR150 incorporates numerous thoughtful features that were developed with your performance and comfort in mind.
For added comfort, the treadmill also includes an XTRAsoft cushioned deck to absorb shock and minimize the impact on your joints as well as a 16-inch-wide belt to give you plenty of surface to run on.
It features a 2.25HP motor that further adds to the comfortable and quiet function by delivering smooth and quiet motion.
Quiet 2. 25 HP motor

Large 16″ x 50" walking/running surface

Large 5" LCD display 

Speed range 0. 5 -10 mph allows for users of all fitness levels

3 manual incline settings allow for maximum variety

12 preset programs 

 speeds range from 1mph to 9mph

Weight limit: 250 lbs.

Assembled Dimensions L x W x H: 63. 4 x 28. 75 x 51. 4 in

Folded Dimensions L x W x H: 28. 5 x 28. 75 x 61 in

Manufacturer's Warranty;

Lifetime Frame,

1 Year Motor,

90 Days Parts, and

90 Days Labor
---
4). Merax Folding Electric Treadmill
This Merax foldable treadmill features a 15.7″ Wide running area provides a comfortable exercise experience. The Grass pattern anti-slip belt design provides optimum friction for enhanced grip and traction while you running.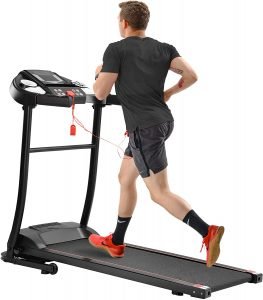 This space saver folding treadmill has a dolsing design and wheels on the front for easy transportation, allowing it to be placed at the corner, to reduce floor space, making it ideal for any room.
The Merax electric treadmill also has a smooth and quiet 1.5HP treadmill motor which allows for 12 preset programs and 3 count-down modes, supports speeds ranging from 0.8–12 KM/H (0.5–7.5 MPH) to help you meet a variety of fitness goals. Plus, it comes with a 1-year sale warranty.
This makes it a perfect fit for perfect for home use. It is also one of the best quiet treadmills for apartments.
Features
5″ LED Display
Programs: P1-P12
Speed Range: 0.8-10KM/H
Horse Power:1.5
Weight capacity: 240LBS
Running surface: 43.3″L x 15.7″W
Unfolded dimensions: 56.3″L x 25.2″W x 42.1″H
---
5). NordicTrack Commercial Series Treadmill
The NordicTrack Treadmill comes with a visual, interactive training personal trainer that is perfect to keep you motivated. It can also be synced with GoogleMaps, so you can choose to run through the African safari, Asian trail, Australian outbacks, the Swiss Alps, and probably even the Siberian Plain.
One of the best selling points for this NordicTrack commercial treadmill is the iFit coach program, which is a free subscription for the first year upon switching on the treadmill.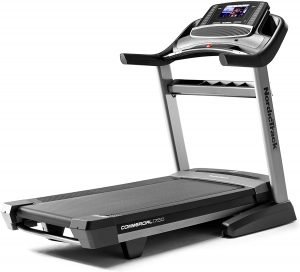 The immersive 10-inch interactive HD touchscreen streams on-demand iFit workouts directly to your equipment and provides easy stats tracking; SMART-Response motor for effective running and cardio training. This is one of the best quiet treadmills for walking and running.
This exercise machine has a weight capacity of up to 300 pounds. Because of the high-quality design and materials used, it comes with a Protected with a 10-year frame warranty, 2-year parts warranty, and 1-year labor warranty.
Features
-3 to 15 % OneTouch incline control

10-inch interactive HD touchscreen

1-year iFit family membership

22" x 60" tread belt for leg and elbow space

300-pound user capacity

12 MPH SMART OneTouch speed control

Dimension of 62.75" H x 39.25" W x 81.25" L
---
6). Horizon T202 Fitness Treadmill
This is the treadmill of choice for entry-level runners and non-enthusiasts; for people who want to exercise, are running to practice healthy living, and don't plan on running cross country marathons.
It has five built-in programs, including weight loss and cardio fitness. You can also download an app called VivaFit suitable for both android or Apple products to track your progress.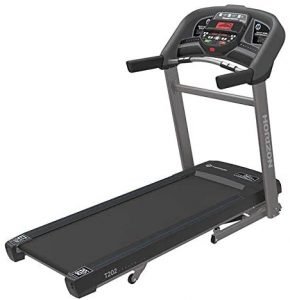 It features a 2.75 CHP motor, allowing for sprinting, making it one of the best quiet treadmills for walking, and jogging. It can deliver up to 12 MPH speed. You can also adjust the incline up to 12%, thus still giving you a pretty intense workout.
The 60" deck allows for long strides making it great for taller people and the whole treadmill can accommodate up to 325 lbs of weight.
The Horizon T202's has a sturdy frame and cushioning technology dampens the noise even at higher speeds between 10 – 12 mph.
With its featherlight folding feature, this treadmill is a space saver because you can easily fold it up after use for storage.
Features
60" 3-Zone cushioned deck

Running Area: 20″ x 60″

Assembled Dimensions: 75″ L x 34″ W x 58″ H 

Folded Dimensions: 47″ L x 34″ W x 65″ H 

Lifetime frame and motor 
---
7). LifeSpan Fitness TR3000i Touch Folding Treadmill
This LifeSpan Fitness TR3000i touch quiet folding treading is another reliable and durable option to look at.
It features a 2.75 CHP heavy-duty motor that operates quietly and fast, allowing you to do the most intense workouts with its incline range of 1% to 15% with speed as high as 12 MPH.
It has several workout programs in it that will help you lose weight, and monitor your heart rate and it is also perfect for sports training.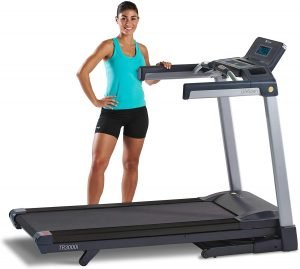 With the LCD display, you can monitor your workout progress. It also has a USB connection option to allow you to transfer your workout data to your smartphone or computer.
What we liked the most about it is that you can track your speed, calories, and distance through its user-friendly interface.  Moreover, it can be folded and kept in the office as well as at home to save space.
You can workout and listen to your favorite playlist as the treadmill is compatible with iPod and MP3. All the features of the treadmill not only provide a great workout experience but also help you track your progress.
The LifeSpan TR3000i Treadmill comes highly recommended as it supports all sorts of workouts and is very durable. This treadmill comes with a lifetime warranty on the frame and motor; 5 years on equipment parts; 1 year on labor. The treadmill is one of the quietest home treadmills.
Features
2.75 CHP heavy-duty motor
Incline range of 1% to 15%
Speed as high as 12 MPH.
Compatible with iPod and MP3
---
Quiet Treadmill Buying Guide
 With a huge array of brands, models, and offers on the market, treadmill shopping can be overwhelming. Warming yourself up before shopping will help you eliminate some mistakes. with that being said, learn how to buy a treadmill wisely with these simple tips and tricks.
Workout Space and Treadmill Size
How much space do you have to accommodate your treadmill?. To save yourself some time it's good to know the size of the floor space you plan to put your treadmill on. If you are considering a folding treadmills, then you also have t spare some space for storage.
The space you have available will also determine the size of your treadmill. Treadmill dimensions are usually published and knowing this information will help you shop wisely. It is recommended you get a 22″ wide belt for runners and 20″ for walkers. Although a 20″ belt is sufficient for runners.
With regards to the treadmill size, standard home treadmills are about 7′ long and 3′ wide. Although there are many folding treadmills on the market which are significantly shorter, they still require lots of room when they're in use.
Spend too much time sitting at work? You should try a desk treadmill.
Noise Levels
All treadmills produce some form of noise. Your feet hitting the deck is likely to result in a squeak and/or vibration due to footfalls. The belts, bearings, and other components are mechanical in nature and are apt to squeak as well.
All of these elements contribute to both airborne and structure-borne noise. This results in noise both in the room it's being used as well as adjoining spaces.
The noise output is usually a result of the overall construction and mechanical/moving parts of the treadmill.
Luckily, the treadmills reviewed in this guide have a quieter operation than most models out there.
Motor
The treadmill motor is it heart and the motor power is usually described in terms of horsepower (HP) or continuous horsepower (CHP). CHP is the most useful thing to take into consideration because it indicates how much power a motor can put out continuously versus just at its peak.
Most home treadmill motors have somewhere between 2.25 and 4.25 CHP. You can find some treadmills with 1.5 CHP or 5.0 CHP motors, but this is a minority.
The treadmill motor power you will need is dependent on the type of exercise you plan on doing and your body weight.
For people weighing up to 200 pounds, here are our general recommendations:
Walking: Choose 2.0 CHP or higher
Jogging: Choose 2.5 CHP or higher
Running: Choose 3.0 CHP or higher
Track Size
Though the track length isn't of great importance to petite walkers, it is important to those who take longer strides and especially runners. Today's standards for treadmill track length are 55″ for walking treadmills and 58″ or 60″ for running treadmills. For the track wide, the standard is 20″. but you may find extra wider ones at 22″.
Track Belt Durability
The thickness, metal rollers, and lubrication are the three main factors that determine the tread belt's durability. The thicker the tread belt, the quieter it will be during use. Two-ply and four-ply tread belts are more durable than a single layer. Most home treadmills that are budget-priced or mid-priced have one-ply tracks.
Track Cushioning
Cushioned treadmill running typically reduce impact by about 15-40%.  If you want to help protect your joints from the impact of the exercise, then choosing a well-cushioned treadmill will minimize your risk of injury and promote stamina.
Weight Capacity
Treadmill user weight capacities generally range from 250 to 400 pounds. it is recommended that you select a treadmill that can handle at least 50 pounds more than your body weight. This ensures that you don't put a strain on the motor.
Control
Checking the control of the treadmill is important before buying one. You should check whether the display and control of the treadmill are feasible for you to use.
Can you operate it with ease and work out without any hassle?
Check whether you can run or walk with an incline and then make your decision. The design of the side strips should also be considered. If it is too wide then you might have to reconsider your option.
Programs
Most treadmills today are sold with preset workout programs. Although not a deal-breaker, but these programs help support your exercise goals such as endurance and weight loss training.
These programs automatically control the speed of the treadmill, and they'll adjust its incline/decline too if applicable.
Warranty
A treadmill's warranty is an excellent clue from the manufacturer regarding a treadmill's durability. The typical treadmill warranty includes four parts: frame, motor, parts, and labor. The high the number of years, the more durable it likely is. It means the manufacturer has a lot more confidence.
Budget
It is crucial to define a budget so that you do not buy something that might be out of your range. Treadmills come in a wide price range. There are some that are budget-friendly and others that are premium priced. You need to keep this in mind while shopping.
FAQs
Why is My Treadmill Noisy?
All treadmills make noise. The noise levels vary from model to model. Here are the parts and factors that may cause noises; the bearings, misaligned part, a fraying belt, a loose roller pulley, or a worn motor belt.
Any of these above parts can contribute to more noise from your treadmill. Below are some ways you can reduce the treadmill noise if you feel is unbearable.
How Can I Soundproof My Treadmill?
If for some reason the treadmill you bought is not as quiet as advertised or you can't afford a quiet treadmill, what do you do? You find ways to reduce the noise. Here are some tips to keep your treadmills as silent as possible.
Lubricate
Maintenance is important in general to keep most treadmills quiet and functioning properly. Lubricating the belt reduces friction and therefore noise.
If you feel the noise is caused by friction between bolts and nuts, dropping lubricating oil in the joints and tightening any loose screws will do the trick.
Location
Where you place your treadmill in the room is important. Placing it in the corner of the room may amplify sounds. Also, the type of floor is another cause of loud noise. Concrete floors are quieter than wooden floors.
But you can reduce the noise levels by placing soundproof material like floor mats, blankets, etc on the floor before placing the treadmill on top of it.
Form Exercise
This is something to consider for noise management and health. Track athletes are instructed to land quietly when running. The impact of running harshly both tires out the runner and risks injury.
Yes, proper walking is heel-toe-heel-toe, but an improper running form is different and it makes a lot of noise. Do not run on your soles. Run and land on your toe. This is ideal for speed, noise reduction, and knee protection.
It may take a bit of time to adjust to this way of exercising, but this will make all the difference on a treadmill.
How Many Decibel is a Treadmill?
How Much Noise Does a Treadmill Make? As a general rule, you'll find that most treadmills run between 40 dB and 70 dB – somewhere in that range. That's a significant range in which the human ear can pick up differences in sound in a single decibel.
Latest posts by Josephine
(see all)