Top 3 Quietest Under Desk Treadmill Picks for Office and Home
Looking for the quietest under desk treadmill for your home or office?. Perfect, then you've come to the right place. In this guide, you can expect to learn:
What an under desk treadmill is
Our top-rated under desk treadmill picks
Factors to consider when choosing under desk treadmill that is less noisy
More…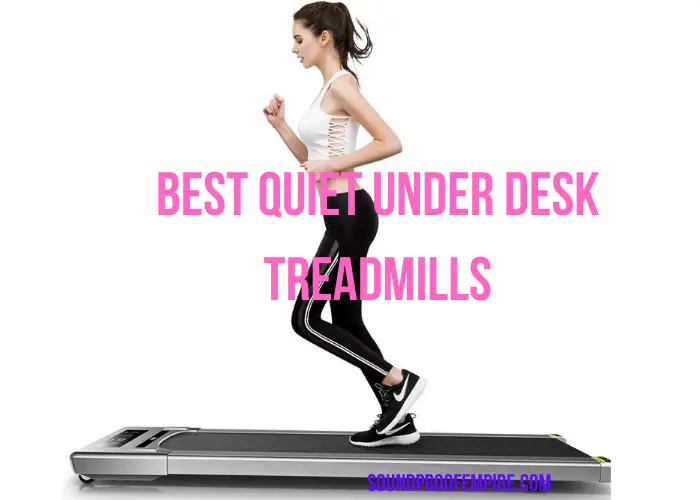 In a hurry, I Understand. Here is an overview of the best quiet walking treadmills for you to walk off those calories while meeting deadlines simultaneously.
RHYTHM FUN Under Desk Treadmill ( Best Overall)

CITYSPORTS Under Desk Walking Pad Treadmill ( Best Value for Money)

REDLIRO Under Desk 2 in 1 Treadmill ( Best Budget-Friendly)
A standing desk treadmill is great for improving your posture, but it won't help you get any closer to your goal of 10,000 steps every day. But with an under desk treadmill, you can walk and burn calories while you work at home or in the office.
A quiet under desk treadmill is a great solution to help you achieve more movement throughout your workday. But with the many models in the market, it can be challenging to decide which ones are the best.
That is why I did deep research and curated this best under desk treadmills that low to silent noise to help you burn some calories and meet deadlines simultaneously.
Also Read:
Best quietest treadmills in the market for running, jogging, or walking
An under desk treadmill is a treadmill shorn of its arm rails and slid under a standing desk for walking at work or at home. These equipment comes in a variety of sizes, shapes, and quality levels.
Some are designed to better handle the repetitive motion of walking than others.
Treadmills are operated by a motor that turns the belt. Without the motor, the machine is useless. That is why the motor is sometimes referred to as the "heart" of the treadmill.
This motor is typically between a 1.5 to 3 horsepower motor that allows for the belt to rotate as you walk, jog or run.
Even though the motor size is important, it is not what makes the best treadmill. Rather, the design of the belt, rollers, and the deck all come together to determine the performance of the treadmill.
The Best Quiet Under Desk Treadmills
These under desk walking treadmills are great for those who want to work out while working in the office or at home. Hopefully, you find what meets your personal needs on this list.
1). RHYTHM FUN Under Desk Treadmill
This under desk treadmill is suitable for people who weigh 220 Ibs and below.  It has shock absorption and noise reduction design that is equipped with a solid 1.5hp  electric motorized DC power motor, a silicon running board, a 7-level soft large running belt, and a durable steel frame that makes it quiet and comfortable when you are walking on it.
Due to its long length, this treadmill may not be the best for small spaces, but the 63-inch-long belt makes walking a little bit easier for taller people or those with a long stride. It maxes out at 3.7 mph, which is a brisk walk for most.
It has an 18″ large wide running belt that is smooth, balanced, and stable when you are walking or doing moderately-paced running.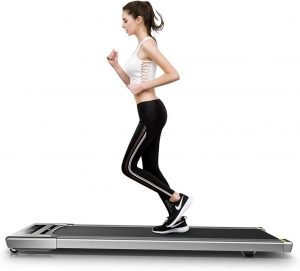 Another great quality of this under desk treadmill is that is compact, portable, foldable, and has a space-saving design.
Because of its low profile design, it can easily be stored in a closet, under a bed, sofa r standing desk where you can walk and work at the same time.
This treadmill features a large LED display, workout App, and a smart remote that allows you to control the treadmill remotely when walking or running on it.
It is suitable for everybody from beginners to seniors.
What We Like:
It's also very quiet
The speed increments are small, which also makes me feel safer
 It comes with some really nice remotes that work great and the treadmill responds to it instantaneously.
What We Don't Like:
You can't run fast on it but walking very fast is great
---
2). CITYSPORTS Under Desk Walking Pad Treadmill
This is another whisper-quiet treadmill for the home that has a weight capacity of up to 265 Ibs. It has a unique powerful mute motor and it's designed to be cost-effective, energy-saving and it's a perfect fit for all.
The treadmill is designed to be low profile to enable it easily fit under your desk for storage. The sleek and slim design makes it incredibly attractive.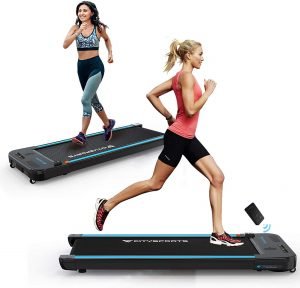 It also features a bright backlit dual LED display, surround stereo Bluetooth integrated speakers, and a handheld wireless remote control that allows you to control the treadmill while you are working out.
This machine is very practical with a 0.6 mph to 4 mph that enables you to either run or walk on it.
Overall, this treadmill is compact, portable, and solid in design allowing you to easily store and maneuver it.
The only downside of this treadmill is that some customers complain about it shutting off abruptly because of overheating and throwing the user off balance.
What We Like:
it's great for jogging and walking
Bluetooth connectivity
Lightweight and Easy to move around
Safe – Children Lock
Very Quiet
Led data display
 Great for small spaces
What We Don't Like:
The company was not very responsive when the treadmill developed a fault
No incline. You may have to create your own
The length may be a problem for someone over 6'3″
---
3). REDLIRO Under Desk 2 in 1 Treadmill
This is one of the best folding treadmills for a small space that can carry a weight of up to 220 pounds. It also equipped with a
high-quality, ultra-quiet  2.25hp motor that lets you walk and work without disturbing others around you.
This under desk treadmill has a maximum speed of running belt of 4.0 mph, you also easily walk under the desk while working.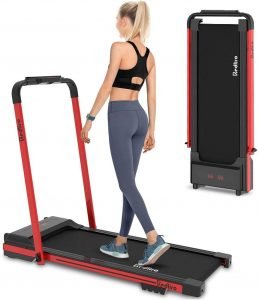 However, when the treadmill is fully raised, it becomes a normal treadmill with a maximum speed of  7.5 mph allowing you to run as normal.
This best 2-in-1 treadmill comes in two colors; black and red giving you the option to choose your favorite color.
It has a Multi-functional Led display, that is easy to read with all the necessary information, such as it can track your workout Time, Speed, Calories Burned, and Distance. 
Overall, this treadmill is affordable, a space saver, and does not require any assembly.
The foldable design and transport wheels make it easy to move, and very suitable for home or office use.
What We Like:
It is quiet
Easy to move, fold, and unfold
Low platform making also suitable for low ceiling
Great for walking and moderate for running
Easy to set up under a desk and work on a computer
---
Factors to Consider When Choosing an Under Desk Treadmill
Because walking treadmills are also known as under desk treadmills are different beasts than running treadmills you're used to seeing, the features you consider when choosing them won't necessarily be the same.
They don't cost that much compared to running treadmills because they are not designed to withstand miles of intense pounding, don't offer much functionality, or reach the same high speeds.
Therefore, there are a few things to consider when choosing a silent under desk treadmill.
Noise Level
All treadmills produce some form of noise. Your feet hitting the deck is likely to result in a squeak and/or vibration due to footfalls. The belts, bearings, and other components are mechanical in nature and are apt to squeak as well.
All of these elements contribute to both airborne and structure-borne noise. This results in noise both in the room it's being used as well as adjoining spaces.
The noise output is usually a result of the overall construction and mechanical/moving parts of the treadmill.
depending on a treadmill's noise level, one that's too loud could be disturbing to you or disruptive to your office coworkers (whenever that becomes the norm again). Look for a model with a quiet belt.
Luckily, the treadmills reviewed in this guide have quieter operations than most models out there.
Size
With many people either having a dedicated workspace in their home or office, your under desk treadmill need to be easy to remove or add. This is because even though you may want to walk while you work, chances are you'll also want to sit down at some point.
Your under desk treadmill should be lightweight, easy to move, and even be foldable so that you can easily get it out from under your desk and fold it away.
Speed
Most walking treadmills have a range of 0.5 up to 4 mph. But considering that the average walking speed for adults is about 3 mph if you decide to get an under desk treadmill, you should choose one that you can run as well.
It should have the speed and stability to handle that. some models even have speeds that can go as high as 12 mph, but be careful with such models as walking treadmills don't come with handles and such high speeds can make fast pace walking or running a bit challenging.
Weight Capacity
Treadmill user weight capacities generally range from 250 to 400 pounds. it is recommended that you select a treadmill that can handle at least 50 pounds more than your body weight. This ensures that you don't put a strain on the motor.
Additional Features
Features that will enable you to have control over your treadmill when in use is also important. Most walking treadmills come with a remote control that allows you to adjust the speed to a suitable level while others also have a raised screen that allows you to control it by hand.
Also, safety features like an automatic stop when you step off,  or energy savings when you are not using it after a period of time.
Final thoughts
A quiet walking treadmill will enable you to work out while you work. These types of treadmills are compact, convenient, portable, mostly foldable, and usually cost less than the normal treadmill.
They give you the ability to fit them into smaller spaces like the office or your small living room at home. The above-mentioned models are some of the best under desk treadmills in the market with less noise. I hope you find what you're looking for.
Latest posts by Josephine
(see all)