Top 5 Quietest 10000 Watt Generators in the Market 2022
Looking for 10000 watt generators that generate less noise?. Perfect, then you've come to the right place. In this guide, you can expect to learn the following:
What can you run with 10,000 watt generator?
Our top-rated 10000 watt generator picks
Will a 10000 watt generator run a central air conditioner?
And more…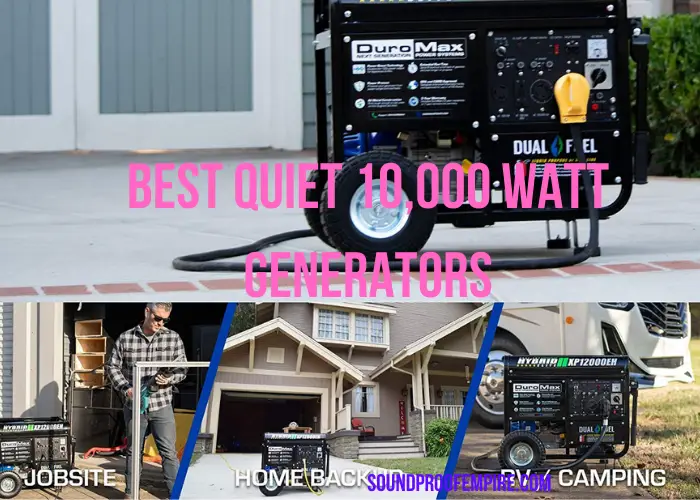 In a hurry?. I understand. Here is a quick preview of the best 10000 watt generators in the market to power your power-demanding appliances.
Pulsar PG10000B16 Portable Dual Fuel Generator( Best Value for the Money)

DuroMax XP12000EH 12000 Watt Dual  Generator (Best Overall )

A-iPower SUA12000EC 12000 Watt Gas Powered Generator( Best Budget-Friendly)
A 10000-watt generator is an excellent choice if you are looking for a generator to power most of your essential household items during a power outage.
However, not every 10000 watt generator is the same. Since generators that big do not come cheap, you should only invest in the top-quality model and one that will give you the peace of mind that you desire.
To find the right fit, I have done hours of deep research to come up with some of the best 10000 watt portable generators in the market that will operate at lower noise.
What makes these generators highly sought after is their ability to power many types of appliances while still being easy to transport.
Most of these generators feature easy-to-use handles and heavy-duty wheels that make it easy for a person of any age to move.
Also Read:
Best quiet generators for camping 
What Can You Run with a 10000 Watt Generator?
Wondering what a 10000 watt generator can run?. A 10000 watt generator is ideal for running a refrigerator and other kitchen appliances and most at the same time.
This kind of generator has got enough power to run all critical household items. These include; a refrigerator, freezer, sump pump, furnace, window air conditioner, washing machine, dryer,  light circuits, etc. In most cases, you can run most if not all of these devices at the same time.
You can also use it at the Jobsite to power tools, take care of power for a huge RV, run a food truck, and more.
A 10000 watt generator is a high-power generator that can get a lot of your household items powered up at the same time without any pressure on the generator.
It is generally recommended to go with a generator that is a little too big, instead of one that is too small. No one wants to be caught in a situation where they have to ration their power a little too much. It becomes very frustrating and leaves people trying to figure out exactly what to do in the short term.
  10000 Watt Generators in the Market Less Noise that Comes Recommended
If you are in need of the best 10000 quiet generator that is going to power the majority of your electrical appliances at home, Jobsite, food truck, or huge RV, then you will find these generators here best for consideration.
1). Pulsar PG10000B16 Portable Dual Fuel Generator
The Pulsar 10000 portable dual fuel generator features propane and gasoline fuel options, which allows you flexibility and the ability to power multiply appliances and tools at once.
The Pulsar PG10000B16 delivers 10,000 peak watts when using gasoline and 9,000 watts when using liquid propane gas.
This generator allows you to enjoy up to 12 hours of run time at half load when using gasoline as the fuel source.
It is also equipped with Pulsar's Switch & Go Technology which allows you to easily switch over to the next fuel source without having to shut down.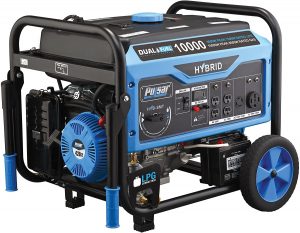 The Pulsar generator was designed with practicality in mind, thereby giving you many electrical options. Plus, its collapsible handles and plastic wheels make for convenient, maintenance-free transport.
The Pulsar PG10000B16 is outfitted with four 120V outlets, one 120/240V twist-lock outlet, and one 120/240V 50A RV port to power many appliances at once.
It's 420cc 15HP single cylinder, 4-stroke, OHV engine produces 10,000 Peak Watts/8,000 Running Watts Gas and 9,000 Peak Watts/7,000 Running Watts LPG.
It is an ideal source of backup power for running large appliances and other electronic devices, so you can comfortably weather the storm.
The 420cc 15 HP OHV engine is certainly one that people love using and depending on in numerous types of settings.
With noise level going up to a maximum of 74 dB under heavy operation, most people are really fine with it considering its wattage and you can easily place it away from you.
Features & Specs
420cc 15HP OHV engine
Gasoline watts: 9,000
Propane watts: 10,000
Weight: 209 lbs
6.6-gallon capacity fuel tank
12-hour runtime @ 50% load (gasoline)
1 – 120v/240v twist lock
4 – 120v 20A receptacles
Household style outlets
1 – 120/240V 50A RV port
Sound level: 74 decibels from 23 feet away
Electric start w/ recoil back up
Pros
Versatile
Dual-fuel capabilities
Electric start
Cons
---
2). DuroMax XP12000EH 12000 Watt Dual  Generator
The DuroMax XP12000EH AKA "The Beast" is a really solid 10000 watt generator. It is equipped with an original Duromax 457 cc OHV Engine.
This is another dual fuel 10000 watt generator that gives you the option to choose between propane and gas fuel to power the generator. This also gives you similar flexibility and longer runtime like the Pulsar above. There is also a lower operation cost because propane is much cheaper than gasoline.
This continually gets rated as one of the top options for those who need somewhere around 10,000 watts of power at certain times. It maxes out at 12,000 watts, but can comfortably run for about 20 hours at 50% output. This makes it a perfect option for those who want versatility with not only propane fuel but gasoline as well.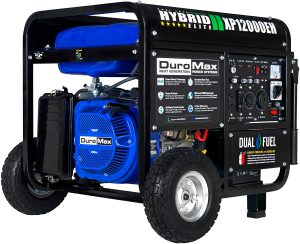 Another strong reason why you may like this generator is that it comes with different outlets available allowing you to power multiple devices at the same same.
In total, this generator automatically comes with four different types of power options.
The dual-fuel generator is CARB and EPA certified for safety and environmental standards in all 50 states. This unit can operate for more than 15 hours on one tank of propane or 8.3 gallons of gasoline combined.
It also has a built-in noise reduction technology, making it reasonably quiet for a portable generator of this size.
 The XP12000EH is easy to transport over any terrain with the included handle kit and runs on rugged and durable solid-fill tires. Like all DuroMax generators, this unit is built with all copper windings, that will last for years, and is covered by a 3-year factory warranty.
Features & Specs
457cc Duromax OHV engine
Watts: 12,000
Weight: 269 lbs
8.3-gallon capacity fuel tank
10-hour runtime @ 50% load (gasoline)
20-hour runtime @ 50% load (propane)
1 – AC 120V 30A
2 – AC 120V 20A GFCI
1 – AC 130.240V 30A
1 – AC 120/240V 50A
Carb compliant
Sound level: 72 decibels from 23 feet away
Recoil style start
Pros
Versatile fueling options
Lightweight enough for transportation
Durable casing
Cons
Warranty is not the best
Wheels might need to be replaced with a lot of transportation
---
3). Westinghouse WGen9500 Heavy Duty Portable Generator
Westinghouse is another excellent dual fuel generator that can power a host of regular home appliances, including the refrigerator, freezer, and lights.
The generator is able to produce 9500 running watts and 12000 starting watts when using gas. Liquid propane gas gives you 8500 running watts and 11200 starting watts.
The intuitive control panel controls the system with two ground fault circuit interpreters (a house 5-20R 120 Household Duplex and an L14-40 120 / 240V twist-lock outlet control).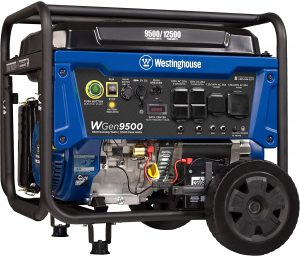 This unit is equipped with a large 6.6-gallon fuel tank and it's big on fuel efficiency. It's able to run for up to 17.5 hours on gas and liquid propane.
With the remote start feature, you are able to start the generator with a key fab even if you can stand far away from it. The generator has met CARB, CSA, and EPA standards of safety and environmental safety. Plus, it comes with a 3-year limited warranty.
Pros
Runs on Gas and Propane
Fuel-Efficient
Remote Start
CARB approved
Cons
---
4). A-iPower SUA12000EC 12000 Watt Gas Powered Generator
This A-iPower 12000 watt gas generator is the most affordable on this guide for those who are on a tight budget.
Though is slightly affordable, it's still a very high-quality generator that is able to generate 10000 watt or more to power your home or outdoor activities.
Even though A-iPower is not a well-known company in this industry, the customers who purchase them do have positive things to talk about. The generator is powered by a 16 HP engine, which is one of the best in its class.
With the compact size, one can probably guess that it does not have all the features that others come with. For starters, it lacks the same versatility the others have, simply because the run time is going below.
That is because it has a fuel tank that is the biggest, and it will not be able to last as long as some of the others.
It has a few outlets that may be a bother to some potential customers.
All in all, this is about as portable as it gets for a generator of the size. Those looking for ways to move around and use it for multiple things will be very happy overall.
Pros
Very easy to move around.
Efficient engine.
Shuts down automatically when dealing with low oil.
Cons
The runtime is not the best
Lacks as many outlets as others
---
5). Gentron 10000 Watt Gas Powered Portable Generator
The Gentron generator is another affordable 10000 portable generator on this list. Great for home emergency power backup. It's great for RV standby, home emergencies, and in cases of natural disasters.
The GT10020 features a 15HP, 420cc engine that delivers 10,000 watts peak power and 8,000 watts rated power.
An 8-gallon fuel tank allows for an 11-hour run time to keep you running through the night. It is a versatile unit that allows you to plug in many different types of appliances.
This generator has a noise level of 78 dB which is considered low noise.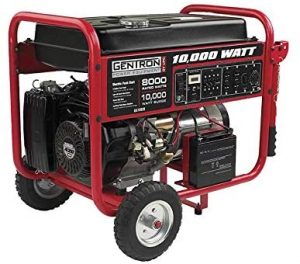 However, a lot of the more inexpensive 10,000-watt generators will actually get to levels as high as the mid-80s or even 90 decibels. That is going to be way too much, and people are going to get frustrated with that.
The Gentron GT10020 is backed by a 2-year limited warranty for consumer purchases and a 90-day warranty for commercial purchases.
Specifications
420cc OHV engine
Running watts: 8,000
Starting watts: 10,000
Weight: 220 lbs
8-gallon capacity fuel tank
9-hour runtime @ 50% load
4 – 120V AC 3-spring grounded outlets
1 – 120/240V AC twist-lock outlet
1 – 240V AC twist-lock outlet
1 – 12V 8.3A output for charging a battery
Sound level: 78
Electric style start
Pros
Inexpensive
Decent runtime
It starts up in any type of temperature
Cons
Gets a little louder than others on this list
---
6). Honda EB 10000
Honda EB 10000
Not everyone wants to have a generator that is built for industrial use. However, once it gets up to the 10,000 watt range, there is more of a need to have dependable power instead of portability. The portability might not be there for some shoppers, but this is the best of both worlds in many ways.
When is a 10000 Watt Generator Needed?
There are several reasons why one may need a 10000 watt generator. Some of which include:
Power Outage
Extreme weather conditions like heavy rains, hurricanes, storms, and others, there can be unforeseen power outages that can last for several days or hours. Having a huge generator as a backup plan is always advisable.
A 10,000 watt generator can power your needed appliances, such as a refrigerator, fans, window units, and heaters, to keep you and your family safe until power is restored.
Job Sites
When working in remote areas where there is no electricity, a large generator can be a priceless possession. You can easily power up your tools with a 10000 watt generator.
For those who work out of a mobile office building at the job site, these generators can easily power an A/C system to keep you cool on hot summer days.
Final Thoughts
Each generator listed here has its strong points and downsides, but they all have one thing in common, which is low noise levels of operation. They are also able to provide you with constant power for RVs, for homes in times of power outage, power for construction job sits, and whenever portable power is required in any situation.
Hopefully, you found this guide helpful in finding the best  10000 watt generator for your needs.
Latest posts by Josephine
(see all)