7 Top Quietest(Silent) Generator for Camping Models in the Market
Looking for the quietest generator for camping this season?. Perfect, then you've come to the right place. In this best camping generator complete guide, you can expect to learn the following:
Do you really need the quietest generator for camping
The top-rated quietest generator for camping picks
How to choose a quiet camping generator
How loud can a generator be in a campground?
How to make a generator quiet for camping
And more…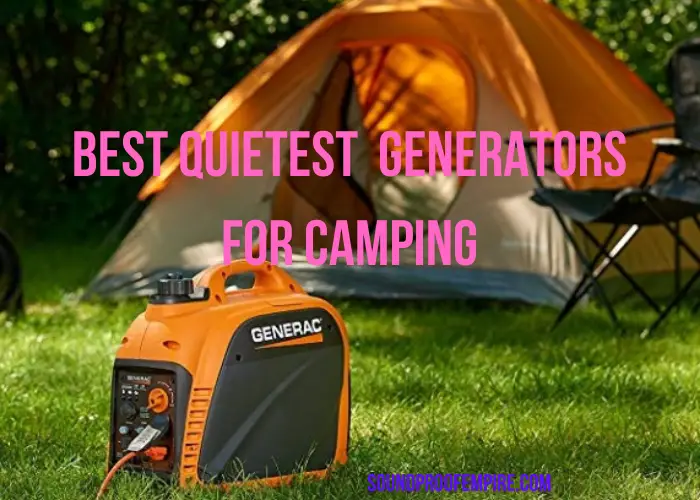 Quick Preview of the Quietest Generator for Camping Models
In a hurry?. I understand. Here is a quick preview of the best quiet generators for camping in the market to help you power up your campground effectively with less noise.
Westinghouse iGen 1200 Super Quiet Portable Gasoline Inverter Generator(Most Budget-Friendly)

Jackery Portable Power Station Explorer 110V/500W Solar Generator( Best Solar Powered)

Champion 3400 Watt Dual Fuel RV Ready Portable Inverter Generator( Best Quiet Dual Fuel )

Generac iQ3500 Watt Portable Inverter Generator ( Best Overall)
Camping is fun and is one of the best activities that allow us to interract with nature. But with most camping happening in the bush or remote grounds with no power connection, the best way you can power up your appliances is by using a generator.
But using a generator also comes with its problems and one is noise. Generators are not mostly quiet to work with but luckily for us, there are brands that have put in the extra effort to ensure that you get the quietest portable generator for camping that will operate quietly without drawing unnecessary attention from others or the campground authorities.
Today, in this guide, you will find some of the best quiet camping generators that are portable, quiet, and efficient. So keep reading to learn more.
Do You Really Need a Generator to Camp?
Generators are often necessary if someone does not have hook-up access to their camper or RV. Tent campers generally do not need a generator unless they want to use an electric stove or another type of device that needs some electricity.
Some people may also want to enjoy their camping watching television or listening to music. If you are just doing backpack camping, you may not need a generator.
While some people may not need a generator, some always prefer to have it just in case you might need one to run some equipment.
While camping, you may encounter instances like bad weather and cannot make a fire to cook food,  a quiet portable camping generator might come in handy to cook some meals and even power up lights in case it's dark.
Well, though not all campers may need a camping generator, it is always a relief to have one just in case of an emergency.
So, now you may be wondering what size of generator you are going to need for your camping. Well, the size will depend on the amount of wattage you need. For example, a refrigerator needs around 600 watts of power to keep running.
Lights don't need that much power, so if you are only using a few pieces of equipment, then you don't need a high-power generator. You can get a portable generator for camping which is relatively cheaper.
Also Read:
Quietest generator mufflers and silencers for noise reduction
Best Quiet Generators for Camping
Here are some of the best quiet camping generators that will enable you to power your appliances at your campsite quietly without disturbing other campers.
1). WEN 2000 Watt Gas Powered Portable Inverter Generator with Fuel Shut Off Carb Complaint
This WEN 2000 watt gas-powered portable inverter generator is very quiet with a noise level of 51 dB which is even quieter than the sound of normal conversation.
It is also lightweight with a weight of 48 pounds and very affordable. This makes it one of the best quietest generators for camping.
With the noise limits so low, its invasiveness while hunting, camping, tailgating, and restoring backup power.
Designed to mirror a pure sine wave, this generator limits total harmonic distortion to under 0.3 percent at no load and under 1.2 percent at full load, making it safe enough to run laptops, cellphones, monitors, tablets, and other vulnerable electronics.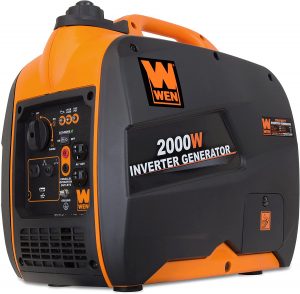 The lightweight design makes for easy portability while the ultra-efficient one-gallon tank provides over 6 hours of half-load run time
This super quiet generator includes two 3-prong 120-volt receptacles, one 12-volt receptacle, and one 5-volt USB port to power various devices and appliances. Plus, the eco mode feature will adjust its fuel consumption to match the power output at any given time.
And if you love the quiet operation of this unit but need more power, you can link two of these generators together with the WEN parallel kit.
Pros
Most affordable generator on our list
Lightweight
Very quiet at only 51 dB's
Eco mode to help save fuel
Can chain together two Wen generators for double the power
Cons
---
2). Westinghouse iGen 1200 Super Quiet Portable Gasoline inverter Generator
The Westinghouse iGen 1200 super part gasoline inverter generator is also another lightweight and quiet generator that is ideal for camping. It has a noise level of 52 dBA and a weight of 35 lbs. This generator also has an efficient mode that allows it to run 0.8 gallons of gas for 10 hours.
It's also a bit more affordable of an option amongst reliable camping generators.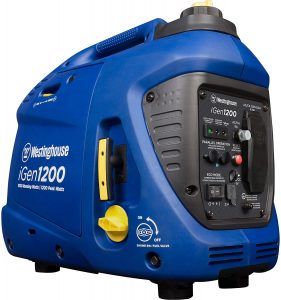 This is the cheapest available portable, quiet generator, but that budget price comes with a few big downsides.
It offers the least amount of power, for one thing, with only a 1,000-watt rating.
Some customers even likened its performance to that of Honda or Yamaya, but at the fraction of the cost. Well, with portable inverter generators, Honda and Yamaha have established themselves as the gold standards and there is likely a good reason for that perception.
If you are looking for a tent camping generator, then this generator is one of the great choices.
Pros
3-year warranty and lifetime technical support
Inverter
Parallel-capable (dual engine)
Very affordable
Cons
---
3). Briggs & Stratton P2200 Power Smart Series Inverter Generator
When you take off for your next adventure, you don't have to leave comfort and fun behind. Ideal for camping, tailgating, and DIY projects, the P2200 PowerSmart Series inverter generator provides quiet, lightweight, and efficient power.
Engineered to be compact and easy-to-transport, the unit's H-handle design ensures convenient carrying by one or two people.  At just 59 decibels at 25% load, this inverter generator is quieter than a typical conversation.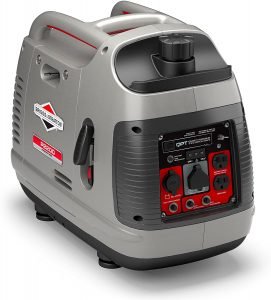 Despite it being less expensive than other models, this 2200 watt generator from Briggs & Stratton offers more power than many of the other options.
In addition to offering a bit more power and a good price, the P2200 is pretty quiet and has decent fuel efficiency. It's not quite fuel-efficient enough to meet California's tight emissions standards, but it will run for close to seven hours when running a 500-watt load.
The computer-controlled engine continually modulates based on load and other factors. The inverter keeps your sensitive electronics safe, and the parallel connector port means you have the option to double your power.
This generator is fairly compact and lightweight, and the H-shaped handle makes it easy for one or two people to carry.
Pros
Relatively lightweight and compact
Affordable
2-year warranty
Reliable engine maker
Cons
Not as inaudible as it could be
Missing fuel indicator
Less than average efficiency
---
4). Jackery Portable Power Station Explorer 110V/500W Solar Generator
Jackery is the leader in portable solar-powered generators, so it's a natural fit for them to be first on this list. And there are no quieter generators on the market than solar-powered generators.
The whisper-quiet Jackery Explorer 500 is perfect for those camping trips where you don't need a LOT of power. With virtually no noise it will provide stable power to your TV, mini cooler, phone, and laptop chargers, and will even run a blender.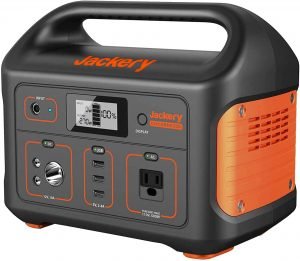 In case your battery runs down, there are many ways you can charge this generator, including the sun which can take up to 14 hours under the full sun and in your carport (takes 16 hours), or in an AC wall outlet (takes 8 hours).
If you are camping with a minimal amount of power needs, then this Jackery Explorer 500 is recommended for you. And this is an inverter generator ensuring you can safely power sensitive devices like your phone or laptop.
Pros
Very quiet
Less maintenance
Affordable
Cons
It cant run appliances over 500 watt
---
5). Champion 3400 Watt Dual Fuel RV Ready Portable Inverter Generator
This Champion 3400 watt dual fuel RV-ready portable inverter generator has a low noise level of 59 dBA at 23 feet for up to 7.5 hours on gasoline or 14.5 hours on propane.
It features a dual fuel, allowing you to the 192cc engine or either gasoline or propane, this enables you to have the flexibility of using either fuel.
Using gasoline, the 192cc Champion engine produces 3400 starting watts and 3100 running watts and will run for 7.5 hours at 25% load.
It produces 3060 starting watts and 2790 running watts and will run for 14.5 hours at 25% load when using a 20-pound propane tank.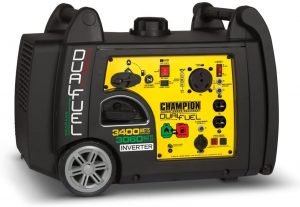 This unit is a perfect combination of versatility and convenience whether you need to power your home, RV, or project. You can use it if you have to power multiple appliances at your campground.
The inverter produces clean power that enables you to power your sensitive electronics with confidence, it is also equipped with smart economy mode and a cold start technology that ensures you get a quick start in cold weather.
This unit works right out of the box using either gasoline or propane. Plus, it features a convenient electric start, 120V 30A RV outlet, two 120V 20A household outlets, and a 12V DC outlet with a dual USB adapter.
This inverter generator is for those who seek slightly high power to power a couple of appliances at once.
And you can buy with confidence with Champions 3-year limited warranty with free lifetime technical support!
Pros
Inverter
RV ready
CARB compliant
A trusted brand in this space, a pleasure to work with
Cons
Larger and heavier than other models here
---
6). Generac iQ3500 Watt Portable Inverter Generator
Generac is the top name when it comes to generators and its iQ3500 portable inverter generator with 3,500 watts lives up to its name—and then some.
It is stated that this Generac inverter generator is quieter than Honda, but that is up for debate among the customers.  Considering that Honda is believed to be having the quietest generators around; meaning it's a very good sign.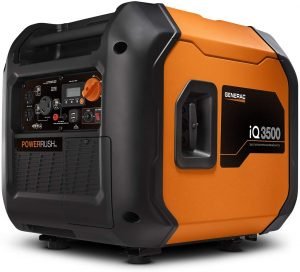 The iQ3500 portable inverter generator lets you bring power wherever you go – from tailgating parties to camping trips, the Jobsite, and beyond.
This unit is also a quiet camping generator that will power your campsite with less noise.
Pros
Low noise
Lightweight
Inverter technology
Higher power
Cons
Some customers claimed its a bit hard to start
---
7). Honda EU1000i Super Quiet Gasoline Powered Inverter Generator with Eco Throttle
Honda generators are known for having a reputation for reliability and quietness. At high power, it generates less than 60 decibels and in the economy, the mode may be closer to 50 decibels making it an ideal choice for your power needs during camping.
Its also lightweight and compact; weighing only 29 lbs, making it easy to transport to your destination and move up and down.
This unit also uses inverter technology for stable, clean power in a smaller, to ensure the generator produces power that is reliable as the power you get from your outlets at home.
Also, thanks to the eco-throttle system, this EU1000i Honda inverter generator offers fuel efficiency, it runs up to 8.3 hours on a single tank, depending on the load. The oil alert protects the generator by shutting the engine off when there is low oil pressure detected.
Pros
Fuel efficient
Oil alert for engine protection
Lightweight and compact
Cons
Changing the oil isn't easy
---
How to Choose the Quietest(Silent) Generator for Camping
Having a quiet generator for camping can be a source of relief in case you need to power up some appliances or get a source of lights. Generators are essential to providing you with that source of electricity.
Therefore having a portable generator that is specifically designed to be camping friendly is good. You can charge your phone, power up your laptop, cook food, etc.
There are many factors that go into purchasing a camping generator. Here I will cover the key factors to consider when choosing the quietest generator for camping.
Size
The size of the generator is important because it also determines the wattage. With camping generators, you need something that will fit in the trunk of your car. Generally, there are two sizes; compact and small.
The small generators can generate between 2000 to 3000 watts of power, while the compact generator will provide around 1000 watts. They are lighter to carry. As a rule, the more wattage a generator can provide, the louder it will be.
So the size of the generator you will need will depend on how many appliances you need to power up at the same time. If you only need one or two appliances to run at the same time, then you will need a compact generator.
On the other hand, if you have to power up a group of appliances at the same time, then a small generator is a good choice. But you will need to keep some distance from other campers to avoid disturbing them with the generator noise.
With that being said, enjoying your peace of mind is the reason why most people go camping. Therefore it's important to choose a quiet compact generator or a quiet small generator for your camping.
Generator sizes are measured by their power not their actual size in inches or centimeters. Generators with less than 2000 watts are the lightest and can be carried easily with a handle.
Noise Level
Another very important factor you need to consider when choosing a generator is the amount of noise it produces when running.
The noise level of every generator is usually stated in the manual by the manufacturer. The noise usually comes from the motor and exhaust and depending on the design of the generator, some are quieter than others.
The noise level is often stated in decibels. With the decibel scale ranging from 0 dB (total silence) to 140 dB (a gunshot noise).
For every 10 decibels, the noise level will 1o times more powerful. On the market, the quietest decibel rating of a silent generator is currently at 50 decibels, which is equivalent to a whispered conversation between two people.
A small generator can register a decibel reading of 75, which is as loud as a leaf blower. So it is really important to read up on the decibel data on any brand you are looking to purchase and look into the different brands available.
The Fuel Type
There are different fuel types of generators. The most common fuel types are gas, propane, and diesel. So, it's important you determine which fuel type you would use. Let's go into each fuel type in detail.
Gas
Portable silent gas generators are becoming very common. A lot of generators are produced specifically for camping needs and are optimized for portability, fuel efficiency, and low-noise production.
For example, a gas inverter generator is designed for quiet operation and can be as low as 50 decibels in noise levels which is ten times less than the common 60-decibel generator.
They are also made to be very light in weight and are considered environmentally friendly as they are fuel-efficient.
Propane
Propane generators are a better alternative for clean-burning fuel and are better for the environment and your motor than gas. Well, it may not be efficient per gallon of fuel like gas or diesel generators, but it's a great alternative.
Propane is also cost-effective more than gas or diesel and usually comes in cylinders that make it impossible to accidentally spill. They are also generally quieter.
However, they aren't the best in cold weather. But there are generators that are duel fueled. They can use both gas and propane. So that in winter, you can use the gas instead.
Diesel
Compared to gas, quiet diesel generators are more economical than gas-operated ones. A diesel-operated generator often needs less fuel than a gas generator and also runs longer hours as well.
Diesel generators are also less maintenance compared to gasoline generators because there are no carburetors or spark plugs. Also, diesel is light-grade oil that will protect the motor from wear and keep it running smoothly to prevent loud noise.
How to Make a Generator Quiet for Camping
If you currently have a generator that is a little louder than you'd like or maybe the generator that fits your power needs has a dB rating that's fairly high, you can effectively make it quieter with a few tips.
Place the Generator Far from You
If you are closer to a source of noise, you hear it more than someone who is far away from it. The same goes for your generator. The closer a loud generator is to you, the noisier it becomes.
If possible place the generator a bit far from you. If you are RVing, if possible, place the generator behind the RV and it will help reduce the noise.
Upgrade Your Muffler
In this guide, the whole idea is actually about how to reduce generator noise using a muffler or silencer box. All the mufflers covered in this guide, are perfect options for upgrading your generator muffler to a quieter one.
A typical component of any generator is the muffler. It is designed to reduce engine noise and vibrations to help the generator run smoothly without a lot of noise.
If your current muffler isn't effective at noise reduction, then it's time to upgrade to a better sound muffler that any of these mufflers covered above can handle.
You can upgrade if your current generator muffler is not effective or if your muffler is old, upgrading to a more efficient version can also make a difference.
Make sure to choose a muffler that will be compatible with your generator and you may need some technical skills to change it out.
Place It on a Mat to Absorb the Sound
Using a soundproof mat to reduce generator noise is one of the easiest ways to keep the noise at bay. It absorbs the vibrations and reduces those buzzing sounds significantly.
All you need is to acquire one from your local store or online and place it right under the generator. This will significantly reduce the generator noise.
If you cant get the mat, there are also sound-absorbing materials such as foam, rubber, or even blankets. A mass loaded vinyl is also another very effective sound-absorbing material that can get the job done.
Regular Maintenance
General maintenance can go a long way in keeping your generator running as smoothly, and quietly, as possible. Replacing the muffler can have a huge effect on the noise level.
Plus, regular oil changes will help your generator run as quietly as possible. In fact, if a generator seems to be running louder than normal, the first thing we like to check is the oil.
Sound Dampening Box
You can get or make a sound dampening generator box. The good thing is that it will reduce the generator noise levels. But you have to factor in ventilation to ensure there is proper ventilation for your unit. But this technique may now affect the way you move your generator.
how Loud can a Generator be in a Campground?
If you are like me, who don't want to draw a lot of eyebrows at you because of noise, then it's essential you check your generator noise level and the campground rules.
But the rule of thumb is unless a generator has a low noise level enough that other campers in the park cannot hear you then, it might not be allowed.
Actually, some campgrounds do not allow generators at all because of the noise factor.  Other campgrounds may allow generators in designated areas or during specific times of the day. The National Park Service allows some campers to use generators but with a campground noise level not exceeding 60 decibels at 50 feet.
Final Thoughts on the Quietest Generator for Camping
The above generators are some of the quietest models in the market to meet your camping needs. Depending on the number of appliances and their power ratings, you will pick your camping generator accordingly.
All the generators listed here are quiet and they have noise ratings of below 60 dBA which is below the campground noise level recommended by the National Park Service.
A noise level of 60 dBA is the same as having a conversation. So, something below that is definitely quiet. There are generators on this list to meet all your camping needs and portable to transport with a car.