Quietest Dust Collector:7 Best Quiet Models in the Market
Looking for the quietest dust collector for cleaning your workshop?. Perfect, then you've come to the right place. In this guide, you can expect to learn the following:
What a dust collector is
How does a dust collector work
Our top-rated quiet dust collector picks
How to choose a silent dust collector
Benefits of having a dust collector
And more…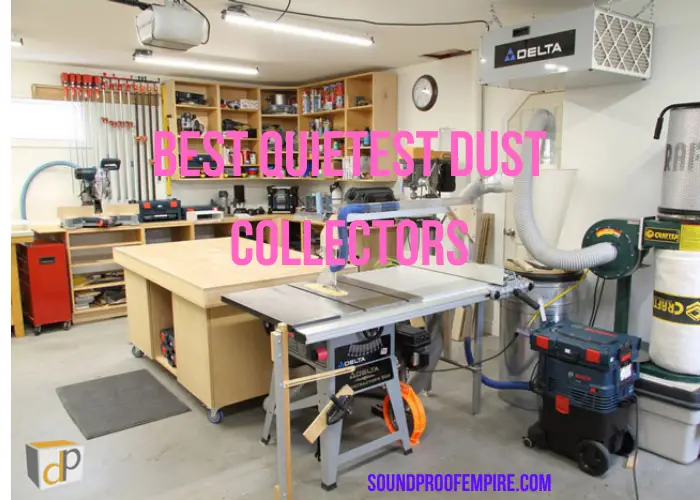 Quick Preview of the Quietest Dust Collector Picks in the Market
In a hurry?. I understand. Here is an overview of the best quiet dust collectors that will keep your workshop clean without much noise.
Whether you are a woodworking hobbyist or a professional,  I am sure you know how important a dust collector is for your workshop. Having the right dust collector is not only convenient but will also save you a lot of health issues later.
Woodworking produces way too much dust, and you will not be able to work through any work-piece without a good dust collection system in place.
Most importantly, the sawdust produced in the process of woodworking can get into your throat or eyes and become a major health hazard. Wearing dust masks is not enough in this case. You'll need to invest in a quality dust collector.
It is important to also factor in noise levels when choosing the dust collector. This is because woodworking shops are already noisy because of the machines used in the shop, and adding a noisy dust collector to your machinery is going to pose a hearing hazard to you and also attract you, angry neighbors.
Therefore, you ought to choose a quiet dust collector that will keep your shop clean without that noise. Luckily, in this guide, we are going to talk about some of the best quietest dust collectors in the market to help you make an informed decision. So, keep reading.
Also Read:
Best quietest 30-gallon air compressors
What is a Dust Collector and How Does It Work?
A dust collector is a system that is used to enhance the quality of air released from industrial and commercial processes by collecting dust and other impurities from air or gas. It is designed to handle a high volume of dust loads, a dust collector system consists of a blower, dust filter, a filter cleaning system, and a dust receptacle or dust removal system.
A dust collector simply removes wood particles and dust from a woodworking machine as it is produced. It also keeps the immediate work area and operator clear of any machine-created dust.
There are different configurations of quiet dust collectors for home-based, commercial, or industrial woodworking shops. They all use an induction motor to drive an impeller that creates suction.
The suction draws the dust and particles from the machine to the collection system, where it is captured and sorted. The main components of a collection system include the dust collector, an air filter or purifier, and the hose-duct connection system.
With dust collectors, the higher the horsepower of the motor, the greater the suction power which is used to suck in the dust and debris. Generally, most home-style machines need between 300 and 500 cubic feet per minute (cfm) of suction at the tool to keep them cleared of dust.
For industrial or commercial dust collectors, higher suction power is required to clear the area.
Best Quiet Dust Collectors for Peaceful Cleaning
If you are looking to get rid of the sawdust and debris that come with woodworking, then these quiet dust collectors will do the job.
1). BUCKTOOL 1.0 HP 6.5 Amp Wall-Mount Dust Collector with 550 CFM
This BUCKTOOL wall-mount dust collector is one of the best dust collectors in the market by BUCKTOOL and it's a high-performance product. It is designed to dust right from the source, thereby keeping your workstation clean from dust and debris.
With a 13-gallon capacity dust bag that works with 4-inch hoses to pick up large chips from jointers, saws, shapers, and planers, this portable dust collector produces more dust suction than ordinary shop vacuums.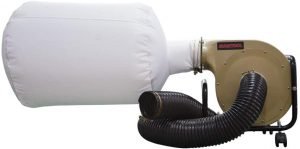 It is able to generate 550 CFM and this allows it to handle any air-hungry woodworking machine. With the dust collection located next to the dust production, it is able to minimize ducting, and the static pressure loss is minimal.
This portable dust collector with wheels allows you to easily move it and place it in a fixed position as well. The safety can also help prevent your hand from touching the fan blade. Plus, also has a high-quality 4″ hose that can fit most of the woodworking machines.
Features
Motor size:

1 HP 120V single-phase
Air suction capacity: 550 CFM
Impeller speed: 3450 RPM
Intake hole diameter: 4-Inch
Bag size: 3.1 CU.FT
---
2). Shop Fox W1826 Wall Dust Collector
The dust collector is similar to the BUCKTOOL dust collector above. It also is wall-mounted and captures the dust right at the source. This tool comes with a CFM capacity of 537. This allows it to also be able to handle almost all hungry woodworking machines without a complicated duct system.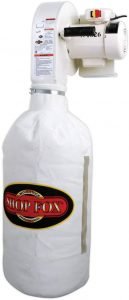 With its wall mounting capability, you can easily put it up on the wall to give you the efficiency of a large surface area to work with. It's easy to operate and get rid of the dust cake with just a couple of turns.
Even though there are also many choices you may have regarding the dust collection ducting, however, a flexible hose is the most common one you can use for this size of the machine.
Features
1-horsepower motor

Single 4-inch intake hole

2.5 Micron bag has 2 cubic feet capacity

44-inch height with bag inflated
3). Rikon Portable Dust Collector  With Wall Mount
This Rikon portable dust collector with wall mount is a convenient size for many small shop operations. It gives the shop owner the versatility to mount the unit on a wall or use the built-in casters and handle to easily move it whenever it needs to go in the shop.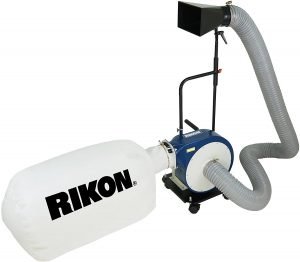 This single-stage dust collector has a 4-inch dust port to draw 660 CFM, which is more than enough suction for single machine operation on a big chip maker like jointer or planer.
Features
Great for small shops

Versatile

2-Micron cloth bag

CFM capacity of 660 CFM
---
4). WEN 3-Speed Remote-Controlled Air Filtration System
This WEN machine collects the air, puts it through a 5-micron outer filter, and a 1-micron inner filter, then releases it back into your workshop.
It's got a strong ⅙ HP motor, and it weighs in at just 31 pounds. The lightweight design paired with the carrying handle and eye-bolts might make this one even more mobile than PSI's model.
The 3410 3-speed by WEN might just be the crown jewel of this list. Like the offering from PSI, this model is exceedingly portable and versatile, but at almost half the price.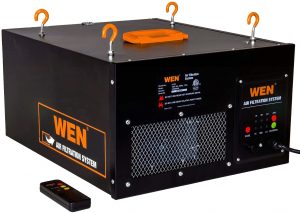 You can also choose between three speeds, either 300, 350, or 400 CFM, and use the time feature to easily set the timer to filter the air in the room at regular intervals.
The WEN 3410 also comes with a remote which allows you to control the dust collector from up to 26 feet away. Not to mention it's one of the quietest dust collectors on the market, emitting just 50 to 60 decibels.
---
5). SHOP FOX 1.5 Horsepower 1,280 CFM Dust Collector
This dust collector also boasts an extra-strong 12-inch steel impeller and works for wood dust only. Newer editions also come with a 2.5 micron felt upper filtration bag as well as a plastic lower collection bag.
This Shop Fox's model W1685 dust collector is a powerful machine with 1.5 horsepower, 110-volt, 3450 RPM single-phase motor with 16 amps.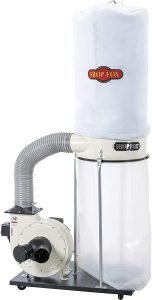 Even with the larger motor, you're not losing much mobility as the 78-inch tall unit comes with a portable stand that goes 21.5 x 33.5 inches. This makes this unit much more mobile than its size might indicate.
The W1685 can also provide you with 1,280 CFM, 5.4 cubic feet of bag capacity, and 10.1 inches of static pressure. At 80-85 decibels, it's not the quietest however it's fairly quiet considering its size and power.
The W1685  also features a six-inch inlet that is removable Y-fitting with a pair of four-inch openings. Y-fitting can branch lines so you can service more than one machine, making this ideal for a multi-machine lay
---
How to Choose a Silent Dust Collector
Now that you have decided that you need a dust collector, how will need to consider a couple of factors that will help you choose the right  dust collector that will eliminate the dust at your workshop. Without being super technical, your dust collector needs to pull more air than your most demanding tool requires.
For example, the most air-hungry tools you will find at most home workshops are belt sanders and jointers. These types of tools generally require 500+ CFM.
In a case where you may not even have these tool, but purchasing a silent dust collector with high CFM will enable you to use these air-hungry tools in the future without replacing your dust collector.
Types of Dust Collectors
There are two types of dust collectors available in the market; single-stage and double-stage dust collectors.
Single-Stage Dust Collector
These are common among most woodworkers. These types of dust collectors work by transporting sawdust and other debris through an impeller on the way to a collector bag. The way they work is by transporting the sawdust and other wood debris to an impeller on the way to a collector bag.
Two-Stage Dust Collector
With this type of dust collector, the wood chips and heavier particles and debris fall out of the airflow in the first stage. After that, the finer dust particles pass through the impeller and goes into the second stage.
This type of dust collector can be a simple garbage can with a snap-on lid placed before a single-stage collector or cyclone separator.
Noise Level
A workshop is already a busy place, with all the tools and machines in place. Adding another noise tool will increase the noise levels. That is why it's better to consider the noise level or Sones of the machines and tools you purchase.
Noise levels are usually measured in Sones or decibels.
A measurement of 1 sone would translate to a whisper. Whereas measurement of 8 sones is the equivalent of a normal conversation.
Sones are usually measured at the maximum CFM value for dust collectors. This will guide you to know the amount of noise the tools can make when operating at their maximum CFM.
The typical noise ratings for dust collectors 50-80 dB or 5-39 Sones.
Overall, you need to weigh in on how much CFM you need and compromise with the noise levels if possible. It's not ideal to get the quietest dust collector that cannot meet your dust collecting needs.
CFM and FPM
The velocity at which the chips and sawdust move through the dust collector system ductwork is feet per minute or FPM. The system also has to move a volume of air which is measured in cubic feet per minute or CFM.
This relationship between velocity and volume of air is directly affected by the size of the duct. As we noted above, factors like duct length, material, and pathing are all important. Meaning, larger ductwork results in a greater volume of air.
This is why we noted above, your dust collector needs to be able to pull more air than your most demanding tool.
Space Requirements
It is important to consider how much space you have to accommodate the dust collector. If floor space and ceiling height for either option should be:
A single-stage collector may take up to 3-4 square feet of floor space.
A two-stage cyclone style separator may require 16 square feet of floor space and 10-foot ceilings.
Space also factors in the portability of the equipment. If you plan to move the dust collector from machine to machine, you should have room for the machine and the hose.
Another thing to keep in mind if you choose to opt for a stationary dust collector is ample room to run ductwork in the wall and the ceiling. Factors like material, duct length, and pathing are necessary to consider in such a case.
You should also be strategic about the placement of machines like the sander, jointer, and planer so that they're closest to the dust collector.
Filtration
Long exposure to sawdust can pose some serious help risks. Long exposure to dust particles can cause your defenses against airborne articles to lower and therefore slip through your defenses.
A quality quiet dust collector should be able to pull away small particles while still being able to contain them in the filter.
Most dust collectors will come outfitted with 30-micron bags which are too porous for finer particles. You should look for 1-micron filters and bags with 98% efficiency. If they don't come with your manufacturer, you can find bags elsewhere.
Benefits Using a Dust Collector
They Improve Health and Safety
When the air is filled with dirt, dust, debris, chemicals, or gasses, it can affect the lungs of anyone who breathes this air in. Not only that, but this particulate can collect on or near equipment, posing a significant fire hazard. With a dust collector, these contaminants are removed from the air, cleaning the air and improving the safety of everyone inside.
They Lead to Better Product Quality
With dust in the air, it can negatively impact the quality of the finished product. With dust collectors, you are able to significantly reduce the dust, smoke, and fumes in the air. This, therefore, gives you a better-finished product and intends to improve the quality of customer satisfaction.
They Increase Productivity
No one strives in a dusty environment. Dust can affect visibility and interfere with the mechanics of the equipment. This can lead to slower machines and broken equipment. Compromised machinery constantly needs attention and repairs. Dust collectors remove this risk, allowing your machinery to work at optimal performance.
They Help to Ensure Happier Employees
When the air quality is bad, employees suffer. As a result, they become unhappy and start to look for employment elsewhere. Unsatisfied employees don't work well, and high employee turnover can prove costly.
Keeping the air clean and healthy with a factory dust collector improves the morale of your employees, allowing you to retain great, happy people in the workplace.
They Help You Meet Compliance Regulations
Because of the numerous health hazards associated with dust, there are numerous laws and regulations in place for workplace safety. This protects all workers and improves the work environment.
Poor air quality can cost you heavily, not just in fines, but by creating potential hazards that can damage your factory or affect your employees. Factory dust collectors help you to comply with governmental regulations as well as keeping everyone (and everything) inside the building safe.
Latest posts by Josephine
(see all)