Top 5 Quietest 30 Gallon Air Compressors
Looking for the quietest 30 gallon air compressor for your projects?. Perfect, you've come to the right place. In this guide, you can expect to learn the following:
Why get a 30 gallon air compressor?
Our top-rated quietest 30 gallon air compressor picks
Factors to consider when buying a quiet air compressor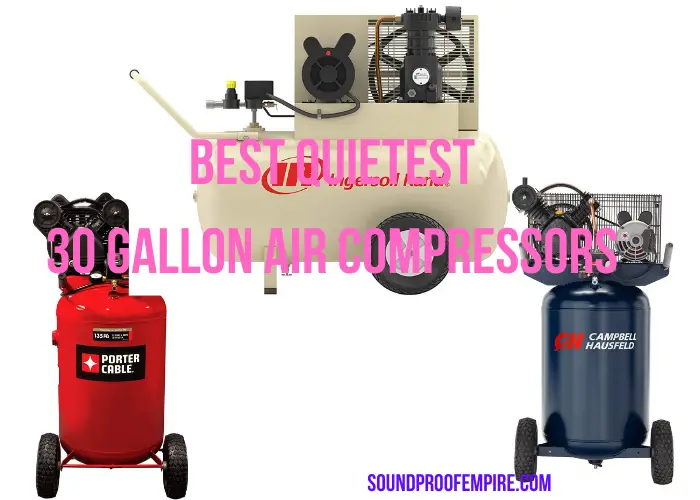 Quick Preview of the Best Quietest 30 Gallon Air Compressors
In a hurry?. Here is a quick overview of the best quiet 30 gallon air compressors in the market.
Whether you are a contractor, professional, or DIY enthusiast, 30-gallon air compressors are a pretty popular and standard type of air compressors that are used both at home and in the industry.
With the best 30-gallon air compressor, you can do a lot of activities at once with it. But with the many models on the market today, it can be overwhelming to search for a quiet air compressor with a 30-gallon tank capacity.
That is why I did deep research and also gathered users' experiences to come up with the best quietest 30 gallon air compressors to help you out. Keep reading below to find out more and hopefully, you find what works for you.
Also Read:
Best quiet 60-gallon air compressors here
Why Get the Quietest 30 Gallon Air Compressor?
Whether you are a DIY fanatic or a professional that deals with power and air tools, we all know that efficiency is paramount in your line of work, and adding a 30-gallon air compressor to your list of power equipment is a must.
Having the quietest 30-gallon air compressor at the home garage or in the workshop will not only improve your work time but also save you money and energy.
Now, since there many 30 gallon air compressors in the market, getting the quietest means you dont want to damage your hearing or disturb others' peace.
Having a quiet 30 gallon compressor will give you the peace of mind that you need and the needed pressured air for your work.
Best Quiet 30 Gallon Air Compressor Reviews
Below are some of the top-rated quiet 30 gallon air compressors that you may want to consider.
1). Campbell Hausfeld 30 Gallon 2 Stage Air Compressor
This Campbell Hausfeld 30 gallon 2 stage air compressor is a  2 horsepower vertical portable air compressor that can power a variety of air tools for any professional, hobbyist, or contractor.
It features a dual voltage motor that can operate on either 120 V or 240 V power source. With its large semi-pneumatic wheels, you can easily move it from one job location to the next.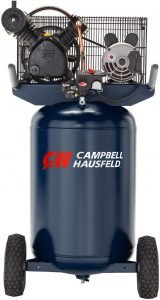 Additionally, its heavy-duty cast-iron, two-cylinder pump is oil-lubricated for long life and is able to deliver 4.1 SCFM at 90 psi and 3.9 SCFM at 175 psi.
So, if you are looking for a quiet 30 gallon two stage air compressor that is designed to tackle a wide variety of jobs, from small projects and upholstery to heavy-duty nailing, then this air compressor is recommended for you.
---
2). NorthStar Portable Gas Powered 30 Gallon Air Compressor
This NorthStar portable gas-powered 30-gallon air compressor is another heavy-duty 30-gallon horizontal air compressor that is powered by a quality Honda gasoline engine with a 3 Amp charging system.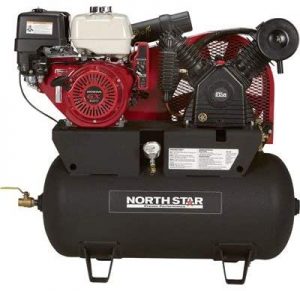 Its belt-driven full cast iron two-stage pump features a V-type cylinder that is designed for superior cooling, and its low vibration technology (LVT) helps with smooth operation.
Unlike the Campbell Hausfeld air compressor above that has large wheels for easy mobility, the NorthStar is heavy-duty and must remain stationary because it is not easy to move around after installation.
However, it is extremely easy to use and comes with very clear and concise instructions on how to use and put it together.
---
3). Ingersoll-Rand Garage Mate 30 Gallon Air Compressor
Ingersoll Rand is one of the well-known industrial innovators for over 100 years, from air compressor systems to power tools and beyond. They never fail you.
This air compressor combines portability and power in one system. The Ingersoll Rand Garage Mate SS3F2 2 HP 30 Gallon Single Stage Portable Air Compressor is a great choice for professionals as well as serious do-it-yourselfers.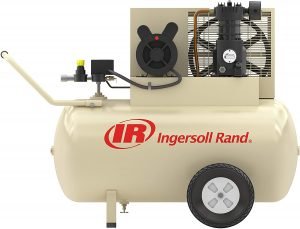 With a convenient wheeled design for exceptional mobility enabling you to move it around both at the jobsite or at home, this 30-gallon air compressor features a 2 horsepower engine that delivers up to 135 psi maximum operating pressure for nail guns, paint sprayers, sanders, and more.
---
4).  Porter Cable 30-Gallon Single Stage Portable Air Compressor
This Porter Cable 30 gallon single stage portable air compressor is an oil-lubricated single stage 30 gallon tank air compressor which is design to be fully  portable to enable you move it from one place to another.
It is an electric powered compressor that require you to have electricity supply wherever you may be moving it to. It has a average PSI capacity with a heavy duty 1.6 HP 120-240 V induction motor that delivers 6.2 CFM at 40 psi and 5.3 CFM at 90 psi.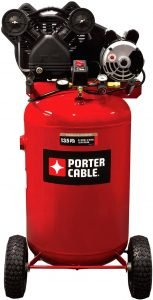 Remember that oil-lubricated tanks come with their perks (longer-lasting, harder working) but you also have to factor in the cost and replenishment of the oil supply to make sure the machine does not stop working prematurely.
They also require a bit more maintenance than oil-free tanks. Though the maintenance may seem daunting, as long as you follow the manufacturer's guidelines you won't go wrong.
---
5). Industrial Air ILA1883054 30-Gallon Belt Driven Air Compressor
The Industrial Air 30 Gal. compressor, delivering 5. 7 CFM at 90 psi, is designed for air tool performance. The 1. 9 HP motor is wired for a 120-Volt outlet but is also convertible to 240-Volt applications. The compressor features a twin-cylinder pump made of cast iron and pre-attached pneumatic wheels for easy mobility.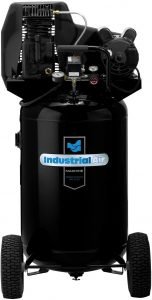 This 30-gallon air compressor is made with cast iron material. Cast iron is a popular choice for air compressors as it is often long-lasting and extremely durable, something that is utterly important when it comes to industrial equipment in constant, regular use.
The pump is oil-lubricated which means there is an additional cost of sourcing and supplying oil for the tank to remain functional, however, oil-lubricated tanks are often preferable on bigger models as they provide extra durability and sustainability.
---
Quiet 30 Gallon Air Compressor Buyer's Guide
choosing a 30 gallon air compressor may come easy to the pros but may be somewhat challenging to a beginner who isn't familiar with what to look out for. That is why I put these tips together to guide those who may have difficulty deciding what to look out for.
Purpose
What is the air compressor going to be required to do?. understanding what you will be using it for will help you determine the expected workload of the compressor.
There are a number of reasons why an air compressor comes in handy. These include:
Longer lasting tools
more flexibility
More professional results
Better environment
Money-saving
 Cubic Feet Per Minute (CFM)
The cubic feet per minute is a technical term associated with all air compressors. This is a unit of measurement that tells you at what pace the unit can supply air to the load you are wanting it to supply air to.
This is an important factor to consider because some faster-paced workspaces may require a compressor that can supply their tools more rapidly than say a hobbyist. If you work within a strict time frame, you may want something that will do the job quicker.
Thankfully, there are compressors out there that can supply air at a pace you need to work. So, you dont have to worry about getting frustrated because of the low supply of the pressured air.
Also, the higher the CFM, the more tools you can power at any given time.
Noise Levels
Noise may be a big turn-off for you if you are already considering buying the quietest air compressor.  Air compressors can get pretty noisy and this might be a bother to you and others. If you dont want to disturb your neighbors or you want a peaceful work environment, then you need to choose a quiet air compressor.
The noise levels of air compressors vary from model to model and this is usually indicated in decibels.  The lower this number is the quieter the compressor is.
Luckily, all the 30-gallon air compressors covered in this guide are quiet in operation.
Oil vs. Oil-free Tanks
This is surely the big question on everyone's lips – do I go for an oil-free or oil lubricated tank?! It is up to you to weigh up the pros and cons and do your research but read on below for some pros and cons of each variety.
Pros of Oil-Free Tanks Include:
Low to no maintenance
Less noise
Lower cost of running
More adaptability
Better for the environment and less messy
Pros of Oil Tanks
More durable
Bigger task capacity
More power
Of the two tank types, it seems the larger percentage of small air compressors available in the market are oil-free. Maybe because they are more portable and require less maintenance.
Horsepower (HP)
Air compressors typically have a horsepower rating between 1.5 and 6.5, though some larger, stationary air compressors can have up to 15 HP. If you are using standard electric power outlets, you'll need an air compressor at 2 HP or less because standard AC cords require lower voltage to function.
If you are wondering how much horsepower a 30 gallon air compressor need?, the answer is, it varies from model to model. In general, an air compressor with 30 gallon pump will require around a 2 horsepower ratio in order to function properly.
Though this seems quite low, it is perfectly adequate and will more than complete the job that you bought the air compressor for in the first place.