Top 5 Quiet Hand Dryers(Commercial and Household)
Looking for the best quiet hand dryer for your business or home?. Perfect, then you've come to the right place. In this guide, you can expect to learn the following:
What a hand dryer is
How does a hand dryer work?
Our top 7 quiet hand dryers pick
Factors to consider when choosing a hand dryer
And more…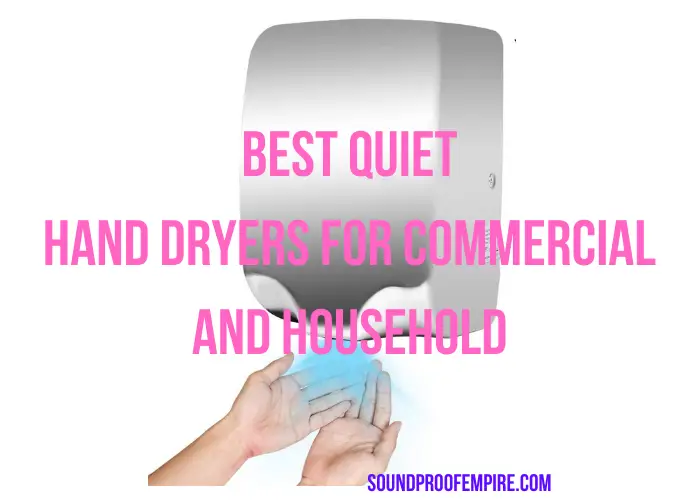 Quick Preview of the Best quiet Hand Dryers for Home and Commercial
In a hurry?. I understand. Here is a quick overview of the best quiet hand dryers in the market.
Washing hands is essential and so is hand drying. For your bathroom to be clean at all times, you need to have a reliable hand dryer to maintain hygiene. Even though some people still prefer using the good old paper towels to dry up their hands, this may still seem wasteful and not so hygienic.
With hand dryers taken over paper towels in washrooms and public places now, there are many hand dryer models in the market today.
If you operate in a quiet environment and just dont want to add any noise to disturb others or your own peace of mind, then it will be best to get a quiet hand dryer instead of just any hand dryer.
Thankfully, there are brands that have made this possible by producing hand dryers that have reduced noise of operation.
Today, in this guide, I will cover some of the best quiet hand dryers in the market that quiet, have fast drying time, are durable and you can choose depending on your budget. There are some for low budget and others are premium.
What is a Hand Dryer and How Does It work?
A hand dryer is an electric machine that uses a heating element and an air blower to dry the hands after you finish washing your hands. These devices are commonly found in public toilets, schools, and are a cost-effective alternative to paper towels. They are either turned on by using a push-button or automatically using a sensor.
The way the hand dryers work is that they start by sensing your hand under it. the sensors on the hand dryer emit an invisible ray of infrared light and it's triggered when an object like your hands moves into its path and the lights bounce back into the sensor.
The sensor is able to detect the light bouncing back and it immediately sends an electrical signal via the hand dryer circuit to the hand dryer's motor, therefore telling it to switch on the power source.
The two main components in the hand dryer that will ensure your hands are dry are the fan and the motor. Both the modern and traditional hand dryers use the motor to power the fan,, which then blows air over a heating element and through a wide nozzle. This evaporates the water from the hands.
These days, there are now new models that are more energy-efficient. They force air through a very narrow nozzle and then rely on the resulting air pressure to scrape the water off your hands.
Though these types of hand dryers still use the fan and motor but do not use the heating element. This, therefore, makes them cost-effective and energy saving.
Best Quiet Hand Dryers Reviews
Here are some of the best hand dryers with a quieter operation to help keep users' hands dry faster while keeping noise at bay.
1).  PowerPress Automatic Commercial Hand Dryer
Best Cheapest
This PowerPress automatic commercial hand dryer is one of the most affordable and quietest hand dryers that you can use for your restaurant, casinos, hotels, shopping malls, or hospitals.
It is especially quiet because of the noise muffling system that is pre-installed in it with a  1.1 noise reduction nozzle that is able to reduce about 10 dB of noise compared to others.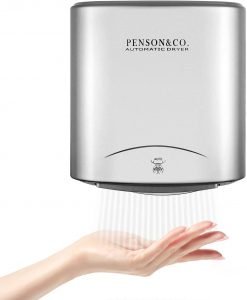 It has a high speed of 95 m/s wind that enables it to dry any hands within 10 seconds. this also makes it ideal for busy bathrooms because it is able to reduce the queues very fast.
So, if you are looking for an elegant and durable wall mount hand dryer that will last longterm at a lower cost, this product is recommended for you.
Features and Specs
Current: 10A; Rated Voltage: AC110-127V

Rated Frequency: 50/60HZ;

Rated Power : 1100W; Motor Power: 550W

Sensing distance: 5 + – 1 inch (adjustable);

Twmperature Controller Cut-out Temperature: 158 °F

Hand drying time: 10-15 seconds;

Waterproof grade: IPX1;

Overall size: 9.8″ x 7″ x 10″; Gross weight: 8.2lbs
---
2). Dyson Air Blade V Hand Dryer
Best High- End 
Dyson is a reputable brand in the market known for manufacturing some of the best high-quality household and industrial devices. So it is no doubt that this Dyson hand dryer made it to this list and is the best premium quietest hand dryer.
It is well-engineered to be 30% quieter and still has a very fast dry time of 10-12 seconds due to an air aperture redesign and reprogrammed v4 motor.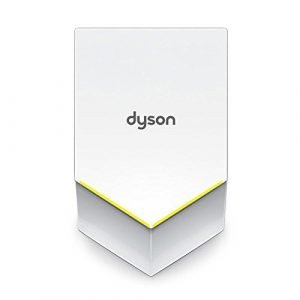 This product is ADA complained and the innovative backplate design allows the dryer to be detached from the wall easily for servicing and filter changes.
Features and Specs
 Uses High-Efficiency Particulate Air (HEPA) filter
Scrapes air from hands at 650km/h
Reduced CO2 emissions – up to 80% less
Can be made accessible to disabled users
---
3). AIKE Compact Automatic High-Speed Hand Dryer
 Best Overall
This AlKE compact Automatic high-end speed hand dryer is rated the best overall on this guide and it is available in three colors to choose from; silver, white and black colors.
It's ABS polycarbonate construction provides long-lasting strength, durable and corrosion-proof construction to fit anywhere and withstand extensive use and everyday wear and tear.
With a fast drying time of 10-15 seconds, it is able to fit even limited space areas but is still able to meet the commercial-grade requirement.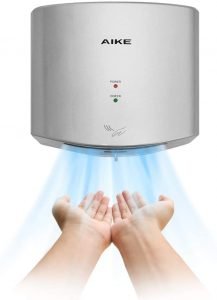 It has a noise level of 76 dB which makes it quieter than most hand dryers. The infrared sensor started whenever your hands enter the dryer and turn off when the exit. It can sense your hands from 110 -130mm distance.
Compared with the PowerPress hand dryer above, this dryer is slightly higher in price but both still hand dryers under $100.
This product is the overall pick because it has a faster drying time, its compact, designed for limited space areas, still meets commercial grade requirements, is affordable and it comes with a 2-year warranty.
Features
Heat optional
Comes with a 45-second overtime protection feature
Dimensions: 235mm x 250mm x 165 mm
Rated power: 0.55kW
Cost to run: $80/1000 dries
Noise: 76 dB
Dry time: 15 seconds
4). LS-PRO Automatic Hand Dryer for Commercial Bathrooms
Most Quiet and Fastest Drying Time
Designed to fit almost any bathroom space, Impressive high speed 95m/s wind speed dry your hands within 7-10seconds (half the time of a regular hand dryer).
It is 50% more energy efficient than regular hand dryers. its 950W power allows you to dry your hands very quickly, the LS-PRO hand dryer also is simple to install and helps to save money on electric bills.
It has 55-60db low noise levels and equipped with a sensitive sensing system that detects your hands as they cross the sensor path.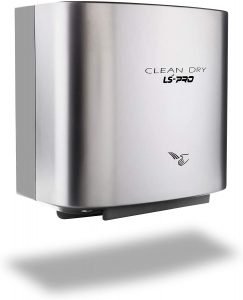 This automatic hand dryer is made of High-quality Polycarbonate material for ensured durability and it is both corrosion-proof and lightweight. Additionally, this reliable bathroom accessory will provide you with ensured long-lasting usage.
This product is also easy to install on the wall and its sleek and modern design makes it a great addition to any kitchen, public, or home bathroom.
Features
strong air and heats up quick
easy and quick to install
low noise and low energy consumption
sensitive and intelligence sensing system
Power: AC110V 50/60HZ  950W
Air Speed: 95m/sec and dry time of 7 seconds
Waterproof Grade: IPX4
Product Dimension: 15.6×9.5×5.5 inches
---
5). Mitsubishi Jet Towel Slim Hand Dryer
This dryer is one of the first high-speed hand dryers. Jet air travels at 235 km/hr in a blade-like fashion to wipe the water away from the hands. And It does this on both sides of the hands simultaneously.  Its airflow force has also been reduced to prove a more relaxed experience.
With its Japanese household name and origin, one would expect nothing less than quality – and that's exactly what this dryer delivers.
The metallic-silver colored front panel complements today's popular stainless & chrome fixtures, while the top, sides, & hand-drying area are gray.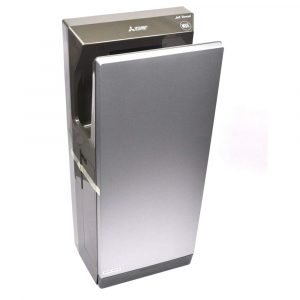 It can dry any hands within 11 seconds and it only uses about 3.5 watts of power to dry your hands full.  Even with the faster drying time, it's still a quiet device that has a noise level of about 58-63 dB.
One of the unique things about this hand dryer is it able to detect smaller hands, making it a great hand dryer for children.
Features
Drain tanks keep water off of floors
High-grade plastic covering can withstand high-grade alcohol cleaning
Comes in three different models – slim, mini, and smart
Faster drying time of 11 seconds
Dimensions: 700mm x 300mm x 219mm
Rated power: 1.25 kW
---
Factors to Consider When Choosing a Quiet Hand Dryer
When choosing a quiet hand dryer for your business, it can be overwhelming for some people especially if you are a beginner because of the many models in the market. That is why you need to carefully consider the features you want your hand dryer to have. Here are some factors to guide you in your selection process.
Power
The more powerful the hand dryer is, the quicker it will be able to dry hands faster, and the greater the power, the lower the energy costs because of faster running time. The downside though is that the greater the power, the more noise it is likely to make. If your business is in a busy area and you reckon a lot of people will be using the hand dryer at shorter intervals, then it is better to get a powerful hand dryer to prevent long queues in washrooms.
Noise Levels
If you are concerned about noise, you might want to consider a quieter model, which may mean you have to sacrifice efficiency. Also, a hand dryer with adjustable power will allow you to turn down the power when you want to ensure quieter operation.
Hygiene
The main reason for installing hand dryers is to improve hygiene in the premises. Comparatively, hand dryers are more hygienic and tidier than paper tower. Even you can get a further advantage with automatic hand dryers which removes the need for users to touch the surface of the dryer.
Some higher-end hand dryers also include HEPA filters to ensure that the air been blown out is sanitary as well. These types of hand dryers meet the requirements of special business sectors such as food processing and healthcare to comply with regulatory and compliance guidelines.
Therefore, depending on the type of business sector you need the hand dryer for, you may want to consider these hygienic guidelines.
Energy Used
Energy efficiency is a concern for everybody these days. We all want that device that is able to meet our needs at lower power consumption. Luckily some hand dryers are designed to eliminate the wastage of energy and still be able to dry your hands properly.
Speed
The speed of the hand dryer is also important because you need to keep customer expectations in mind. Most people are not willing to waiting for minutes for their hands to dry. Choosing a type of hand dryer that will increase the drying speed will help and that means investing in a high-power dryer.
Durability
The warranty on the dryer can sort of give you an idea of how long it is likely to last. Installing the same hand dryer in a busy restaurant and a quiet showroom won't have the same duration because one will be overworked than the other and it will affect its life span.
Cost
Cost is going to be a major consideration for any business. Although dryers can be expensive, in the long run, they work out less expensive than paper towels. You can get very basic models relatively cheaply, but they'll provide only standard functions.
You should take into account the type of business you have and the expectations of your customers. Customers in a high-end business will likely expect high-end high dryers.
Depending on the kind of quiet hand dryer you choose, the price will be different. You can get a decent quiet hand dryer under $100 or one at a much high price that is high quality.
Latest posts by Josephine
(see all)