5 Best Quiet Sander Models for Your Workshop
Looking for a quiet sander for your workshop?. Perfect, then you've come to the right place. In this guide, you can expect to learn the following:
What a sander is
How does a sander work?
Our top-rated quietest sander picks
The different types of sander
And…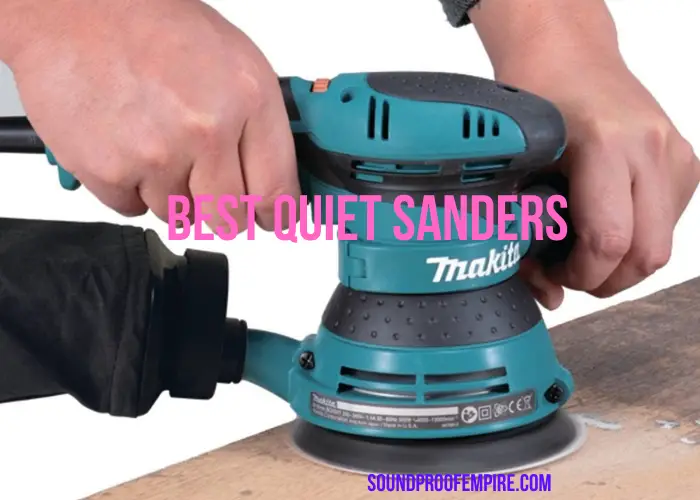 Quick Preview of the Best Quiet Sanders
Whether you need it to sand the old paint off a piece of furniture, smooth down a deck in preparation for a new coat of stain, or get kitchen cabinets ready to paint, a sander makes the admittedly tedious job of sanding easier, smoother, and more effective than merely scrubbing away with a piece of sandpaper.
 A wide variety of sanders have been developed through the years, each of which performs a specific function different than the others. While there may be some overlap between different types of sanders and their use, there is enough difference to justify each style.
Sanders are used more for finishing work than anything else. They're intended for final shaping and smoothing after cutting to remove tool marks while smoothing out the shape of the workpiece. Determining the type of sander to use for a particular project depends upon the shape and size of the workpiece as well as how fine a sanding job needs to be performed.
Today, we talk about some of the best sanders that have low noise when in operation for those of us who are noise adverse or don't want to disturb the neighbors.
Also Read:
Best quiet dust collectors for your workshop
What is a Sander?
A sander is a power tool used for smoothing, polishing, or cleaning a surface such as wood, plastic, or metal surface. A sander can also be used to roughen surfaces in preparation for finishing. Sanders has the means to attach the sandpaper and a mechanism to move it rapidly contained within a housing with means to hand-hold it or fix it to a workbench.
Woodworking sanders are usually powered electrically, and those used in auto-body repair work by compressed air.
Types of Sanders
There are three main types of power sanders: the disk sander, the belt sander, and the orbital sander.
Belt Sander
The belt sander is one of the staple tools in any modern workshop. This type of sander used a sanding belt wrapped around two drums. The rear drum is motorized while the front drum moves freely.
A tension release lever allows the belts to be quickly changed, and most models also have a tracking adjustment knob to help keep the belt centered.
These types of sanders are perfect for removing the older finishes from wood, such as varnish or paint. Due to the power and control available with belt sanders, they are an essential tool for furniture making and other large-scale woodworking projects.
The common sizes available are small 3×18 inch, 3×21 inch, 3×24 inch,  and 4×24 inches. These are in order of ease of use, from the easiest to the hardest for professionals.
Orbital Sander
This type of sander is also known as circular, finishing, pad, palm, quarter-sheet, rotary, sheet, and vibrating sander. Orbital sanders are compact tools that can be used one-handed and have excellent handling.
They are called quarter-sheet saner due to the fact that they use 1/4 of a standard 9×11 inch sheet of sandpaper, which can be cut by hand. Also, many of this sander's nickname is derived from the tiny circular orbits in which the sanding pad vibrates.
Furthermore, another reason why they are called finishing sander is that this type of sander is built for ultra-fine works, such as removing putty, rounding sharp edges, and creating an ultra-smooth surface.
Disk Sander
This is an unusual type of sander. It's known for its ability to attach to power tools like drills, even though a table-mounted version does exist. These types of sanders are round discs that spin once added to the end of any drill.
Generally, mounted sanders use a wheel instead of a disc, giving them more surface area. Various grit sizes can be applied to these sanders, depending upon the job.
Because of the rotational speed of the disc, the handheld version is perfect for giving a smooth finish to large areas.  The stationary version functions well enough that it can be used on metals and plastics as well as wood, and often has an adjustable surface to set your workpiece at angles.
Best Quietest (Low Noise)  Sanders
With the many sanders in the market, it can be difficult to choose a low noise sander. Below are some of the best sanders that have low noise.
1). Ingersoll Rand 6 Inch Heavy-Duty Air Dual-Action Quiet Sander
This sander gives you the power and precision you need to complete sophisticated work. It has a compact, portable design with dual-action sander action that creates swirl-free finishes. This makes it ideal for feather edging, metal preparation, and finish work on body filler.
It is easy to use and handle, thereby giving you the ability to have great control and brilliant surfaces without sacrificing comfort or quality.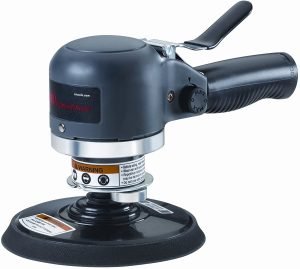 This tool has a built-in silencer that muffles noise as you work. This ensures that there is low noise in your workshop so that you can work in peace. Also, it has low vibration and quiet performance.
Additionally, there's a built-in regulator that delivers positive speed control 12,000 RPM maximum free speed, and 17 CFM air consumption at free speed for optimum precision.
The Ingersoll sander comes with a 1-year warranty.
---
2). Makita BO5041 5 Inch OPM D-Handle Random Orbit Sander
The Makita's 5-inch random orbit sander with variable speed combines power, speed, and performance with improved grip and control. This sander is perfect for woodworkers, finish carpenters, and general contractors.
With its variable speed (4,000 – 12,000 OPM), it allows the user to match the sanding speed to the material. It is also equipped with a 3 Amp motor with over-sized sealed ball bearing construction for longer tool life.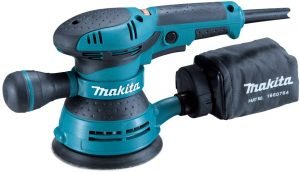 This sander uses a quick-charge five-inch eight-hole hook and loop abrasive disc and has an efficient through-the-pad dust collection system that helps provide a cleaner work environment. Additionally, the large 1/8 inch random orbit action delivers fast and smooth sanding and swirl-free finish.
It also has high capacity dust collection system with a built-in vacuum port adapter which is there to help in dust collection.
3). Shop Fox W1828 12-Inch Disc Sander
This Shop Fox 12 inch disc sander is perfect for shaping and smoothing edges, squaring end cuts, and truing simple and compound miters.
This sander is has a direct drive motor that spins 1,700 RPM which makes it ideal for wood sanding applications.  The precision ground cast iron table can adjust for bevel sanding up to 45-degrees.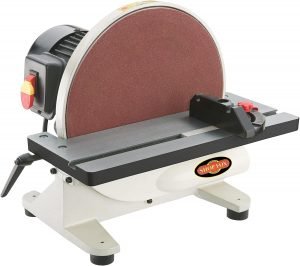 This Shop Fox sander comes with a deluxe miter gauge for moving workpieces into the sanding disc at a specific angle.  It's quite easy to use the miter gauge, you simply slide it into the miter slot, loosen the lock knob, set the angle, and re-tighten the knob, and you are done.
The tool also features a safety paddle switch which provides a greater degree of safety.
---
4). Makita  9903 8.8 Amp 3 inch by 21 inches Variable Speed Belt Sander
This Makita variable speed belt sander is a tool that combines power and speed with ease of use. It is great for woodworkers, carpenters, furniture makers, floor installers, deck builders, and general contractors who require a best-in-class belt sander.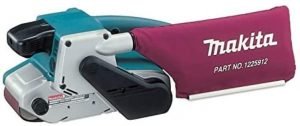 With an 8.8 Amp motor, this tool is able to maintain a constant speed under load and the speed can also be variably controlled to allow the user to match the speed. The speed can easily be varied from ( 690 – 1, 440 ft/min) to match your application.
With regards to the noise level of this quiet belt sander, it has a noise level of 84 dB, making it one of the quietest in its class. Although it is not all that quiet, it's expected with most quiet electric sanders to have some amount of noise.
Another good thing about this sander is that it comes with a cloth dust bag to help remove dust in the work area.
---
5). WEN 6515T 1 inch by 30 Inch Belt Sander With 3 Inch Sanding Disc
This quiet belt sander by WEN features a 2.3 Amp motor that can deliver up to 3160 feet per minute on the belt and a 3450 RPM on the disc. It is portable and compact making it easy to store away when not in use.
Changing the spacious 1-inch-by-30-inch belt is a breeze, giving you the power to switch sand paper grits quickly and easily.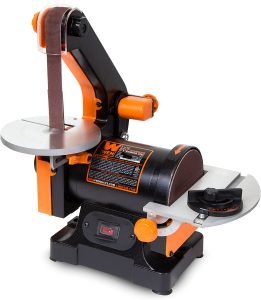 With all of this in addition to the 5-inch side disc, you'll have the capacity to sand whatever your heart desires. A sturdy beveling work table accompanies both the disc and the belt to provide a reliable source of support for your workpieces.
This package also includes an 80-grit sanding disc, a 100-grit sanding belt, a miter gauge for angled workpieces, and two separate dust ports for vacuum attachments. Plus, it is backed up with a 2 years warranty from WEN.
Final Thoughts on the Best Quiet Sanders
When choosing a sander, the issue isn't the power but rather the control. Being able to accurately control the sander, especially finish sanding is a major issue. So, it's important to get in mind that sanders operating at higher speed will cut faster and provide a smoother finish along with less swirl than slower operating ones.
The first thing is always to select the type of sander you need for the work you're going to do. Don't be surprised if you can't find one sander to do everything as most people end up with multiple sanders.