Top 5 Quietest 20 Gallon Air Compressors
Looking for the quietest 20 gallon air compressor for your garage?. Great, then you've come to the right place. In this guide, you can expect to learn the following:
Uses of 20 gallon air compressors
Our top-rated 20 gallon air compressor picks
Factors to consider when choosing a 20 gallon air compressor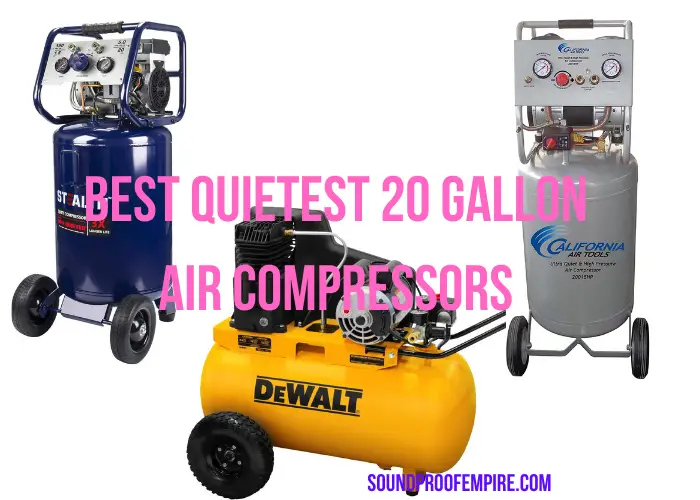 In a hurry?. I understand. Here is an overview of the best 20 gallon air compressors on the market.
If you are looking for a combination of portability and power, then a 20 gallon air compressor is the right choice. They are the most popular midsize air compressors which are specially designed for running occasional and low-load air tools.
The best 20 gallon air compressors are suitable for homeowners, small workers, and DIY'ers.
While 20 gallon air compressors are not strong enough to power most industrial-grade pneumatic tools, they're perfect for running airbrushes, brad nailers, pneumatics drills, sanders, and much more.
Their versatility and practicality make them almost a perfect addition to any DIY workshop or a construction site to improve job efficiency.
However, air compressors are known to be noisy to deal with. They can be a source of noise to the user and others around them. Because of that, they are some brands that have put in conscious effort to reduce the noise levels of their compressors.
Therefore if you are in the market for a new quiet 20 gallon air compressor, I have researched and curated some of the best quietest 20 gallon air compressors in the market. Keep reading to find out more…
Also Read:
The best quietest 30 gallon air compressors 
Top Quiet 20 Gallon Air Compressors
These air compressors here are some of the best models that have low noise. They can be used by DIYers, homeowners, and workshop owners.
1).  California Air Tools 20040CAD 4HP 20  Gallon Ultra Quiet Oil-Free Air Compressor
With a noise level of 75 decibels when in operation, the California air tools 20040CAD  ultra quiet and oil-free air compressor is designed to be one of the quietest 20 gallon 4.0 HP air compressors in the industry.
This unit has two 2.0 HP powerful motors that operate at 1680 RPM creating less noise, vibration and creating less water. This makes it a true high performer.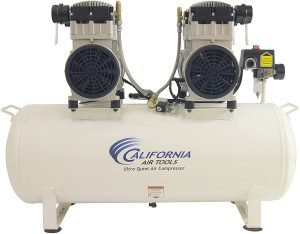 DEWALT has been in the market for ages and it's a household name, all thanks to the great performance of their products, this air compressor has a twin-cylinder design with a 1.9 HP motor that makes it easily fill quickly and easily to enable you to accomplish jobs easily.
This Dewalt is 78 dBA rated and is one of the quietest tough Jobsite 20 gal air compressors in the market.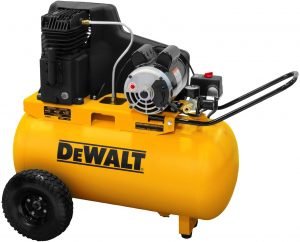 This unit is a quiet oil-lubricated air compressor that is built for the ob-site and with professionals in mind.
It features automotive-style ball bearings, durable stainless steel reed valves, oil-level sight glass, easily accessible oil fill, and a cast-iron balanced flywheel for easy maintenance, maximum performance, and convenience.
At 155 PSI, you have enough pressure to carry out most of the tasks you have at hand.
This air compressor is made for serious DIY users, professionals, or contractors.  It is the unit that can be used to accomplish a variety of tasks around the house and in the workshop.
Features
Cast iron, twin-cylinder, oil-lubricated pump

Built with a high flow regulator

Heavy-duty dual-voltage induction motor

155 PSI max pressure

20-gallon portable tank

Shipped with synthetic oil

2-year pump, 1 year all other parts warranty
Pros
Durable air compressor.
Builds pressure without issues.
Admirably quiet.
Cons
A bit heavy.
Pricey model.
---
3). Stealth 20 Gallon Ultra Quiet Air Compressor
This 20-gallon ultra-quiet air compressor from Stealth won't let you down with its 1.8 horsepower and a low working noise of 68 decibels.
The 1.8 HP motor makes it possible to be able to recharge the air tank from empty to full in only 70 seconds.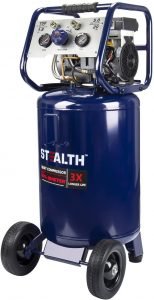 This air compressor Supports cold weather start and low voltage start. With its 5 CFM at 90 PSI outputs, it can support almost all the air tools like tiles inflation, cleaning tools, finishing nailer, framing nailer, die grinder, angle grinder, DIY paint systems, impact wrenches, etc.
Features
Ultra-quiet and 3 times  long life
High-quality 1.8 HP powerful induction motor

Peak 150 PSI, 6 CFM @ 40 PSI and 5 CFM @ 90PSI

Support cold weather start and low voltage start
Pros
Ideal for compact space
It has a cold start and sturdy
Quiet, consistent, and easy to use
Cons
Some customers complained of receiving used product
---
4).  California Air Tools CAT-20015HPAD Ultra Quiet Oil-Free Two-Stage Air Compressor
This ultra-quiet air compressor from California Air Tools is an oil-free and high-pressure two-stage air compressor. It's also one of the quietest  1.5 HP air compressors in the industry having only 70-decibel noise levels.
This model has a 1.5 HP motor that operates at only 1750 RPM creating less wear. One of the good things about this compressor is that the motor is designed to increase the duty cycle and allow for longer continuous run times.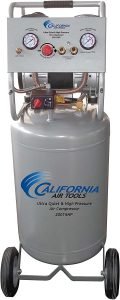 This oil-free two-stage dual piston pump system is engineered for high performance and durability.
The Oil-Free pump allows for use in a variety of temperatures (cold starts) and uneven terrains (no oil in the pump). The Easy Start Valve feature allows for an easier start-up using fewer starting amps.
The Easy Start Valve releases a small amount of air from the pump at startup to produce a no-load condition allowing the motor to spin freely.
Features
Ultra-quiet – 70 dB

High pressure – 175 PSI max

20-gallon steel tank with auto drain.Low Amp Draw – 12 Amps

3.80 cubic feet per minute at 90

4.00 cubic feet per minute at 90
Pros
It's quiet
It doesn't occur a lot of space
Cons
One of the major complaints is that the automatic drain valve opens up
---
Factors to Consider When Choosing a 20 Gallon Air Compressor
There are a couple of factors to consider choosing a 20 gallon air compressor that one has to keep in mind.
Types of Air Compressors
There are two types of air compressors; single-stage and two-stage.
Single Stage Air Compressors
They have one cylinder that pumps compressed air directly into the tank. 120 psi is the compression of a single-stage air compressor.
These types of compressors are suitable for light work, simple applications, sawing, and nailing.
Two-Stage Air Compressors 
Two-stage air compressors have two cylinders. The air will be moved from the cooling tube into another cylinder at 90 psi and then into the tank at 175 psi. If you need high pressure, then a two-stage air compressor is suitable for you.
There is a notion that two-stage air compressors are only for professionals but that is not entirely true because they can also be used for heavy-duty residential tasks as well.
Noise
Air compressors are not known to be whisper-quiet machines. Their noise can increase or decrease based on the operation and other factors.
Considering that air compressors are either powered electrically or gasoline-powered, electric motors are generally quieter than gas-powered models.
Although gas-powered air compressors are more powerful so they tend to create more noise. This can have a major impact on where you are going to use the air compressor.
PSI Count for a Minute
PSI stands for pressure per square count and it's based on the pressure that your tools will require.
Many people only pay attention to CFM ratings. But it is also good to check the PSI rating. While most air compressors offer 90 psi, mid-range and high-end machines can provide different CFM ratings at different PSI counts.
Compressors that offer different CFM ratings at different PSI counts are a better option because they allow you to carry out multiple projects or jobs requiring different levels of pressure.
CFM Rating
CFM refers to cubic feet per minute ratings and it indicates how much air is supplied when a machine operates. A lower CFM rating won't have enough air pressure for some jobs and vice versa.
Keep in mind that the higher the CFM rating is at a PSI count, the better a machine is. If you can balance these two ratings well, your machine will be very quiet.
For a 90psi count, you should choose a compressor with a CFM rating between 0.6 and 5.
A compressor with 0.6-2.0 CFM is suitable as a supplementary machine for a larger compressor. One with 3.0 CFM is suitable for light tools. Meanwhile, a 4-5 CFM compressor is suitable for a workshop with multiple tools.
Oil-Free or Oil-Lubricated?
There are two categories of air compressors you will find in the market when shopping for an air compressor.  Here's how they differ:
In oil-free machines, there are no lubricants at all. They are cheaper to run because you don't have to buy oil, lower-maintenance.
In oil-lubricated machines, the parts are lubricated with a little oil. This helps manage sound levels, so they are also quieter. They also last longer. However, oil-lubricated machines require high maintenance and pose risks of oil dripping.
Since you are looking for a quiet air compressor, an oil-lubricated machine will seem right, even though there are some quiet oil-free air compressors too.
Motor Power
A powerful motor in your air compressor makes it quite practical for many users. The motor of the air compressors ensures the storing of air inside the air tank.
Keep in mind that air compressors that have higher motor power are capable of filling the tank much quicker.
Duty Cycle
The duty cycle is one of the factors to consider when purchasing a compressor. Its stated in percentage format expressing the number of times the compressor can run in a 10 minutes duration.
For example, a low-quality compressor has a 50% duty cycle which means it can run more than 5 minutes in a 10-minute duration.
On the other hand, most industrial range air compressors have at least a 75% duty cycle. While others can even reach 100% as well which means you can run them continuously without any issues like overheating.
If two people purchase air compressors for painting jobs with 10 CFM, but one has a duty cycle of 65% while the other has a duty cycle of 50% to complete a task, the one with a 65% duty cycle can paint for 6 ½ minutes and wait for 3 ½ minutes and repeat the same. When it comes to your friend, he can paint for 5 minutes continuously and wait for another 5 minutes before repainting.
Electric or Gas Powered?
Air compressors are powered by either electricity or gas.
Electric air compressors are more convenient and require an electrical outlet to work. They're quieter and less expensive. Electrical air compressors are generally not suitable for industrial work and heavy-duty tasks.
Gas-powered air compressors are mostly more powerful and can easily be used when no electrical outlet is available at the site.
Tank Style
20-gallon air compressors are present in horizontal or vertical style. Horizontal air compressors are easier to move around and are more stable. Vertical ones have small footprints and are less stable and don't take up more space in the working area.
Final Thoughts
If your job involves using a lot of air tools, then air compressors are a great addition to your garage as they can drive several tools and can be used for various tasks.
If you have settled for a 20-gallon air compressor capacity, then these quiet 20-gallon air compressors are some of the quietest models on the market.
It is worth mentioning that, unlike lower capacity units, there are not very many quite outstanding models when it comes to 20 gallon compressors, so choose wisely.
But these above-mentioned models are at least low noise compared to most models. I hope you found the guide helpful in your shopping adventure.
Latest posts by Josephine
(see all)