5 Quietest Chainsaws on the Market
Looking for the quietest chainsaw for your tasks?. Perfect, you've come to the right place. In this quiet chainsaw guide, you can expect to learn the following:
What chainsaw is
How does a chainsaw work?
Our top-rated quietest chainsaw picks
Factors to consider when buying a quiet chainsaw
And more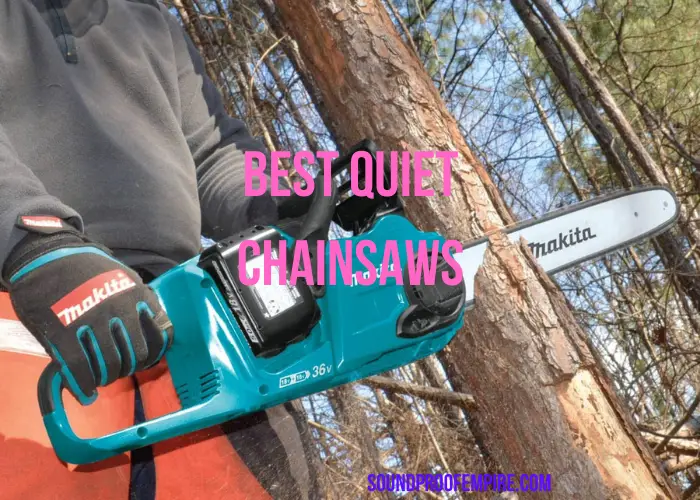 Trees take hundreds of years to grow and chainsaws are these violent, hungry machines that bring them tumbling to the ground in just minutes. Chainsaws are used to remove trees that often pose a danger towards the end of their lives.
Such trees can fall and block roads or railroads and need to be chopped fast to clear the roads, they are also used in routine forest management for thinning and clearing trees to ensure the overall long-term health of woodland habitats and creatures. You can also use a chainsaw in running and climbing plants in your home garden.
But we will agree that chainsaws are some of the loudest saws. Some models can be extremely loud that you can't hear anything around you and that is not good for your hearing. That being said, there are some chainsaw brands and models that are quieter.
Well, while the quietest chainsaws are not exactly silent, you can find some that are quiet enough that the operator doesn't need to wear hearing protection.
In this guide, I will cover some of the quietest chainsaws in the market for you to make an informed decision. Before that, let's look at what a chainsaw is and how it works.
Also read:
Quietest scroll saw for your workshop
The highest-rated miter saws with less noise
What is a Chainsaw and How Does It Work?
A chainsaw is a portable, mechanical saw which cuts with a set of teeth attached to a rotating chain that runs along a guide bar.
Chain saws are mostly used in activities such as tree felling, limbing, running, bucking, cutting firebreaks in wildland fire suppression, and also harvesting firewood.
Other specialized chainsaws are designed with a bar and chain combined and are used in chainsaw art and chainsaw mills. Such specialized chainsaws are used for cutting ice, for example, ice sculpture and winter swimming in countries like Finland.
A chainsaw has two main parts: a saw blade built into a chain, wrapped around a long metal guide bar, and a small, one-cylinder gasoline(petrol) engine ( sometimes an electric motor powered by a cord or battery pack.
The Top-Rated Quiet chainsaws
These are some of the top-rated quietest chainsaws in the market.
1). Makita 16″ 36V Brushless Cordless Chainsaw
Top Pick for Battery Power
With many landscapers and contractors now dishing gas-powered outdoor equipment, this quiet battery-powered Makita cordless chainsaw with zero emissions, lower noise, and considerably less maintenance is one of the choices they are opting for.
It's powered by two 18V940  LXT batteries for maximum power, speed, and run-time. The brushless motor with a direct drive system and variable speed delivers 0-3,940 FPM for increased speed, allowing users to get high efficiency that is equivalent to a gas chain saw.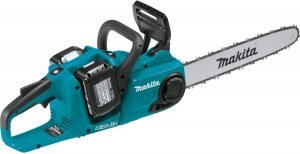 The guide bar size is 16″ and the tool-less chain adjustment, and front handguard is engineered to actuate the chain brake when engaged.
The built-in L. E. D. on/off switch with auto power-off function; automatically shuts the saw off when an operation is delayed for extended battery life
---
2). Oregon Battery Powered Self-Sharpening Cordless Chainsaw
When your saw chain is sharp, it does the work. When it's not, you do the work – and your guide bar and drive sprocket will wear more rapidly.
Oregon has patented a built-in PowerSharp Sharpening System that makes it easy to keep the saw chains sharp and perform their best.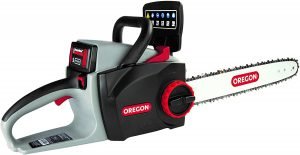 This chainsaw is lightweight, easy to use, and silent between cuts. This makes it one of the most quiet chainsaws that are battery-powered.
This saw has a 16-inch chain, uses a 6.0 Ah battery which lasts longer, and charges faster to power the brushless motor to deliver a powerful combination of speed and torque.
The overload protection feature ensures that the motor shuts off automatically if the saw is pushed too hard. This is one of the best chainsaws for cutting logs and tree felling.
3). Husqvarna 18 Inch 455 Rancher Gas Chainsaw
Top Pick for Gas Powered
This Husqvarna rancher gas chainsaw is ideal for landowners or contractors who desire to acquire a high-powered and heavy-duty chainsaw for tasks like cutting trees, pruning, limbing or cutting firewood.
Even though it has a 55.5 cc 18-inch guide bar, its ergonomic design allows the saw to handle the power of the saw with ease.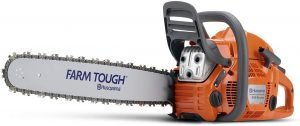 It also has a low vibration system and the air injection centrifugal air cleaning system helps larger dust and debris particles from reaching the air filter, thereby improving the engine life.
There are also other features that ensure the safety and longevity of the saw. This is one of the favorite quiet gas chainsaws with lower noise.
---
4). EGO Power+ CS1600 16 Inch 56V Lithium-Ion Cordless Chainsaw
The EGO cordless chainsaw delivers 6800 RPM power to cut through hardwood, softwood, branches, and more with its 16-inch guide bar and chain effortlessly and smoothly with a low kickback design for safety.
It is recommended for use with a 5.0 Ah  56V ARC lithium battery and you get up to 300 cuts. The battery is sold separately.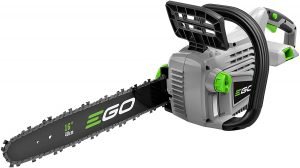 The advanced battery technology incorporated into the design of this saw, helps it to deliver power that is equivalent to that of a gas chainsaw but without the noise, fuss, and fumes.
This product has a rugged construction that keeps your tool safe under harsh conditions. Plus, it comes with a 5-year warranty.
---
5). Black + Decker 10-inch 20V Max Cordless Chainsaw
Most Affordable
This quiet battery chainsaw is of the most affordable on this list and its a good value for the money.
This saw offers a 10″ premium Oregon low kickback bar & chain that provides smooth and fast cuts. The tool-free blade tension system allows for improved ease of use and quick adjustments, and it has a lightweight design for ease of maneuverability and reduced fatigue at only 7.2 Pounds.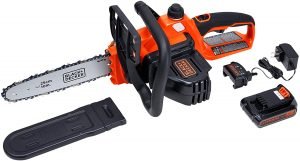 The BLACK+DECKER LCS1020 10-inch 20V Max Lithium-Ion chainsaw features the 20v Max lithium battery for long run-time and long life- stays charged up to 5x longer.
It also has a wrap-around bale handle that provides come and increased control.
Factors to Consider When Choosing the Quietest Chainsaw
If it is your first time buying a chainsaw, there is a range of options available to pick from and it can get confusing. When deciding on the most appropriate option for your task, there are a number of factors to consider. Here are some tips to guide you in deciding the right chainsaw to purchase.
Purpose
What do you intend to use the chainsaw for? If you just need a saw to do some light trimming and running around the yard a few times a year, then a quiet electric chainsaw is the best option for you. There are also quieter than their gasoline counterparts.
If on the other hand, you need to feel medium to large-sized trees or de-limb a large branch then you have to opt for a gas-powered chainsaw because they are more powerful.
 Noise Level
As it is with any power tool, chainsaws are among the noisiest saws around. But you can pick a model or brand that has quieter motors that won't make so much noise and will pose hearing damage to you. Luckily, the models covered here are quieter and you can operate them without hearing protection though it's not recommended to do so.
Motor/Engine Size
For gasoline-powered chainsaws, their engine size is measured in cubic centimeters(CC). The more the CC the more power id generated to handle tougher tasks. Engines can range in size from 23cc  all the way up to 120cc. However, for most homeowners, anything between  30cc to 45cc will be fine,
Electric chainsaws on the other hand are measured in Amps. In general, they have motors ranging from between 8 and 15 Amps. As with gas-powered saws, the higher the number, the greater the power. An 8 amp motor will produce around 1.3 bhp and a 15 amp motor around 2.4 bhp.
Most battery-powered saws now use Lithium-ion rechargeable batteries. These batteries will last between two to three years.
Guide bar size
The guide bar size is measured from its tip to the point where it comes out of the saw powerhead and represents the actual cutting length. Chainsaw bars range in size from 6 inches up to 42 inches. Most homeowners don't really need anything greater than 20 inches bar.
If used the correct way, a chainsaw should be able to cut a log twice the diameter of its bar (so a 20" bar should be able to cut a 40" log).
Small saws with bar lengths ranging from 6" to 14" are best used for trimming, pruning, and light cutting. They can also be used for small-size tree cutting, taking limbs off trees, and bucking small logs.
Medium saws have bar lengths of between 16"- 20". These bar lengths are capable of carrying out a full range of tasks including light storm damage clean-up and medium-sized tree cutting.
For large chainsaws, the bar length is between 22″ to 40″. These are professional foresters, experienced farmers, and ranchers and are used for large trees and log cutting.
Portability/ Location
A gas-powered saw is suitable for woodland areas and it is easier to fill up the gas and oil when it runs out. Battery-powered saws are also good but they can run low on power and need recharging. These two are portable and allow for maneuverability.
If you live in the suburbs an electric saw would be a good option. This is especially so if you have noise-sensitive neighbors – the buzz of a gas saw is unlikely to endear you to them.
Price
Actually, your budget will dictate what saw you can get. There are chainsaws prices ranging from under $100 to over $600. It will depend on the features and functionalities you need in the saw.
Why Are Chainsaws Loud?
There are several different reasons why chainsaws are so loud. These three factors produce the most noise:
The engine/motor
The vibrations
The sawing itself
You probably already guessed that the engine is the main culprit. This is why gas chainsaws are so loud in comparison to the others as their engines produce the most noise on average.
Vibrations, although to a much lower extent, will also add to the overall noise level. One of the reasons why electric and cordless chainsaws are much quieter is that they will generate less vibration.
The process of cutting is also going to add to the noise which is produced by the chainsaw. A chainsaw with an old chain that is not sharp and doesn't have proper lubrication may potentially produce higher noise levels.
Latest posts by Josephine
(see all)