9 Quietest Air Compressor (Silent) Air Compressors on the Market
Looking for the quietest air compressor for your projects?. Perfect, then you've come to the right place. In this guide, you can expect to learn the following:
What air compressor is
How does an air compressor work?
Our top-rated quiet air compressor picks
What to look for when choosing a silent air compressor
Do you really need an air compressor?
Why is my air compressor loud?
How to make my noisy air compressor quieter
And more…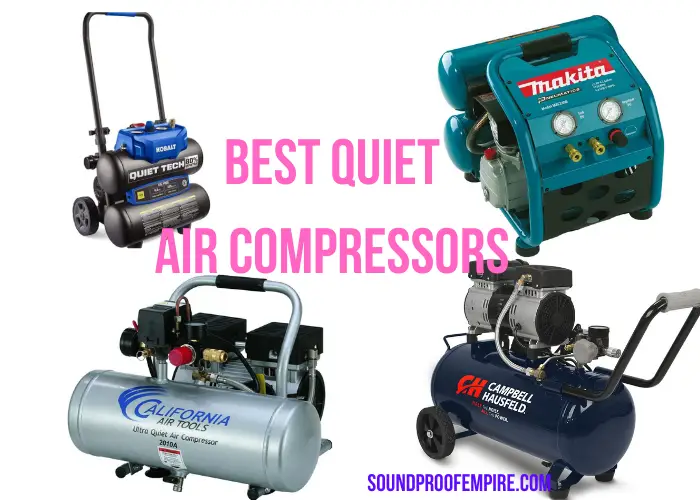 In the modern world of pneumatics, air compressors are vital to the operations of factories and workshops across the globe. But they haven't always been. Air compressors are a relatively recent invention in the context of machine-age history.
Even though they arrived on the scene not so long, they have been a lifesaver to many DIYers and professionals. Air compressors can be used for a whole variety of activities. Activities such as spray painting, nailing, drilling, inflation of tires and toys, and much more.
However, even though they work so great for a lot of things, they are also known to be noisy. But that is to be expected since air is been compressed in a tank. That is why some air compressor manufacturers have put in the effort to manufacture models that are quieter. Hence the purpose of this guide is to help you find the best quiet air compressor for your tasks.
After doing deep research and gathering user experiences, I was able to come up with the quietest air compressors in the market for a variety of activities.
What is an Air Compressor?
An air compressor is a device that converts power using an electric motor, diesel, or gasoline engine into potential energy stored in pressurized air( compressed air).
One way this is done is, the air compressor forces more and more air into a storage tank, thereby increasing the pressure. When the pressure in the tank reaches its upper limit, the air compressor is shut off. Also, when tank pressure reaches its lower limit, the air compressor turns on again and re-pressurizes the tank
The energy contained in the compressed air can now be USD for a variety of applications such as; supplying air to fill up objects like tires, inflatable pool toys or they can supply power for operating tools. Some of the equipment that works well with compressed air power include drills, grinders, spray guns, nail guns, sanders, and staplers.
Similar Reads:
Best top rated quietest airbrush compressors
How Does An Air Compressor Work?
Air compressors supply airflow for all equipment in a system. Air compressor work in two phases: the compression operation and the release operation. There are two main types of air compressors. These include; positive displacement and dynamic (centrifugal).
So, how does an air compressor get air?. For those that use pistons, it involves two parts: raising the pressure and reducing the volume of the air. Most compressors use reciprocating piston technology.
An air compressor typically uses:
An electric or gas motor
An inlet and a discharge valve to draw in and release air
A pump to compress the air
A storage tank
The compressor draws in air and creates a vacuum to reduce its volume. The vacuum pushes the air out of the chamber and into its storage tank. Once the storage tank reaches its maximum air pressure limit, the compressor turns off. This process is called the duty cycle. The compressor will turn back on when the pressure drops below a specific number.
Air compressors don't necessarily need to have storage tanks, and a few of the smaller options forego them in favor of portability.
Air displacement is at the core of each air compressor. The two main types of air displacement are; positive and dynamic displacements. Most air compressors use positive air displacement; this method pulls air into the chamber, then the machine reduces the volume of the chamber to compress the air. Next, the air is then moved into the storage tank for future use.
Dynamic displacement also called nonpositive displacement, this method uses an impeller with rotating blades to bring air into the chamber. The energy created from the motion of the blades builds up air pressure in a shorter amount of time. The rate at which a compressor can deliver a volume of air is noted in cubic feet per minute (CFM).
Best Quiet Air Compressor Reviews
Here are the reviews of the top-rated quiet air compressors in the market that are efficient with less noise.
1).  Makita MAC2400 Big Bore 2.5 HP Air Compressor
This Makita MAC2400 big bore 2.5 HP air compressor has a lower noise level of 79 dB.
The compressor features Makita's big bore engineered pump cylinder and piston for higher output for two nailers. This gives you an improved job site performance at lower noise.
It is equipped with a 4.2-gallon twin stacked tank which sustains an operating pressure of 130 PSI, and delivers 40 PSI at 4.8 CFM and 90 PSI at 4.2 CFM enough for two nailers. Making it the MAC2400 powerful and durable enough to handle industrial and tough job site conditions.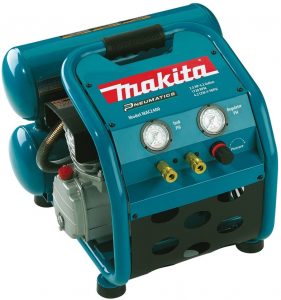 The Makita quiet air compressor has an oil-lubricated pump and is equipped with a large automotive-style filter for increased air intake and greater efficiency.
It also has a built-in thermal overload protector, which is a nice add-on. Its roll cage design also keeps it safe from Jobsite mishaps.
In addition, with increased compression and hastening recovery time, this air compressor is quieter. The roll bar handle provides portability and additional protection. This unit weighs 77Ibs.
Its weight, quality in finish, and components make this a reliable, industrial-duty air compressor.
Features
Powerful 2.5 HP 4-Pole motor produces 4.2 CFM at 90 PSI

Low AMP draw reduces incidences of tripped breakers at start up

Pump runs at lower RPM (1,730) 

Lower noise (79dB) and improved pump durability

Durable cast iron cylinder reduces wear and increases
---
2). Briggs & Stratton Quiet Air Compressor
This Briggs & Stratton air compressor uses a quiet power technology that features a four-pole induction motor operating at only 1700 RPM.
Using this motor technology not only results in a quiet machine but also enables the motors to last up to 3 times longer than the standard air compressors.  In fact, this quiet power technology has been tested to 80% quieter.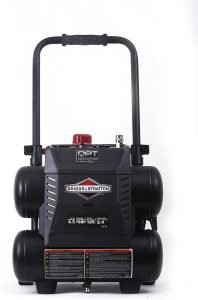 This machine is equipped with a 4.5-gallon tank and a high-performance induction motor, making it a perfect choice for inflation jobs and finish work.  There is also the option to choose a 4.0-gallon capacity that comes at a different price.
Additionally, it has an oil-free pump, so little maintenance is required. To note, maximum pressure is over 120 PSI.
The vibration of this ultra quiet and oil-free air compressor is also limited, keeping it stable and provides a longer unit life.
This product weighs only 60.9 pounds, making it portable or home use and it comes with a 1-year warranty.
It is the perfect solution for anyone who wants to do a project in their own home, and still be able to hear themselves think.
Rugged Wheels and a collapsible handle for easy transport and storage

80% Quieter

1 HP induction motor, Oil-free pump

2.4 CFM at 90 PSI

Large regulator knob

Solid rugged wheels

Adjustable sliding handle

Integrated control panel
---
3). Rolair JC10 Plus 1 HP Oil-Less Compressor
With many portable oil-less air compressors having a bad reputation for being noisy, this Rolair JC10 plus single-stage quiet air compressor, you get a powerful and portable quiet oil-less air compressor that no longer makes those intolerable loud noises.
At just 60 dB noise level, this JC20 is one of the quietest air compressors on the market. It can be used indoors all day long without any excessive noise.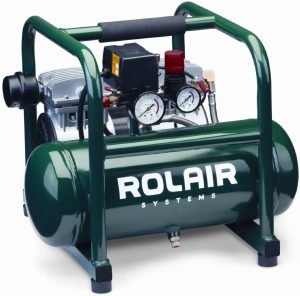 This quiet small air compressor is equipped with a 2.5-gallon tank capacity that produces 2.35 CFM at 90PSI and a motor with 1725 RPM. It weighs only 42.9 pounds, making it one of the best lightweight air compressors.
These features make the compressor lightweight and compact to carry around with you on the job site easily.
Features
2.35 CFM at 90 psi

1725 RPM motor

Oil-less design reduces maintenance and downtime

2.5 Gallon tank capacity

Cast Aluminum Cylinder
---
4). California Air Tools Ultra Quiet  Air Compressor
The California Air Tools 2010A Ultra Quiet and Oil-Free Air Compressor is designed to be one of the quietest air compressors and lightest in the industry having only 60 decibels of sound and weighing only 35 pounds.
Its also equipped with a 1.0 HP motor which operates at only 1680 RPM creating less noise and wear. This ultra quiet air compressor motor is designed to increase the duty cycle and allow for longer continuous run times.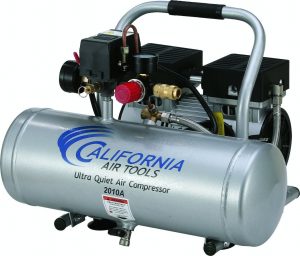 Although this machine is lightweight, it has a CFM of 2.20 at 90 PSI, so it can be used with a nailer for roofing and a wrench.
Also, the pistons are oil-free and dual pumped. This makes it durable and delivers high performance. This California Air Tools ultra quiet air compressor is designed to extend its life cycle to 3000 plus hours comparable to other air compressors 500 hours or less.
Its oil-free pump feature not only makes it easy to clean and maintain – no need for a daily check-up – but makes it suitable for all kinds of temperatures and uneven terrain.
This air compressor is ideal for anyone working inside where noise is a major issue.
Features
Ultra Quiet only 60 Decibels

Oil-Free Pump for Less Maintenance & Costs

2.0 Gallon (Rust Free) Aluminum Tank

Powerful 1.0 HP (Rated / Running) 2.0 HP (Peak) Motor

3.10 CFM at 40 PSI  and 2.20 CFM at 90 PSI 

UL Certified

1 Year Limited Warranty
---
5). Campbell Hausfeld DC080500 8 Gallon Portable Quiet Air Compressor
The Campbell Hausfeld quiet, 8 Gallon air compressor is designed to be one of the quietest air compressors in the industry. At just 68 dBA, this compressor offers a quiet work environment.
This DC080500 can boast of 125 maximum PSI and 2.4 CFM at 90 PSI to tackle a variety of applications including inflation, stapling/fastening, painting, and nailing.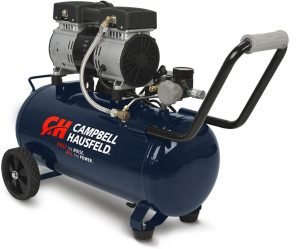 The long life , oil-free maintenance free pumps are convenient for continuous use. Plus, the hot dog design, handle and wheels make it easy to store it away.
The large wheels and a durable, rubber-grip steel handle makes the unit easy to transport from project to project. This product weighs only 66. 5 pounds.
Features
125 maximum PSI and 2.4 CFM at 90 PSI
Oil-free, maintenance free pump
68-decibel noise rating

Dual-piston pump

8 Gallon tank capacity
6). Metabo 1.0 Gallon Air Compressor
The EC28M Quiet Air Compressor is the first in a Low Noise Series from Metabo HPT that produces just 59dB of sound making it so quiet that a normal conversation can be easily heard while the compressor is cycling nearby.
It features an industrial oil-free pump for high durability with low maintenance, and a 2. 8 Amp direct drive induction motor for longer life. This one of the best quiet oil-free compressors.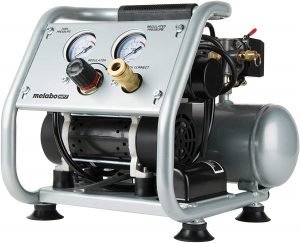 The motor is protected by an overload protection circuit that cuts off power in the case of an overload situation.
This Metabo air compressor is extremely compact and weighs just 25.2 lbs, the EC28M has an ergonomically shaped rubber carrying handle to make it easier to transport around any Jobsite.
The steel roll cage design protects the factory installed universal quick coupler and steel encased industrial gauges. This quiet air compressor has zero set-up time, and is ready to go straight out of the box.
Features
 An industrial oil-free pump
1.0-gallon tank capacity
2. 8 Amp direct drive induction motor for longer life
weighing just 25. 2 lbs
Low noise at 59dB
---
7). Kobalt Quiet Tech 4.3 Gallon Portable Electric Air Compressor
This quiet tech 4.3 gallon portable 150 PSI electric twin stack compressor is ideal for use with brad/staple nailers, framing nailers, and finish nailers.
This unit features a 1.0 HP induction motor and two oil-free pumps that run quietly to create a more peaceful work environment. With a noise level at 65dB.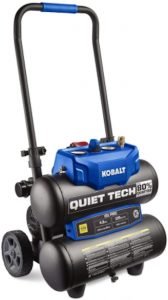 The twin stack design enables you to add air capacity without taking up more floor space. The oil-free design also makes the pump durable and easy to maintain. also, the integrated control panel makes it easy to monitor the tank pressure and outlet pressure.
For portability, the compressor has a rubber wheel and sliding handle that makes it easy to move it around and to store it away.
The Kobalt air compressor has a weight of 61.7 pounds, making it quite portable.
Features
maximum PSI is 125 with a CFM of 3.3 at 40 PSI
1.0 HP induction motor and two oil-free pumps
4.3-gallon tank capacity
Noise level of 65 dB
8). DEWALT 20-Gallon Air Compressor
This DEWALT 20 gallon air compressor is the quietest 20-gallon air compressor in this guide. DEWALT is a well-respected brand in the power equipment and tools industry.
This air compressor is no different. With a noise level of 76dB, this compressor is a tough job site machine and it's built for professionals.
The DEWALT 1.9 HP 20 Gallon oil-lubricated air compressor features automotive style ball bearings, durable steel reed valves, easily accessible oil fill, and a cast-iron balanced flywheel for easy maintenance.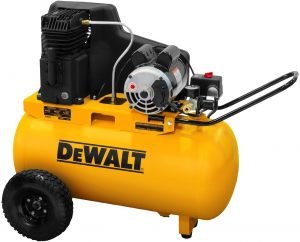 The DEWALT 20 Gallon horizontal, portable air compressor delivers up to 155 PSI maximum operating pressure for longer air tool run times.
This 5 CFM quiet air compressor is an ideal machine for serious DIY users, contractors, or professionals. It is a great choice for high consumption air tools like nail guns, paint sprayers, sanders, and more.
Features
Cast iron, twin cylinder, oil-lubricated pump

Built with a high-flow regulator

Heavy duty dual voltage induction motor

155 PSI max pressure

20-gallon portable tank

Shipped with synthetic oil

2-year pump, 1 year all other parts warranty
---
9). Quincy 60 Gallon Air Compressor
This quietest 60 gallon air compressor by Quincy is one of the quiet industrial air compressors around.
With a tank capacity of 60 gallons, this quiet industrial air compressor has 145-175 working PSI and a pump RPM of 1310 making it very powerful air equipment for your industrial job needs.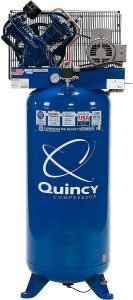 The compressor boasts a 30,000-hour pump life rating. It is built for life, delivering efficiency, and lowering the cost of operations while producing more compressed air at a lower horsepower.
This air compressor is a heavy-duty one, it weighs 475 pounds. Need more options?. Check out this article on the 5 top-rated quietest 60 gallon air compressor here.
Features
Industrial-duty US-made Baldor motor

Capacitor start motor with built-in thermal overload

Less than 5 PPM oil carry-over (blow-by) rating

145-175 working PSI

Pump RPM: 1310

60 gallons tank capacity
---
 What to Look for When Choosing an Ultra Quiet or Silent Air Compressor
There are many different models of air compressors available on the market today and various guides that say an overwhelming number of things. If you are not already familiar with compressors, It is difficult to navigate in the sea of machine jargon for beginners or someone looking to buy an air compressor for the first time.
Purpose
There are air compressors for various activities. You first need to be clear on the type of job you intend to use the compressor for. That will determine the specifications.
Also, the intention will dictate the amount you are willing to spend on your compressor. Quiet air compressors usually cost a lot more.
Noise Levels
I believe you are here because you wouldn't want a noisy air compressor that will be a noise nuisance to you and those around you. That is why the level of noise produced by the compressor is important.
Noise is measured in decibels (dB) and unlike other units of measurement, this one is non-linear. The higher this number though, the noisier the compressor will be
To better understand decibels, a ticking watch is 20 dB loud, while a normal conversation is about 55-65 dB loud. Hearing protection gets recommended from 85 dB upwards, a lawnmower is about 90 dB loud, while most air compressors range between 40 and 90 dB. To better understand noise measurements and some examples, check out this article on noise level charts.
For compressors, over 80 dB is usually considered noisy, between 60 to 80 dB is considered quiet, while 60 dB and below is super quiet or whisper-quiet air compressor.
Air Volume (CFM)
The rate at which the compressor can deliver a volume of air is measured in cubic feet per minute (CFM). This is one of the key factors in choosing an air compressor. It tells you how quickly the compressor can deliver the air. This rate is directly proportional to the supply of air.
Different pneumatic tools have different air needs, some need higher quantities, while others need less.
For most small air compressors, the CFM ranges from 2-3.
Tank Size and Pressure
The compressor tank size you choose will depend on your tools and their requirements. This tank size determines how much air can be held at any given time. even though it doesn't always matter, it may play a good role. The tank size is usually given in gallons and you'll combine it with the compressor's maximum pressure to know how much air it can store.
The small tank size will not hold a lot of air. This allows air to be used up before the air decreases and the motor will start to refill the tank. So, it is a bit time-consuming for the smaller tanks.
Larger tanks can hold more air. This means that the air compressor can avoid pausing mid-job. A twin-tank air compressor is what some people need for jobs that require a lot of air pressure.
Tank sizes range from 1 gallon to 30 gallons and over, with many compressors offering an average storage capacity of 6 gallons. Maximum pressure is mostly 150 PSI, although some compressors will have higher and others lower processors.
Some tools like drills and sanders prefer higher pressures and come rated at around 90 PSI, while spray guns, for instance, prefer lower pressures around 40 PSI, but need higher volumes of air.
Portability
If the compressor is going to be stationary for the most part of it, then you may not be concerned about weight. However, if you intend to move it up and down, then you need to factor in the weight.
Smaller air compressors are naturally weighing lesser than bigger compressors. If you intend to move around with the compressor, then portability should be important to you.
The tank size is mostly the bulk part of the weight and having two handles to easily carry it around is a plus because some of these air pressure machines only have one handle, which makes it awkward to carry around.
Maintenance
Modern and electric-driven compressors are easier to keep up, especially those with oil-free motors. You should always check to make sure the tank has a simple water-drain valve because you'll need it.
Warranty
A warranty is a great way to ensure that products with defects are returned for replacement or repairs. Good manufacturers mostly put a warranty against their defective products for at least a year or more.
Do You Really Need An Air Compressor?
Whether you're a seasoned or beginner DIYer, an air compressor can be a valuable tool. Here are some reasons why you may need an air compressor for your next project.
Honestly speaking, about 90% of your projects will require power drills and impact drivers. Well, you may have never taught of an air compressor as important equipment for your next project. Here are the motivations for you to acquire one now.
It Enables You to Acquire Affordable Power Tools
If you have probably been using manual or electric tools for your projects, chances are you would like to try power tools to make your work easier. With an air compressor, you will have the choice of using electric and air tools.
Pneumatic power tools are a lot cheaper compared to electric power tools and having an air compressor will make it possible to use them. Pneumatic power tools are also easier to maintain compared to electric power tools.
It Grants You Flexibility in Your Work
From time to time, you may require to go offsite for some parts of a project or the entire project. For many people, this means reverting to manual tools until they're back in the workshop or using battery-powered electric tools which, as we have observed, are expensive to maintain and to run.
An air compressor can be run on gas, thus it can optimally be used in an offsite location for a project. You will either need to wheel the compressor to the site or carry it depending on its size.
Air Compressor has more Power than Electric Tools
Tools like an impact wrench, drills, and other air tools have more torque than electric tools of similar caliber.
Having a compressor will enable you to do more heavy-duty activities in your project because with it, you can run such tools.
This gives you the ability to complete your projects in a lesser time. Plus, air tools also allow you to regulate the amount of power when using the tool.
You experience Less Fatigue
Using lighter tools means less fatigue. Air tools have a higher power-to-weight ratio. Unlike electric power tools, they dont have a mortar. Powerful electric tools are bigger and heavier.
So, using air tools will enable you to work for longer hours without getting tired.
Helps with Simple Auto Repairs
Having a quiet air compressor in your garage at home can help you to fix the small auto repair issues that you may have by yourself without going to the mechanic shop. This means saving money and time.
There are a lot of reasons why getting an air compressor is a great idea. The above are some of the common reasons some people get compressors.
Why is My Air Compressor Loud?
If you are wondering what might be causing your air compressor to make noise, here are some factors that may contribute to a noisy air compressor. First of all, every air compressor has some level of noise. Noise levels from anything up to about 90 dB can be seen.
The sound of a normal conversation is around 60 decibels. So, when classifying any air compressor as quiet, its sound should be having a noise level of under 70 decibels. Anywhere between 60 to 80 decibels is still considered quiet.
Below are factors that may make an air compressor noisy.
Air
Sound is created when air moves at a certain speed. When the air is been compressed into the compressor, the process is loud. This is the loudest part of an air compressor. Also, the air exhaust creates noise too. That is when the compressor byproducts are released.
Vibration
Vibration is a result of molecules moving fast and knocking against each other. Even though this may not be noisy, but it can be if you combine it with other forms of noise.
The vibration level of the compressor will depend on the compressor structure as well as where the compressor is placed. If the surface is hollow, it is bound to vibrate more.
Generally, concrete floors are a lot quieter than wooden floors.
How to Make a Noisy Air Compressor Quiet
Most air compressors have one thing in common, they're noisy and loud. The Higher the horsepower and budget-priced the compressor is, the louder it may be.
While the easiest solution would be to just purchase one of these quietest air compressors above, that may not be practical for some people at the moment. Hence the need for some DIV techniques to quiet down your existing air compressor.
Install an Intake Silencer
The loudest part of these air pressure machines is during the intake of air. You would hear a loud high frequency pulsating noise. As the air compressor rotates inrushing air is drawn past a reed or flapper valve which then rattles and vibrates on each pulse.
To reduce this noise, intake muffling devices are constructed which act as silencing devices and air filters. By installing an intake silencer such as one this
Solberg Inlet compressor Air Filter silencer
, you can reduce the typical noise that intake systems create.
Isolate the Compressor from Everything
If your air compressor is stationary, use rubber isolation pads to anchor it to the floor. This will reduce any vibrational noise. This will eliminate any rigid connection to the compressor. Install any short flexible air hose between the compressor and the plumbing.
Build a Soundproof Air Compressor Box
Another effective way of reducing air compressor noise is by constructing a DIY soundproof box or a sound-dampening enclosure to encapsulate the entire compressor.
If you are crafty, you can build one yourself to absorb some of the noise by installing sound-absorbing material on the walls, top, and floor.
Create a Distance Between You and the Compressor Noise
Noise levels drop as you move away from the source of the sound. Move your compressor as far away as you can from your location (preferably in another room or outside) and put as many walls as possible between you and the air compressor.
By doing so, you will drastically reduce the noise levels. But this can only be accomplished if you have a longer air hose that can reach your work area from a distance. You can easily reduce your compressor noise by up to 25%.
Use Sound Deadening Material
Compressor noises are reflected off solid objects such as walls. If your compressor is located near a wall or in a corner the walls act like a loudspeaker reflecting the compressor noise back into the work area. You can reduce reflected noise by covering any walls near the compressor with sound-absorbing blankets or acoustical materials.
Wear Hearing Protection
If your compressor is still making noise after trying out some of these tips above, then you ought to get yourself hearing protection equipment. Be aware that extended exposure to loud noise can cause permanent hearing loss. Therefore, you can get yourself some hearing protection headphones to protect your hearing from getting damaged.
Latest posts by Josephine
(see all)