Quiet Box Spring:5 Quietest (Silent) Box Springs
Looking for a quiet box spring for your bed?. Perfect, you've come to the right place. In this guide, you can expect to learn the following:
What a box spring is
Do you need a Box Spring?
Our top-rated quiet box spring picks
A quick buying guide to box spring beds
How to quiet noisy box spring
And More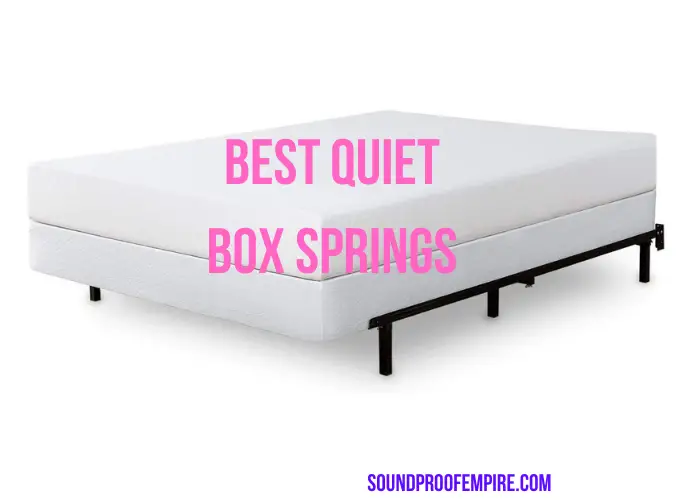 Quick Preview of the Top-Rated Quietest Box Springs in the Market
In a hurry?. I understand. Here is a quick overview of the best quiet box springs in the market.
Zinus Armita 7 Inch Smart Box Spring  (Editor's Choice)

Lifetime Sleep Products 4 Inch Low Profile Box Spring (best for tight spaces)
If you believe you need a foundation to support your mattress, then, your best bet is adding a box spring.
This type of bed foundation makes getting in and out of bed easier by raising the bed height. It also helps to extend the mattress lifespan.
But with so many box springs in the market today, picking a quiet box spring among the lot can be overwhelming to some people. To help make your shopping easier,  I developed this guide to help you pick the quietest box spring for you and to get the best value for your money.
 What is a Box Spring?
A box spring is a type of bed base or foundation typically consisting of a sturdy wooden frame covered in cloth and containing springs. The box spring is placed on top of a wooden or metal bed frame that sits on the floor as a brace.
Essentially, a box spring is a supportive square that lifts up your mattress (mattress foundation).
Generally, the box spring is the same size as the mattress itself that is placed on it. With the various mattress sizes available, so are their matching box springs.
Working together, the box spring and the mattress (with the optional bed frame) make up a bed. It is common to see a bed been made of only the box spring and the mattress only without the bed frame.
Do You Actually Need A Box Spring?
The simplicity of a box spring does not, in itself, answer the question of whether or not you need it. But, consider the alternative. If you choose not to use a box spring, what are you going to put your bed on?
Let's go through a few different options:
You can put your bed on the floor.
You can build your own mattress foundation to place your bed on.
Do you suspend it in the air? Maybe?
You can purchase an adjustable base
Ultimately, unless you want something in your room that is not aesthetically pleasing and not as comfortable as possible, then you will most likely want to invest in a box spring.  Box spring is a great way to elevate your bed and also help absorb shock.
Best Quiet Box Springs Reviews
Here are some of the top-rated quietest box springs in the market.
1).  Spinal Solution  Fully Assembled Split Coil Box Spring
This Spinal Solution 4 inch full assembled split-coil box spring for mattress is a queen-sized. It is designed to be sturdy and strong for all mattresses and it comes fully assembled and ready to use out of the box.
Its made of hardwood and can handle heavyweight. Because its made with the highest standards in durability, quality, comfort, and is made in the USA. Thereby meeting all the quality standards.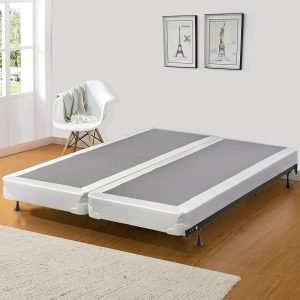 This box spring is uniquely designed to give you the kind of undisturbed sleep nature intended without any of the squeaky noise from low-quality brands.
The only downside is, some people might find it pricey. But it is worth the investment if you have the budget for it.
This box spring weighs 30 pounds and has a dimension of 80 x 60 x 4 inches. This product can be used for residential, hotels, and commercial purposes. This is one of the best quiet queen box springs.
---
2). Zinus Armita 7 Inch Smart Box Spring
The Zinus Armita 7 inch smart box spring comes in all bed sizes ranging from twin to California sizes. You can choose the size according to your mattress size.
With its easy to assemble, dependable steel structure, you can rest assured that your mattress will sit sturdy and securely on it.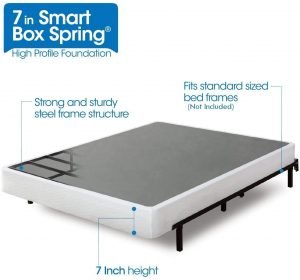 The slats 6 to 7 inches apart. The twin size can support a maximum weight capacity of 250 Ibs while the other sizes can support up to 500 Ibs.
This Zinus box spring is made of solid steel that comes together in no time and is backed by a 5-year warranty from Zinus.
---
3). AmazonBasics Smart Box Spring
This Amazon box spring comes in a variety of sizes from Twin, Twin XL, Full, Queen, King, to Cal. You can also choose between 5 and 9 inches deep. It's great for a master suite, guest room, or even the kid's room.
It combines durable steel construction with perfectly spaced horizontal slats for exceptional strength, longevity, and performance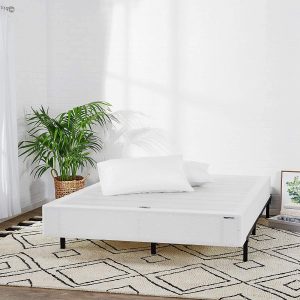 This box spring is easy to assemble because all the necessary tools, parts, and step-by-step instructions are included in the package. You can use this box spring with a traditional bed frame for elevated support. Plus it is backed by an AmazonBasics 1-year limited warranty.
---
4). Comfort Bedding Low Profile Traditional Box Spring
This is the most affordable and best quiet low profile box spring among the box springs reviewed in this guide. It is a twin size box spring.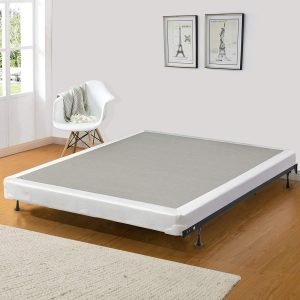 This product is made from a strong traditional wood structure. Though light, it is dense enough to prevent the box to loosen up and crack, keeping the mattress in perfect shape.
This box spring works with all mattresses; whether high or low profile mattresses. It also has dimensions: Length-75 inches x Width-39 inches x Height-4 inches and weighs 16 lbs.
---
5). Lifetime Sleep Products 4 Inch Low Profile Box Spring
This 4-inch low profile box spring is available in three sizes; full, king, and queen sizes.  It is designed to b easily assembled in your bedroom.
This allows it to fit in tight staircases, hallways, elevators, and more. Its also a great option for those who live in townhouses, condos, or any other space that a fully assembled box spring cannot fit inside.
It's ideal for thick mattresses such as heavy memory foams, latex, or innerspring mattress. Even though its low profile box spring, it won't squeak. Plus, it comes with a lifetime warranty.
A Buying Guide for Silent Box Springs
When purchasing a quiet box spring for your mattress, there are certain factors you should consider.  Here are some tips and factors you should consider before buying your box spring.
Size
There are box springs of different sizes in the market today to fit your mattress size. Whether you are using a twin, queen, king, or California mattress size, there is a box spring for every bed size.
Warranty
The good thing is that all box springs come with a warranty. It is important to review the terms of the warranty to avoid problems. If you use a box spring with the wrong bed frame size, you may not be able to make claims on the warranty. So, keep in mind the terms.
Price
How much are you willing to invest in your box spring?. Ultimately, your budget will determine the type of box spring you will get. There are quiet box springs of different prices. Starting from just below $100 to a couple of hundred dollars.
You can get an affordable standard or split box spring for about $100. These are mostly wooden box springs. For metallic box springs, you will have to spend a couple of hundred dollars if not $1000 to get a  quiet metallic box spring that doesn't squeak.
How to Quiet a Noisy Box Spring
A noisy box spring can be very annoying. Anytime you turn, you hear a squeaking sound. It can interrupt peaceful sleep and disturb those around us.  Sometimes changing to a new box spring might be in our budget at that time. Here are some tips to help minimize your box spring noise.
Put a Sock in It
This little trick lets you make use of all those old socks in your house. First, lift the mattress off the bed frame, then line each slat with old socks. The additional fabric will serve as a buffer between the mattress and the wooden or metal bed frame. Thereby eliminating any friction points.
Tighten Joints
Loose joints are a common cause of squeaky bed. Make sure to check all bolts on your bed frame to ensure they are not the source of the noise. If you find any loose bolt you can tighten it up with a wrench. If you can tighten the bolt securely, add a washer between the frame and the bolt.
Wax On
If you know the exact spot the squeak is coming from, then you can easily soothe it with a little wax. An easy way to locate the noisy spot is to listen closely while you have someone slowing turn on the bed.
Cork Competency
If you have a wooden bed frame, you don't really have any bolts to tighten or joints to grease. Instead, try wedging small bits of cork between the mattress and the portions of the bed frame where the squeak is coming from. (You can also place cork around the pegs.) The cork cushioning will help tighten any loose spots and reduce noise.