5 Quietest Airbrush (Silent) Airbrush Compressors
Looking for the quietest airbrush compressor for your models and other projects?. Perfect, then you've come to the right place. In this guide, you can expect to learn the following:
What an airbrush is
How does air airbrush work?
Our top-rated quietest airbrush compressor picks
Factors to consider when picking an airbrush compressor
And more…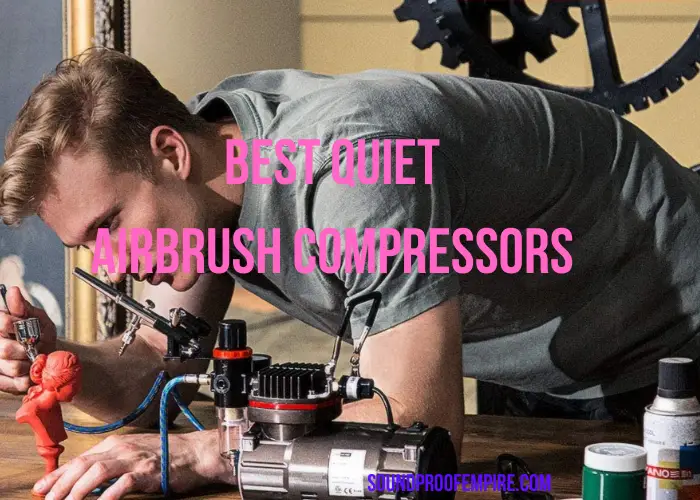 Quick Preview of the Quietest Airbrush Compressors for Your Projects
In a Hurry?. I understand. Here is a quick overview of the best quiet airbrush compressors for your models and other projects.
Airbrushing can bring your beautiful art projects to life. Whether you are airbrushing with paint, dye, foundation, or ink, the power of this process lies in the airbrush compressor.
The airbrush compressor provides the airflow that makes airbrushing what it is. This means that the kind of art you do and what detail you need will determine the type of airbrush compressor you require.
That being said, any process that requires compressed air also comes with some level of noise. But the noise level can be controlled by the manufacturer during design. Hence, you will find some airbrush compressors are quieter than others.
If you are an artist that values your peace of mind and quietness, then you will want to pick the quietest airbrush compressor for your projects.
Since it is hard to tell which one is quieter because of the many airbrush compressor models in the market today, I decided to help by doing the necessary research to pick the top-rated quiet airbrush compressors for you to make an informed decision. In this guide, you will learn about some of the best quietest airbrush compressors.
What is Airbrush Compressor and How Does It Work?
First, before we get to what is airbrush compressor, we need to understand what an airbrush is. An airbrush is a small air tool that sprays various media, mostly paint, ink, dye, and foundation by a process of nebulization.
An airbrush works by passing a stream of fast-moving (compressed ) air through a venturi, which creates a local reduction in air pressure that allows the paint to be pulled from an interconnected reservoir at normal atmospheric pressure.
The high velocity of the air atomizes the paint into very tiny droplets as it blows past a very fine paint-metering component, then the paint is carried onto paper or other surfaces. Whether you are using paint, dye, or foundation, the process is basically the same.
The amount of paint is controlled by the operator using a variable trigger. Airbrushing allows you to blend two or more colors seamlessly, with one color slowly becoming another color.
The compressed air that is used to facilitate the process of airbrushing comes from the airbrush compressor. This is what this guide is all about, to help you choose a quiet airbrush compressor for your models' works.
Also read: Best Top Rated Quietest Air Compressors
Types Of Airbrush Compressors
There are three main common airbrush compressors in the market. These include; piston airbrush compressors, oil filter airbrush compressors, and diaphragm airbrush compressors.
Piston Airbrush Compressor
The piston airbrush compressor is the most common choice for airbrushing. It is usually more powerful than the diaphragm compressor and produces a higher volume of air.  Piston compressors operate at relatively low noise levels depending on the brand.
the two categories of piston compressors are single and twin-piston models. The twin-piston model is able to compress a greater volume of air and usually to a higher pressure.
Oil Filter Airbrush Compressor
An oil filter is used to remove oil from the pressurized air. Now, many airbrush compressors are now of an oil-less design.
Diaphragm Compressor
In this type of compressor, the compression of air occurs through the use of a flexible membrane that oscillates. Mostly the maximum pressure output is in the region of 40PSI.
Best Quiet Airbrush Compressor Reviews
Here are some of the best quiet airbrush compressors for your artwork and projects. They operate at lower noise levels compared to other models.
1). Master Airbrush Cool Runner II Dual Fan Air Tank Compressor System
This airbrush compressor comes with everything you need to get started with this form of art. It is a professional master performance acrylic paint airbrushing system with a multi-purpose G22 precision dual-action gravity feed airbrush with a 0.3 mm tip and a 1/3 oz. gravity fluid cup.
Due to this equipment's multi-purpose functionality, it can be used for most media surfaces, allowing you room for creativity.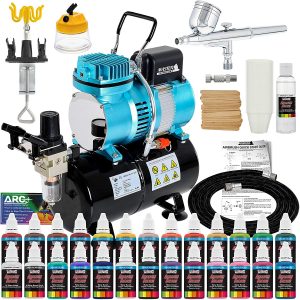 This powerful 1/5 hp single-piston compressor with two cooling fans that allow it to run much cooler for a longer continuous running time without overheating. Plus, its large 3-liter air storage tank allows constant air pressure and zero pulsation.
The needle comes with multiple nozzle caps to offer a range of detail. These nozzle caps and needles can be removed for a wider range of airbrushing.
This Master Airbrush Model TC-326T Cool Runner II is lightweight and compact allowing you to easily transport it from the studio to wherever you want to take it to.
This quiet airbrush compressor is ideal for both beginners and professionals as it comes with a wide range of nozzles and paint.
Features
Capacity is 1/3 oz
Needle Size is 6 inch
HP of 1/5
Carry handle for easy storage and handling
Lightweight and compact
Multi-purpose
---
2). Iwata-Medea Studio Series Power Jet Pro Double Piston Air Compressor
This airbrush compressor is incredibly powerful and precise as it has two air pressure regulators for easy adjustment. Though it's quite pricey, it is well worth the investment.
It has been manufactured with the Iwata-Medea brand-exclusive Smart Technology which automatically shuts down the compressor when it is not in use, saving you energy and money over time.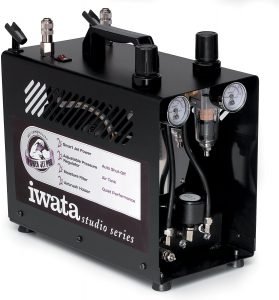 This air compressor is a multi-purpose tool that can be hooked up to any kind of airbrush, due to the fact it has an air hose and adapter. It has a very quiet operation that is easy to control, even when working. This airbrush compressor is reliable and has the capacity for a dual brush.
Features
1/6 hp 1-70 PSI maximum pressure

2 litre (1/2 gallon) air storage tank

Twin air regulators for precise air-pressure adjustment with quick disconnects

Built-in airbrush holders

Mounted twin pressure gauges with moisture filters
---
3). PointZero Double Piston Airbrush Compressor with Air Tank
This PointZero compressor is a 1/3 horsepower unit. It's powerful yet quiet, making it great for domestic use. It delivers 1.3 CFM and features a precision-forged piston that makes the unit run quietly at 59 decibels.
The oil-less design makes this portable compressor ideal for body/nail art, and food decorating along with other standard airbrushing activities.
When switched on in the primary position, the compressor runs until pressure reaches approximately 60 psi, then cycles off until the pressure drops to 40 psi, when the unit restarts. This power-saving feature reduces motor wear while maintaining enough pressure to operate most airbrushes.
In the second switch position, the compressor runs continuously, when maximum output is desired (up to 85 psi).
This feature significantly boosts the motor lifespan by reducing wear while maintaining steady air pressure to undertake basic applications.
For portability, this unit features an easy-to-carry handle and rubber feet that reduces vibrations and protects the floor surface. As a bonus, the unit comes with seven exclusive e-Book airbrushing guides and other guides.
Features
Features a 3.5-liter tank that delivers 1/3 HP
automatic on/off feature for prolonged motor life and less heat.
ultra-quiet operation (59 dB)
Easy carry handle
---
4). VIVOHOME Airbrushing Paint System
This is an all-in-one airbrushing paint compressor kit. It's an oil-free airbrush compressor that features a gravity-feed airbrush. Its quiet operation at 47 decibels makes it perfect for both domestic and Jobsite operations.
It comes with three airbrushes to meet your spray needs. The first two 0.2mm and 0.3mm standard nozzle has a working pressure of 15-50psi with gravity feed type. The third 0.8mm airbrush has a suction feed type. The unit also includes three spray guns that deliver varying degrees of spray for various applications.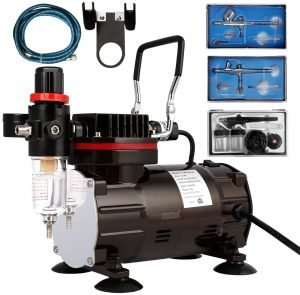 The airbrushing kit is ideal for most airbrushing applications and on several surfaces, including wood, fabric, plastics, metals, leather, and more. It's designed to be user-friendly making it perfect for both professionals and hobby airbrushing.
The anti-slip base features rubber suckers that keep the unit in place hence reducing noise and vibrations while in operation.
Features
Power: 1/5HP
Speed: 1450 speed/min for 50Hz, 1700 speed/min for 60Hz
Suitable Airbrush Nozzle: 0.2-1.0mm
Auto Start Pressure: 3Bar/43Psi
Air Flow: 23-25L/min
Auto Stop Pressure: 4Bar/57Psi
Adapter: 1/8BSP
---
5). ZENY Pro Airbrushing Kit
This  ZENY Pro airbrushing kit is a quiet yet powerful airbrushing kit that delivers more air pressure (PSI) and more Air Volume (CFM) at only 1/5 horsepower.
The oil-less piston motor makes this unit maintenance-free. It operates quietly at only 59 decibels. It's not the quietest unit in this list, but its noise levels range among the safest noise levels. With a one-year warranty, you're assured of quality and durability.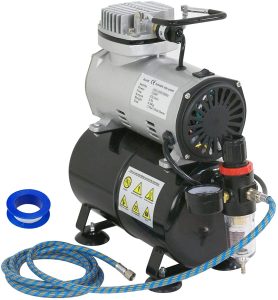 The unit is lightweight, and compact, and comes with a built-in handle that makes it portable. It's perfect for painting, art, cake, and tattoo.
The Air on Demand feature allows the unit to work only when you do. Additionally, the unit is thermally protected- it'll automatically shut down if it becomes overheated.
It is also equipped with an auto On/Off feature that will turn on the unit when the tank pressure is below 43 PSI and turn off when the pressure reaches 57 PSI.  This is one of the best quiet airbrush compressors that are very affordable.
Features
Power:1/5 HP
Auto Turnon:3 bar / 43 psi
Max Pressure:5 bar / 95 psi
Speed:1450/1750 rpm
Auto Shutoff:4 bar / 57 psi
Air outlet:1/8 BSP
Pressure-regulating Range:0-4 bar
Displacement:23-25 L / min
Hose: 6 ft. / 1.8 m
---
Factors to Consider When Choosing A Silent  Airbrush Compressor
When getting into airbrushing, one of the most important pieces of equipment you will need is an airbrush compressor. It is the bloodline for your airbrushing projects. They provide the source of power and that is why they are so important.
In order to find the best airbrush compressor for your needs, there are certain aspects of the art and device that you should consider. It is important that you know as much as possible about airbrushing and the equipment that is required before ordering anything.
Also read: Best quiet impact wrenches
Power
The average power consumed by an airbrush compressor is around 150-200 watts. This is one of the determining factors of the price of the airbrush compressor.  This power output is important to consider because it will determine the run time, control, and what the airbrush compressor can be used for.
Noise Level
If you work in an area surrounded by other people or you simply value quietness, then you need to consider the noise level of the airbrush compressor. Some airbrush compressor models can be quite noisy as they provide a lot of power. This noise level can get worse as you apply more pressure and use more of the airbrush compressor.
Luckily, a lot of airbrush compressors throughout this guide have quiet operations.  If you are just getting into airbrushing, then having some peace and quiet is certainly going to be important to you.
With something as precise as airbrushing, you don't want to be distracted or interrupted. Having a quiet and smooth operation. The more comfortable you feel with your airbrush compressor and tools, the more you will use it, and the better you will get at this art.
Capacity
The capacity of an airbrush compressor can often determine the run time, as this is how much power it can hold. Depending on the type of airbrush compressor you choose, the tank capacity may be something you need to consider.
The larger the capacity of the airbrush compressor, the heavier the device will be. This means that if you want a small airbrush compressor that you can easily transport, you should choose one with a small capacity.
Auto-Stop Function
The auto-stop function is a great feature to have on your airbrush compressor as it is triggered when the compressor reaches a specific air pressure or when it has been working for a while. This feature is important because it ensures your compressor is top-notch when operating and it saves you money and time.
What Do You Plan to Use It For?
The kind of art or project that you are working on will determine what will be the best airbrush compressor for you. For instance, if you are working in a large area, then you will want to choose an airbrush compressor that has a large tank capacity.
Airbrush compressors are great pieces of equipment that can be used for a range of artwork and projects. There are some compressors that are designed for specific applications and others are also multi-purpose. Depending on your project, you will pick accordingly.
Latest posts by Josephine
(see all)