Looking for the quietest undercounter refrigerator?. Then you've come to the right place. In this quiet under counter refrigerator guide, you can expect to learn the following:
Factors to consider when choosing an undercounter refrigerator
Our top-rated quiet undercounter refrigerator picks
Some uses of undercounter refrigerators
Final thoughts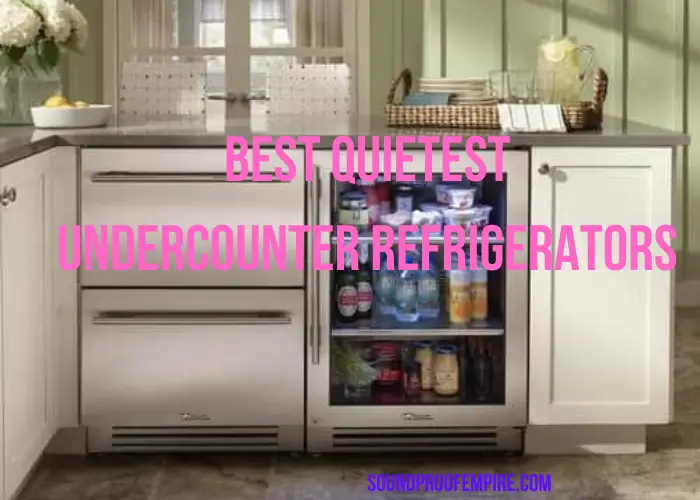 In a HURRY?, Here is a quick table preview of our best silent undercounter fridge picks. If you want to learn more about quiet undercounter refrigerators, then keep reading this guide.
Since the invention of the first fridge in the early 1900s, refrigerators have evolved in many ways. Many smart features have been added and different refrigerators have emerged over the years.
One type of fridge that has become common among people with limited space is the undercounter refrigerator. These are small in size and can easily fit under the counter freeing a lot of space in your home.
Under counter, fridges are reasonably sized and can fit well in dorms, hostels, apartments, offices, and homes. They can store your drinks, food, and come with a lot of smart features.
But these days, it's not only smart features customers want on their refrigerators but noise levels of refrigerators have become a concern of many consumers. Even though we all know that fridges are not the quietest home appliances, but no one wants to hear humming or rattling noise all day.
Therefore, it is important to choose the quietest under counter fridge for home if you want a low noise refrigerator.
Finding the perfect most quiet under counter fridge can be draining. I know you are not just looking for an undercounter refrigerator, but one that will protect your food without taking away the original flavor and obviously not occupy a lot of space.
That is why I did a lot of research and came up with the top-rated quietest under counter refrigerators for your needs.
Factors to Consider When Choosing An Undercounter Fridge
Before you purchase a fridge, though, you want to consider what factors are most important to you. Refrigerators can differ wildly, so what boxes do your new fridge need to tick to keep you happy in the long run?. Here are some factors to consider before you decide on which one to choose.
Noise Level
A noisy fridge can spread its noise through the house and this might not be suitable for you if you have a child or you live in a small space. You don't want a fridge that will wake you up from sleep, your child, or disturb other people's peace.
Luckily, some of the best undercounter refrigerators have low noise when in operation. Hence, you need to choose a low-noise fridge for yourself.
Also Read:
Best quietest beverage fridges for your bar
Size
The truth is undercounter fridges are already small but they still come in different sizes. Their capacities are not the same and depending on your storage needs, you can choose one that will be able to store your items.
Look
You can find fridges that come in an array of designs such as black, stainless steel, super modern, or even vintage. Do you want a fridge that will match your room decor or any kind that will just go with your cabinet colors?.  The look is a personal choice and you will choose your fridge according to your taste.
Layout
An under  counter refrigerator can be a single door, double door, dual or single.
If you have a side-by-side fridge, you'll have two doors that open out, with the freezer section on one side and the fridge section on the other. A top-freezer puts the smaller freezer on top of a larger fridge. A bottom-freezer puts the fridge up top, while the smaller freezer sits at the bottom of the appliance.
Energy Star Rating
Most modern fridges come with an energy star rating. This rating tells you the energy consumption level of the fridge. The more stars it has the more efficient it is at saving energy. It is always best to purchase a refrigerator with the energy star ratings to help you save on your electricity bills.
Our Top-Rated Quiet Undercounter Refrigerators
Here are some of the undercounter refrigerator reviews of the best silent under counter fridges to help you guide you in making your choice.
1). Midea  WHD-113FSS1 3.1 Cu.Ft Compact Refrigerator
This is one of the best quietest double-door undercounter refrigerators that is moderately priced. It has features that come with a full-sized refrigerator but in a miniature form. Plus, it has a beautiful and functional exterior and interior.
With regards to capacity, it is just perfect for an under-cabinet refrigerator with a capacity of 3.1 Cu. feet. That is large enough to contain a lot of your essential food and drink items.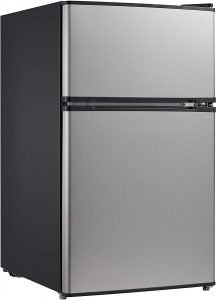 This fridge has three different colors to choose from namely; black, stainless steel, and white. It will depend on your preferences.
You can conveniently set your fridge door to either open to the right or to the left depending on the layout of your kitchen.
This undercounter refrigerator is designed in such a way that you can easily store your vegetables and fruits in separate drawers to keep their flavors and textures.
This  Midea mini fridge with freezer comes with a full one-year warranty so you can get back to the seller if by any chance you face any technical issue within the mentioned period.
Features and Specs
Capacity: 3.1 Cu feet
Dimension:

18.50" W x 19.37" D x 32.95" H

Weight:

52.20 lbs

Internal refrigerator temperatures range from 32F to 50F and the freezer temperatures range from -11.2F to 5F

Energy Star Rated, UL Energy Certification

Three colors: Black, White, and Stainless Steel
The door is reversible; can be opened from the right or left side.
---
2). Aobosi Dual Zone Wine Refrigerator
This wine cellar is designed with a high-quality compressor and it has a dual-fan circulating system that is quick cooling and has a low vibration.
It is a built-in wine cooler that keeps your wines at consistent temperature and humidity. This provides the ideal environment for the cork to help the wine breathe evenly giving your wine the perfect taste.
This wine chiller is front ventilation making it suitable for freestanding, built-in kitchen counter, office mini bar, etc.
This wine cooler can hold up to 30 standard Bordeaux bottles. The dual-zone compartments enable you to store red wines and white wines at their separate temperatures. When accommodating larger bottles, you can disassemble one or two shelves to accommodate them.
It also features a smart touchscreen control panel that is responsive and easy to set the temperature for red wines and white wines respectively.  The upper-temperature range is between 41 to 55.4 degrees F while the lower zone is 55.4 to 64.4 degrees F. Plus if the power goes off when it restarts again, it automatically restores the set temperature.
If you are looking for the quietest under counter wine fridge, then I definitely recommend this unit. You can also check out this guide on the best quietest wine refrigerators and coolers here.
Features and Specs
The upper-temperature range is between

41 to 55.4 degrees F while the lower zone is 55.4 to 64.4 degrees F

Hold up to 30 Standard Bordeaux Bottles

Dual-zone wine cooler
Smart touchscreen control panel
Temperature memory function
Stainless steel double-layered tempered glass door
Low Vibration
---
3). RCA RFR441 3.2 Cu. Ft Single Door Fridge with Freezer
This RCA mini single door fridge with freezer combines contemporary style with cutting-edge refrigeration technology that is able to handle cold food storage in an environmentally sustainable way.
It is a perfect refrigerator for a small office, kitchen, dorm or hostel, apartment, or even playroom. With its built-in freezer, you can store ice cream, dinner, or other foodstuffs there.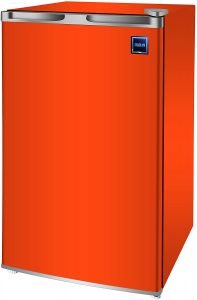 This mini-fridge comes in different styles and colors to choose from. The colors include; black, red, orange, stainless steel, white, blue, and purple.
It is equipped with a high-quality reversible door and slide-out shelving that makes it easy to open from any side and clean the inside of the fridge when it gets dirty. The two interior racks can be easily adjusted to accommodate your immediate needs, while shelves and beverage holders in the door provide extra storage options.
This mini refrigerator and freezer have a total capacity of 3.2 cubic feet. Smart interior design features make every cubic inch count.
Features and Specs
Capacity: 3.2 cubic feet
Many colors to choose from
Reversible door to open from the left or right side
 Product weight: 50.7 lbs.
Fridge dimensions: 17-1/2" W x 18.5/8" D x 31.5/8" H
---
4). SMAD Most Silent Mini Fridge
wondering what is the most silent mini-fridge? Well then, I am glad to say this SMAD compact refrigerator is one of the best mini fridges without a freezer that has an absorption technology that runs super quiet.
It is suitable for tiny homes, RVs, dorm rooms, nurseries, bedrooms, hospitals, libraries, apartments, or any small space that requires quiet. This is also one of the best mini fridges for office use.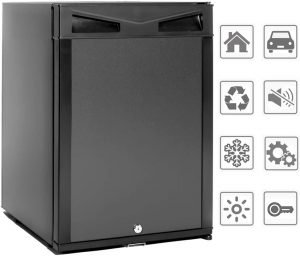 This silent mini fridge can be used to keep dairy, medicines, fruits, snacks, beverages, and your preferred foodstuffs.
At just about 22 inches tall, this fridge can be placed under the counter, on the countertop, or on the floor and will make a great addition to any room.
This SMAD quiet mini fridge can use both 110V and 12V. The interior lights are powered by 110V. The lights won't turn on in 12V mode, but this doesn't impact the fridge's cooling capacity.
Features and Specs
Exterior Dimensions:15.8"W x 18.4"D x 22"H

Interior Dimensions: 12.9″W x 9.5″D x 17.7″H

Net weight: 35 Lbs

Gross weight: 44 Lbs

Fridge Temperature Range: 3~15 ℃(37.4~59℉)

Power:AC110V /DC12V -65W

Gross capacity:1.4 cu ft

Inner Body Material:PS

Outer Body Material:PCM(0.5mm)

Interior light: LED
---
5). Black and Decker 3.2 Mini fridge with Freezer
This Black and Decker 3.2 mini fridge is an energy star compact fridge that is designed to be a true space saver for places like studio apartments,s tiny houses, homes, offices, or places with limited space.
This compact refrigerator has a freezer for you to conveniently store your frozen meals and ice creams and desserts. The inside door is also able to hold both bottles and cans of drinks. Plus, the two adjustable glass shelves allow you to customize the interior to your taste.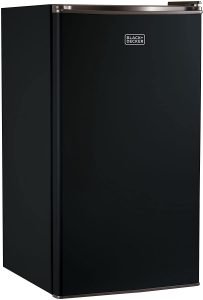 This mini-fridge is designed to have a reversible door to be opened from the right or left side. this makes it able to fit into many spaces.
Features and Specs
Unit Dimensions (WxDxH): 17.5 inches x 19.3 inches x 32.7 inches.

Unit Weight: 50.7 pounds.

Capacity: 3.2 Cu. Ft
Two colors to choose from; black and grey
Mini fridge with freeze; ice tray is included

1 Year Warranty on parts & labor; 2 Years Warranty on compressor

Energy Star Certified
---
6). EdgeStar CBR1501SLD 5.49 Cu Ft. Beverage Fridge
This mini beverage cooler is designed to be able to take 142 standard 12 oz cans.  It can either be installed freestanding or built-in under your counter.
If you are tired of rushing to the kitchen every half hour to get the drink so here's a solution for you. Get this under cabinet refrigerator and give yourselves a break from the marathon you do every day.
It cools your drinks just like your big fridge and the performance is top-notch because it uses a compressor that is powerful and durable to give you a reliable performance.
The built-in carbon filter keeps the contaminants at a distance. Also, the digital temperature controls make it easy for you to set the desired temperature.
This product is also approved by ETL and it is very easy to set up.  It also has a reversible door which makes it easy to open from either side. This is also one of the quietest under counter beverage coolers.
Features and Specs
Auto defrost

Dimensions (without handle): 33 1/2″ H x 23 1/2″ W x 22 1/2″ D

Dimensions (with handle): 33 1/2″ H x 23 1/2″ W x 24 3/4″ D

Powerful compressor-based cooling

Built-in carbon filter

Freestanding or built-in application

Temperature range: 38-50 degrees F

Includes glass shelves

ETL approved

Input voltage: 115 V/60 Hz

Power: 120 W/1.1 A

Weight: 97 lbs
7). Midea WHS-65LSS1 1.6 Cu. Ft. Compact Fridge
This Midea mini fridge is the smallest compact fridge of all the above fridges. It is one of the best portable mini-fridges that have a capacity of 1.6 Cu.Ft.
This fridge uses environment-friendly technology and it is energy saving. You can open the door from either side of the fridge because it is reversible.
This unit has a large enough storage area to chill beverages and snacks. However, since it doesn't have a freezer and the adjustable temperature range is just from
-2′ to 2′ Celsius (32′ to 35.6'Fahrenheit), it is not advisable to store frozen foods or make ice cubes.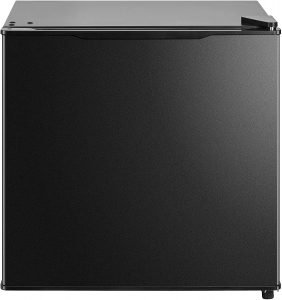 The classic colors you can choose from( all fridge black, black, white, and stainless steel)  will make you fall in love with it over and over again. The unit comes with adjustable legs which allow you to manage the height according to your requirements.
This refrigerator comes with a 1-year warranty in case of any issues.
Features and Specs
Capacity: 1.6 cubic feet
1-year warranty
Energy Efficient And Affordable
External Product Dimensions: 17.7 x 18.6 x 19.4″
Four colors to choose from
temperature range is just from

-2′ to 2′ Celsius (32′ to 35.6'Fahrenheit)
---
Final Thoughts
If you have limited space but desire a fridge then getting a refrigerator that can be placed under the counter is a great way to go. Because fridges can take quite some space.
Having a min fridge that has quiet operation is even more ideal for small space situations because you wouldn't want the noise from the refrigerator to disturb your quiet time or that of others. Hence the need to get one of these quietest under counter refrigerators.
I have already done the research and gathered some of the best quiet under-counter fridges that you can choose from depending on your needs.
Latest posts by Josephine
(see all)