Looking for a quiet beverage fridge for your bar?, Well, then you have come to the right place. In this guide, you can learn the following:
How to choose a beverage refrigerator
Our top-rated best quiet beverage center picks
How to maintain and clean your beverage cooler
Final Thoughts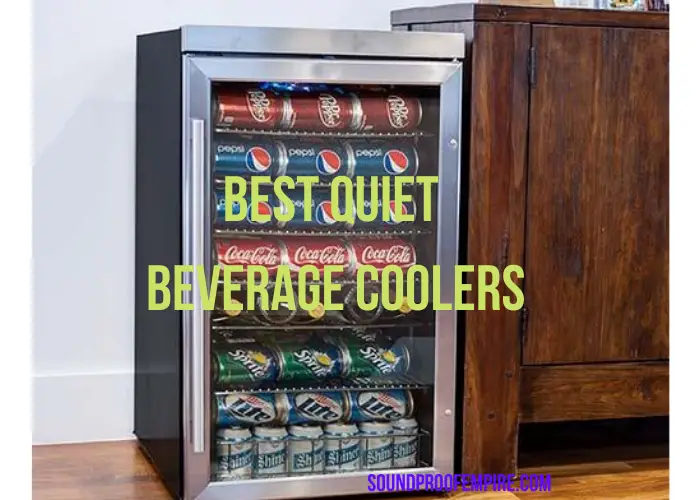 In a HURRY?, Here is a quick table preview of our best silent beverage fridge picks. If you want to learn more about quiet beverage refrigerators, then keep reading this guide.
Beverage coolers are a great addition to your kitchen, bar, garage, basement, recreational rooms, and more. They will ease off the load on your refrigerator especially if you are catering for a lot of people and the drinks need to be chilled fast.
If you have been looking to purchase a beverage fridge but are concerned about the noise that some of them make, then in this guide, you will find some of the quietest beverage refrigerators and coolers to meet your needs.
It can be difficult to identify which beverage coolers are quieter. That is why I have done deep research and came up with some of the best silent beverage coolers for you to choose from.
How to Choose a Quiet Beverage Cooler
Just like any appliance, you will need to have a checklist of features to look out for when you are shopping for your beverage center. Some factors may be more important than others. But you will still need to have tips to guide you to make the right choice.
Below are some of the factors that will help you make the right decision when you are purchasing your new quiet beverage center.
Noise Level
A noisy fridge can spread its noise through the house and this might not be suitable for you if you have a child or you live in a small space. You don't want a fridge that will wake you up from sleep, your child, or disturb other people's peace.
Luckily, some of the best beverage refrigerators have low noise when in operation. Hence, you need to choose a low-noise fridge for yourself.
Similar reads:
Best Quiet undercounter refrigerators/fridges
Energy Rating
Refrigerators are major electrical appliances and can draw a lot of power if they are not designed to be energy-saving. Therefore, you need to look out for an energy-saving rating as one of the features of your beverage cooler. This will help you save on energy bills.
Size and Capacity
Beverage coolers that have quiet operation come in different sizes. Some are small and medium and some are even large.  Their capacities can vary as well. Some can contain a lot of cans and bottles than others. You will need to consider what you really need the cooler for and how big or small you want it to be?.
If you have limited space, then a small compact beverage fridge will do the trip but if it is for parties and other events where many people will be present, then a medium to large capacity is ideal. You have to assess just how much you may place at home or shop and store in the refrigerator.
Exterior Designs
Apart from containing and freeing your beverages, the best appliance also plays the secondary role of enhancing the aesthetics of your room and home. That is why you should factor in the exterior design and appearance of the beverage fridge. You can find different colors in the market. Some are vintage, others are modern, and more.
Budget
How much are you willing to invest in your unit?. Beverage centers can cost a couple of hundred dollars depending on the features, brand, and capacity you need. Your budget will dictate the kind of fridge you get. It is wise to invest in a durable high-quality product that will meet your needs for a long time than a low-quality product that can easily break down costing you more money for repairs.
Our Top List Quiet Beverage Fridges
I understand looking for the quietest beverage fridge can be a challenge to many people because of the share amount of information online. That is why I did deep research and came up with some of the best quiet beverage centers to help you save time. Below are some of the top-rated silent beverage coolers.
1). NewAir NBC126SS02 Beverage Refrigerator and Cooler
This NewAir beverage cooler can contain up to 126 can of beverages that will power your household or events. It is equipped with a quiet 35dB fridge compressor that makes it suitable for quiet environments such as homes, dorms, offices, and more. The attractive stainless steel design makes it a must-have in your space.
The shelves are adjustable, have a stainless steel design, and let you customize the storage for different-sized cans and bottles of your favorite drinks.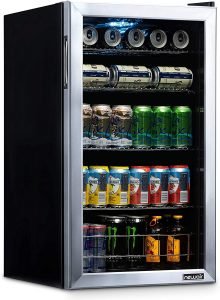 You can change the thermostat to about 7 custom settings to suit your taste and how cold you want your drinks to be.
Setting this mine beverage cooler up is super easy. Just wipe it clean with a clean cloth and let it cool for some time before you stock your cans inside.
With regards to noise, when you first plug it in the power, it may just make a gurgling sound but after that, it is hardly noticeable.
The LED light is not automatic. You will have to turn it on by yourself every time you turn them off. The best way to avoid opening a dark fridge will be to leave them on at all times. This quiet beverage cooler comes highly recommended by many as a quiet undercounter beverage center.
---
2). Whynter  BR-128WS 120 Cans Beverage Fridge
This Whynter beverage fridge has a compact design and a powerful cooling system that is ideal for your retail merchandising and entertainment needs. If it's a sleek design, it will be a great addition to any space.
This beverage refrigerator uses a powerful compressor and an internal air-cooled system that creates an evenly-cooled fridge ensuring there is even and consistent temperature distribution throughout the refrigerator.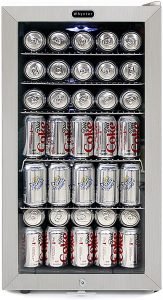 With regards to capacity, this cooler can take up to 120 cans of beverage at a time. This Whynter beverage center is equipped with a lock to keep your beverages safe and secure. The stainless steel trimmed glass door and soft LED lighting allow you to see or view the contents without compromising the internal temperature.
The mechanical temperature control has a temperature range from high 30ºF – mid 60ºF, and Soft interior LED lighting with an on/off switch. There are five slide-out wire shelves you can customize to fit your needs.
---
3). NewAir 126 Can Freestanding Beverage Fridge
This NewAir beverage fridge is slightly bigger than the one I mentioned above. It can contain up to 126 can of beverages for both your indoor and outdoor activities. It is equipped with 5 easily removable chrome racks that you can customize to fit your cans and bottles of various sizes and shapes.
It has a noise level of  35 dB and a temperature range of
37°F – 64°F. This allows you to set your favorite temperature for your drinks. This NewAir freestanding beverage refrigerator has 7 custom thermostat settings to keep beer and soda at the perfect serving.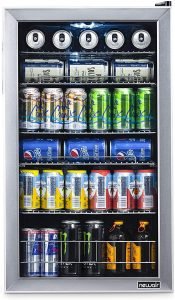 This freestanding unit is both durable and attractive featuring a black and stainless steel finish that is definitely going to enhance any decor, whether your home, bar, office break room, or dorm.
Additionally,  it comes with a double-paned glass door
that is made of durable stainless steel and comes with a reversible recessed handle so you can open it in either direction.
---
4). EdgeStar CBR1501SLD Beverage Cooler
This EdgeStar beverage cooler is one of the best beverage coolers that can take up to 142  standard 12 oz cans of drinks at a go.  This beverage cooler is made of stainless steel finish that will make a great addition to your kitchen, games room, and more.
It uses a powerful compressor-based cooling system that has a temperature range from 38-50 degrees F which is digitally controlled.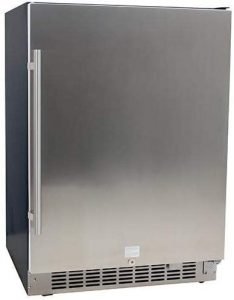 Other features that come with this beverage center are glass shelves, a factory-installed lock, a built-in carbon filter, auto defrost, and more.
Its solid stainless steel door is reversible, which means you can open it from either side of the door.  Even though there is an indoor and outdoor versions of this refrigerator,  this version is for indoors only. If you want the version that is for outdoor, you can check out this model CBR1501SSOD.
---
5). RCA 70 Cans Narrow Beverage Fridge
This countertop beverage cooler is can hold up to 70  12oz size cans of your favorite beverage or 17 bottles of your special wine bottles.  This quiet beverage and wine fridge have got a flat-back design that is a space saver. You can put it anywhere in your apartment, dorm, office, or home.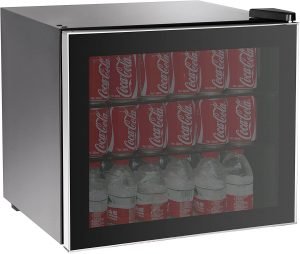 This small glass-door Beverage cooler also includes 2 adjustable full-width, vinyl-coated shelves along with a gorgeous glass, and a reversible door with brilliant silver trim. Its thermostat is adjustable to your taste.
6). GE Stainless Steel Beverage Center
GE appliances are known to be durable and high quality. In fact, GE is a household name and as such, they often live up to the expectations of their customers.  This GE beverage center is one of the best beverage and wine centers.
It can hold up to 125 cans/31 bottles with ample space of 4.1 Cu. Ft. capacity. This cooler has a stainless steel glass door that allows you to see the inside content without opening the door itself. You can showcase your beverages for easy selection.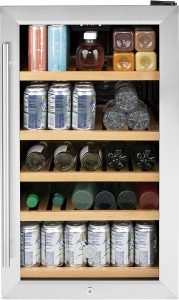 The interior lighting makes it easy to see the inside at night when it is darker. Plus, you can use the electronic controls to easily set the temperature between 41ºF and 61ºF.
The 3 full-depth & 2 half-depth wooden shelves are made from oak and are environmentally friendly and strong to hold your container.  
With this GE beverage fridge, the installation is flexible. You can install it built-in or freestanding.It will depend on the space you have and where you want to specifically place it. If you are worried about quality compliance, it is ADA-compliant/UFAS-certified.
---
Maintenance and Cleaning of Beverage Coolers
Just like any appliance, beverage coolers also work 24/7 and as such need to be maintained regularly to ensure they last long.  They require timely maintenance to keep working properly.
Therefore you need to schedule a proper cleaning to maintain the proper hygiene inside.
Try to schedule a thorough cleaning of your entire refrigeration unit on a weekly or biweekly basis. To start with, remove all the items from the side and place them on a temporary cooler.
Using a soft brush, scrub the shelves and surface with warm water and soap or vinegar solution. In case you remove any shelves or drawers, you can soak them for a while and clean them up after you are done with the cooler.
With regard to the exterior part of your unit, it is important to use proper cleaning solutions and materials on the stainless steel exterior. Avoid using abrasive scrubbers or sponges or chlorine cleaners.
Instead, use a soft brush or cloth to clean the surface. A combination of warm water and vinegar or a detergent-based solution works best for routine maintenance. If you need to remove grease or baked-on food, consider using a baking soda paste or an appropriate stainless steel degreaser.
Final Thoughts
Beverage coolers are not just a handy option to have in the home but they can also be a great gift for a loved one who likes having assorted drinks at home, the office, etc.
The best quiet beverage fridge is a perfect addition to any home with refrigerator space issues or who likes entertainment.
Quiet beverage coolers are not just convenient to keep you from going to the kitchen for another drink, but they are great for parties, living rooms, dorms, and offices where everyone can easily access their favorite drinks.
Not only are quiet beverage centers space savers, but they also keep your drinks at your desired temperature to suit your taste and that of your guest.
I believe with the above silent beverage coolers, you will be able to find one that suits and meet your requirements and budget.
Latest posts by Josephine
(see all)