7 Quietest Wine Coolers and Fridges on the Market
Looking for the quietest wine cooler for your bar?.  Well, then you've come to the right place. In this guide, you can expect to learn:
Types of wine coolers/ refrigerators
Our top-rated quiet wine fridges
Factors to consider when choosing a silent wine cooler
How to clean a wine cooler
Final thoughts on wine coolers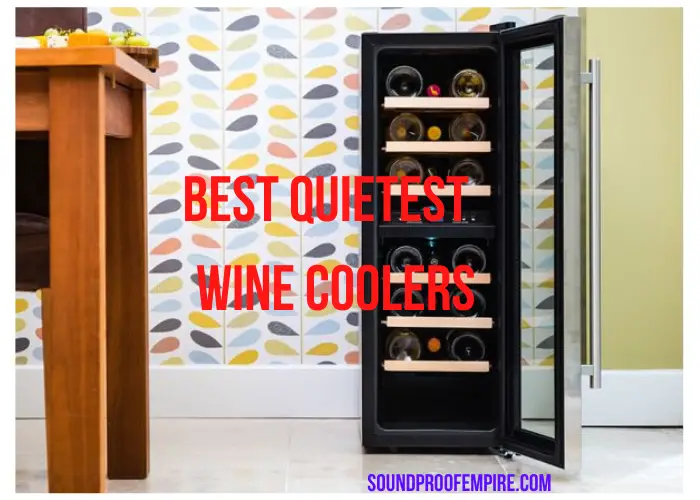 In a HURRY?, Here is a quick table preview of our best quiet wine coolers. If you want to learn more about silent wine fridges, then keep reading this guide.
#
IMAGE
PRODUCT
PRICE
1
Ivation 18 Thermoelectric Wine Cooler

Capacity: 18 bottles
Dual-Zone: No
Installation: Freestanding

Check Price on Amazon
2
Phiestina 15 Inch Dual Zone Wine Refrigerator

Capacity: 29 bottles
Dual-Zone: Yes
Installation: Freestanding or Built-in

Check Price on Amazon
3
Kalamera 15" 30 Bottle Wine Fridge

Capacity: 30 bottles
Dual-Zone: No
Installation: Built-in or Freestanding

Check Price on Amazon
4
NutriChef 18 Bottle Compressor Cooler

Capacity: 18 bottles
Dual-Zone: No
Installation: Freestanding

Check Price on Amazon
5
Antarctic Star Wine and Beverage Cooler

Capacity: 26, 18 and 36
Dual-Zone: No
Installation: Freestadnding

Check Price on Amazon
6
Aobosi 46 Dual Zone Wine Refrigerator

Capacity: 46 bottles
Dual-Zone: Yes
Installation: Built-in or freestanding

Check Price on Amazon
7
KUPPET Compressor Wine Cooler

Capacity: 36 bottles
Dual-Zone:No
Installation: Built-in

>Check Price on Amazon
A wine cooler is a great way to keep your favorite wine at the appropriate temperature. High temperatures can cause your expensive wines to premature and I guess that is not what you want. To prevent this, getting the perfect wine chiller will be great.
But if you are like many who don't like a lot of noise around them, then the best option is to select a quiet wine fridge that will keep your wine collections at the right temperature.
Many people have asked me to recommend silent wine coolers for them. Hence I did a lot of research and gathered users' reviews and came up with the top-rated quietest wine fridges and coolers that will keep your wine chilled but also create fewer vibrations and noise.
With this guide, you will find some of the best quiet wine coolers that will chill your wines while keeping the noise and vibrations at bay.
Types of Wine Refrigerators
Before you purchase your wine cooler, one thing tip is to decide on the type of wine fridge or cooler that will be suitable for you. Here are the different types of wine coolers:
Freestanding or Built-in
How do you want your wine fridge to be placed or installed?. It can be built-in or freestanding. A built-in wine chiller is a wine cooler that is placed on the kitchen counter. Built-in wine coolers usually have front ventilation and are often looking smaller than freestanding coolers but they can equal hold a lot of bottles compared to some freestanding chillers.
While on the other hand, a freestanding wine refrigerator or chiller is designed to be placed like a standard refrigerator in your kitchen, standing by itself. They dissipate their heat from the heat and can be slightly bigger than the built-in type.
Single or Dual-Zone Cooling System
Single-zone wine coolers are capable of maintaining a single temperature for all the wines inside them. You might not be able to set different temperatures for different types of wines.
Dual-zone wine chillers are designed to be able to maintain two temperatures at the same time. This makes it suitable to have both your red and white wine at different temperatures simultaneously.
The decision as to which one you choose will depend on your budget and suitability. Dual-zone wine coolers are usually a great investment because they allow for flexibility with temperature.
Compressor or Thermoelectric Cooling System
A wine chiller either is running using a  compressor cooling system or a thermoelectric system. A thermoelectric cooling system works by pulling out the heat from the cooler by separating the hotter air released. The thermoelectric wine coolers are mostly quieter and also vibrate lesser.
The compressor cooling system maintains its temperature through a  thermostat and refrigerant inside them to provide the cooling. They are more effective than thermoelectric coolers.
Top List of Quiet Wine Fridges
These quietest wine cooler reviews will help you choose the cooler that is appropriate for your needs.
1). Ivation 18 Thermoelectric Wine Cooler
This wine cellar is an innovative freestanding wine cooler from Ivation that can contain up to 18 bottles of wine at a time. It protects the quality and taste of the wine for both the long and short term by making sure they age at a consistent level and consistent temperature.
As you already know temperature fluctuations can after the rich flavor and quality of the wine.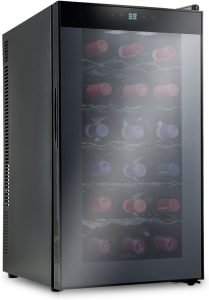 This wine cellar is insulated with a solid polyurethane heavy foam(CFC-free) and closed with thermopane doors that are tempered and smoked. This is done to make sure the interior of the wine cooler is odor-free and also to maintain constant humidity by keeping the cork from drying out.
It also prevents air to come into contact with the wine ensuring darkness, while blocking out the sunlight and any harmful ultraviolet rays that may break down the complex molecules that create the special flavors in their properly aged wines.
The Ivation wine chiller features a sleek design with an exterior with a digital touch control panel and an LCD display that shows temp (°F/°C) Soft interior lighting with on/off control.
This wine cooler has a super quiet performance with no vibration. It also uses an energy-efficient thermoelectric cooling system that allows your wine to age properly with minimal disturbance.
---
2). Phiestina 15 Inch Dual Zone Wine Refrigerator
This Phiestina wine cooler is one of the best dual-zone compressor wine coolers. If you like the rich flavor that comes with ages and well-chilled wines, then you would want to store them at the appropriate temperature.
This wine refrigerator has 29 bottle capacity that keeps your wine bottles at the ideal temperature. You can have it installed as either a freestanding or a built-in countertop whether in the kitchen, office, work, garden, open-air festivals, clubs, promotion centers, conferences, pool parties, open bars, and more!.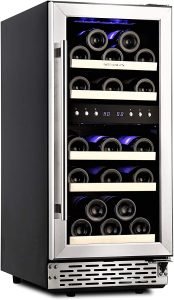 This fridge has a dual zone design that allows you to adjust the temperature settings to your requirement. The upper zone has a temperature range of 40-50℉ for white wines while the lower zone which is for red wine has a temperature range of 50-66℉.
The Phiestina wine cooler comes with 5 removable shelves. At the end of the inner wall, there are two stoppers on each side, that prevent the shelf from moving and the bottles from falling down.
It features a compressor cooling mechanism that proves to be much more energy-efficient than other mechanisms present in most wine refrigerators. It also has noiseless and silent functioning.
With its compact design, it doesn't occupy a large space.
The digital touch control panel allows you to adjust the temperature with the touch of a finger and the LED panels show you the actual temperature inside the cooler at all times.
The interior of this wine cooler is illuminated by durable, energy-saving blue LED lights that also enhance the appearance of this refrigerator.
Additionally, this wine fridge has a reversible door hinge that allows you to reverse the door opening side if necessary and it comes with a 1-year warranty.
---
3). Kalamera 15″ 30 Bottle Wine Fridge
This Kalamera cooler can be used as a built-in wine cooler in your kitchen or bar area or a freestanding unit in your dining room or entertainment area. It is a single-zone system that has an LED control display that makes it easy to set the temperature from 40-66°F for the perfectly chilled wine.
It uses advanced technology that enables it to operate quietly with low vibration and a low-noise compressor that keeps the wine sediments undisturbed.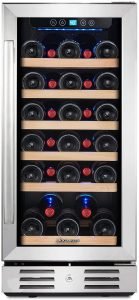 Designed to have a temperature memory, you won't have to worry about your wine going off when the power goes off and on. It is able to restore the set temperature in the cooler before the power was switched off.
There are six beech wood racks inside, designed to hold up to 30 bottles of wine bottles while allowing air to circulate freely around them, and a carbon filter embedded inside to protect against any odors.
This unit has an elegant appearance with a gleaming stainless steel frame and a 2-layer tempered glass door to make this quiet wine chiller an awesome addition to any room in your home.
The interior is lit by soft blue LED lighting that showcases your wine collection when you are entertaining friends and family!
Though with a medium capacity, it takes just 14.9 x 33.9 x 22.4 inches of space and can be installed under a counter in the kitchen or bar area.
4). NutriChef Bottle Compressor Cooler
The NutriChef 18 bottle compressor cooler features a sleek appearance with an elegant design that will complement any room. It has a reinforced glass door with an airtight seal that keeps your wine chill.
This silent wine cooler is equipped with a high precision circulation compressor cooling technology, an adjustable temperature control, integrated LED lights, and a built-in circulation fan and ventilation grill.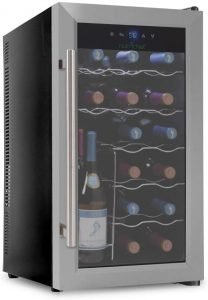 This wine cellar can take up to 18 bottles of wine and it has a freestanding design which makes it ideal to be used on the floor, table, or under the counter. There are also 12 and 15 capacities available for you to choose from.
This quietest wine cooler has an ultra quiet cooling system that keeps your wine chilled at the right temperature without making any noise making it great for both home and office use. It is also equipped with contoured, polished chrome wine racks, and special placement for standing bottles.
The control panel is a touch screen that allows you to adjust the temperature with a touch and turn the LED lights on or off. This premium wine cooling unit is backed by a 1 year quality of complete satisfaction.
---
5). Antarctic Star Wine and Beverage Cooler
The Antarctic Star wine cooler also comes with capacity options. You can choose between 18, 26, or 36-bottle capacity options.
This freestanding wine cooler enables you to store your wins at optimal conditions for long-term aging. The working temperature can be set from 40°F- 61°F, with the optimal temperature, often said to be at 55°F.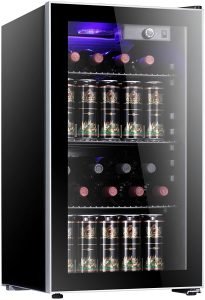 The door is made of recorded glass which is airtight t help maintain the ideal humidity level. It has a compact and modern design that is a perfect fit for your living room, with the blue soft LED interior lighting beautifully showcases the wine with not affect them.
It has a quiet operation with a compressor cooling system that doesn't disturb your peace or the natural sediments of the cooling wine. The cooler is equipped with movable black shelves and adjustable leveling legs.
This premium wine cooling unit is backed by a 1-year quality warranty of complete satisfaction.
---
6). Aobosi 46 Dual Zone Wine Refrigerator
This new upgraded Aobosi dual zone wine cooler features a revolutionary design that allows you to store and cool large bottles such as champagne, pinot, and other wines. The upper zone has a temperature range from 41°F to 54°F while the lower zone is between 54°F to 68°F. Now, you can preserve your reds and whites, sparkling wine, and champagnes.
This cooler can be installed either freestanding or built-in under the counter because of its compact nature.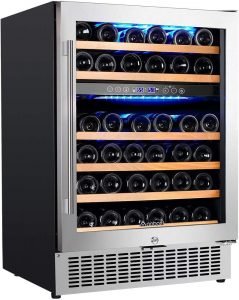 This under counter or freestanding wine cooler runs quietly with a low operating noise of 42 dB and energy saving. It can reach the set temperature faster than other wine chillers. Low vibration without disturbing the wine sediments. It has a front venting system that allows you to either place it on the counter, under the counter or in a freestanding style.
The wine chiller has a sophisticated look and a seamless frame with a stainless steel glass door and interior blue LED lights that make it matches perfectly any home decor, club cafe, or restaurant.
This product also features a temperature memory function that restores the preset temperature after power off. The lights automatically turn on/off. A lock screen function help to protect the set program from being disrupted due to accidental operation.
It is also equipped with an alarm system that signals when the door is left open after some period of time. This built-in wine cooler features 6 beech wooden shelves that can store up to 46 bottles for convenient access in the kitchen, dining room or living room
---
7). KUPPET Compressor Wine Chiller
This KUPPET compressor wine chiller is one of the quietest wine cooler fridges in the market with less than 35 dB. If you are looking for a silent wine fridge that can contain 35 bottles, then this quiet wine refrigerator is recommended for you.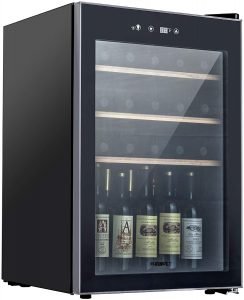 This unit features a space-saving design with an exterior that has digital touch control and LCD temperature display system. This wine cooler uses environmentally friendly compressor refrigeration, which is faster than a thermoelectric cooling system. Plus, it also has integrated LED lights and a built-i circulation fan and ventilation grill.
With this wine cooler, you can customize the temperature to the ideal climate with this temperature range 37.4º – 50ºF (3º – 10ºC). with the double-layered glass, it can avoid light and heat, better maintain the freshness of the wine.
---
Factors to Consider When Choosing a Silent Wine Cooler
When looking to purchase a whisper-quiet wine cooler, you need to consider a couple of factors before you make your purchase. It is a great idea to look for a wine cooler that will contain and store your wine at the appropriate temperature. Here are some tips to guide you in your selection. We have already listed the types of wine fridges above.
You may also be interested in checking out my recent article on the best quietest wall ovens.
Noise and Vibration
Wine coolers operate like a fridge and therefore can have a level of noise to them. That is why if you are looking for a cooler that won't make a lot of noise, you need to factor in the noise and vibration of the chiller.
Most high-quality wine refrigerators offer this feature and it is something to look out for when considering purchasing a cooler. Also check for less vibration, to not disturb the sediments of the wine, making it lose its crispiness and affecting its taste.
Capacity
The capacity refers to how many bottles the wine cellar can possess at a given time. You need to examine how many bottles you need chilled and determine the capacity of the chiller you will need. There are many different coolers with different capacities in the market ranging from less than 10 to more than 30 bottles. If you don't have plenty of wine bottles, there is no need to go for a large-capacity chiller. You might be wasting your money and space.
Size
The size of the fridge is another factor to look into. Determine how you want the wine cooler to be placed whether it is freestanding or built-in. Built-in or countertop coolers are small and compact and don't take up much space. But the capacity is important. If you desire a majestic and luxurious wine cooler with a large capacity, you will need a bigger size fridge.
Shelves
Wine cooler shelves are made of either stainless steel chrome which has a contemporary feel to them or a wooden shelves. As to which one you will choose will depend on your preference. But it is good to have your shelves to be sliding enabling you to easily remove your wine easily especially the bottles at the back. Sliding wine shelves also make it easy to clean the fridge without any hassles.
Ventilation Type
The type of chiller will tell you the ventilation it has. Most dual-installation wine coolers come with a front ventilation system. This prevents overheating that might cause malfunction. Other bigger fridges especially the freestanding come with back ventilation which is not suitable for counters.  You will need to place them in an open space with enough air to prevent overheating.
Extra Features
Other additional cooler features might come in handy. A special feature like the auto-defrost function will prevent your wine from frosting up. The auto defrost function controls the temperature and will melt any excessive ice to prevent ice build-up.
Another feature that you might also want is UV protection and tinted glass doors. This retains the freshness of the wine by preventing ultraviolet rays from penetrating.
Budget
How much are you willing to invest in your wine cooler?. There are quiet wine cellars with different prices depending on the features, capacity, and model. If you want high or premium-quality cellar, you will need to invest more money. But you will be pleased with your investment. On the other hand, you can get a decent-quality cooler for about $200.
How to Clean a Winer Cooler
Cleaning and maintaining your wine cooler will make it last a long time. These simple steps here will help you to clean your fridge easily.
Before you start cleaning any electronic device, you first need to unplug it and remove all items from it. E.g. wine bottles, shelves, etc.
Clean the inside surface with a mild cleaner. You can use a baking soda solution or warm water alone.
Clean the wire shelves/trays with a soft cloth and wood cleaner
Wash the outside of the cooler with a mild detergent solution
Dry any wet parts with a soft cloth
Tip: Be sure not to let water touch any exposed electronic parts
Final Thoughts
Choosing the quietest wine cooler or fridge will depend on the factors I listed above. The capacity, freestanding or built-in some, dual-zone or single zone will all depend on you.
There are some of the quiet wine fridge reviews above that can be either installed as built-in or freestanding. You will have to determine the location and how you want it to be placed.
If you have enough budget, investing in a dual zone wine cooler is a worthy one. This allows you to chill your different wines to different temperatures that are ideal for you to enjoy. especially if you want to either chill white wine or champagne more and have red wine less cold. Dual-zone wine chillers give you the flexibility to do that.
Keeping your favorite wines at the right temperature to age and also chill is rewarding. Having that chilled glass of wine while enjoying your favorite movie in your home theater or having that party with friends, can release all the stress in your body.
Latest posts by Josephine
(see all)