Looking for the quietest range hood for your kitchen in 2022?. Well, then you've come to the right place. n this guide, you can expect to learn:
Types of range hoods?
How many Sones is a quiet range hood?
Best quietest range hood reviews
How to choose a quiet range hood – buyer's guide
The Difference between ducted(vented) and Ductless(recirculating) range hoods
How often should I clean my range hood)
Final Thoughts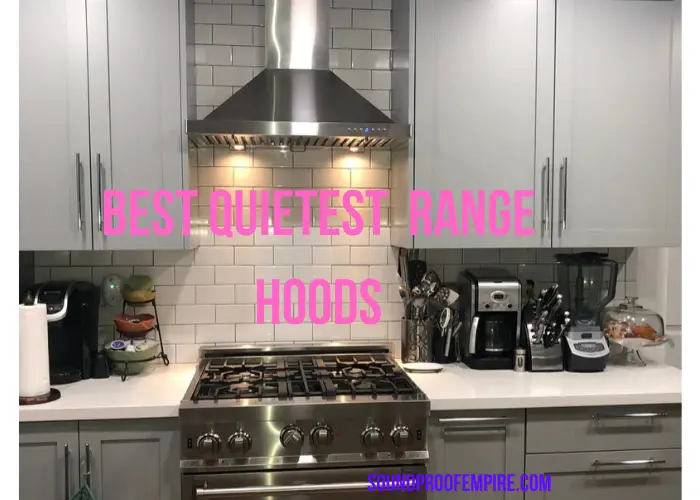 In a HURRY?, Here is a quick table preview of our best quiet range hoods. If you want to learn more about ultra quiet range hoods, then keep reading this guide.
#
IMAGE
PRODUCT
PRICE
1
Blue Ocean RH6681 Island Mount Range Hood

Airflow Max: 900 CFM
Noise Level : <65db
Check Price on Amazon
2
KOBE RAX2136SQB-1 Brillia Under Cabinet Cabinet Range Hood

Airflow Max: 750 CFM
Noise Level : <5.6 Sones


Check Price on Amazon
3
IKTCH Wall Mount Ducted/Ductless Convertible Hood

Airflow Max: 900 CFM
Noise Level : <65 dB

Check Price on Amazon
4
Cosmo COS-QS75 Under Cabinet Range Hood

Airflow Max: 900 CFM
Noise Level : <65 dB
Check Price on Amazon
5
FIREBIRD Stainless Steel Island Mount Range Hood

Airflow Max: 343 CFM
Noise Level : <65 dB

Check Price on Amazon
6
Cosmo 63190 Wall Mount Range Hood

Airflow Max: 380 CFM
Noise Level : <60 dB
Check Price on Amazon
7
Proline Professional Under Cabinet Range Hood

Airflow Max: 900 CFM
Noise Level : <69 dB
Check Price on Amazon
If you like cooking like me or you are a proud owner of a commercial food establishment, I am sure you already know how polluted the kitchen can get with all the cooking happening inside there with the fumes, smoke, odor, steam and other air pollutants all mixed together.
It can get pretty exhausting and choking. That is when a high-quality range hood gets really appreciated. Range hoods are great at clearing the air off any smells.
However, there is one problem many people face with using range hood in their kitchen. It can get quite noisy sometimes. Maybe you simply want to be aware of your surrounding, keep an eye out for the baby sleeping, hear the television in the next room, or the people talking to you.
To accomplish that, you need an ultra quiet range hood which will help in eliminating smells while keeping the noise at bay. So, that is why this guide was compiled for you to be able to pick the best quiet range hood for your kitchen needs.
The hoods were researched and selected based on user experiences and manufacturers' information. Due to the many hoods in the market, it can be confusing and time-consuming to pick the right range hood that also operates quietly. This is where this guide comes in.
Quick List of the Quietest Range Hoods
Short on time? We understand. Check out this quick overview of our favorite quiet range hoods.
Types of Range Hoods
The type of range hood you will choose will be determined by the layout of your kitchen. Here are the different types of range hoods for the different kitchen layouts.
Under Cabinet Range Hood
These are the most common type of range hoods you find in most kitchen. As the name suggests, they are mostly installed under the upper cabinet right above the cooktop.  Under cabinet range hoods can either be vented or ductless.
I recently posted a guide on some of the best quiet under cabinet range hoods. You may check it out if you are looking for the quietest under cabinet range hoods.
Island/Ceiling Range Hoods
For these types of hoods, the stove-top is an island-style mostly located away from the walls. So the best way to put up the hood is the mount and vent it through the ductwork in the ceiling.
If you have an island layout cooktop, you may want to keep out these top-rated quiet island range hoods here in my recent guide on the quietest island/ceiling range hoods.
Wall Mount Range Hood
The wall mount hoods usually work when you have no cabinets above the cooktop. They are also referred to as "wall-mounted chimneys" because they have their design similar in shape to a traditional chimney. Wall mount hoods can be vented through the existing duct ventilation system.
In need of the quietest wall mount range hood?. Then you definitely need to check this guide on the best quiet wall mount range hoods out.
Downdraft Range Hood
Downdraft range hoods work by pulling the smoke and fumes through ductwork that runs beneath the floor. They work the opposite way to the other types that mostly pull their fumes towards the ceiling.
These hoods are installed behind your cook-top. They are typically used as additions to drop-in cook-tops or if your cook-top is built into an island.
Range Hood Inserts
Some kitchens are designed with custom hoods in them. These custom hoods are designed with the style of the kitchen in mind and the ductwork already layout. With such designs, the hood place is nicely covered up and its seamlessly incorporated into the kitchen architecture.
To get such custom hood to work, you need to get a range hood insert that fits well into it. There are different range hood inserts depending on which type of custom hood you have. The popular ones are the under-cabinet and the wall mount.
Insert hoods take-up less space and are easier to install but they require ductwork to operate. You just need to connect it through the existing ductwork and you are good to go. It is also possible to have ductless ventilation.
Best Quietest Range Hood Reviews
Below are the best ultra quiet range hoods that you can use to clean the air in your kitchen while maintaining your peace of mind.
1). Blue Ocean RH6681 Island Mount Range Hood
This Blue Ocean RH6681 is made of high quality brushed stainless steel body, tempered glass, and aluminum filters that are rust-resistant. This hood island range hood is quiet in operation even at its maximum power which is 900 CFM, the noise level is just at 65 dB.
This hood has gone through strict quality control and product inspection which qualifies it under C-ETL-US.  It also features four LED lights and three 3 speed switch buttons to change the speed of the blower inside.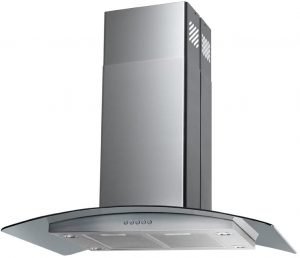 The hood can be installed either vented outside or recirculated. The ventilation pipe has a size of 6″ diameter. With the 2 charcoal filters included, you can make it ductless for indoor exhaust recirculation.
Features and Specs
Product dimension: 2.5″H x 35.5″W x 23.5"D (6.5 x 90 x 60cm)
Weight: 72 Ibs
Airflow: 900 CFM
Noise Level : <65db (Quiet Operation)
Ventilation Pipe Size: Diameter 6″
1 year limited part warranty
36" Island Mount (Install on top of a kitchen island)
Maximum possible height of range hood is 47.5"
Minimum possible height of range hood is 32"
---
2). KOBE RAX2136SQB-1 Brillia Under Cabinet Cabinet Range Hood
This quietest under cabinet range hood by KOBE has got a stylish and attractive appearance that will compliment your kitchen. With this hood, there are different available sizes that you can choose from depending on your cooktop size. These include; 30, 36, and 42 inches.
It features a 3-speed mechanical push button that allows you to change the speed of the fan from high to low and vice versa. The lowest noise level which is at 300 CFM is 40 decibel(1.0 Sone) that is the quietest operation you can get. The highest power is 750 CFM with a noise level of 5.6 Sones.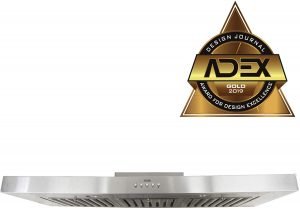 This KOBE range hood is very practical. You can either install it as an under cabinet range hood or as a wall mount hood style with the optional duct cover.
It also has extra features like 3W LED lights that will brighten your cooktop while you prepare your food.
This range hood is made of a durable commercial grade stainless steel which has a seamless design and a satin finish to make it long-lasting. You don't have to be worried about the grease and steam making it to rust.
It uses baffle filters which are easy to clean using a dishwasher.
Features and Specs
3-Speed / Mechanical Push Button Control
CFM/Sone: 300/1.0(QuietMode), 440/2.2(low), 750/5.6(high)

Exhaust: top 6″ round

Bright 3W (x2) LED lights

Sizes available: 30, 36 and 42 inches
Commercial grade stainless steel material
Can be installed as under-cabinet or wall mount
---
3). IKTCH Wall Mount Ducted/Ductless Convertible Hood
This ultra quiet range hood by IKTCH is one of the quietest wall mount range hoods with a noise level of 65 dB at it highest setting of 900 CFM.
This hood has a modern and elegant look that will give your kitchen a modern appearance. It can easily complement any kitchen style.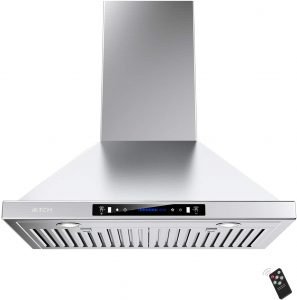 You can change the power level to lower CFM with its 4-speed setting. With its quietest operation at just 40 dB. It has stainless steel filters that are dishwasher friendly.
With this hood you have the two sizes to choose from; 30 and 36 inches and also you can install it either vented outside or ductless. Plus, it backed by a  5-years warranty on some parts and a 10-years warranty on the motor.
Features and Specs
Dimensions: 29.5w x 19.68d x 51.1h inches

2pcs 3W LED lights

900 CFM large airflow with good balance fans
6″ round exhaust duct vent  (Capable of Vent-less or recirculation Operation, Charcoal Included)
19.7in+19.7in length adjustable chimney duct
 Noise levels: Low speed: 40 dB., high speed: 65 dB.
Sizes:30 and 36 inches
---
4). Cosmo COS-QS75 Under Cabinet Range Hood
This is super quiet range hood is another powerful hood that has got a professional design that is just perfect for both homeowners and builders alike. It has a practical design that allows you to easily convert from ducted to ductless.
It as a premium brushed stainless steel design that matches most kitchen appliances and it fits easily into your existing cabinet.
With maximum airflow of 900, it is has a backlit touch screen panel that allows you to easily change settings and the remote control included gives you the opportunity to control the hood at your favorite spot.
This product is also equipped with 1.5 watt LEDs that are durable and illuminate your cooktop while you cook.
The Cosmo's ARC-FLOW stainless steel permanent filters are dishwasher safe. You can easily convert this range hood into a ductless hood with carbon filter kit. This hood comes with a 5-years warranty.
Features and Specs
Product Dimensions: 29. 5 x 22 x 10 inches

7.5″ Round Top Vent but can be converted to ductless with a carbon filter kit

5-years warranty
900 CFM
Size:30 inches
Soft-touch digital control and remote control

Energy-efficient, 1.5-watt LEDs

Noise Levels less than 65 dB @ max speed for ultra-quiet operation
---
5). FIREBIRD Stainless Steel Island Mount Range Hood
This FIREBIRD range hood features a glass dome that makes it look sleek and ultra-modern. The high-tech touch screen control panel allows you to adjust the LED lights, the timer settings, and the fan settings.
The decorative chimney is compatible with 8 ft. to 8.5 ft. ceilings. It is a versatile hood that is adjustable to meet your needs.
The filters are made of aluminum and to clean them, all you have to do is place them on a dishwasher or clean them manually if you don't have a dishwasher.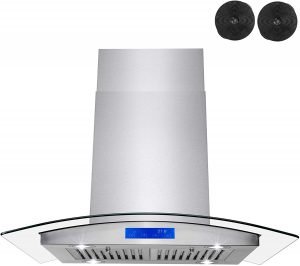 With its 3-speed settings, you can change the speed to meet your needs and the LED lights can be used to brighten up your stovetop will you cook your food.
Features and Specs
4 built-in 1.5-Watt LED lights
343 CFM
Size:30 inches
Convertible island mount range hood includes decorative chimney compatible with 8 ft and 10 ft
Quiet operation and rated for less than 65 dB or 5 sones at full speed
3-year limited parts warranty against defects
3 selectable fan speeds
Touch control panel
---
6). Cosmo 63190 Wall Mount Range Hood
This Cosmo wall mounted range hood is made of premium 430 grade, a 20-Gauge thickness that is easy to clean brushed stainless steel.
This 380 CFM  wall mount range hood is designed to give a modern look to your kitchen.  This is ideal for personal space like apartments and condos where individuals might not be doing a lot of cooking. However, if you like cooking spicy or smelly food, it might not be ideal for you since the airflow is not much.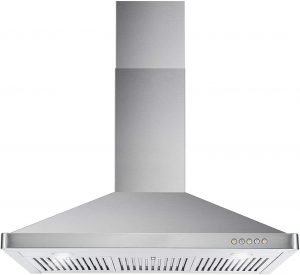 It can be installed ducted or ductless with the optional carbon filter kit that you can purchase separately.
This 36-inch size wall mount range hood has 3 fan speed settings to choose either; high, medium, or low suction to suit a variety of foods and cooking.
It also features 2-watt LED's that are energy-saving, long-lasting, and are able to provide bright lighting for better visibility during darker hours.
This hood is backed with a Cosmo 5-year limited parts warranty.
Features and Specs
Airflow max:380 CFM
3 fan speeds
Noise level: 60 dB
Size:36 inches
The venting system is convertible to ductless
Push-button control panel

Dimensions: 35" (W) x 19.5" (D) x Adjustable 25.6" – 39.4" (H)

Electrical Requirements: 120V/60Hz, 3-prong plug
---
7). Proline Professional Under Cabinet Range Hood
Proline is a renowned brand in this space. This Proline professional under cabinet range hood features a sleek and contemporary look that gives your kitchen a modern style. With this hood, you have two sizes to choose from which include; 30 inches and 36 inches.
This range hood features energy-efficient 2  LED lights and commercial grade stainless steel baffle filters that can easily be cleaned in your dishwasher.
It is a 4-speed fan range hood with 900 CFM being the highest. This appliance can be used by homeowners and commercial kitchen owners to eliminate fumes and other air pollutants in the kitchen.
With just 8 inches in height, this range hood can fit into many cabinet lengths.
Brushed Stainless Steel

Duct Vent Size: 7″

Dimensions: 29 3/4″ wide x 22″ deep x 10″ tall

4 Speed, 900 Max. CFM Blower

SuperQuiet – 385 CFM (1.5 Sones/46db)

Low Speed – 490 CFM (3.5 Sones/58db)

Medium Speed – 615 CFM (5.3 Sones/64db)

High Speed – 900 CFM (7.5 Sones/69db)

2 LED Lights

Beautiful Low Profile Design

Stainless Baffle Filters

Easy to Clean and Maintain
---
How to Choose an Ultra Quiet Range hood- Buyer's Guide
Choosing the right hood can be overwhelming if you are not sure of what to look for. These tips here will guide you on picking the right range hood that will work for you.
Size
The size of the hood needs to be at least the same size or slightly bigger than the stovetop for more effective air clearing. This you will decide based on your cooktop or stovetop.
For under cabinet range hoods, it is not completely necessary to have the hood match the cooktop size if you have cabinets on both sides of the hood. This is because the cabinets will help guide the smoke and fumes into the duct. But it is ideal for hoods that are mounted against the wall to equal or slightly overlap the cooktop like about 3″ on each side. If the cooktop is 30″, the ideal hood will be 36″.
For open space cooktops like island and others, you will need to have the hood the same size as the cooktop or even larger than it for it to do the job more effectively.
It is essential to have this overlap because the larger the canopy area of the hood the better it can trap any unwanted grease, odor, smoke, heat, and vent it out of your kitchen.
Ventilation
The ventilation refers to how the grease, heat, smoke, odor, and other air pollutants are ducted out of the kitchen. A hood that is vented out gives you more options with respect to the type of blower you can use.
However, this isn't always convenient for some cases such if you live in an apartment, a condo, or a house where it is not possible to vent the hood outside, then you can get a ductless or recirculating hood.
Recirculating hoods pull the polluted inside it and through a filtration system, removes the grease, odor, fumes, and steam and release the clean air into the room.
Filters
You will also need to decide the type of filter you want your range hood to have. There are two types of filters that you can use in a hood. These are baffle filters and mesh filters.
A mesh filter traps the grease in the mesh and needs to be cleaned frequently. If they are not cleaned, they can be even louder than the baffle filters.
On the other hand, baffle filters trapped the grease and put it in a removable grease cover tray or in the filter itself. Both types of filters are mostly dishwasher friendly for easy cleaning and maintenance.
Power
How powerful you need your hood to be will be determined by its power.
The unit of measurement of the power is cubic feet per minute or CFM. To determine how powerful your range hood should be, you will need to decide what type of cooking you will be doing.
To decide the power, you will need 100CFM for every 10 inches in width your cooktop is every electric stove. E.g, for 40 " cooktop = 400 CFM.  For gas cooktop, you will take the BTU/100.
Noise
I believe you don't want a noisy range hood and that is why you reading this guide. The kitchen can get pretty noisy with all the cooking and stuff.
The level of noise is typically measured in decibel(dB) or Sones. The lower these numbers, the quieter your hood. 1 Sone = to a quiet refrigerator while it's running. The majority of noise made by a range hood is from its blower.  The air getting past the filters can also create some noise.
So you need to watch out for these number ratings on the hood to know where it is noisy or not. The lower this number the better.
Height
You will need to also factor in the height that you want to mount the hood over your cooktop. If it is ceiling mounted, you need to consider the height of the ceiling too.
It doesn't matter the type of range hood you are mounting, you will want to mount your range hood so that the bottom of the hood is at least 28 to 36 inches above the surface of your cooktop. But every situation is different. Just factor that in when installing your hood.
Additional Features
A much simpler range hood is nothing other than a fan with a switch. However, there are also hoods that have extra features that can make your hood more practical.
You can get additional features such as:
Lights: This is a common feature in most hoods. But the trick is to look out of the type of lights. I have seen LED lights predominantly in most quiet range hoods. Check out for how easy it is to change them when they die off.
Clock: There are range hoods that come with a timer t keep track of your cooking. If you want one with a timer, there are hoods with built-in timer/clock.
Sensors: How beautifully and pleasant it is to have your hood turn on automatically while you are cooking. Some high-end hoods have sensors that will allow you to set a temperature of activation when the heat gets to that temperature(e.g 180 degrees). Sensors make the hood much safer and more efficient overall.
Automatic Shutoff: After cooking, if you forgot to turn your hood off or there isn't smoke, fumes or grease anymore, some hoods with sensors will automatically shutoff.
FAQs
How Many Sones is a Quiet Range Hood?
Sound levels in range hoods are measured in Sones or decibels(dB). So, if you want to know how much noise a hood can make, look out for these ratings. They usually give you an idea of how loud or quiet the hood is likely to be.
The lower the rating number, the quieter the hood. You can find range hoods that have QuietMode as low as less than 1.0. While you will not typically find a powerful hood to have a very low rating, a rating of 1.o or less is very quiet and the noise level is equivalent to that of a modern refrigerator.
Around 60 decibels is what most would consider the sound of a normal conversation to be. Anything less than that would definitely make for ultra-quiet range hoods.
If you have anything around or above 75 dB which is more than the sound of a vacuum cleaner, then you will have a  noise problem. Whether for personal or professional kitchen, you will definitely feel the noise. Range hoods with noise level 65 dB and below are considered quieter.
Difference Between Ducted(Vented) and Ductless(Recirculating) Range Hood
There are two ways to vent a hood. It is either vented or ductless. The two ways both have their pros and cons.
In a vented or ducted installation, the grease, smoke, and other air pollutants are pulled and channeled out of the kitchen. This method of installation allows for more options and its ideal way of cleaning the polluted air.
This method is also ideal for commercial establishments like restaurants and in kitchens where a lot of cooking is done.
A ductless or recirculating method is a situation where the filters trap the polluted air and clean it then the clean air is transported back into the kitchen. This method is mostly good if you live in an apartment, condo, or a complex where there isn't the possibility to vent outside.
Of the two methods, if you are wondering which one might be effective, the vented or ducted method is better even in a professional establishment. But in smaller cooking situations or not a lot of spicy or smelly food is involved, the ductless ventilation is just as effective.
How Often Should I Clean My Range Hood?
If you are wondering how often you should clean your hood, for most manufacturers, it is often ideal to clean your filter about once a month. This will ensure the smooth running of your hood.
Some modern range hoods include an automatic alert that signals when your rangehood and its filters need cleaning, and if it uses carbon filters when these need replacing.
The reason why you need to clean the hood regularly is that the grease that gets extracted by your range hood isn't vented outside, nor is it magically transported away to a faraway land.  It remains trapped in the body of your aluminum or stainless steel grease filter, building up over time.
This will not only impair the performance of the range hood as gases become unable to get through the grease, but it will create a fire hazard – something that you do not want directly above your cooktop!
How to Install An Ultra Quiet Range Hood
Even though we do not recommend you install your hood all by yourself, but if you are a bit handy and have some family or friends help you with it. Then you can do it.
Installing a hood will depend on the method of ventilation. It doesn't have to be super complicated. Here are some guidelines to assist you.
Ductless Range Hoods are Easy: Ductless range hoods do not require ductwork, so their installation process is going to be very easy. All you need is the appropriate place to hang it, and then use nails or screws to secure it to the wall in the best location (and an easy place to keep it plugged in).
Vented Range Hoods Could Be Complicated: If you do not have existing ductwork, the installation process for a vented range hood is going to require significant renovation. you will need to first install the ductwork which will pass through your kitchen outside of your building. This is where you will need a qualified installer to come in. You might not want to venture into this area if you are not sure of what you are doing.
Do I Really Need a Range Hood In My Kitchen?
If you do a lot of spicy or smelly foods cooking or you are a chef who spends most of your time in the kitchen, then you will need a range hood to clear the smell, fumes, and steam.
Otherwise, it is not necessary to have a hood in your kitchen. However, most modern kitchen these days have hood anyway. So, you either use it or you don't. It will all depend on you and if you are comfortable cooking without a hood, then it is definitely fine. But in a professional situation, you will need one.
 Final Thoughts on the Quietest Range Hood
Looking for the quietest range hood can be challenging and time-consuming. That is why I compiled these ultra quiet range hoods to make it easier for you.
We all know that range hoods are not easy to install neither are they cheap. But having one in your kitchen is a great idea. Whether you are remodeling or replacing an old one, it is always good to choose a quiet range hood that will not be too loud.
With these best range hoods above that have a quieter operation, you rip the benefits of your investment. You will need to decide the type of ventilation, how powerful you want the airflow, and how quiet you want it. Those are all a personal decision and I believe you will get one that works best for your situation.
Latest posts by Josephine
(see all)