Looking for the quietest island range hood in 2022?. Well, you've come to the right place. In this guide, you can expect to learn:
How to Choose a quiet range hood
Our top-rated quiet island range hood picks
Final Thoughts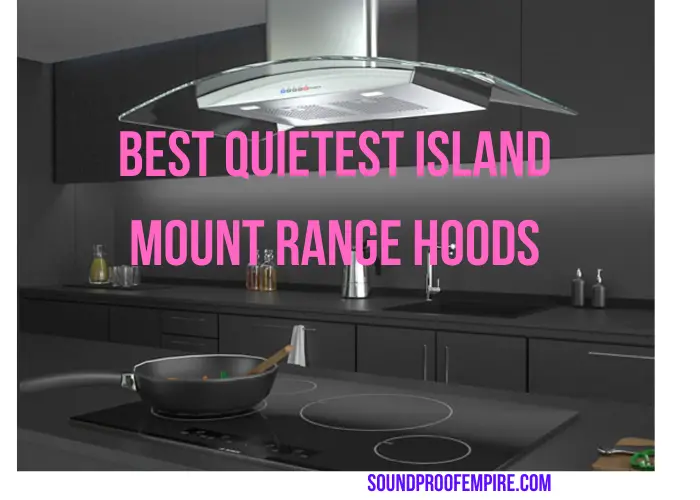 A Quick Preview of the Top-Rated Quietest Island Range Hoods
Short on time? We understand. Check out this quick overview of our favorite quiet island range hoods.
Most households cannot do without cooking a meal at least once a day. In fact, I have heard many housewives say their favorite place in the house is their kitchen. But where does all the grease, smoke, odor, and other air pollutants pass out of the kitchen?.
If you have a kitchen with wide windows, then lucky you!. But many are not so lucky and besides, in winter, leaving your windows open will let in a lot of colds.
So, if you have an island range cooktop, you might find an island range hood very appropriate for your kitchen style. But just like other range hoods, I know your main concern is the noise that many range hoods make.
That is why I have done the research and found these quiet island range hoods for you.  They were gathered based on the users' experience and manufacturer's details. Among them, I believe you will be able to find the best quiet range hood for your kitchen style.
Similar Reads:
Best quietest wall mount range hoods
Top-rated under cabinet range hoods
Top-rated quietest range hood inserts
Best Quietest Island or Ceiling Range Hood Reviews
Below are some of the quietest ceiling range hoods for your island cooktop. There are different sizes and power to pick from depending on your cooktop and kitchen style.
1). IKTCH 36 Inch Island Mount Range Hood
There are two sizes available to choose from; 30 inches and 36 inches. The noise level at low low-speed setting is 40 dB and at high speed is 65 dB.
This IKTCH island range hood is designed to cater for heavy-duty cooking and has a maximum airflow of 900 CFM with dual motors. It can easily remove a large amount of smoke and cooking odor from the kitchen air.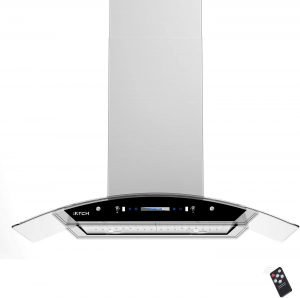 This is practical for anyone who does a lot of cooking in the kitchen especially spicy foods. This island range hood is quiet and keeps the noise levels less than 65 dB.  The 3W LED lights are also energy efficient to provide bright lighting at night.
With its stainless steel baffle filters, you have an easy clean them in your washing machine making it a cost-effective low maintenance product.
IKTCH has been in the business of manufacturing high-quality range hoods for over a decade now. This range hood comes with 10 years of technical support for the motor and 5 years of technical support on switch control and LED lamps.
Pros:
Quiet  and energy-saving product with noise levels between 40 dB and 65 dB
Cost-effective low maintenance unit

The exhaust system is designed for heavy-duty cooking

Modern Design
Cons
No major complaints about this product
---
2). Cosmo 36 Inch Ceiling Island Range Hood
Cosmo is a known brand for quality products. This 36-inch ceiling island range hood features a modern detail design that is sleek, has a reflective stainless steel body, and has a curved tempered glass visor.  This product has a noise level of 65 dB.
There are two available sizes namely; 30  and 36 inches to choose from.
This ducted island range hood has a quiet 380 CFM with a 3-sped fan, and a single centrifugal motor. This allows it to ventilate your kitchen of smoke and other smelly gasses without noise.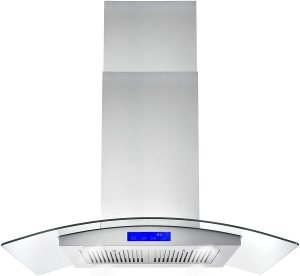 In case you don't want to duct the hood, there is a ductless option that involves getting a carbon filter kit (sold separately). The carbon filter is washable. All you need is to simply drop them in the washing machine periodically and they will get cleaned.
Range hoods can bulk a clear view of your cooking pot, especially at night. This quiet island range hood has energy-saving lights that are long-lasting and bright enough to illuminate your cooking area for visibility while cooking.
This product also comes with a 3-year limited parts manufacture warranty.
Pros:
Easy installation and requires at least two people
The Suction works great even at low settings
It's well built and high-quality product
Venting Style: Ducted/Ductless
Good value for the money
Cons
Some customers have a problem timer
Others also complain of poor customer service
---
3). Blue Ocean Island Mount
This Blue Ocean island mount range hood is a quiet island vent that is a powerful yet quiet hood that has 900 CFM with noise levels are 65 dB.
It is made of high quality brushed stainless steel body and aluminum filters that are corrosion-resistant. Plus, it qualities under the C-ETL-US, which can only be acquired by products that went through strict quality control and product inspection.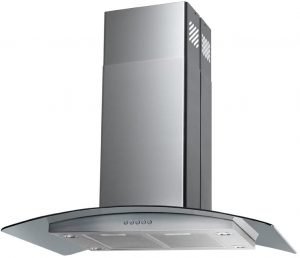 It also features four LED lights and three 3 speed switch buttons to change the speed of the blower inside.
Features and Specs
Product dimension: 2.5″H x 35.5″W x 23.5"D (6.5 x 90 x 60cm)
Weight: 72 Ibs
Airflow: 900 CFM
Noise Level : <65db (Quiet Operation)
Ventilation Pipe Size: Diameter 6″
1 year limited part warranty
36" Island Mount (Install on top of a kitchen island)
The maximum possible height of range hood is 47.5"
The minimum possible height of range hood is 32"
---
4). FIREBIRD Stainless Steel Range Hood with Tempered Glass
This FIREBIRD range hood features a glass dome that makes it look sleek and ultra-modern. The high-tech touch screen control panel allows you to adjust the LED lights, the timer settings, and the fan settings.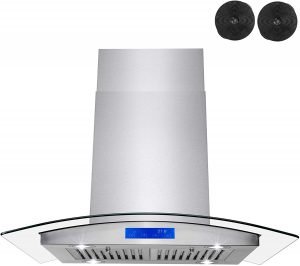 Its aluminum filter makes it easy to clean. You simply place it in a dishwasher and it will get rid of any grease and dirt trapped inside it. This makes it easy to maintain.
The decorative chimney compatible with 8 ft. to 8.5 ft. ceilings. You can adjust this hood o meet your needs. Making it both versatile in use.
Features and Specs
4 built-in 1.5-Watt LED lights
Quiet operation and rated for less than 65 dB or 5 sones at full speed
3-year limited parts warranty against defects
3 selectable fan speeds
343 CFM
Size:30 inches
Convertible island mount range hood includes decorative chimney compatible with 8 ft and 10 ft
Touch control panel
5). ZLINE 30 Inch Island Mount Range Hood
ZLINE is a premium range hood that is made of stainless steel and glass style to give your kitchen a modern look. It can be either connected vented or ductless with carbon filters which you will have to purchase separately.
It features a 4-speed fan control((120/240/320/400 CFM) that allows you to choose according to the level of smoke and grease in the air. Even with the highest speed setting which 400 CFM, it still maintains a relatively quiet operation at approximately 52 dB.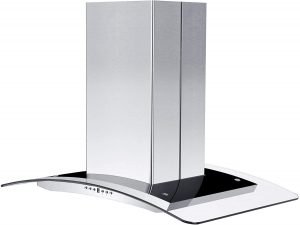 This quietest ductless range hood can efficiently and quietly move large volumes of air and can fit a variety of ceiling heights of up to 12 ft with the purchase of the proper ZLINE extensions.
Features and Specs
Ventilation can be vented out or ductless

4-Speed Fan Control (120/240/320/400 CFM)

The highest speed setting of 400 CFM has ~52 dB

Easy-to-use push-button controls

Size: 30 inches
Dimension: 30 x 24 x 6 inches
Fits ceilings up to 12 ft
---
6). Cosmo Island Ceiling Mounted Range Hood
The Cosmo ceiling mount is another high-quality beautiful Italian-style designer range hood that has a sleek brushed stainless steel body and a tempered glass visor to complement your kitchen decor.
It adds a modern magical transformation to your kitchen making it a more sophisticated and ultra-modern aesthetic.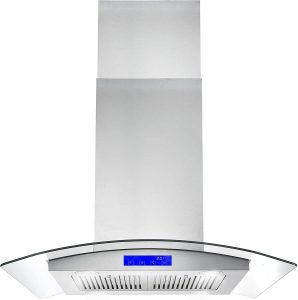 Its equipped with a 3-speed fan, a clock and timer, high-lumen LED lighting, and a heavy-duty 900 CFM motor for powerful airflow to remove any lingering grease, smoke, odor, and other pollutants from the air. All its controls are touch screens.
The premium stainless steel ARC-FLOW permanent filters are easy to clean with a dishwasher or manual.
Even with a high airflow are 900 CFM, this hood is still relatively low in noise levels up to 65 dB max speed.
Features and Specs
Installation height – Min 24" and Max 36" from the cooktop

Duct size – 6"

Ventilation: Vented or ductless
Noise level: up to 65 dB at maximum speed
Max airflow: 900 CFM

2 watt LED bulbs

Digital touch controls with timer and glass visor

3-speed touch feature

Size: 30 inches
Dimension: 23.6 x 29.2 x 30.75 inches
---
7). Kitchen Bath Collection Island Mounted Stainless Steel Range Hood
This quietest chimney range hood features a two-piece adjustable chimney with sleek curved edges, touch screen control panel, a three-speed setting, and high-end LED lights.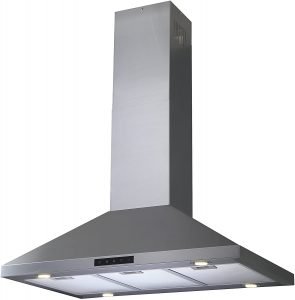 This hood has a maximum airflow capacity of up to 476 CFM with a maximum noise level of 65 dB. It is easy to maintain by either washing in a dishwasher or manually.
This Kitchen Bath Collection island-mounted stainless steel range hood can be converted to ductless with carbon filters that are sold separately. This gives you the option to determine which venting system is best for your situation.
Features and Specs 
3-speed settings
Maximum airflow: 476 CFM
Max noise level: 65 dB
Two high-end LED lights
Dimensions: 29.5 inches wide, 21.7 inches deep. Height is adjustable to a maximum of 41 inches
Vent exhaust: 6-inch diameter
Dimension: 22 x 30 x 41 inches
---
How to Choose a Quiet Range Hood
Deciding on which range hood to choose can be a little bit tricky. There are a couple of factors to take into consideration. Here are some tips to help you decide the right island range hood for your kitchen space.
 Noise
The kitchen can be pretty noisy with the frying and cutting happening in there. I bet you don't want your hood to be another source of loud noise. Hence your decision to get a quieter island range hood.
The level of noise is typically measured in decibel(dB) or Sones. The lower these numbers, the quieter your hood. 1 Sone = to a quiet refrigerator while it's running. The majority of noise made by a range hood is from its blower.  The air getting past the filters can also create some noise.
Size
You will have to decide the size of your range hood. You will decide this based on your cooktop or stovetop. Your range hood will have to be slightly larger than your cooktop to help in clearing the air more effectively.
For island mount range hood, you want it to be a little bit larger than your cooktop because it's going to have to compete with the cross breezes in your kitchen.  Make sure any island hood overlaps three to six inches on each side.
It is essential to have this overlap because the larger the canopy area of the hood the better it can trap any unwanted grease, odor, smoke, heat, and vent it out of your kitchen.
Ventilation
You will also need to decide how you are going to vent the hood. It is always best to duct the grease, smoke, and odor out of your kitchen. Having a hood that vents outside allow you to have more options with respect to the type of blower you can use and how powerful it can be.
But having a vented range hood is not always possible for all types of kitchens. Less say you leave in an apartment with different floors or your kitchen doesn't allow for the vented option, you can get a range hood that is ductless or recirculating. The quietest ductless range hood will do the job in quiet operation.
A ductless range hood pulls the air into the range hood and through a filtration system, the grease, odor, and smoke are removed and the air is recirculated back into the kitchen.
Filters
What type of grease filters do you want to use?. There are two types of grease filters namely; baffle and mesh filters. Mesh filters trap the grease in a  mesh and if they are not cleaned frequently enough, they can be louder than a baffle filter and the airflow will be obstructed.
Baffle filters catch and trap the grease in a removable cover tray or in the filter itself. Both filter types are dishwasher friendly and easy to clean.
Power
How powerful do you want your range hood to be?. There more powerful it is, the greater its ability to move lots of air at once. The unit of measurement of the power is cubic feet per minute or CFM. To determine how powerful your range hood should be, you will need to decide what type of cooking you will be doing,
To decide the power, you will need 100CFM for every 10 inches in width your cooktop is every electric stove. E.g, for 40 " cooktop = 400 CFM.  For the gas cooktop, you will take the BTU/100. If you have a special situation, you can go for a professional range hood that is at least more than 900 CFM.
For professional range hoods, you will need to vent them out of the kitchen. Ductless isn't effective for professional situations like restaurants and stuff. Because so much air needs to be moved at once.
Here are some instances you will need a professional range hood; frequently do a lot of frying, grill on your cooktop, cook spicy, fishy, or smelly foods, have a range top with a high BTU, have a ducting over10 ft, have multiple of 90 degrees bend,  or you position your hood 36 inches above your cooktop.
Height
The other factor you want to consider is the height of your ceiling and the height that you want to mount it over your cooktop.
It doesn't matter the type of range hood you are mounting, you will want to mount your range hood so that the bottom of the hood is at least 28 to 36 inches above the surface of your cooktop. But every situation is different. Just factor that in when installing your hood.
Final Thoughts on the Quietest Island Range Hood
The quietest island range hood can make a huge difference in the noise levels you experience in your kitchen. Maybe you want to be listening to your favorite music or TV series from the next room or to keep an eye out in case your little one is crying from the baby room.
Any of these quiet island vents will be able to help eliminate smoke, odor, fumes, and other air pollutants while keeping noise at bay. You simply need to determine whether it will fit your island range space. Plus, they are durable and add modern style to your space.
Latest posts by Josephine
(see all)