Quietest (Quiet) Wall Mount Range Hood Buying Guide (2022)
Looking for the Quietest wall mount range hood in 2022?. Then, I have got your back. In this guide, you can expect to learn the following:
How to choose a quiet wall mount range hood
Our top-rated quiet wall mount hoods
Final Thoughts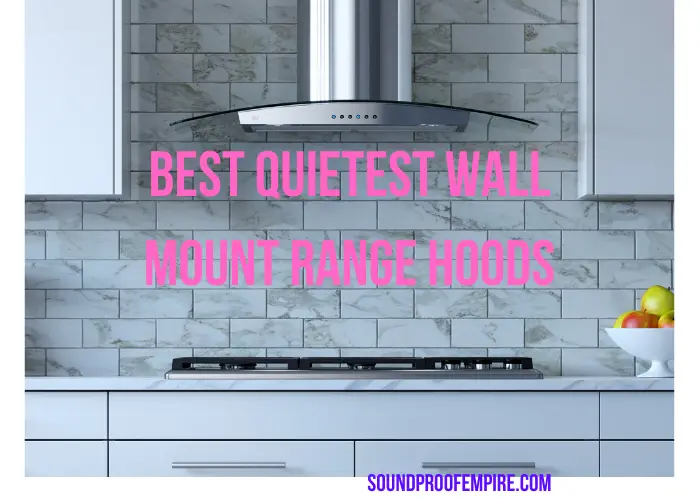 In a HURRY?, Here is a quick table preview of our best quiet wall mount range hoods. If you want to learn more about wall mount range hoods, then keep reading this guide.
With all the grease, fumes, smoke, and air pollution that can come with cooking in the kitchen, a range hood is definitely a worthy investment. But range hoods are known to be noisy when in operation.
I believe that is why you are in search for the quietest wall mount range hood for your kitchen. Even though you want to clear the air while cooking, I am sure you want to be able to hear your name when someone calls from the next room. You surely cant achieve that with a mini helicopter flying over your roof – literally the sound of a noisy fan in a range hood.
It can be hard to know and decide on which wall mount range hood is the quietest with plenty of different brands and models in the market today.
That is why I have done the work for you by doing the research for you. These quiet wall mount range hoods were selected based on users' experience, manufacturers' specifications, and features.
Lists of the Top-Rated Quietest Wall Mount Range Hoods
Short on time? We understand. Check out this quick overview of our favorite quiet wall mount range hoods.
Quiet Wall Mount Range Hood Buyer's Guide
When considering getting a wall-mounted range hood, there are certain factors to look out for when you are shopping around. In our case, we are looking at how to pick a high-quality quiet wall mount range hood for your kitchen to prevent excessive noise.
By looking at these tips, you will be able to decide which of these range hoods will work best for your kitchen.
Noise Level
It's because Noise is probably the main reason why you are looking for a wall-mounted range hood that is quiet. Unwanted noise is a major concern for a lot of people. That is why some manufacturers are making models that are a lot quieter.
Range hoods have fans that help in recycling or moving the air and these fans can be pretty noisy especially if they have to move a lot of air at once. Hence there are ways many manufacturers are now using to insulate this noise to make the range hood a lot quieter.
The noise level is measured in dB or Sone. The lower the rating of this number, the quieter the range hood will be. If the range hood has a rating of 1.0 sone or less, it is quiet, from 1.0 sones up, its low, medium or high. So lookout for this rating.
similar Reads:
Best Quietest under cabinet range hoods
The airflow is usually measured in cubic feet per minute(CFM). You will find most range hoods list the highest setting of this number on the description. However, there are always other ways to set the range hood CFM lower.
Typically, range hoods that are quieter have low airflow. This can be good and bad at in the sense that, you get a quieter range hood but low airflow making it not very effective for kitchens where a lot of air pollution is happening. You will need a high airflow for such kitchens.
Having a higher airflow isn't really necessary for personal kitchens but it is nice to have for those occasions when you will need to get rid of a lot of smoke or odor.
Material Used
Most kitchen appliances are made with stainless steel. This is because a lot of steam and grease happens in the kitchen. If a material that is not corrosion resistant is used, it will start rusting and possibly poison your food.
That being said, most range hoods are made with stainless steel(brushed, black, etc). There are some that are made with aluminum and copper as well. You just have to get high quality and durable range hood so that you don't have to change it very soon.
Budget
How much are you willing to invest in your wall-mounted range hood?. I asked because there are many wall mount range hoods in the market that have different price tags. It will depend on your budget.
You can get an economy range hood for under $200. There are some really premium brands that can cost you all the way up to $1000.
The price can make a difference in airflow, decibel or sone level, the material used, lighting options, and interface panel.
Best Quietest Wall Mount Range Hood Reviews
Below are wall mount range hoods that operate at reduced noise levels. They keep your kitchen air clean by removing the smoke, fumes, odor, and other air pollutants from the air.
1). IKTCH 30-inch Wall Mount Range Hood
The IKTCH 30-inch wall mount range hood is made of a perfect combination of stainless steel and tempered glass. This gives it a modern and elegant look to give your kitchen a modern appearance.
This wall mount range hood has an ultra-quiet operation that allows you to customize your kitchen stove vent with its 4-speed setting to set the best suction and noise level to your preference. It has a minimum noise level of 40 dB at the lowest setting and 65 dB at the highest setting which is 900 CFM.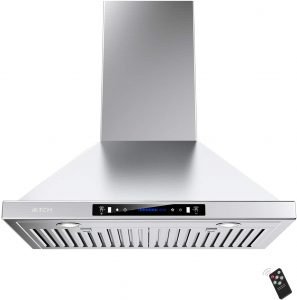 The stainless steel filters are dishwasher friendly to help remove any grease and oil on them.
With this range hood, you can choose
This IKTCH wall mount range hood comes with a 5-years warranty on some parts and a 10-years warranty on the motor.
Features and Specs
Dimensions: 29.5w x 19.68d x 51.1h inches

2pcs 3W LED lights

900 CFM large airflow with good balance fans
6″ round exhaust duct vent  (Capable of Vent-less or recirculation Operation, Charcoal Included)
19.7in+19.7in length adjustable chimney duct
 Noise levels: Low speed: 40 dB., high speed: 65 dB.
Sizes:30 and 36 inches
2). Cosmo 63190 Wall Mount Range Hood
The Cosmo 63190 wall mount range hood features a modern styling that can fit into most kitchen decor with a maximum airflow of 380 CFM. The venting system can either be connected ducted or ductless with an optional carbon filter kit that you can purchase separately. The max noise level is 60 dB.
The product is made
of premium 430 grade, a 20-Gauge thickness that is easy to clean brushed stainless steel.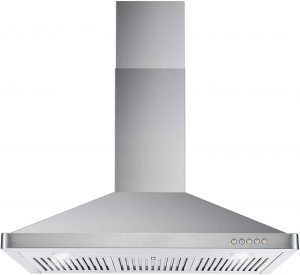 This 36-inch size wall mount range hood has 3 fan speed settings to choose either; high, medium, or low suction to suit a variety of foods and cooking.  It also has 2-watt LED's that are energy-saving, long-lasting, and are able to provide bright lighting for better visibility during darker hours.
The filters are easy to clean. You can simply put them into a dishwasher and wash them off. This range hood comes with a 5-year limited parts warranty.
Features and Specs
Airflow max:380 CFM
The venting system is convertible to ductless
Push-button control panel

Dimensions: 35" (W) x 19.5" (D) x Adjustable 25.6" – 39.4" (H)

3 fan speeds
Noise level: 60 dB
Size:36 inches

Electrical Requirements: 120V/60Hz, 3-prong plug
---
3). Hauslane Chef Wall Mount Range Hood
The Hauslane Chef wall mount range hood features a sleek, modern stainless steel construction and European style design that uses high smart technology to create the ventilation you need to keep your kitchen free of fumes and odor while you cook.
This quietest 30-inch wall mount range hood has an extractor power of 860 CFM to capture grease, fumes, and air pollutants. Plus, it has 3-speed ventilation that operates quietly with a noise level from 1.5 to 3.8 Sones. The stainless steel baffle filters are dishwasher friendly for easy cleaning.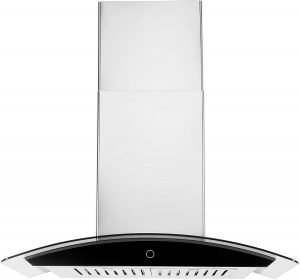 This wall mount range hood comes in two sizes to choose from. They are 30-inch and 36- inch. You also have the option to choose a color among the six different colors available.
Furthermore, the product also comes with an adjustable chimney cover ideal for an 8-ft ceiling or 9-ft ceiling. With the chimney cover included, the range hood can accommodate a 10-ft ceiling. The versatile stove hood can be installed as a vented or ductless appliance.
Features and Specs
3-speed ventilation
Can be installed either vented or ductless
Comes with an adjustable chimney cover that makes it possible to be used for all ceiling types
Dimension:

8-3/4″ x 11″ x 2'3″

Dishwasher safe
Noise level: 1.5 to 3.8 sones
---
4). Kitchen Bath Collection Wall-Mounted
This range hood features a 412 CFM ventilation system and a two-piece adjustable chimney with sleek curved edges. It has a  touch control panel and three-speed settings. The Kitchen Bath Collection range hood is made from corrosion-resistant 304 stainless steel that is built to last.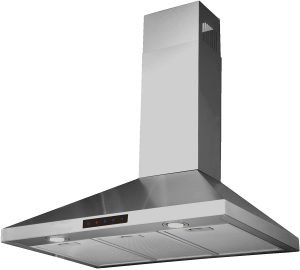 It also features two high-end LED lights that light up your stovetop while you cook. Also included are a flexible aluminum duct for easy attachment to the wall or ceiling and aluminum micro-cell grease filters which are dishwasher friendly, and a UL-certified motor.
This model also includes charcoal carbon filters necessary for optional vent-less installation.
Features and Specs
Vent exhaust: 6-inch diameter.
Dimensions: 29.6 inches wide x 19.7 inches deep. Height is adjustable to a maximum of 41 inches.
Standard operation voltage for the US and Canada: 110v/60hz.
Maximum suction capacity: 700 cubic meters per hour, approximately equivalent to 412 CFM.
Duct output: 150mm.
Noise: minimum 48db(A), maximum 58db(A).

Touch screen control panel and UL-certified motor

Capable of ventless operation. No additional kit is required!

One year manufacturer's defect warranty.
---
5). XtremeAir PX02-W30 30-inch Wall  Mount
ExtremeAir has been recognized as one of the leaders in quiet and powerful kitchen ventilation systems. This range hood features a 900 CFM centrifugal blower that has noise levels ranging from 1.5 – 6.0 sones (33.54 dB).
You can set the noise level by controlling the CFM level. The body is made of a full seamless stainless steel body that resists corrosion.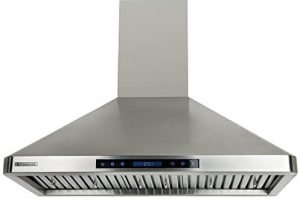 With this appliance, you have two sizes to select from namely; 30-inch and 36-inch.
The control panel is made of a touch-sensitive control panel that you can easily control with your touch. Plus, it is a dual 4-speed electronic appliance. The stainless steel baffle filter is easy to clean and maintain. You can choose to clean it manually or wash it in the dishwasher.
Features and Specs
Dimension: 29.5″W x 20.5″D x 43.8″H

APR. 900 CFM centrifugal blower, 1.5 – 6.0 sones or 33 – 54dB Appr..

Full steamless stainless steel body

Dual 4-speed electronic, touch-sensitive control panel

Stainless steel baffle filter, super easy to wash (dishwasher-friendly)
---
Final Thoughts on Quietest Wall Mount Range Hood
Choosing the best quiet wall mount range hood can be a challenge because of the different brands that exist in the market. It can be time-consuming and confusing. With these quietest wall mount range hoods, you will be able to save yourself time and prevent information overload.
The above-mentioned products are some of the top-rated range hoods that are wall-mounted. Before you choose, be sure to cross-check your space and how powerful you want your range hood to be.
Latest posts by Josephine
(see all)