Looking for a quiet wall oven for your kitchen?. Then, you've come to the right place. In this guide you will learn the following:
Wall oven buying guide
Our Top-rated wall oven picks
Final Thoughts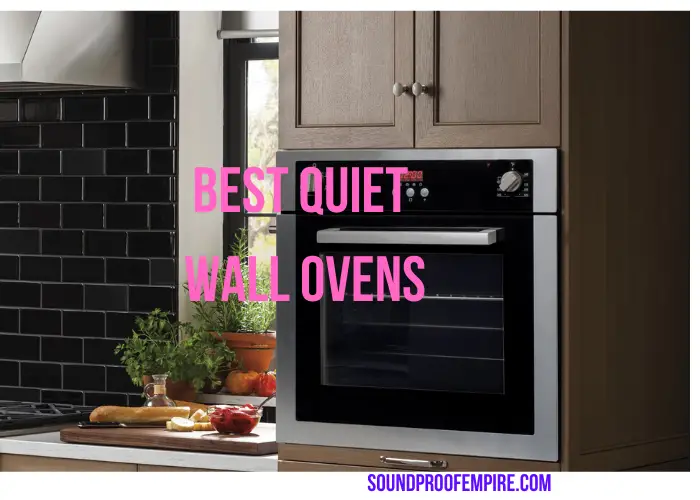 In a HURRY?, Here is a quick table preview of our best quiet wall ovens. If you want to learn more about silent wall ovens, then keep reading this guide.
#
IMAGE
PRODUCT
PRICE
1
GE Cafe French Door Electric Wall Oven

Self-Clean
Single Wall Oven
5.0 cu. ft. Capacity

Check Price on Amazon
2
Frigidaire FGEW3065Pf Gallery Electric Single Wall Oven 

Self-Clean
Single Wall Oven
4.6 cu. ft. Capacity

Check Price on Amazon
3
Sharp KB-6521PS 24-inch Microwave Oven

Single Wall Oven
1.2 cu. ft. Capacity
Sensor cook technology
Check Price on Amazon
Whether you are a professional chef or have a large family, a wall oven can be a great way to expand your cooking capacity. Having all your meals cooked at once is a good way to finish fast.
For kitchens with large spaces, if you have the budget to accommodate one, it's an incredible addition to the kitchen.
Wall ovens are a nice alternative to the standard all-in-one range. Mostly placed high on the wall, installed into a set of cabinets, or under a cooktop and the counter. They make it easier to insert and remove heavy food items.
However, if you are noise aversed, you will realize that these oven fans can be pretty noisier depending on the brand and model. That is why I have researched and gathered some of the best quiet wall-mount ovens that won't make a lot of noise when in operation.
 Tips for Choosing a Wall Oven
Choosing an oven can be overwhelming especially if it is your first time. So, here are some tips and factors to consider when picking a wall-mounted oven.
Types of Wall Ovens
There are different types of wall ovens to select from. You will need to choose the one that best fits your cooking needs. below are the types of wall ovens you will find in the market today.
Single Wall Ovens
Singe wall ovens have just one cooking zone like that of a standard range. You can install it under your counter o below a cooktop to save you from bending. They can fit in perfectly to maximize your space and give this modern built-in design.
Double Wall Ovens
This type of oven is often too large to fit under a counter but is built to achieve a more seamless look. double wall ovens have two ovens in one unit allowing for more cooking flexibility. Most of these ovens types have both convection and boiling features in both ovens.
Related read:
Triple Wall Ovens
These wall oven types are pretty big. They have a combination of a single wall oven, a convection/microwave oven, and a warming drawer in a convenient space-saving option.
To install a triple wall oven, you can choose to purchase a model that is installed in one cutout or you can create a tower by buying and installing each unit separately.
Microwave/Oven Combos
are similar to double ovens except that the top oven is a microwave oven. Microwave combos are a nice way to have both cooking options in a single, compact unit.
Fuel Type
Wall ovens are powered by gas or electricity. Most wall ovens are predominantly electric. Even though you can get a gas-wall oven, it's not mostly the high-end type.
Size
Different sizes of wall ovens exist. The typical sizes you mostly find are 24″, 27″ or 30″ wide, but you can find models that are 36″ to fit today's luxury kitchens. So before you pick, you need to measure and know the size of the space it will fit inside your kitchen. That way, you don't choose something that might be larger than your space and won't fit inside.
Self-Clean or Manual
Do you prefer a self-clean or manual-cleaning oven?. This is an important question to ask yourself. Most choppers prefer to spend the extra $300 for a self-cleaning wall oven than the manual one. This will save you a lot of time.
Ease of Use Features
You have to decide what features are important to you. features like bigger and better-viewing windows, brighter interior lighting, and temperature probes that alert the user when the roast is done. All the extra features increase your comfort of use.
Controls and Settings
Most wall ovens on the market today feature electronic displays. Settings such as "delayed bake," which kicks on at a predetermined time, and "warm and hold," which does precisely that, are useful for the home cook.
A bread-proofing function maintains ultra-low temps perfect for rising dough. "Variable broil" provides a lower setting for less intense top-down heating.
 Quiet Wall Ovens
After gathering a lot of user opinions on which wall ovens they consider to have low-pitched performance, these ovens were among some of the low-noise ovens. Most of them are already famous brands you might be familiar with.
1). GE Cafe French Door Electric Wall Oven
This GE cafe French door wall oven has 5 cubic foot interior capacity and this is the average capacity for most single wall ovens. It is considered one of the quietest wall ovens. When in operation the performance is less noisy.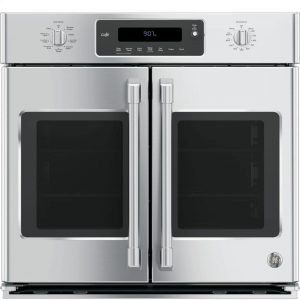 The product is made of solid stainless steel material and has a French door design. It uses a convection style of cooking by using the fan to distribute the heat equally for an evenly cooked meal. So if you are looking for a wall oven with a quiet fan, then this GE single wall oven comes recommended.
Features and Specs
Fit Guarantee
French door design
Size: 30″
50 cu. ft. oven capacity
True European Convection with Direct Air
Dimensions: 28 5/8 H x 29 3/4 W x 27 3/4 D
Wirelessly control your oven with Wifi Connect
Self-cleaning with steam connect option
Ten pass dual broil  and bake elements
Electronic dial controls
Progressive halogen oven lighting
---
2). Frigidaire FGEW3065Pf Gallery Electric Single Wall Oven
The Frigidaire FGEW3065Pf Gallery Electric single wall oven is another silent single wall oven that has got a lot of awesome features that will make it a great addition to your kitchen.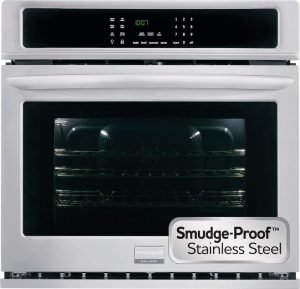 It has a capacity of 4.6 cubic feet. Which is almost the same internal size of a standard single wall oven. This wall oven uses true convection method of heating/cooking the food.
This oven is made of smudge-proof stainless steel which resists fingerprints and is easy to clean. It is a self-cleaning single wall oven. It is described as a quiet operating oven. This wall oven is one of the quiet electric wall ovens in the market that is a great value for your money.
Features and Specs
Self-cleaning
Capacity of 4.6 cubic feet
Convection cooking
Dimension: 23.5 x 28.5 x 27.3 inches
Express-Select Control panel
Bright lighting keeps the contents of the oven clearly visible
Delay Start
Power Broil
---
3). Sharp KB-6521PS 24-inch Microwave Oven
This microwave oven has a total capacity of 1.2 cubic feet. This is quite smaller than most microwaves. But its performance is great and operates quietly. With this oven, you have three colors to choose from namely: white, silver, and black.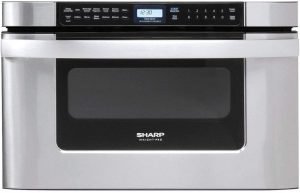 With its sensor cook technology,  you have 11 sensor programs that will eliminate any guesswork from cooking and defrost times. It also has an auto touch key that opens and closes the door automatically when your hands are full.
Features and Specs
Capacity:1.2 cubic feet
Sensor cook technology with 11 sensor programs

DIMENSIONS(WxHxD): 23.88″ x 15.88″ x 26.19″

WATTAGE: 950 Watts
---
Final Thoughts
Looking for the quietest wall oven can be a lot of work. That is why I gathered these few quiet wall ovens for you to maximize your time. These ovens all have silent performance and do not make a lot of noise when in operation.
Wall ovens are a great way to maximize your time in the kitchen, they also add a modern look to your kitchen. Plus, you don't have to bend down to remove the food after it's done cooking. Which is an advantage for those who might have problems with bending.
Latest posts by Josephine
(see all)