Looking for the quietest undercounter ice maker?. Perfect, you've come to the right place. In this guide, you can expect to learn the following:
How does an ice maker work?
Top-rated quiet undercounter ice maker picks
How to choose an ice maker
Do you need a water line for your built-in ice maker?
How do I clean and maintain my undercounter ice maker?
Do you need to use a water filter with your undercounter ice machine?
And More…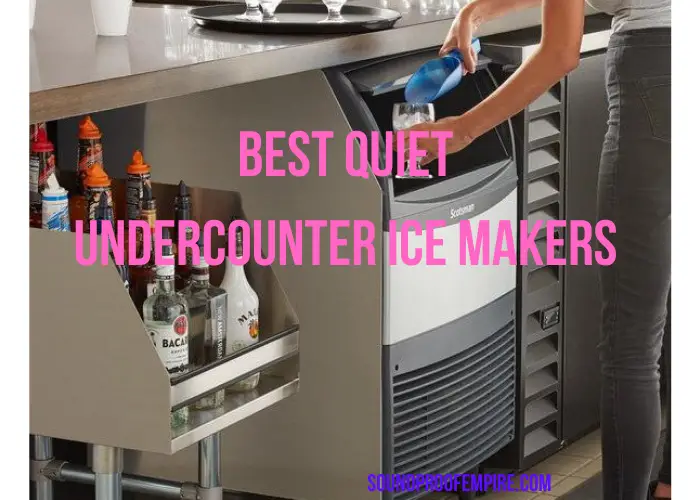 Quick Preview of the Quietest Undercounter Ice Makers
In a Hurry?. I understand. Here is a quick overview of the best quietest undercounter ice machines.
In summer and hot days, ice makers come in handy for many restaurants, homes, and offices. A drop of a few cubes of ice into a hot beverage or wine can be ready in a minute to chill down the throat.
However, not all ice makers are manufactured the same. Some brands and models are quieter than others. If you are operating in a less noisy environment, you would definitely want a quiet ice maker.
Quiet undercounter or built-in ice makers are very convenient if you are battling with space issues in your kitchen, office, bar, or restaurant. The best undercounter ice maker can easily be installed under your kitchen countertop to save you save for other kitchen items.
That is why I did deep research and gathered other users' experiences and was able to come up with the top-rated quietest undercounter ice machines for you to save yourself the time and hassle of searching.
Similar Reads:
Best quiet dishwashers under $400, $500 and $600
How Does Ice Maker Work?
Before home ice makers were plastic ice trays. It is fairly obvious how they worked. You pour water into a plastic mold, leave it in the freezer until it turns to a solid, and then extract the ice cubes.
Ice makers work on the same principle, but the process of pouring water and extracting the ice cubes is fully automated. An ice maker machine is an ice-cube assembly line.
Most ice makers use an electric motor, an electrically operated water valve, and an electrical heating unit. To provide power to all these elements, you have to hook the ice machine up to the electrical circuit powering your refrigerator.
You also have to connect the ice maker to the plumbing line in your house, to provide fresh water for the ice cubes. The power line and the water-intake tube both run through a hole in the back of the freezer. Then the ice maker begins its ice-making cycle.
Best Quiet Undercounter or Built-in Ice Makers Reviews
Here are some of the top quietest built-in ice makers that you can install under your counter for quiet ice production.
1). EdgeStar IB250SS 15 Inch Wide 20 Lb. Built-In Ice Maker with 25 Lbs
The EdgeStar IB250SS is a durable and high-quality model that is great for whether you hosting a large holiday party or enjoying iced tea on a hot summer day,  the ice maker is a perfect addition to any kitchen or entertaining space.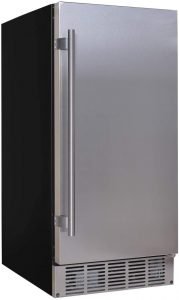 This built-in ice maker is easy to install in almost any space.  This is because it does not require a drain; it's of the best quiet ice makers that dont require a drain and it has a front venting with a reversible door that you can open from the side.
This unit produces crescent-shaped ice which is believed to provide harder and longer-lasting ice.
This EdgeStar ice maker has a 25 lbs daily ice production and an ice storage capacity of 20 lbs. This ice machine was very easy to install and makes a ton of ice. The Dimensions are: 14.9″ W x 20.06″ D x 33.31″ H.
Pros:
Its great value for the money
Makes crescent-shaped ice to add fun to the drink
Easy and effortless to install; you won't need any expert help
This ice maker is ADA certified
Available in different color options to choose from
Cons:
---
2). Whynter Built-In/Freestanding Ice Machine
This Whynter quiet built-in ice machine is made of stainless steel housing and its complements any modern kitchen or bar.
This unit features 50 lbs of ice cubes production rate in 24 hours with a storage capacity of 25 lbs of ice. The unit automatically shuts off when the storage container is full.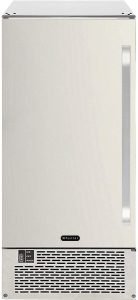 It is durable and safe from normal wear and tear. It also has a reversible sleek stainless steel door and a black cabinet.
This item is designed to be plumbed into a water line or to be used with a water filtration system. Plus, it is also insulated but does not keep your harvested ice frozen. The product is also designed for only indoor use and has an estimated life span of 5-7 years.
This Whynter model has a dimension of 24.5" L x 15" W x 33" H and a recommended clearance space of 1" On top, 4" On the back.
Pros:
One-button operation
Durable construction
Built-in installation
Compact and easily portable
Offers extraordinary convenience
Can be cleaned easily
High production ability; perfect for any party
Cons:
Would need a professional for the installation
Requires manual defrosting
3). EdgeStar IB120SS Built-In Ice Maker
This EdgeStar built-in ice maker is small than the one I mentioned above. But the great thing is that; both dont require a drain to operate.  This model is easy to install and it works perfectly for the kitchen, RV, boat, office, or wet bar.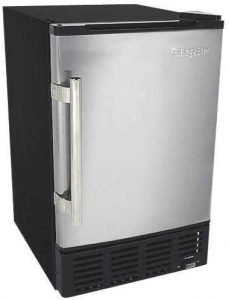 It has a stainless steel door on a black body that matches most decors. This unit is able to produce up to 12 lbs of Cresent shade ice per day, store 6 lbs of ice, and fit under most counters.
This product is affordable and it also meets the ADA height requirements. It also has a front venting for built-in or freestanding installation.
It has  Dimensions of 25 1/4″ H x 15″ W x 18 1/2″ D and out shut-off when the ice bin is full.
4). Ice-O-Matic Pearl Self-Contained Ice Machine
The Ice-O-Matic Pearl ice Maker creates chewable ice crystals in a Jiffy this Pearl ice Maker is made for undercounter areas is air-cooled and has a self-contained condenser smaller than other ice makers with more space-saving potential.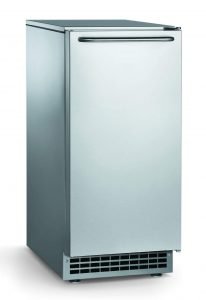 This unit has a production rate of 22 lbs and its ideal for small-space applications such as suites for entertainment venues, offices, break rooms cafes. It can also be used for outdoor applications.
It is has a quiet operation and is easy to install.
5). Scotsman CU50GA Undercounter Ice Maker
This undercounter ice maker with bin, gourmet cube, air-cooled, self-contained, condenser, and a high ice production rate of 65 lbs every 24 hours is great if you need a large amount of ice frequently.
It can be used to supplement ice production in restaurants, bars, offices, homes, and more. The storage capacity is at 26 lbs and its stainless steel design makes it complements any space.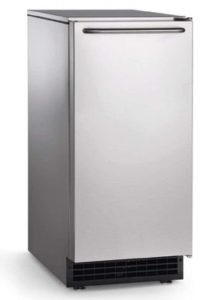 This product utilizes a gravity drain and that should be taken into consideration when you decide to purchase it. The cabinet width is about 15″ making it compact enough to be placed in tight locations.
The Water-quality sensor detects hard water conditions and the control system purges mineral-laden water with every harvest cycle, which helps extend the time between cleanings.
This modern ice maker also has a user-friendly control panel to inform you whether the power is on, alerts a no-water condition, and a time to clean reminder.
Pros:
Easy to access and use
Offers incredible stability
Odorless ice; doesn't affect the drinks' flavor
Easy, the effortless installation process
Also suitable for outdoor use also
Cons:
You have to buy water filtration lines separately
Makes one size of ice
How to Choose a Quiet undercounter Ice Maker
When you are in the market shopping for an undercounter ice maker, it is very easy to be carried away by the many different brands and models and it can end up getting you, even more, confused as to what to look out for. Here are some tips to guide you.
Noise Level
If you value your peace and quietness, then just any brand of ice makers won't do the trick. You need an ice maker that is able to meet your ice production need while operating quietly.
Luckily there are some manufacturers who have put noise consideration into their ice makers that make them operate quieter than other brands. The above-mentioned ice maker machines operate quietly when running.  So, if you are looking
Placement
The main reason why you probably are looking for an undercounter ice maker is to be able to fit it under your kitchen countertop. Since it is going be fitted into a confined space, you will need to keep that in mind when searching. Plus, where it will be installed also.
Capacity
Undercounter ice makers come with freezer storage space as part of the unit. In addition to the production rate, you also need to consider how much ice the machine can hold at a time.
If your family r office mates will frequently go through the ice quickly, then a higher production rate matters more than the storage capacity. High production capacity is also required for parties. As for the storage capacity, you can always pack them in bags and store them somewhere.
Size
The size is directly related to the capacity of the ice machine. This is because the bigger the quiet built-in ice maker, the higher its ability to produce more ice at once and vice versa. For the size, you first need to check the size of the undercounter space you want to fit the ice maker into and choose accordingly. That way, it will fit into your kitchen seamlessly.
Drain Options
Every ice maker needs a way to drain. When it comes to undercounter ice maker, you have two drain options to choose from: drain pumps and gravity drains.
Ice makers with gravity drains are ideal if you have a drain in your kitchen within two feet of where you will install the ice machine. Gravity will do the work of bringing the condensate down to the drain port, where it can empty out of the appliance and down the drain in your kitchen.
If the gravity drain option doesn't work for you, then you have to choose a drain pump that can do the work of moving any excess water out of the machine to a nearby drain.
Type of Ice
Do you have a favorite type of ice?. You can find some of the quietest built-in ice maker machines that make nugget ice, cube ice, crescent ice, or other types of ice. If you are the type that is selective, then you can pick an ice maker that will produce the type of ice you like. Otherwise, any ice maker will do.
Production Rate
The ice machine production rate is a key piece of information you need to ensure the model you pick will meet your ice needs. If the production rate is slower, then you will still be short of ice, which will defeat the ice maker's purpose.
Manufacturers of built-in ice machines provide the quantity of ice the unit can produce within 24 hours period.
Energy Efficiency
It takes a lot of energy to freeze water and turn it into ice. So if you are concerned about the energy bills and the environment, then you need to look out for the energy star rating on the model.
Cost
When it comes to the cost of your silent undercounter ice maker, size and capacity are some of the main factors that can influence the ice price.
Some built-in ice makers will cost more due to having a strong brand reputation or coming with some extra features, such as a water filter or the ability to make nugget ice.
But typically, an undercounter ice maker can cost anything in the range of $250-$5,000. Most of the ice machines in the upper end offer high production rates and large storage capacities.
Installation
Installing a built-in or undercounter ice machine is not a very difficult task but it is certainly not easy. If you're DIY-savvy, then you can probably install it with no problems. However, it can get pretty complicated and be rather frustrating, even for the handiest of homeowners.
Your product will come with an installation manual to guide you in case you get stuck. There are a lot of variables to consider which include the drains, water lines, electrical demands, ventilation requirements, and installing it within a confined space.
If you are not sure of what to do, it is better to get a certified technician to come and install it for you to avoid potential problems.
Look & Style
While most silent undercounter ice makers aren't specially made with aesthetics in mind, you do have some options when it comes to how your ice maker looks. Undercounter ice makers come in a few different colors and finishes. Most options are black, white, or stainless steel, but there are some models with doors designed to match the look of wood. There are also a few that are available in bright colors.
The overall look of your unit will all boil down to your personal preference and the current decor of the area in which you plan to install it.
Do You Need a Water Line for Your Quiet Built-In Ice Maker?
Yes, all built-in ice makers require a dedicated water line. It is an important thing to look at before you even consider buying an ice maker. Because it will need to be hooked to a water supply source for it to make the ice automatically.
How Do You Clean and Maintain Your Quietest Undercounter Ice Maker?
The cleaning instruction for any built-in ice maker is usually included in the user manual.
however, an easy to do is to first step is to unplug your unit and discard any ice that may be inside. Next, remove all parts that come into contact with ice from the machine and wash and sanitize them using an ice machine cleaner. Then, rinse them off in warm water and let air dry.
After that, you reassemble the machine and wipe all exposed surfaces and let it air dry. Be sure to refer to the user manual if you are not sure of anything.
Do You Need to Use a Water Filter with Your Undercounter Ice Machine?
A water filter can help your ice machine last longer, will help your ice to taste better, and will lengthen the time required between cleanings. Almost all manufacturers suggest that you use some type of water filter. Although water filters are not absolutely necessary, they are highly recommended.
Final Thoughts
Ice making machines are some of the greatest inventions for the kitchen. These days, you can find ice cubes of different shapes kind courtesy of these ice makers in bars and at home.
With these quiet under-counter ice makers, you can the kind of ice you need for your parties with your peace of mind.
Latest posts by Josephine
(see all)