7 Quiet Dishwashers Under $400, $500 and $600
Looking for a quiet dishwasher under $500, $400, or $600?. Perfect, then you've come to the right place. In this guide, you can expect to learn the following:
What is a dishwasher?
How does a dishwasher work?
Our top-rated quiet dishwashers under $500  and $600 picks
How to choose a quiet dishwasher
And More…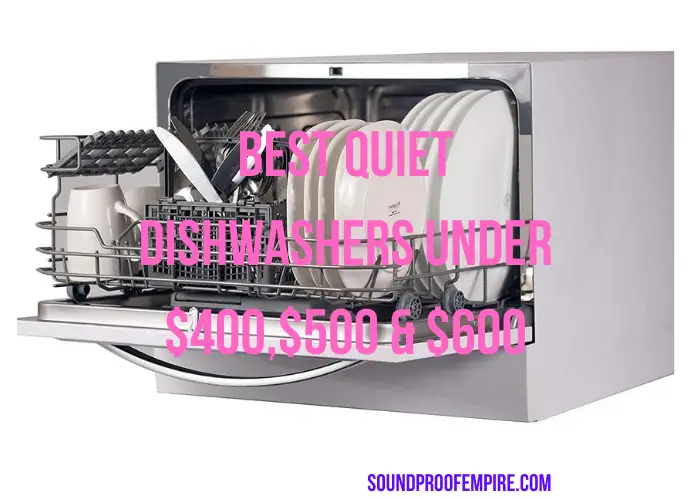 Quick Preview of the  Quiet Dishwashers Under $400, $500 and $600
In a Hurry?.  I understand. Here is a quick overview of the best quiet dishwashers under $500 and $600.
Let's be real. Doing dishes manually is not only time consuming but also can be difficult at times. Having a dishwasher especially if you are a busy person you can save yourself a lot of time and actually get your dishes done properly with the right dishwasher.
But I do understand that not all of us can afford the expensive dishwasher. That is why you can find some manufacturers who have made some quiet affordable dishwashers that you can choose from.
You can now get affordable dishwashers for under $400, $500, and $600. They are portable and can even sit on your countertop to do your everyday dishes for you.
However, these dishwashers are not all quiet in operation. Some can be really noisy. Hence, I did deep research and compiled some of the quietest dishwashers under $500 and $600 to help you save your time.
Similar Reads:
What is a Dishwasher and How Does It Work?
A dishwasher is a machine used for cleaning dishware and cutlery automatically. Unlike manual dishwashing, which usually requires you to do physical scrubbing to remove the dirt and soiling, a dishwasher cleans your dishes hand free by spraying them with hot water, typically between 45 and 75 °C (110 and 170 °F), at the dishes, with lower temperatures used for delicate items.
How a dishwasher works is that a human loads the dishes, add the detergent, set the proper washing cycles, and turn it on, then the dishwasher accomplishes a series of functions by itself. to get the dishes cleaned.
These steps include:
Adds water
Heats the water to the appropriate temperature
Automatically opens the detergent dispenser at the right time
Shoots the water through jets to get the dishes clean
Drains the dirty water
Sprays more water on the dishes to rinse them
Drains itself again
Heats the air to dry the dishes off, if the user has selected that setting
These robots monitor themselves to ensure everything is operating properly. There are timers and sensors that control the lengths of each cycle and sensors that detect the water and air temperature to prevent the dishwasher from overheating or damaging your dishes.
Best Quiet Dishwashers Under $400, $500 and $600 Reviews
Here are some of the top-rated quietest dishwashers under $500 and $600 for you you to pick from.
1). Farberware Portable Countertop Dishwasher with 5-Liter Built-in Water Tank
The portable dishwasher with a built-in water tank is great for small-sized houses, camping, your boat/ RV, dorms, or apartments. It has a compact design that makes it easy to fit into smaller spaces and can take a variety of dishes up to 12-inches in diameter at an angle.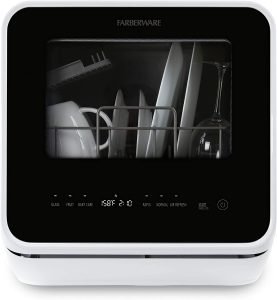 This Farberwre professional portable dishwasher can be placed on any countertop or sturdy table. It offers 6 different wah cycles and can be used to steam-clean baby bottles or sparkle your glassware.
This product comes with LED digital controls that give you a clear picture-view of wash controls and an automatic water level indicator to let you know when the correct water level has been reached.
It can accept different detergents like pods, liquid, or powder. But it is recommended to use detergent tablets when running long cycles so the tablets will fully dissolve. This is one of the best quiet dishwashers under $400.
---
2). Furrion 18″ Built-In RV Dishwasher with Double Rack
The Furrion 18″ RV dishwasher is designed to save you energy and space on your RV with its compact, and Energy Star ratings. It has a double loading rack. The top and bottom loading rack includes a utensil basket and a folding cup shelf. The folding shelves provide additional space for small cups.
It is also equipped with a three-part filer which includes a  has 3-part, plastic, and stainless filter that prevents food from getting into the water pump.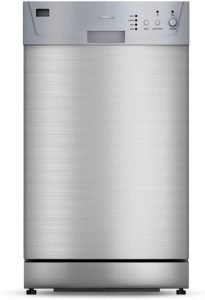 Furthermore, it features a wash management system that helps ensure optimal performance while reducing water consumption and special insulation that keeps noise to a quiet 55 decibels or less.
This dishwasher is designed for moving RV and because of its stainless steel construction is durable and can withstand vibrations caused on the road. This unit comes with a 1-year warranty. This unit is one of the best quiet dishwashers under $600.
---
3). Black+DECKER Compact Countertop Dishwasher
This countertop dishwasher has an attractive design with a space-saving footprint and fits under most kitchen cabinets.
It can accommodate 6 place settings, including dinner plates up to 10 in. It has 7 wash programs, yet can easily sit on a standard countertop.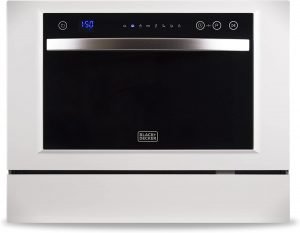 You also have the option to set your dishes to wash later with a delayed start option of up to 24 hours and the LED displace with electronic touch control makes it possible to select settings easily.
The slide-out dish rack and removable utensils basket make it easy for loading and unloading.
This unit has a child lock, plus it has both High-Efficiency Rating and Energy Star Rating. There are four different style options available to be selected from.
---
4). Danby Portable Countertop Dishwasher
The Danby countertop dishwasher comes with six different settings that can easily be programmed and monitored via the electronic LED display. It is
Energy Star compliant and has low water consumption up
just 3.1 gallons of water for a normal cleaning cycle.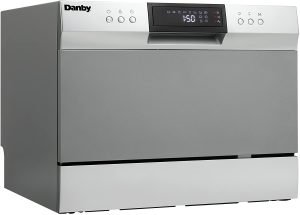 This Danby designer dishwasher has washing cycles ranging from soak, glass, rapid, economy, normal and intensive. It also features
2,4,6 or 8 hours delay start options.
There is an auto detergent and rinse agent dispenser for your convenience and this chic dishwashing unit is designed to fit under just about any type of kitchen cabinet. It also comes with a 12-month warranty on parts and labor.
---
5). DS-9263W 18″  Portable Dishwasher White
This stylish and modern portable 18″ inch energy star dishwasher is the perfect addition to any kitchen!. A beautiful exterior will make any kitchen feel upgraded along with powerful cleaning capabilities.
It comes with 8 place settings and 6 wash programs, a rinse aid warning indicator, refill reminder, time delay feature which you can set to operate later start time from 1-24 hours, and an error alarm display fault codes.
The adjustable upper rack allows you to accommodate larger plates/pots. Plus, the product is CSA- US certified and is Energy saving product.
---
6). Avanti DW1831D0WE Small Dishwasher
This Avanti dishwasher is one of the quietest dishwashers under $500 that comes with 8 place settings and 6 automatic cycles.
The soft-touch control panel with an LED light indicator allows you to set your preferred settings for cleaning your dishes anytime.
 If you are concerned that this unit might not be energy-saving, worry not. Because it has an Energy Star rating that makes it work efficient in cleaning your dishes but with low energy consumption. Plus, it is ADA compliant.
---
7). Farberware Professional 6 Piece Countertop Dishwasher
This convenient dishwasher has a 6-place setting capacity, making it ideal for small-sized houses, apartments, dorms, boats, and campers/RVs.
The six-place setting capacity allows you to wash a variety of dishes (up to 10-inches in diameter) and includes folding down rack shelves and a cutlery basket.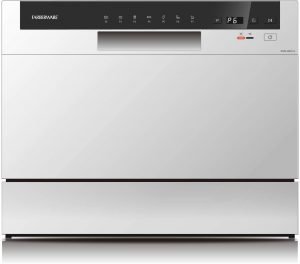 This product also offers 7 wash programs which include: heavy, Normal, baby care, light, glass, Speed 45 min, and self-clean.
There is also a child lock feature that prevents children from accidentally starting the dishwasher. The extra drying function adds extra heat to the final rinse to enhance drying results.
The speed cycle lets you get items clean in only 45 minutes. The self-cleaning program provides effective cleaning of the dishwasher itself.
---
How to Choose a Dishwasher
Getting a new dishwasher is exciting. But wait until you start shipping and you find that the dishwasher market is riddled with all sorts of different brands, models, and styles, then your head starts spinning. Many of these brands look the same but offer different price points. Which can make you wondering which should you actually pick.
Here are some tips to guide you in your selection process.
Noise Level
With kitchens trending toward open floor plans and usually near family rooms, having a noisy dishwasher just isn't a smart choice.
You want to be able to operate your dishwasher while being able to do other things around quietly without shaking your house with noise. I believe that is why you are here and fortunately, there are brands and models that I quieter for you to choose from.
Cleaning Performance
This is what it's all about. Having a stylish, durable and very modern dishwasher won't mean anything unless it does your dishes effectively. These dishwashers here are effective and affordable and hence you can get the job done.
Drying Performance
For a dishwasher to clean your dishes, its only half the job done unless it dries them effectively. You dont want to open your machine only to see them still completely soaked and not dried. A good dishwasher is supposed to clean and dry the dishes out as well, otherwise, it is not worth it.
Effective Interior Design and Stainless Tub
Thoughtful manufacturers offer the smart arrangement of racks and tines, plus the use of more compact tine patterns to enable more closely-packed dishes. You will still get quality cleaning thanks to the advanced power of spray arms and nozzles.
Energy Efficient
A machine been energy-efficient means is designed in such a way that it drains as little energy as possible while operating. Such an appliance has a little negative impact on the environment. The Environment Protection Agency's EnergyStar Rating speaks about how effective an appliance is with regards to using resources, whether it is electricity or water.
Reliability and Maintainance
It doesn't matter whichever dishwasher you pick, you want it to last. These appliances cost money and are supposed to be durable to help you enjoy your investment. Choose a unit that requires fewer repairs, maintenance, premature replacements, and more. Reliability varies from brand to brand and model to model. So, pick one that will last longer and require less maintenance.