Looking for the quietest stand mixer for your kitchen?. Perfect, then you've come to the right place. In this guide, you can expect to learn the following:
How does a Stand Mixer work?
Our top-rated quiet stand mixer picks
How to choose a stand mixer
And More ….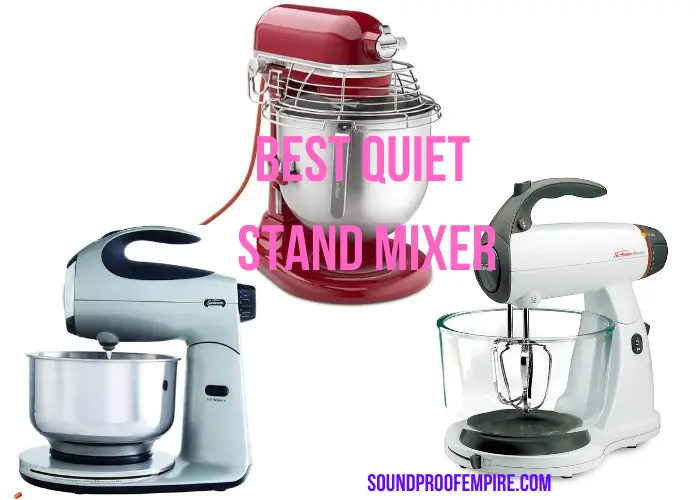 If you love baking for yourself and your loved ones, I am sure you know how important it is to have a stand mixer to do all the mixing for you instead of doing it manually which can be tedious and time-consuming.
But there is another issue with stand mixers. Thus, they can be pretty noisy when in operation. If you are like me who likes to bake sometimes at night or dawn, you would also cherish a quiet stand mixer.
With a stand mixer that has quiet operation, you can do your baking at any time without waking up your family and neighbors, which can be annoying.
That's why I did deep research and gathered users' experiences on stand mixers. I was able to gather some of the top-rated stand mixers for you to choose from for peaceful baking at any time.
Similar Reads:
Best quiet food dehydrators for preserving your foods
How Does a Stand Mixer Work?
A mixer is a kitchen utensil that uses a gear-driven mechanism to rotate a set of beaters in a bowl containing the food to be prepared. Stand mixers create the mixing action by rotating the mixing device vertically (planetary mixers), or by rotating the mixing container (spiral mixers).
A stand mixer works similarly to a handheld mixer. The only difference is that you attach a bowl to it and you do not have to hold the mixer.  After you attach the bowl to the mixer, you can now add your ingredients and select the desired speed setting.
After that, turn it on and the rotation of the attachment will be done by a large motor. It will work on the attachment until it's mixed the way you like it.
Best Quiet Stand Mixer Reviews
Based on users' experiences and manufacturers' information, these are the top quietest stand mixers for your kitchen.
1). KitchenAid 8-Quart Commercial Countertop Mixer
This 8-quart stand mixer is one of the quietest KitchenAid stand mixers that is loved by many baking enthusiasts. It has a powerful DC motor that makes it's great for your kitchen mixing jobs. It provides a 1.3 HP and delivers 0.44 HP to the bowl for consistent mixing speed and efficiency.
With this KitchenAid stand mixer, you can choose with a bowl guard or without a bowl guard. Plus, to complement your kitchen decor, there are five vibrant colors to choose from; dark pewter, empire red, nickel pearl, onyx black, and white.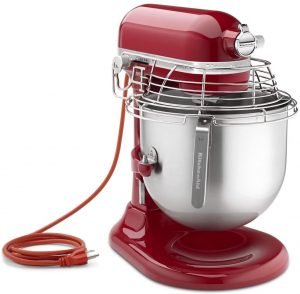 It comes with a whisk, dough hook, and flat beater attachment that works well with the stainless steel bowl that has a handle for easy lifting.
There are also 10 speeds to choose from, so you can do anything from mixing thin cake batters to kneading dough easily and faster. It's a quiet cake mixer that many bakers love.
If you are concerned about cleaning, then worry not. This appliance is easy enough to clean; just wipe clean the mixer and place the parts in a dishwasher. If you have been wondering what is the quietest stand mixer?, then this KitchenAid mixer is recommended for you.
This quiet KitchenAid stand mixer is USA-made and comes with a 2-years full warranty to cover defects.
---
2). Hamilton Beach 12-Speed Stand Mixer
The Hamilton Beach kitchen stand mixer operates similarly to KitchenAid stand mixers. It does planetary mixing by rotating the beaters around to even out the mixer.
There are four beautiful colors to choose from; licorice, red, sugar, and sterling.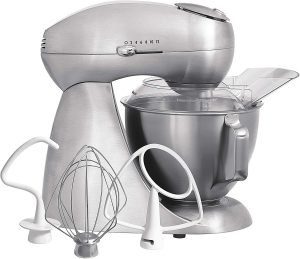 With 12-speed settings, this quiet electric stand mixer lets you change speeds from a slow stir to a fast whip, it can mix anything from sticky bread dough to light whipped cream.
It works with a 400-watt motor and it's durable. The 4.5 -quart stainless steel bowl with a handle is larger enough to mix dough for home baking and cooking.
It comes with accessories that include; a flat beater, dough hook, whisk and pouring shield to protect against splatters.
Please note that this mixer is not ideal for bakers who do a lot of baking since is not powerful enough to mix well a lot of dough. But it's ideal for house use.
---
3). Sunbeam Heritage 4.6 Quart Stand Mixer
Equipped with a powerful 350-watt motor, this convenient stand mixer works well for everything from high-volume holiday cooking and baking to everyday tasks in the kitchen.
The Sunbeam also features 12 different settings for quickly and precisely mixing ingredients. The 3-way mixing action ensures thorough, even mixing by spinning each beater independently as well as turning the bowl.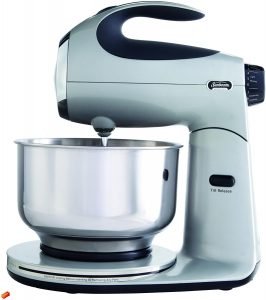 Accessories included are; stainless-steel beaters for creaming butter and sugar or mixing heavy cake mixes, stainless-steel dough hooks that take the hard work out of kneading dough and other hard mixtures, and a 4.6 Quart stainless-steel mixing bowl.
4). KitchenAid 7-Quart Pro Line Stand Mixer
This is one of the largest, most powerful, and quietest KitchenAid stand mixers available.  Its 1.3-horsepower motor mixes and kneads quietly and features 10-speed settings from slow stirring to high beating.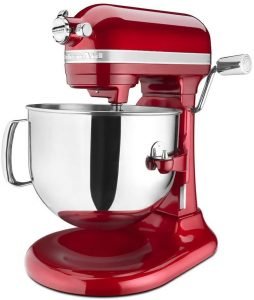 It features a stainless steel mixing bowl with a handle, bowl lift, metal knobs, and professional-grade elliptical whip attachment 11 stainless steel wires, flat beater, and dough hook.
The KitchenAid mixer models are slightly smaller than the first KitchenAid stand mixer I mentioned above.
---
5). Sunbeam MixMaster Stand Mixer
This Sunbeam mixer has an off-center bowl position option that reduces scraping and makes it convenient to gradually add eggs, flour mixtures, and delicate ingredients.
This Mixmaster is a great mixer that is built to last with durable die-cast metal construction.  It features 12 variable settings, a 350-watt motor, and a tilt locking head.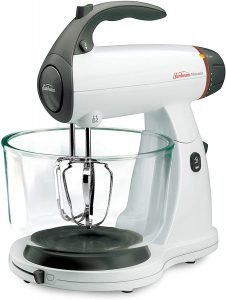 The mixer comes with two 4-quart glass bowls, 2 chrome beaters, and 2 dough hooks. Soft-start technology helps minimizes unnecessary splatters, so you dont mess up your kitchen with floor puffs.
It is affordable and ideal for small to medium families that dont do large baking and stuff.
---
How to Choose a Stand Mixer
Choosing a quiet stand mixer for your kitchen will depend on your needs; the recipes and the quantity of food you typically need. Here are some factors that can guide you in your selection process.
Noise Level
If you like peaceful baking, then you pretty get irritated by a loud stand mixer.  Stand mixers are loud anyway. But there are some brands and models of stand mixers that are quieter than others. So if you are noise sensitive like me, or you want to be considerate to your household or neighbors, then you need a silent model that will not be too loud.
Look
If you are not all that into the decor, then you can simply select a black or white mixer. But if you would love to add some color to your kitchen, then you might prefer something stylish. There are many color choices like  KitchenAid, Sunbeam, and more to pick from.
Ease of Cleaning
When it comes to cleaning, handheld mixers are much easier to clean compared to stand mixers. Stand mixers can have a lot of different pieces to clean. Some attachments can be cleaned in the dishwasher but others need to be washed by hand.
Depending on the type of mixer you buy, you may need to hand wash the bowl as well. You can also rub the rest of the machine down with a wet cloth keep it clean after use.
Size
You have two main considerations when it comes to size:
How much space do you have available in your kitchen?
How much food are you typically hoping to make in your mixer?
Hopefully, you would not have to make any compromise on any of them. You can find a wide range of sizes on the market to perform your desired mixing. If you do a lot of baking for large groups then you need a larger kitchen mixer to do a lot of mixing at once instead of doing it in batches.
Otherwise, you can choose a small to medium size for a small family.
Weight
For a stand mixer, you want to aim for the opposite. The heavier a stand mixer is, the sturdier it will be as it mixes. On the one hand, you want it to be good and sturdy, so it doesn't bounce around on the counter. On the other, you want to be able to actually handle it.
Price
There are various stand mixers at different prices. Most models will cost you somewhere from $200-$700. Some commercial models get over $1,000, but you'd only need one of those if you intend to make especially large quantities of food. For most home uses, you will need may need something less than a thousand dollars.
Speed Settings
Most models have several speeds – usually somewhere from 3 to 12 different options. This is because different foods will require different speeds of mixing.
All mixers should have a "slow start" setting, which makes it easy to add ingredients like flour to the mix without making a huge mess. Most models should also include a fast enough setting for making a meringue.
Attachments
Attachments like a dough hook, wire whip, and flat beater can help you try out more new foods.
Latest posts by Josephine
(see all)