Wondering what is the quietest hand mixer for your kitchen?. Don't worry. In this guide, you will discover some of the best quiet hand mixers for peaceful baking. Here are some things you can expect to learn:
How does a handheld mixer work?
Hand mixer vs stand mixer
Our top-rated quiet hand mixer picks
How do you choose a good hand mixer
And More…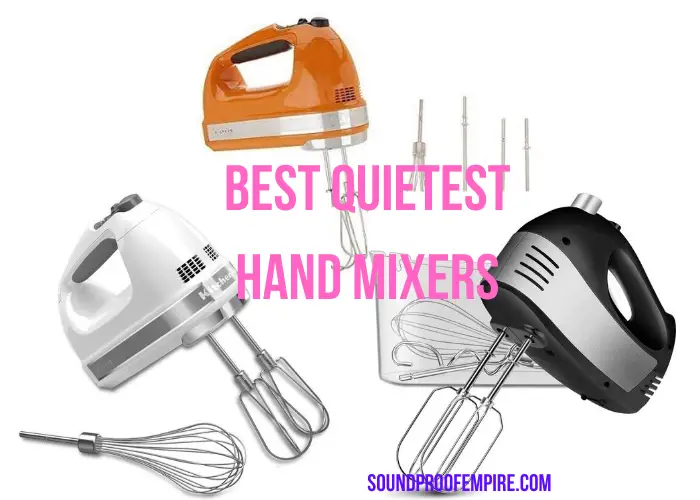 Quick Preview of the Quietest Hand Mixers
In a Hurry?. I understand. Check out this quick overview of the best quiet hand mixers.
Breville BHM800SIL Handy Mix Scraper Hand Mixer 2.3 ( Editor's Choice)
If you enjoy baking regularly or making daily recipes like beating eggs for an omelet, combining batter of cakes, and more, you probably already know the importance of having a mixer in your kitchen.
Whether it is a hand mixer or stand mixer, both types of mixers can do a lot of heavy lifting for you when you are baking.
However, handheld mixers equally can be noisy just like other kitchen appliances. But because some people are noise adverse, some manufacturers have made their hand mixers to be less noisy for peaceful baking.
So, I researched and gathered some of the most quiet hand mixers for you. Other users' experiences were also taken into consideration.
Hand Mixer vs Stand Mixer
These two types of mixer do the job of mixing things together. But they have differences between them.
Hand Mixer
A handheld mixer is a small and light kitchen appliance that is held by the hand to mix ingredients or knead dough for baking and other daily recipes. They are light, easy to store, portable. You can choose to use them to mix things at the stovetop, sink, or counter using any bowl that is convenient for you.
They are easier to operate, are less expensive, and easier to clean than stand mixers. The downside is that you can walk away from it while is running, takes a long time to mix, and mostly can't handle plenty mixing at once.
Stand Mixer
With  stand mixers, they are more powerful, have more speed, and can handle big batches of dough or baking stuff at once. They are hands-free, also comes with many attachments that can help you whisk, whip, paddle, and more.
They are definitely worth it even though they are more expensive, heavy and will require more space in your kitchen than handheld mixers. If you would like a stand mixer, then check out these best quiet stand mixers here.
Best Quiet Hand Mixer Reviews
As a person who likes baking and making daily breakfasts that involve mixing eggs and other ingredients, I truly cherish mixers that have quiet operation. That's why I compiled some of the best electric hand mixers for you to choose from for your mixing needs.
1). Breville BHM800SIL Handy Mix Scraper Hand Mixer 2.3
Whether you're whisking cream or kneading dough, the Handy Mix Scraper detects which attachment you're using and automatically recalibrates to the perfect speed.
This hand mixer has quiet scraper beaters that maximizes contact with the bowl while minimizing sound to ensure all your ingredients are thoroughly mixed without disturbing others around you.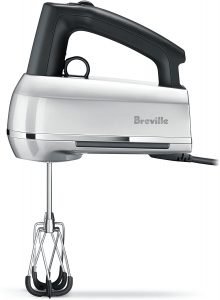 It also has a comfortable design that creates a natural hand position so mixing never feels like a chore. To ensure properly precision speed settings, the mixer has 9 speeds that you can choose from for the appropriate job.
A detachable storage compartment houses all the attachments and swivel cord for compact storage. The unit comes with  2 Scraper Beaters, 2 Dough Hooks, and 2 Balloon Whisks.
---
2). KitchenAid 9-Speed Digital Hand Mixer with Turbo Beater II Accessories
This KitchenAid hand mixer also features 9-speeds which can combine ingredients at speed one for slowly stirring in chunky ingredients, at speed 6 for mixing bread batter and creaming butter and sugar, then at speed 9 for whipping meringue.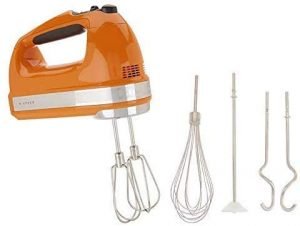 It has a soft start technology that brings the beaters up to the selected speed gradually to help prevent the ingredients from splattering or puffing out.
This unit is easy to clean, its soft-grip handle also provides comfort while mixing, and the cord can lock into either the left or right side of the mixer to allow you to approach the ingredients from any angle.
It comes with  Stainless Steel Pro Whisk, 2 Stainless Steel Dough Hooks, Blending Rod, and a Storage Bag.
3). KitchenAid 7-Speed Digital Hand Mixer with Turbo Beater II Accessories
 This quiet electric hand mixer by KitchenAid features a 7-speed setting which is slightly lower than the 9-speed model above. It is also a high-quality product with five colors to choose from to complement your kitchen decor.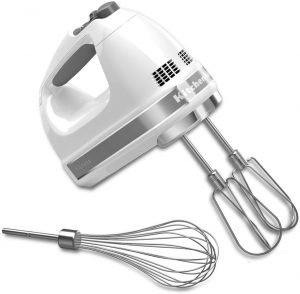 It works by slowly stirring in chunky ingredients, speed four for mashing potatoes, speed seven for beating egg whites and whipping meringue.
Its also equipped with a soft start technology to provide you not splatters and spills when mixing. Plus, all accessories are removable with a single press of a button on the mixer.
---
4). Cusinard 5-Speed  Electric Hand Mixer
This electric hand mixer features 250-watt motor and 5 different speeds to help you whisk, mix and knead and the turbo setting can help you mix faster and more efficiently.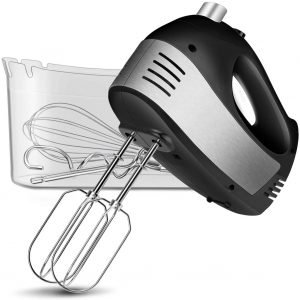 It has a one-button eject design and fix stainless steel beaters that make it easy to conveniently and safely dismantle or clean this quiet electric hand mixer easily in your dishwasher.
Conveniently and easily operate it with only one hand on ingredients, batters, whip dough, cream, and eggs.  This unit comes with accessories;  1 x Electric Hand Mixer, 2 x Beaters, 2 x Dough Hooks, 1 x Balloon Whisk, and 1 x Storage Case.
---
5. DmofwHi 9-Speed Hand Mixer with Timer
This is one of the cheapest hand mixers that is power, and affordable. It has a digital screen with a timer for precision control and timing for your mixing.
The speeds settings of this hand mixer can be switched between 9 various speeds for each task you have at hand.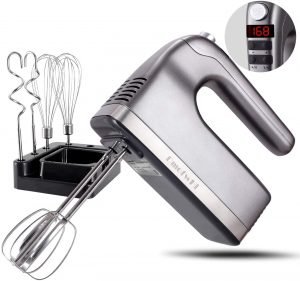 For basic mixing, beating and creaming, like whipping cream or egg whites, cake batter, mashed potatoes, pizza dough, this electric hand mixer has got you.
It is equipped with an overheat protection system that protects the service life of the motor by automatically shutting off after 5 minutes of continuous and cumulative work. You can always use it again 5 minutes later.
---
How to Choose a Good Silent Hand Mixer
When picking a hand mixer, to ensure that it is a good one that meets your needs, you will need to consider the following factors below.
Noise Level
Any appliance that uses a motor definitely makes some level of noise. But the noise levels vary from brand to brand and model to model. If you want to have your peace of mind, listen to the TV, have conversations, or you simply dont want to wake your family or neighbors up with your mixer noise. Then picking a quiet handheld mixer will help you achieve that.
Handle
While there are a variety of handle types and sizes, it's important to choose one that is both ergonomic and easy to hold (think: rubber or silicone grips). You don't want it slipping out of your hands as you mix.
Good Weight
All hand mixers have a compact design, but some are lightweight than others.  A lightweight hand mixer will prevent arm fatigue when mixing up multiple batches of your baking ingredients and doughs. Also, if it is too light, it can be difficult to control. Hence, you have to find a compromise for a weight that works for you.
Speed
Hand mixers come with three, five and even 10 speeds to choose from, depending on how much variety you want or may need. The majority of hand mixers have around 150 watts but you can get additional power of up to 220 watt, which is good for handling thicker doughs. slow start feature is good for preventing messes and splatters.
Attachments
Plan to use your hand mixer for more than beating together baking ingredients? Buy one that comes with a variety of attachments like a dough hook, whisk or spatula.
Space Saving
If you are tight on space, you might want to look for a hand mixer that has a retractable cord or smaller body to help you squeeze it into the most packed cupboard. Some even come with a storage case you allow you to easily stack it into a closet or a neatly arranged drawer.
Price
A handheld mixer can cost you anything ranging from $20 to over $100, depending on the quality and the number of special features it may have. If you do frequent mixing, then you may want to consider getting a high-quality model that will last longer.
Latest posts by Josephine
(see all)