5 Best Quietest (Silent) Food Dehydrators Reviews & Guide
Looking for the quietest food dehydrator for your kitchen?. Perfect, then you've come to the right place. In this guide, you can expect to learn:
How does a food dehydrator work?
Types of food dehydrators
Our top-rated quietest food dehydrator picks
How to choose a quiet food dehydrator
And More…
Quick Preview of the Quietest Food Dehydrators
In a Hurry?. I understand. Check out this quick overview of the best quiet food dehydrators.
Dehydrating food is a great way to preserve food for a very long time. Dehydrating food is a tried and true way of preserving food. With the right food dehydrator, you can have a lot of dehydrated food which makes for a great on the snack or ideal for natural disaster.
But like any other electric appliance, food dehydrators can also get noisy and many people dont appreciate the noise. That is why I did deep research to help you find the quietest food dehydrator in the market to select from.
How Does a Food Dehydrator?
Food dehydrated dry foods out by circulating air at a very low temperature. For proper dehydration, the food must be arranged in a single layer without touching so they can dry fully and evenly. Dehydrating different foods require temperatures based on the different foods' water content.
Water-dense ingredients like fruits usually require higher temperature like about 135°F, so they can dry quickly without becoming too crisp.
Delicate foods like herbs are dehydrated at lower temperatures like  95°F, to prevent over-drying and discoloration. Vegetables also need to be dehydrated at a lower temperature like 125°F.
As for meat, USDA recommends cooking it first to an internal temperature of 165°F and then dehydrating between 130°F to 140°F. This method is suggested to kill any potentially harmful bacteria and encourage the cooked meat to dehydrate quickly and safely.
Types of Food Dehydrators
There are two types of food dehydrators. When looking for the best quiet food dehydrator, you can will be exposed to many different models. you will have to choose between a vertical flow or horizontal flow type of food dehydrator.
Similar Reads:
Best quiet food processors to have in your kitchen
Vertical Food Dehydrator
Most vertical flow food dehydrators, sometimes called stackable unit food dehydrators, have a heat source that's located either at the base of the food processor or at the top.
These models tend to be the most affordable optons, but they they dont usually spread the heat uniformly. Most of them do come with a fan to help with proper heat circulation. They work fine for most vegetables and fruits. However, you will have a hard time getting good meat out of them unless you put some manuel effort into switching the trays around during the dehydration process.
Horizontal Food Dehydrator
On the other hand, horizontal flow food dehydrators which are also referred as shelf tray food dehydrators work more or less like conventional oven with the heating source located in the back.
These are more expensive than vertical models. They also dehydrate at a more even rate throughout the device. This makes them great for dehydrating meat, are easier to use and you can set them on without doing any work.
Best Quiet Food Dehydrator Revews
If you are worried about the excessive noise that come with some food dehydrator models, then I am sure you will like these quiet food dehydrator reviews helpful in picking the a silent food dehydrator for yourself.
1). Tribest Sedona Express 11 Tray Digital Food Dehydrator
The Tribest Sedona 11tray food dehydrator is one of the most quiet food dehydrators which is compact and kitchen friendly.
This high quality dehydrator comes with 11 trays that can allows you to dry plenty food at once without sacrficing drying space and it delivers maximum performance for your dehydration needs.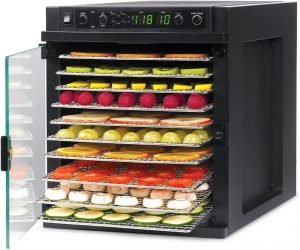 The Tribest Sedona Express allows you to set the temperature and timer using its user-friendly all-digital controls; precision dehydration has never been so easy. So that you can dry your fruits, vegetables, meat and crackers with ease.
The overheat protection feature prevents enzyme degradation by allowing you to set maximum temperatures instead of average temperatures. Its continous operation also allows you to dehydrate any desired recipe for up to 99 hours at a time..
If easy checking up on what is happening inside, the door is transparent glass door with an internal LED light to allow for easy visibility.
It has a Max Temperature of 167 DegreeF/75 DegreeC, Drying Capacity: 9.9 sq. ft. or 1430 sq. in. and comes with a 10 year warranty.
---
2). COSORI Premum Food Dehydrator Machine
This COSORI food dehydrator is quiet to use  with noise level less than 48 dB, which is equivalent to the noise levels recorded in library.
Its is made with food grade stainless steel and glass door. A perfect addition to your kitchen decor that can help you dehydrate foods like beef jerkies, snacks, fruit leathers, dog treats, bread crumbs and preserve herbs and even more.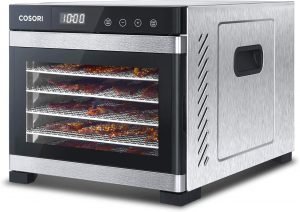 It features a digital control panel that allows you to set timer in 30 minutes increments for up to 48 hours.
 You can also m
ake average-sized batches of dried foods with accurate temperatures between 95º-165ºF.Refer to 50 recipes designed for beginners by COSORI Chefs Team.
It has an automatice shuffoff when your timer ends and also an overheat protection. The tray liners are 100% BPA-FREE and all the  6 trays are dishwasher safe..
---
3). Samson Silent Food Dehydrator
The Samson food dehydrator is quiet in operation and has a compact design that allows you to dehydrate up to 9.6 square feet of items at one time.
This product is a BPA – Free product, has a temperature range of 95 F – 158 F, Timer Range – 0:30 Minutes to 19:30 Hours, 30 minute increments, and more.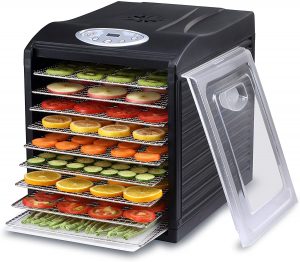 You can dehydrate all sorts of foods in it for the perfect preservation. Its a 9 Stainless Steel Trays Size 13″ x 12″ food dehydrator and the trays are removable if you wish to dehydrate larger items. With the push button digital control panel with LCD, you can easily control the settngs of this unit.
The circulating fan ensures that, there is even distribution of heat throughout the unit and it comes with a Manufacturer's Limited 5 Year Warranty,  and is UL Approved.
---
4). Ivation 10 Tray Dehydration Machine
If you are looking for a quiet 10 tray food dehydrator, then this Ivation dehydrator is recommended for you.  It is large enough and powerful to be able to preserve all your favirote Beef Jerky, Fruit, Snacks, Vegetables, Bread, Herbs, Dog Treats and Even More for Long Lasting Superior Health Benefits.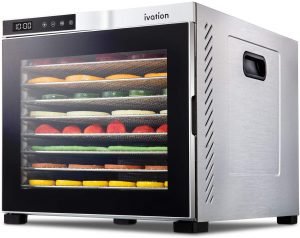 The stainless steel and BPA-Free trays are removable and adjustable if you want more room for larger items.
It has a digital temperature and timer with temperature range of 95ºF to 167ºF. The automatic shutoff enables you to set the unit up and it will automatically shut off at the designated time. You can set the time in 30 minutes increments for up to 24 hours.
The unit is also easy to maintain and clean because it is dishwasher safe and easy to clean.
---
5. Nesco Gardenmaster  Dehydrator
 The 1000 watt food dehydrator from Nesco comes with 8  trays and expands up to 30 trays, so that you can dry large quantities at once with no tray rotation needed.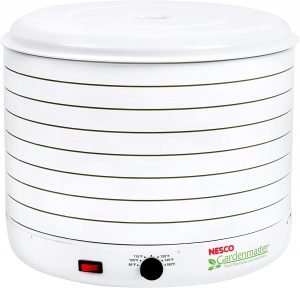 The quiet, powerful Converga-Flow fan forces heated air up the exterior pressurized chamber, then horizontally across each individual tray. The air flow then converges in the center for quick, consistent drying that is four times faster than other dehydrators
The adjustable temperature control (95°F -160°F) gives you the flexibility to achieve the best results when drying different foods that need varying temperature settings.
How to Choose a Silent Food Dehydrator
Choosing a food dehydrator will mainly depend on what your needs are and preferences. Whatever your motivation may be, here are factors to guide you in your selection process.
Noise
Since some food dehydrators come with fan, isome level of noise is expected. The level of noise they make will typically vary from model to model. Since you are here because you seek a silent food dehydrator, all the models reviewed above are quiet in operation.
Heat Distribution and Airflow
Before you buy a food dehydrator, research what the manufacturer has to say about heat distribution and airflow for each model. What have they done to ensure the food in the dehydrator will dry out all of its contents evenly?.
Although food dehydraton is a pretty simple concept, its important to have consistent temperature and heat distributon throughtout the dehydrator to ensure even drying out of the food.
Horizontal flow food dehydrators tend to have the best design for this, but many vertical flow models include fans and other design elements meant specifically to help improve airflow.
Size and Capacity
As with most small kitchen appliances, you need to consider both how much food you'll be wanting to make in one batch, and how much space you have available when adding a new appliance in your kitchen.
Most small models have vertical flow  and wont occupy much space and have smaller capacity and cant take much at once.Since they are smaller, you easily store them away if you have limited space.
However, if you have alot of wet food you want to preserve faster, then you will need a larger model that can talk a chunk at once.
Ease of Use
Most food dehydrators by nature are easy to use and wond give you alot of hussle setting them up. But either brand and model  is different in terms of features and controls.. Therefore, if you like convenience, you might want to keep it as a factor when selecting a food dehydrator for home.
Also check to know if it is easy to maintain like dishwasher friendly and the parts can be taken apart to clean and put back.
Convenience
There are few extra features that are built into some models that can make a big difference in the ease of use of the product.
Features like:
Timer: Food dehydration takes hours, which makes it potentially easy to forget about. A dehydrator with a timer helps ensure you can check on your food when needed and be alerted when it's ready.
Thermostat: Different types of food will dry best at the different temperatures. Therefore, been able to adjust the temperature in your appliance for different variety of foods is importan. This way, you can preserve different fods.
Auto Shutoff: A food dehydrator with an auto shuffoff feature will enable you start the food dehydration process, go for and errand or sleep for the night. When it done, it will automatically shuffoff itself.
Price
The price of a food dehydrator can range anywhere from $30 to over $300, with some commercial-sized units priced at well over $600. Like any appliance, price will dictate the quality  and capacity.
On the low end, you will find dehydrators that can accomplish drying out some foods, but will require more maintenance, have a few more limitations on what types of foods you can dehydrate.
Food dehydrators with a large capacity so you can dehydrate a lot of food at once, impressive heat distribution so everything cooks evenly, and lots of little perks like thermometers and timers that make the entire process as easy as possible.
Latest posts by Josephine
(see all)