Looking for the quietest food processor in the market for your kitchen?. Perfect!. Then you are in the right place. In this quiet food processor guide, you can expect to learn:
What is a food processor?
Types of Food Processors
Our top-rated silent food processor picks
How to choose a food processor
Is a food processor worth it?
What makes food processor makes noise?
And More…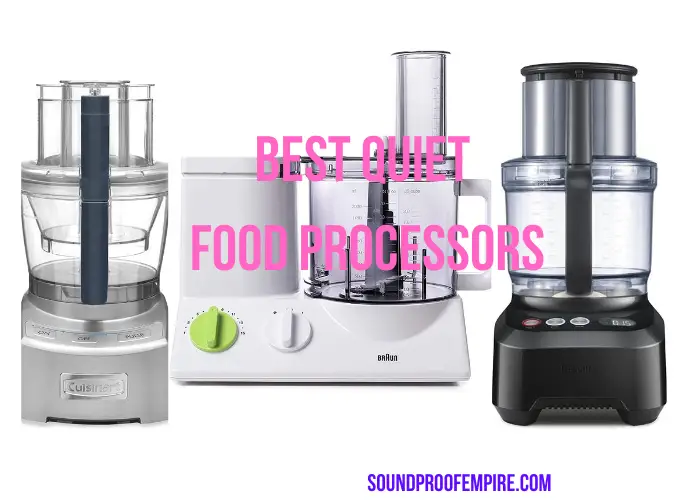 Food processors may look compact and don't take up a lot of space in the kitchen. But they can do all the heavy-duty chopping, grinding, grating, and more for you.
However, food processors can be a source of noise to you and your household when you are busy running them. Because of that, most people are seeking to find a food processor that has a quiet operation to avoid disturbing other household members or neighbors.
I understand how important it is for you to keep your kitchen quieter and how frustrating it can be to search for the quietest food processor in the market. There are many brands and models of food processors such that it can even get overwhelming to choose from the lot.
That is why I decided to help you save the time of searching around by doing the research for you. These food processors were gathered using users' experiences.
What is a Food Processor?
A food processor is a kitchen appliance used to facilitate repetitive tasks like slicing, dicing, chopping, mixing, and among others. They are mostly electric motor-driven appliances even though some are manual as well. With a food processor doing most of your prep work for you, you can be sure to be in and out of the kitchen faster.
Unlike a blender, a food processor typically requires little to no liquid during use. You can chop, dice, blend, slice, and do more with it for quick meal preparation.
Similar Reads:
Types of Food Processors
There are three main types of food processors and including; full-sized, mini choppers and dual food processors, and blenders.
Full-Sized Food Processor
Full-sized food processors can take a lot more capacity like at least 9-cups and they are ready to take on a range of tasks. They have larger bowl sizes, feed tubes, and precision settings plus smart accessories.
Mini Choppers
Mini choppers are compact and usually can take a capacity of 3-to-5 cups and it's a perfect fit for tight squeezes. Its streamlined design quickly dishes out smaller servings like dips, sides, and appetizers.
From chopping nuts, and herbs, mincing garlic, slicing veggies, and more, mini choppers are quick to get out, set up, and use for everyday kitchen tasks.
Dual Food Processor and Blender
A food processor combo is a 2-in-1 design that brings effortless convenience to your countertop and cuts down on counter clutter with two tools in one.
They come with interchangeable carafes for blending and processing, this smart essential packs power and precision for everything from pureeing to crushing ice to shredding to slicing.
The Top-Rated Quiet Food Processors
If you are looking for an ultra-quiet food processor for your kitchen at home or restaurant, then look n further as these best food processors reviewed below are some of the best quietest food processors in the market.
1). Breville BFP800XL Sous Chef Food Processor
The Breville Sous Chef food processor makes a perfect addition to any kitchen. You can mix, knead, slice, dice, pound, and combine ingredients effectively. You can try different recipes with it without much effort. This Breville food processor is one of the best quietest food processors in the market that you can depend on.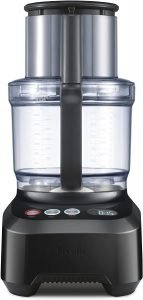 The unit has 16 cups (3.8L)  large bowl and 2.5 cups (600ml) small processing bowl BPA-free processing bowl.
It also comes with 5 multi-function discs and 3 blades that can process your foods perfectly. The discs included are a mini blade, a French fry cutting disc, a julienne disc, a reversible disc, whisking, a shredding disc, and a dough blade. There is a small and large food pushers so you can add in small and large quantities with ease.
The 5.5-inch super-wide feed is wide enough for chunky fruits and vegetables. The LCD display is able to display count-up and count-down with the auto timer.
This Breville Sous Chef Food processor runs on a cool 1,200-watt motor which means you can chop food very finely. You might think that with its power, it should be quite noisy but it isn't.
---
2). Cuisinart Elite 2.0 12-Cup Food Processor
This Cuisinart Food Processor features a 12-cup work bowl, a large feed tube, and stainless steel blades. The motor works on 1000 watts which is enough power for everyday processing yet is quiet enough to not disrupt conversations.
It is made of shatter-resistant plastic which is great if you have butterfingers. The feeding tube is wide enough to put larger foods like broccoli or zucchini inside the processor.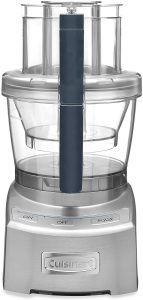 The 4-cup work bowl nested inside the big bowl, along with the adjustable slicing disc and reversible shredding disc, provide home chefs with multiple food processors in one.
This processor offers 7 working modes- kneading, dough mixing, slicing, chopping, pureeing, shredding, and emulsifying. You can change the modes via the touch buttons.
This appliance is dishwasher safe too, so cleaning is a no-brainer. Just like most food processors, this product also comes with four rubber feet underneath to prevent it from sliding across the countertop when it's performing heavy duty.
This unit comes with a 10-year motor warranty and a 3-year limited warranty.
---
3). Braun Ultra Quiet Food Processor
This Braun food processor with an ultra-quiet motor is rated at 600 watts and can deliver up to 900-watt peak power.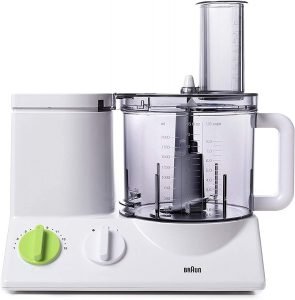 Plus, all its parts are removable and dishwasher friendly except the motor. There is also a safety precaution that won't let the unit start unless the lid is closed tightly. Which makes it ideal for many people.
This food processor is compact by design and consumes less power too. This will free your space and also save on electricity bills.
---
4). Hamilton Beach Stack and Snap Food Processor
Looking for a quiet food processor and you have a limited budget? Well, this prepping appliance is the right choice for you.
The sides of the bowl have special attachment scrapes that chop or puree ingredients without producing too much noise. The most beautiful thing with this food processor is that it can handle large quantities of food at once without the need to stop and empty it.
Designed to be uniquely simple, the Hamilton Beach Stack & Snap 12 Cup Food Processor requires no twisting, turning, or locking during assembly
It has a high-speed pulse and amazing cooking experience due to the simplicity when it comes to operation. Besides that, the low energy consumption rate gives it a great punch when it comes to electricity bill saving.
The stainless steel blades and disc tend to last longer since they do not experience rusting or corrosion despite coming into contact with favorable factors. 
---
5). Cuisinart 7-Cup Food Processor
This Cuisinart 7-cup food processor has a 600-watt quiet motor that operates quietly. If you are looking for a quiet mini food processor, then this Cuisinart 7-cup comes recommended.
The unit comes with a medium slicing disc (4mm), a shredding disc, and new stainless steel chopping blade, small and large pushers, a detachable disc stem, a compact flat cover, a spatula, and a recipe book.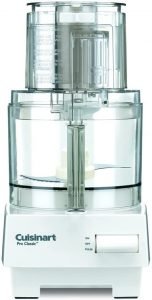 It has an extra-large feed tube that holds whole fruits and vegetables; BPA-free and dishwasher-safe parts. Plus, it is easy to clean and comes with a 5-years full motor warranty and a 3-year limited entire unit warranty.
---
6). KitchenAid 7-Cup Food Processor
This 7-Cup Food Processor features an innovative design with a one-click, twist-free, bowl assembly, and latched lid that is very easy to use and clean.
The blade and disc fit inside the bowl to make storage easy. Simple Controls with 3 Speed Options (High, Low, and Pulse) handle a variety of ingredients with precision, and the easy-press paddles and illuminated LED controls make operation simple.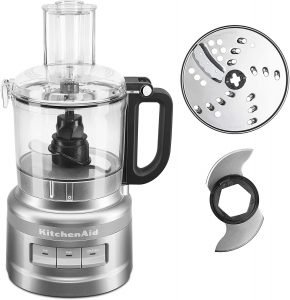 You can do a lot with this unit like chop, puree, shred, and slice any of your favorite foods and vegetables.
A variety of shapes and sizes can be processed in the 2-in-1 feed tube located on the lid. The small pusher features a small oil drizzle opening for emulsifying sauces and dressings.
7). Oster 10-Cup Food Processor
The Oster 10-cup food processor can make do a lot in your kitchen to help you prepare your food faster and easier.
Powered by a 500-watt motor, this electric food processor makes sure that many of your cooking tasks – including chopping, blending, and grinding – are done in minutes.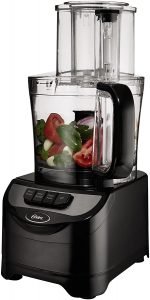 With two speed settings, this food processor gives you complete control over the food being processed. The pulse control lets you ensure the food is not over-processed.
---
How to Choose a Food Processor
If you cherish, quietness, versatility, and efficiency, then a quiet food processor are likely going to be an indispensable appliance in your kitchen. But what features and factors should you consider before you purchase one? Here, you will find some factors to guide you in your selection process.
Features
Food processors come in all sizes, from tiny 3-cup choppers to 20-cup versions that could function in a restaurant kitchen. What size is best for you depends on the number of people you typically cook for and the recipes you'll prepare with it.
If you often cook for a family of four or so, 11- an cup size processor should do the job. If you do a lot of small chopping of herbs, nuts, or small quantities then a mini chopper will do.
Power
The power of your processor will determine how powerful it is to handle tough jobs like chopping raw carrots, kneading stiff dough, or shredding hard cheese. Otherwise, you run the risk of the machine spoiling or not chopping or combining uniformly. For a full-sized food processor(9 cups or more), you should seek out a motor that is at least 600 watts.
Attachments and Accessories
Some units are well equipped with a lot of accessories that are intended to maximize your use of the device. These can include different-sized work bowls and blades, disks that slices and grade foods to various thicknesses, bread dough kneader, and other speed settings for turning your processor into a citrus juicer.
Price
There are many brands and models of food processors in the market today all aiming to help you accomplish your kitchen tasks. Depending on your budget, there are varying prices to choose from. From less than $100 to over $600. The price will depend on the features, power, and more. If you are willing to invest more, then you can get a high-quality processor that will last you a long and do some of the powerful jobs for you. On the other hand, if you have a small budget, you can get a decent one for a low price.
Is a Food Processor Worth It?
If you have been wondering if investing in a food processor is worth it,  I will make a point here and let you decide if you should get one or not.
A food processor can replace a lot of other kitchen appliances like a mixer, hand chopper, blender, and dice veggies much faster than you and your cutting board. Another pro is having a food processor means easy cleanup and faster cook. Given they are in every major restaurant kitchen across the world, most chefs agree a food processor is worth it.
What Makes Food Processor Makes Noise?
The most common type of noise you would hear from a food processor is grinding and squealing sounds. These sounds can be annoying especially if you are preparing food at night or early morning.
This is what will cause your house members to wake up or neighbors to start complaining.  A food processor has several parts that are responsible for making noise.
Some of these parts are the blades, disks, gear, stem, adapter, and extensions. Any problem with these parts could result in disgusting sounds.
The problem is that some brands of food processors do naturally make noise when in use. So, even if you want to troubleshoot and diagnose any noise issues, it might be good to keep that in mind it might just be the model or brand.
This means that the production of noise does not imply that your cooking appliance has an issue. In case of weird sounds like grinding and squealing then you need to call upon an expert for diagnosis. Hence, this will help you know whether to buy a new one or not.
Latest posts by Josephine
(see all)