Looking for a quiet toaster oven for your kitchen?. Well, then you're in the right place. In this silent toaster ovens guide, you can expect to learn:
What is a toaster oven?
Our top-rated quietest toaster oven picks
What to look for in a toaster oven
Final thoughts
And More…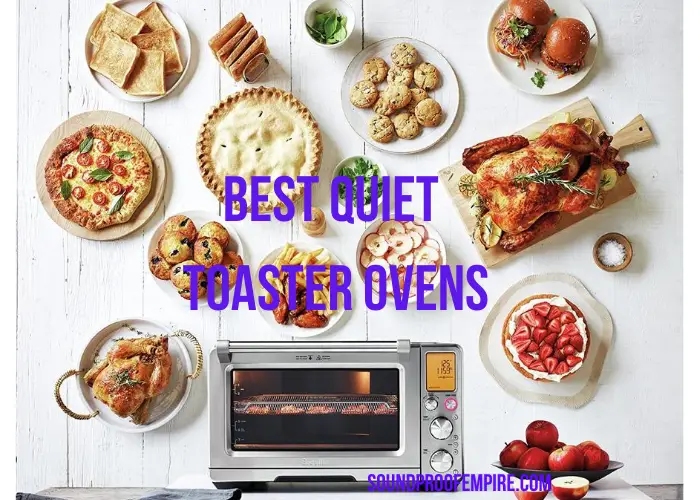 If you enjoy crisp slices of toasted bread for breakfast, frozen pizza for snacks, roasting chicken, or baking up impromptu batches of cookies,  toaster ovens is incredibly multitasking appliances for convenient cooking.
Whether you're a busy mom, a student in a dorm, or a white-collar worker who'd rather spend their time not cooking, you should try a toaster oven. I assure you you will never go back.
If you don't like turning on your range or wall oven for smaller meals or dishes, you may want to get a toaster oven to help you. They are also great for larger families as well. These days, you get a lot of quiet affordable high-end toaster ovens that have convection cooking settings that enable you to cook dishes faster and save time and energy.
similar Reads:
Top-rated quiet juicers for making your favorite juices
However, with the many toaster oven models in the market, some are quieter than others. If you have kids, share a living space or have very close neighbors, you surely would prefer a toaster oven which is quieter in operation to avoid waking others up when you want to heat that leftover at midnight.
Hence in this guide,  I did deep research and compiled some of the top-rated quiet toaster ovens to help you narrow down your selection and to choose the best toaster oven for your needs.
What is a Toaster Oven?
If you are wondering what is a toaster oven?. A toaster oven is a small kitchen appliance that looks like a miniature oven. It is usually powered by electricity. It can also be retailed with a front door that can either be opened downwards or sideways.
The toaster oven comes with a removable baking tray and wire rack and it's usually placed on a shelf or a countertop in the kitchen.
A toaster oven as its name suggests an oven that serves as the perfect middle ground between a toaster and a regular oven. It can be used for toasting bread, and pastries, cooking pizza, and chicken, and much more.
Top List Quiet Toaster Ovens
Below are some of the top-rated toaster ovens with less noise that you can select from to save you time.
1). Instant Pot Omni Plus Toaster Oven
This instant Omni Plus toaster oven and air fryer is a great addition to any kitchen. It cooks fast, nutritious, and easy-to-cook meals. With this large toaster oven, you can air fry, dehydrate, roast, toast, bake, or broil all the foods you need to feed your family.
It is equipped with a quick-to-heat element that heats up fast and turns your food to perfect results. You can select the variety of one-touch cooking options which consist of 11 smart programs and just press start.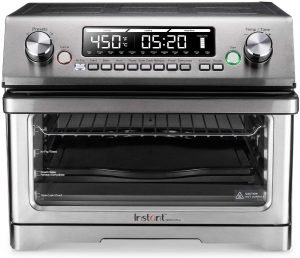 With this large capacity oven, you can toast 6 pieces of bread at the same time, bake a 12" pizza, make a cake, or even roast a whole chicken.
 For those who like to experiment a little, the Omni Plus Toaster Oven provides the flexibility to adjust settings to customize your culinary experience.
This instant Pot Omni toaster oven comes with everything you need to start cooking—right out of the box: Oven rack, cooking pan, air fryer basket, rotisseries spits and forks, and a rotisserie lift. Here is one of my favorite quietest air fryer toaster oven models.
---
2). Cuisinart TOB-260N1 Chef's Convection Toaster Oven
This Cuisinart Chef's convection oven can boast 15  cooking functions and offers special settings for speed convection, bagels, and sandwiches. It has got a heating power of 1800 watts which provides you with quicker heating time.
It is easy to clean because of its nonstick interior and it is so roomy such that it can hold a 13-inch pizza, 9 slices of bread, an entire 9-pound chicken, and a 9″ x 13″ baking pan.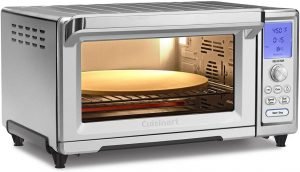 It has an intuitive and easy-to-use user interface with functions such as Toast, Bagel, Waffle, Keeps Warm, Bake, Broil, Roast, Pizza, Leftovers, Sandwich, and Defrost.
It also has a dual cook function which allows you to run two cooking functions at two different temperature levels consecutively.
This is great for dishes that can benefit from top browning, tougher cuts of meat, or slow-cooking items for up to 4 hours on two cooking settings. Plus, it also has two convection settings that can be turned on at any time with a separate convection touch button.
It comes with 2 Oven Racks, a Baking/ Drip Pan, a Broiling Pan, Removable Crumb Tray, 13 inch Pizza Stone, and Recipe Booklet.
---
3). Breville Smart Oven and Air Fry
This Breville Smart Oven is a great large quiet countertop toaster oven that is capable of roasting for large gatherings. This smart toaster oven can reduce cooking time by up to 30 percent with great crispness. It can take 9 Slice Toaster, a 13″ Pizza, a 9″x 13″ baking pan, 12 cup muffin tray, 14 lb Turkey.
It's equipped with 13 smart cooking functions with air frying and dehydrating. The 13 cooking functions include; Toast 9 slices, Bagel, Broil, Bake, Roast, Warm, Pizza, Proof, Air Fry, Reheat, Cookies, Slow Cook, and Dehydrate.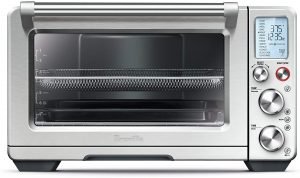 It also comes with a 2-year Limited Product Warranty; Power: 1800 Watts.
The 2-speed convection fan (Super & regular) offers greater cooking control and the  super convection provides a greater volume of air to ensure fast and even heat distribution, perfect for air frying, dehydration, and roasting
4). Oster XL Digital Convection Oven with French Doors
Oster XL digital convection oven with French door combines superior performance and modern design that will make a perfect addition to your kitchen.
It has an extra-large interior that can hold two 16 inches of pizzas, family-sized chickens, roasts, casseroles, or 14 slices of bread.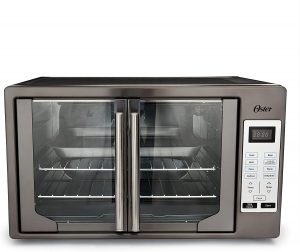 This requires minimal maintenance to retain a lustrous appearance. Simply wipe with a dry cloth to remove any smudges in seconds.
It has digital controls that provide you with simple cook functions including dehydrating to make your own dried veggies and fruits.
This quiet countertop toaster oven also features two racks for maximum cooking real estate, a durable baking pan and baking rack that can be combined to make a broiler, and one-handed door pulls that open both doors simultaneously
The turbo convection baking technology cooks faster and browns more evenly with its 1524-watt power. This is one of the quietest convection toaster oven models.
---
5). Chefman Air Fryer Toaster Oven
This is one of the affordable air fryer toaster ovens that provide you with multi-functional performance in order for you to enjoy delicious meals with convenience and ease. This countertop convection oven + air fryer can cook faster and more evenly than most traditional ovens.
The Chefman toaster oven comes with cooking functions like air fry, bake, broil, convection bake, toast, and warm, as well as a temperature range from 200-450° F to set at the desired temperature.
The 7 preset options make you cook quicker with a press of a button. Plus, the interior lights allow you to easily monitor the cooking process.
It has got a large  25-liter capacity that you can fit 6 slices of toast and most baking pans. With a 60-minute countdown timer and ready signal bell, you always know when your food is ready; the unit automatically shuts off when the door is opened for added safety.
The interior is nonstick and the stainless steel exterior makes it easy to clean. It comes with an air fry basket, flat wire rack, broil pan, and crumb tray are easily removable and dishwasher safe. It comes with a 1-year warranty.
6). Aobosi Electric Air Fryer Oven Toaster
This Aobosi air fryer toaster oven comes with 10 preset functions which include; Air fry, Pizza, Toast, Rotisseries, Bake, Air broil, Warm, Air roast, and Dehydrate. Bake directly.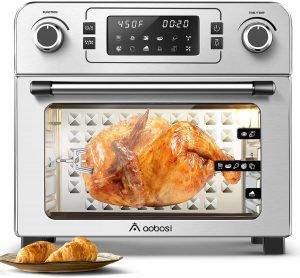 It has a large capacity of 23L with a three-layer cooking space. This Aobosi air fryer oven can easily contain 8-inch pizzas, 6 slices of toast, 18 chicken wings, a whole 4lb chicken, and over 1kg french fries.
It comes with a 60 minutes timer and max temperature of 230℃/450℉ which you can easily control with the touch screen on the LCD display.
It also uses convection cooking technology that allows 360 degrees all over heating elements to heat your food up evenly and faster. Plus, it comes with a 2-year warranty.
---
7). Calphalon Quartz Heat Countertop Toaster Oven
The Calphalon Quartz Heat Countertop Toaster Oven is designed with an innovative quartz heating element to deliver 40% more even heat for even cooking and crispy consistency.
It comes with 11 preset cooking functions: Bake, Pizza, Broil, Toast, Bagel, Roast, Defrost, Warm, Reheat, Cookies, and Dehydrate.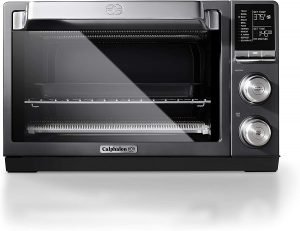 With regards to capacity, it is large enough to fit 12″ pizza and precise enough to roast a chicken. It preheats in just seconds to save you time.
The high-definition intuitive LCD display helps you to control all the features on it easier and quicker.
Accessories included in the package are a baking pan, pizza pan, dehydrator rack, and wire rack. 
---
How to choose Toaster Ovens
Whether you are new to toaster ovens or you have one already, here are some tips to guide you in your selection.
Advanced Heating Element
Standard conventional toaster ovens mostly have one or two heating elements that browns and toast food on both sides. However, some high-end models often feature multiple, adjustable cooking elements that are designed to accommodate baking with even heat, broiling with top-down heat, and convection heating, which circulates hot air around your food for faster cooking.
Latest posts by Josephine
(see all)