Quiet Juicer:7 Best Silent Juice machines/Extractors
Looking for a quiet juicer for your kitchen?. Perfect, then you're in the right place. In this silent juicer machines guide, you can expect to learn:
What is a juice machine?
Masticating vs centrifugal juicers
Our top-rated quiet juice maker picks
How to choose a juicer
and More…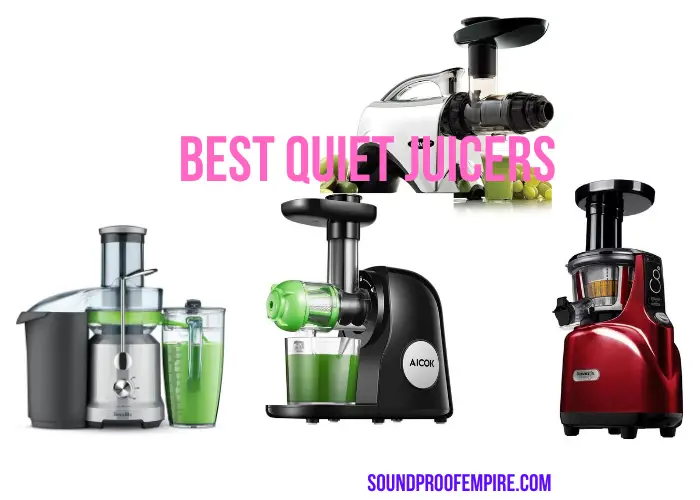 Quick Lists of the Top-Rated Quiet Juicers for Tasty Fresh Juice
Short on time?. I understand. Check out this quick overview of the top silent juicer makers.
Kuvings BPA-Free Silent Juicer SC Series (2nd Runner Up)
Hurom Elite Slow Juicer (1st Runner Up)

Omega Juicer Extractor and Nutrition Center ( Editor's Choice)
For the past 2 years, I owned a healthy juice small shop in my town. I have used and have come across several brands of juicers. Some can make a hell lot of noise that you can't even hear your customers or workers talking to you.
I have tried a lot of home juicers and I can literally tell you which juicer is quiet in operation and which is not. I believe you are here because you want to make healthy juice at home but you don't want to disturb the peace of your household or neighbors.
That is why I decided to help you out by compiling the quietest juicers I have come across in my juice making journey. Hopefully, you pick one that will help you make tasty juice for yourself and your family without a lot of noise.
What is a Juicer?
A juicer which is also known as juice extractor is an appliance used to extract juice from fruits, herbs, leafy greens, and other vegetables. The juicer is able to crush, grind and/or squeeze the juice out of the pulp.
Some juicers also have attachments for crushing herbs, grinding coffee, making nut milk, spices, extruding pasta, baby food, nut butter, noodle or breadsticks, and more.
Similar Reads:
Masticating vs Centrifugal Juicers
These are the two main types of juicers I will be talking about in this guide. Let's see what the differences are:
Centrifugal juicers are more popular compared to masticating juicers. Centrifugal juicers basically use the same technology as most blenders. I guess you can call them quiet juicer blenders. They use the flat cutting blade, mostly positioned at the bottom of the juicer. The blade there is attached to a spinning strainer that rapidly rotates.
Masticating juicers use grinding or chewing technology which operates at very slow speed, and basically 'chews' the fruit into a pulp. These juicers do not use spinning blades.
As to which is better will depend on how you want the juice to be like. They both have their pros and cons.
Best Quiet Juicer Machines Reviews
If you are looking for the most quiet juicer, then look no further. As these high-quality silent juicers will be able to make your favorite juices without noise.
1). Kuvings BPA-Free Silent Juicer SC Series
This Kuvings Silent Juicers SC series features improved low-speed masticating technology that retains the nutrients, flavor, pulp, and fiber of your juice.
Its quiet 240-watt motor operates at 80 RPM minimizing noise while extracting the juice without overheating.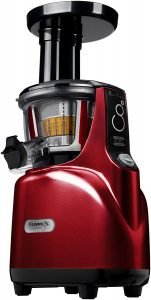 This juicer has a user-friendly detachable smart cap for drip-free operation and easy and quick rinsing. Its components are BPA-Free that prevents chemical leaching.
The SC Series Juicers are compatible with the Kuvings Frozen Dessert Maker Attachment (sold separately) which allows the juicer to make frozen desserts, mince fruits and vegetables, and even make baby food.
Please note that this Kuvings quiet juicer is 110V and may be used in USA/CANADA only. When it comes to the quality of its materials, this juicer is said to be good. It is also quite user-friendly and intuitive to operate. All in all, consumers adore this model.
The two-step safety start system ensures that there is proper assemble and safe operation when you are making your juice. This juicer is backed with a Kuvings 10-years warranty.
---
2). Hurom Elite Slow Juicer
Rotating at just 43 RPM, the Hurom juicer is quieter than other cheaper juicers or blenders. This juice extractor uses very advanced and efficient juice extraction with twin-winged auger and advanced auto-pulp features.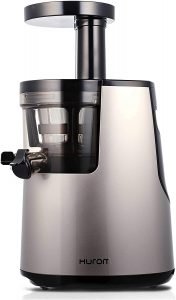 The Slow Squeezing Technology(SST) makes it easy to clean and maintain. It is able to masticate and squeeze the juice out of the fruits or veggies evenly and thoroughly.  The Slow juicing also retains heat-sensitive nutrients such as Vitamins A and C, and live enzymes.
This cold press style fresh juicer by Hurom claims to give you 35% more juice from your fruits and veggies when compared to high-speed juicers, and it goes deliver good results.
The juicing process is quite slow, silent with low heat that maintains all the nutrients present in your food. With this Hurom quiet juicer, you have two available colors to choose from; Wine and Silver colors.
---
3). Aicok Quiet Juicer Machine
The specially decelerated gears in the Aicok Juicer allow it to extract juice at a slower speed with less vibration and noise. This is a low-speed masticating juicer that runs at 80 rpm on a 150-watt motor, keeping down the heat from both the motor and friction.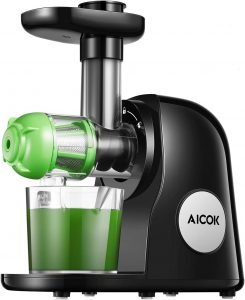 This multi-purpose quiet juice extractor can extract various vegetables and fruits such as celery, ginger, wheatgrass, carrot, apples, oranges, leafy greens, and more.
This unit is silent, convenient, easy to assemble, operate, and clean. You can easily clean it in your dishwasher. It's able to operate quietly at less than 60 dB.
This juicer also comes with a 3-year warranty, it's certified by UL, ETL, and uses advanced technology in extracting your juice.
---
4). Omega Juicer Extractor and Nutrition Center
Omega Juicers have always been popular for their quality appliances which are powerful and durable at the same time. It uses a low speed of 80 RPMs results in minimal heat buildup and oxidation promoting healthy enzymes.
It is easy to assemble the unit that needs minimum upkeep and you get a warranty up to 15 years from the company.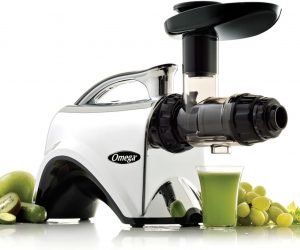 The product has an automatic pulp ejection function that helps to make large quantities of juices without having to stop during operation.
The adjustable end cap has 5-settings for maximum juice output and extraction. Enjoy continuous juicing with automatic pulp ejection.
This machine voltage is 110/120, and the wattage rate is 200 Watts. When it comes to the quality of its materials, people report that this quiet juicer is of high quality.
It is defined to be highly efficient and low maintenance. Also, Users describe both the operation and the cleanup task as straightforward.
---
5). Cuisinart  CJE-100 Die-Cast Quiet Juice Extractor
 This is a Die-Cast juicer that features a 1000-watt 5-speed motor. It comes with a control dial with blue LED light ring for smooth and comfortable operation. It also includes an anti-drip adjustable flow spout and an easy unlock and lift system.
Getting your juice a lot faster can be accomplished with the Cuisinart CJE Die-Cast Juice Extractor. The 1000 watt power of the motor on this unit will quickly chew up larger vegetables fed through its 3-inch feeding chute without any trouble.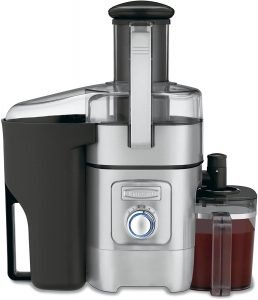 Some whole vegetables can be fed through the chute saving on preparation time and getting to those nutrients faster.
This Cuisinart quiet juicer is built out of stainless-steel housing and dishwasher-safe parts. It also comes with a cleaning brush.
It features a foam-reducing filter basket and includes a 2-liter pulp container and a 1-quart juice pitcher. People describe this model as very quiet. Also, the cleanup task is described by users as quite comfortable.
---
6).
Sagnart Juicer Machine for Vegetables & Fruits
This one made it to the list because of the unique and efficient design and great results. It is a tiny bit louder than other masticating juicers on this list – producing noise of 65 dB, which is still quite quiet.
Sagnart masticating juicer uses a very low-speed motor, which operates at 55-65 RPM. Thanks to the low RPM, very little heat is generated.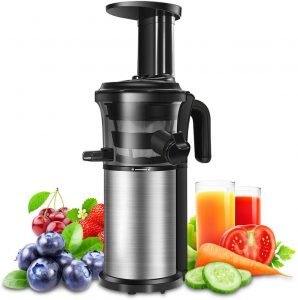 This model is very compact and lightweight, weighing only 7.56 lbs. It features standard forward and also reverse function, so the juicer will not get clogged.
The parts of the juicer are detachable and easily cleanable. The entire juicer is corrosion and heat resistant. It also uses Tritan's food-grade material, which is FDA approved.
---
7). Breville BJE430SIL Juicer
This modern-looking juicer has an upright design and handles hard produce like a champ.  It uses cold Spin technology that allows the juice to flow up through and through the stainless steel cutting disc surrounded by an Italian Made mesh filter to ensure an insignificant temperature increase.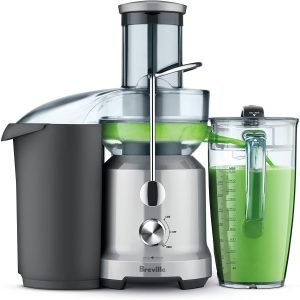 Juicer material is a sturdy hard plastic that is sure to last. I recommend taking the seeds out of the fruits before juicing as they might shorten the blade's lifespan.
This juicer is great to use if you're pressed for time in the morning and still want to get your juice fix.
I'd like to note that this juicer is big, so if you're short on kitchen counter space, you may want to reconsider another model.
It also features a 70-ounce seal, 2-speed electronic control, 3.4-liter pulp contains capacity, 850 watts, and voltage 110v to 120v.
---
How to Choose the Best Quiet Juicer
Choosing the right silent juicer can be tricky especially if it is your first time buying one. You might not be sure what to look for. Here are some factors/features to look out for.
Noise Level
Juicers noise is a problem for many juice lovers. Making fresh juice has become common in many American households. If you are noise adverse like me, you might want to pick a quiet juicer to prevent neighbors complains or disturbing your home members.
By design, masticating juicers are much quieter than centrifugal counterparts. This is because they operate at slower speeds and don't do a lot of spinning.
However, there are several centrifugal juicers that use various sound-isolation technologies, which directly compete with masticating juicers in regard to noise.
 Juice volume
Since the two juicers use different juicing technologies. It is obvious that masticating juicers through direct volume comparison produce more juice from the same fruits than centrifugal juicers.
It also depends on the juicer itself, but in most cases, you can count on about 14-22% more juice produced with masticating juicers.
Enzymes
Enzyme absorption is another factor people look at besides the juice taste, minerals, and vitamins. Quiet Masticating juicers squeeze their juice out slowly with little friction. Which means the temperature of the fruits and veggies will be almost the same temperature.
Since spinning strainers that are used in centrifugal juicers rotate at very high speeds, they generate a lot more friction and also heat. It is believed that heat and friction can destroy the enzymes found in fruit juice but this is not neccesarily true unless the heat level is above 118°F (47.7°C), which is practically impossible to achieve with centrifugal juicers.
If you are concerned about the enzymes been destroyed, don't worry as neither juicer will destroy your juice enzymes.
Preparation Time
If you were to use the same quantity of fruits and veggies and use both centrifugal and masticating juicers at the same time to see which will accomplish the job faster, then centrifugal will win the competition. Centrifugal juicers have larger containers while masticating ones have smaller containers and cant handle a lot at once.
Pulp
In terms of pulp, masticating juicers will produce bigger pieces of pulp and the main benefit is fiber. While on the other hand, because of the spinning blades of centrifugal juicers, the pulp is shredded into micro-pieces.So, you won't taste the pulp much.
Cleaning
If you are concerned about how easy it is to clean the juicer, then it is understandable. Because you want an appliance that is easy to clean and maintain. So some customers are always willing to check if the device is able to easy to clean.
Speed
The higher the speed of the juicer, the more noise it makes. At higher speeds, there is more friction and more heat. Which can start to breakdown some of the nutrients, thus not giving you all of the nutrition you might get from a slower speed juicer. Heat adds to the oxidization of the juice and its nutrients break down much faster, making extraction virtually useless, with minimal oxidization from masticating juicers, juice can retain its nutritional value up to 72 hours.
Price
There are good quiet juicers available at nearly every price range, whether you're on a budget or not. Centrifugal and masticating juicers definitely differ here. Slow juicers normally come out more expensive.
The worth of a juicer may not always be dictated by the price. A hefty price tag does not guarantee a perfect juicer.
Benefits of a Silent Juicer
Juice from fruits and vegetables contains a higher concentration of their nutrients. Having a single glass of juice is equivalent to several servings of fruits and veggies.
Using a Silent juicer besides the noiseless operation, allows you to consume the nutrients in the food amounts and they don't get lost because of heat.
Many of the benefits of fruits, vegetables, and herbs are lost when they are cooking. Juicing allows you to consume the raw forms of these foods, retaining their highest nutritional values.
Final Thoughts on the Quietest Juicers
All the above products have their own pros and cons. However, as someone who is using juicers for health and dieting purposes, I tend to be more partial for cold-press juicers.
Other than the quiet operation, they produce low heat, preserving the flavor and the nutrients of the produce.