5 Quietest Microwaves with Silent Mode
Looking for a quiet microwave for your kitchen?. In this quietest microwave with a silent mode guide, you can expect to learn the following:
How Does Microwave Work?
A quick guide to buying a quiet  microwave
Our top microwaves in the market pick
What makes a microwave noisy?
How to fix a Noisy Microwave oven
Final Thoughts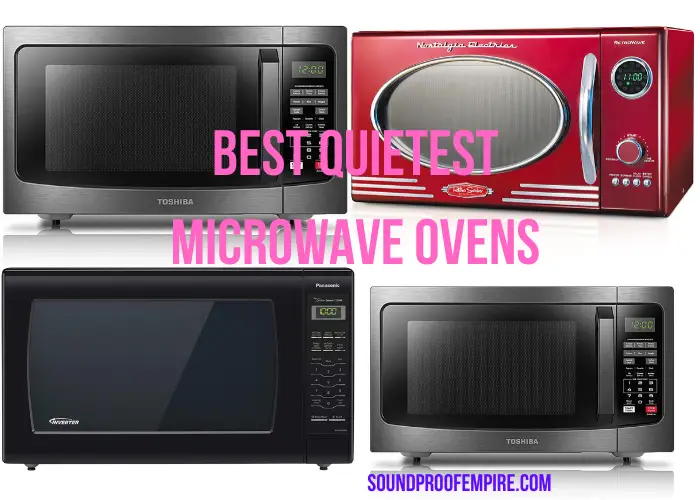 If you are already familiar with microwaves, you probably know that they are not the quietest appliances in the kitchen.
It can be a dreaded experience trying to warm food or snack at late night or in the early mornings when everybody is asleep without waking people up.
If it is not the loud sound when closing or opening the microwave door, or the humming sound when it is in the process of microwaving, then it is the beeping sound that signals the end of the process.
All these can even make you cancel the idea of using the microwave altogether at quiet times.
But it doesn't have to be so if you are using a  quiet microwave that doesn't make much noise. In this guide, you will have the option to choose some of the best quiet microwaves on the market today.
Because the microwave is also one of the most frequently used appliances in most homes in this modern time, you do not only need a quality microwave but also a microwave with a silent mode of operation.
How Does a Microwave Oven Work?
The term microwave is used to refer to the range of frequencies in the frequency spectrum. So microwave oven operates in the microwave frequency spectrum. The microwave frequency band is in the Gigahertz. Ranging from 1 – 12 GHz.
You might be wondering how is this frequency generated within the microwave oven. There is a component in the microwave precisely placed at the back called the magnetron.
The magnetron which is a tube is responsible for creating microwave energy. This energy is then directed towards the food by the waveguide to heat the food. The energy causes the food to warm up from the inside out.
That is a simple explanation of how a microwave oven works.
Our Top Listed Quiet Microwaves with Silent Mode
T save you time and confusion because of the share number of microwaves in the market today, I have done the research and gathered the top-rated quiet microwave ovens for you. This will make your life easier and save you lots of time researching yourself.
1). Breville BMO850BSS the Smooth Wave Countertop Microwave Oven
This microwave is engineered with an 80% quieter soft close door and 50% quieter in operation.  It is a microwave with a senior iQ technology that takes the guesswork out of the cooking by automatically adjusting power to precisely cook or reheat, defrost, etc.
There is a noise-dampening material that is used within the 1200w motor housing to keep the noise emitted at bay. That is why is about 80% quieter than other microwaves. When the food is ready, there is a quiet "ding" instead of the beep sound most microwave ovens make.
The smooth wave has a load of shortcuts. Inside the door are a series of One-Touch Buttons, pre-programmed to perform specific tasks.
There is a perfect popcorn button, one for melting chocolate, reheating pizza, and another for softening butter.
The control panel is intuitive and displays all the information on a large, backlit LCD screen.  There are 2-dials, one each for timings and the other for the required power. The smart reheat, defrost, and cook buttons are above a turntable stop and safety child lock button.
Overall, this is a high-quality quiet microwave that comes highly recommended.
---
2). Panasonic NN-SN966S Inverter Microwave Oven
This Panasonic inverter microwave oven is by far the largest and the most powerful of the ovens reviewed above. It has an internal capacity of 2.2 cubic feet and a cooking power of 1250 watts.
This makes it one of the best microwaves for large families and a large kitchen area with plenty of space.
It is equipped with an inverter technology that has turbo defrost settings that provide enough stream of power for heating and cooking food.
The Panasonic microwave oven features smart sensor settings that allow you to dust time and power based on your food preference.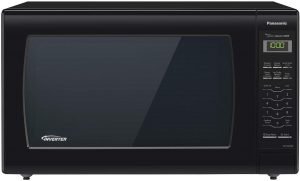 There are other interesting features of this microwave oven as well. These include; 14 preset cooking settings, a quick timer, delay start, and a child safety lock.
There are three colors to select from which include; white, black, and silver. The other option you also have is to choose between the dial and the keyboard style of this microwave oven.
This countertop microwave has an internal dimension of 10.94 x 18.44 x 18.50 inches and an external dimension of 14 x 23.9 x 19.4 inches. The turntable is 16.5 inches in diameter, it's lighter, thinner, and more efficient.
Features
Uses inverter technology
Has 14 pre-programmed cooking settings
The capacity of 2.2 cubic feet
Cooking power of 1250 watt
---
3). Toshiba EM131A5C-BS Microwave Oven
The Toshiba EM!#!A5C-BS microwave oven is a fully-featured countertop microwave oven with pre-programmed sensor features for optimum heating of popular foods like potatoes, veggies, pizza, and more.
The built-in sensor constantly detects the humidity level of the food during cooking, then automatically adjusts time and temperature for best results.
It also has custom defrost functions that allow you to defrost frozen foods. You simply choose the custom to defrost the menu and input the weight of the food you want to defrost and allow it to do the rest of the job for you.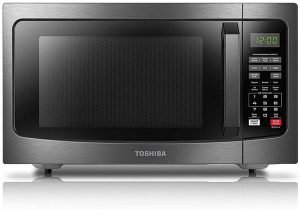 This microwave oven is made of a stainless oven that gives you two color options to choose from; plain and black stainless steel colors. It also has an internal size of 1.2 cubic feet with a dimension of 13. 07*15*9. 5 inches. The turntable is also about 12.4 inches in diameter.
The large display makes it easy to read the control panel, it has a power-saving mode to help conserve electricity. This oven is an 1100-watt microwave with 10 power settings, a kitchen timer, and a clock.
The cool feature which makes it quiet is the ability to turn the sound Off or On. This allows you to heat those leftovers at midnight in quietness without waking up the whole house. Plus, it comes with a  1-year warranty.
Features
1100 watts with 10 power levels

Oven Capacity: 1.2 cu. ft.

Turntable diameter: 12.4 ''

LED display
Sound off/ on button

External dimensions: 20.5''*17.1''*12.8 '' (W*D*H)

Internal dimensions: 13. 07''*15''*9.5 '' (W*D*H)
---
4). COMFEE' EM720CPL-PMB Countertop Microwave Oven
This COMFEE countertop microwave is one of the affordable microwaves with a silent mode integrated for quietness.
It is a compact oven with an exterior dimension of 17.3" x 13" x 10.2" (W*D*H) and an interior dimension of 12.05" x 11.97" x 8.11" (W*D*H). This oven has a  capacity of 0.7 cubic feet and power of 700 watts with 11 power level settings.
Its compact nature makes it ideal for small kitchen areas like offices, hostels, or apartment rooms which mostly don't have larger kitchen areas.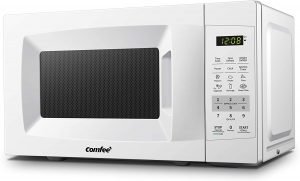 This 700-watt microwave oven has six auto-cook keys for preset food items like popcorn, pizza, frozen veggies, reheat, potatoes, and beverages.
Plus,  it also has a one-touch express cooking function with 1-6 minutes and + 30 seconds functions, and two defrost settings which you either choose by time or weight.
The power-saving mode feature allows you to save on electricity bills and the ECO mode makes the display power turn off if you are not using the appliance. All these make you save money.
The bright digital display makes it easy to read the settings while your meal is cooking.  You get a 1-warranty with this microwave oven.
There is an integrated kitchen timer, and a child safety lock that prevents kids from opening it when it's in use and the mute function is what allows you to turn the sound off.
Features
Turn off all the microwave beeps by pressing the sound on/off button.

One-touch cooking for six common foods.

0.7 Cubic foot capacity.

700 Watts 11 Power settings.

LED digital control panel with an interior light.

Removable 10-inch glass turntable.

Compact size: 17.3" x 13" x 10.2" (W*D*H)

Internal dimensions: 12.05" x 11.97" x 8.11" (W*D*H)
---
5). Toshiba EM925A5A-SS Microwave Oven
This Toshiba EM925A5A-SS microwave oven is also pre-programmed with 6 famous popular food menus like pizza, popcorn, potato, and more.
This microwave oven has a capacity of 0.9 cubic feet. 900-watt power and 10 power levels make that that you set the timer and press the start button and it starts cooking your favorite meal.
You can also make use of the express button which makes you cook food in 6 minutes and increase the time in 30 seconds intervals.
There are two colors to choose from namely; plain silver stainless steel and black stainless steel. Both are beautiful colors.
With an internal dimension of 12. 36*13. 66*8. 7 inches and an external dimension of 19. 2*15. 9*11. 5 inches. This makes it easier to determine the space to fit it into. It is also one of the best-selling microwaves online.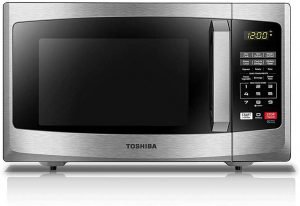 When not in use, the big bright LED display will show the clock and the extra time remaining, and additional information on the screen. The ECO power mode helps you save on your electricity consumption.
If you wish to mute the alarm, you can use the sound Off and On control to do so. It also comes with a 1-year warranty.
Features
900 watts with 10 power levels

Oven Capacity: 0.9 cu. ft.

Sound off / on control

Turntable diameter: 10.6''

It comes in black and silver stainless steel colors to choose from
LED display and one-touch control panel

External dimensions: 19.2 '' *15.9 '' *11.5'' (W*D*H)

Internal dimensions: 12.36 '' *13.66 '' *8.7'' (W*D*H)
---
6). Nostalgia RMO41VY Retro Microwave Oven
This Nostalgia microwave oven can boost 800-watt cooking power giving you the energy you need to quickly cook or reheat food.
Unlike other brands above which present you with only two color options, this Nostalgia gives you five different color options to choose from. Namely; aqua, ivory, jet black, metallic retro red, and seafoam green.
This vintage-inspired microwave, has a sleep chrome door handle, a control panel, and accents that add fun and flair to this retro-styled oven. This makes it a  good addition to your retro-styled kitchen.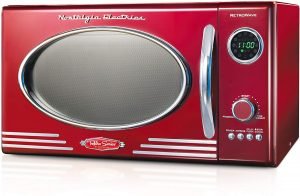 Unlike others which have maybe 6 or 7 pre-programmed cooking settings, this microwave has twice that. It is equipped with 12 pre-programmed cooking settings and a delay timer which provides you with famous food heating options such as potatoes, pizza, popcorn, veggies, and others.
It is also one of the larger microwaves with an internal capacity of 0.9 cubic feet capacity. The easy-to-read LED display lights up the clock and makes it easy to read the LED settings while it is in use or off use.
This oven is pretty quiet in operation. The only noise you might hear is a clicking sound as you close the door. When the food is done cooking, it will make a subtle sound to signal it's finished.
Features
Bright and Easy to see LED display
Quiet operation
12 pre-programmed settings
800-watt power
Internal capacity of 0.9 cubic feet
---
A Quick Guide to Choosing  Microwave
When shopping for the best quiet microwave, you have to take into consideration the following factors to help you get the topmost quietest microwave for your kitchen.
Here are factors to guide you in the process.
Noise Levels
It is obvious the main reason why you are here is that you are concerned about the noise levels of microwaves and as such want a quiet operating one.
That is why you need to keep an eye on the noise levels of the microwave. Different brands have different settings. Some have the ability to let you turn the beeping sound off or mute the end process to avoid the endless sound that goes on when the food is done.
Some microwaves can endlessly beep until you take the food out while others will only give about three succinct beeps. The ones with the mute option allow you to turn off this beeping sound when the food is done.
You also need to check for the level of noise the microwave makes when it is in operation. This you can usually cross-check with user reviews.
What are others saying about the noise when it is in use and when it finishes?. The other parts that can also make noise are the turntable and the fan.
Either way, you need to examine it for noise levels before you decide which microwave you want if noise is a major concern to you.
Wattage and Performance
The power rating of a  microwave is its wattage. The wattage is the unit of measure of the amount of power the appliance can handle or operate at.
There is a direct relationship between how powerful the microwave is and its power rating and cost.
The higher the wattage of the microwave the more powerful it is. Most microwaves' power range from 600-1200 watt. With the larger and more expensive ones having the highest power ratings.
The lower-wattage microwaves may take a longer time to cook the food but are quieter than the more powerful ones.
After you have determined the wattage you want, it is also worth looking at the heating technology of your appliance. The two common heating technologies are conventional and convection microwaves.
Conventional microwaves are usually plastic-friendly and cheaper but could leave your food half-cooked. While convection microwaves are similar to ovens and pretty powerful and you can burn your food easily with them.
Size
The space you wish to place your microwave will determine the size you will choose. This is probably the first thing to consider before you decide on the other factors. You want the microwave to fit well in the space you wish to place it in.
The last thing you want is for the microwave to take over the whole countertop. You may also want to consider a quiet range microwave oven. They give you the option to match your microwave with the other kitchen appliances.
Besides looking for the available space in your kitchen for your new appliance, you also need to look at internal size or the internal volume.
The internal size is measured in cubic feet. Depending on the size you want, there is a range of sizes to select from.
Other Features
Other features you may find on a microwave include:
Speed cook: this is much more towards the convection microwaves They combine microwaving with convection cooking to get the cooking done faster and the food evenly cooked.
The material made in the oven should also be looked at. The material made of the microwave will determine how durable and easy to clean this appliance is.
Some microwaves which are made of stainless steel make them durable, easy to clean, and corrosion-free.
You should also consider ease of use. If you are a living family, it is a pro tip to factor in the ease of use as you will like other people in the house to also be able to use it easily. You don't want to be called to heat or cook everyone's food because it is difficult to use.
There are many features that you can look at on the microwave features; like sensors that are able to auto automatically shut down once the food is cooked. Common preset buttons like defrost, popcorn, pizza, hot beverages, etc.
Obviously, you need to look at which features are a must-have on your oven.
Similar Reads:
Best quietest over the range microwave ovens
Price
Microwaves come at different prices. Your budget will determine the price of the appliance you will be able to afford. In the market today, you can get all sorts of prices. You can get cheap or premium microwaves.
You can get a cheap one as low as $50 and other models can cost much more. Other microwaves like over-the-range microwave ovens can cost you a lot more. Those are a lot more expensive compared to countertop microwaves.
What Makes Microwaves Noisy?
If you are thinking your old microwave is making a lot of noise, then it probably is. There are different noises you can hear from an old microwave. It can make noise such as rattling, humming, buzzing, etc. These are sounds you usually hear from your refrigerator.
Some of these sounds can signal a warning but most of the time, it's just normal as your microwave ages.
Now that we have established that the magnetron is responsible for heating the food, it is easy to assume it is the one responsible for all your microwave noise. But that is not entirely true.
There are other components such as the exhaust fan, turntable motor, transformer, diodes, and capacitors that all make up the oven.
If the magnetron is loosely attached to the back of the oven, it could cause it to vibrate against the microwave chassis. This can let out loud sounds to signal something is wrong.
The turntable motor could also malfunction due to old age and continuous use. Thereby causing the microwave to vibrate.
The microwave exhaust fan is responsible for regulating the temperature of the microwave. If you are hearing humming or whooshing sounds, it is likely the exhaust fan doing that.
The other components like the transformer, the capacitors, diodes, and stuff are also responsible for sounds like buzzing, grinding, and clanking. If you are hearing these noises, then it might be time to change your microwave or repair it.
That brings me to the other topic;
How to Fix a Noisy Microwave?
Now that I have pointed out the possible causes of noise in your microwave, it is time to look at how you can possibly fix these unwanted sounds.
Unfortunately, a microwave is not that easy to fix. If unless you are a professional, please I recommend you don't even try fixing it yourself by losing it apart to see what the problem is.
Microwave energy is very dangerous to deal with. See it this way. If it can cook raw food, it can also cook you as well. Unless you are equipped with the knowledge of know-how. Don't try fixing its internal components and parts yourself.
The thing with super high-frequency energy is that it is invisible but highly dangerous. It can easily turn you impotent if not handled properly.
That being said, however, there are external ways you can fix some of the noises that the one is creating. Some noise reduction tips include:
Place An Anti-Vibrational Pad Under the Microwave
If the microwave is creating vibrational sounds that are causing your counter surface to vibrate and affect other appliances, then you can get a quick fix by getting an anti-vibrational pad and placing it under the microwave to absorb the vibrational sound.
If the anti-vibrational mat isn't around, then you can also use a thick cut-out blanket or even a thick towel and place it under the oven. All these have sound absorption capabilities.
Soundproof the Kitchen Door
If noise is unbearable outside the kitchen to those around, you can consider reducing the noise through the door. You could do this by installing a door sweep under the door to cover any gap between the floor and the door.
The gaps in the frame and jamb can be closed with weatherstripping tape.
You can also increase the door mass by hanging a soundproof blanket behind the door. This will increase the noise-blocking ability of the door especially if it is a hollow-core door. A soundproof blanket is an effective impact sound reduction material.
Final Thoughts
These are some of the quietest microwaves on the market. Whether you are in an apartment, a hostel, or an office or you simply need a quiet microwave for your large family, I have got your back.
If you were been terrorized by your noisy microwave, with any of these microwaves in silent mode, you will be able to enjoy heating your food even at midnight without waking everybody up with the noise.
Latest posts by Josephine
(see all)