Top 5 Quietest Over the Range Microwave Ovens
Looking for the quietest over the range microwave for your kitchen?. Then you've come to the right place. In this guide, you can expect to learn:
Types of microwaves
Factors to consider when choosing an over the range microwave
Our Top-rated quiet over the range microwave ovens
Advantages and disadvantages of over the range microwaves
Final Thoughts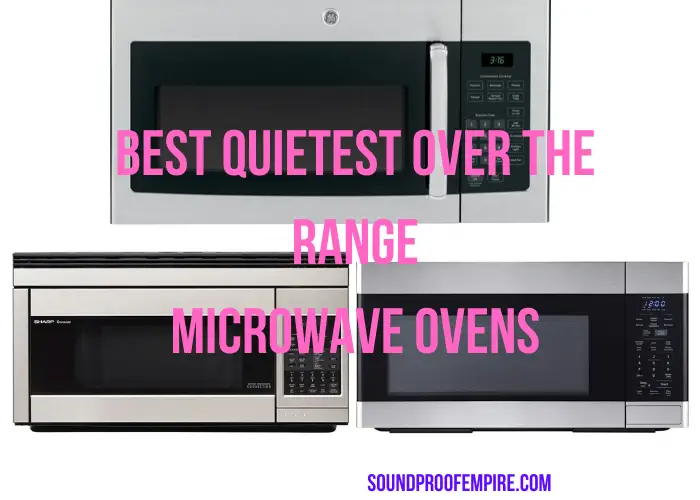 Quiet over the range microwave ovens come in super handy if you own a range oven or a stovetop. This 2-in-1 combo microwave oven gives you two of the most common kitchen appliances.
A microwave is an appliance you find in most kitchens today. It's easy and quick to cook and heat food in a microwave oven. A range hood, on the other hand, is a crucial device in the kitchen to vent out the heat and smoke that come with cooking.
Therefore, having a microwave with a built-in range hood is an excellent idea. You got to save money and space with an over the range microwave oven. But, the only downside with this combo is that they are both noisy appliances.
That is why we have done the necessary research and came up with these quietest over the range microwave ovens to help you get some peace in the kitchen without all the excessive noise.
What is the Best is the Quietest Over the Range Microwave?
The best quietest over the range microwave according to us is the Sharp R1874T Over the Range Convection Microwave.
It has a modern, stylish contemporary design that will be a great addition to any kitchen.
It has a cooking power of 1100 watts that cooks your food a lot faster. The capacity of food it can take is 1.8 cubic feet which is good for medium families.
The venting system is a 3-speed ventilation system with 450 CFM and the smart clear LED display allows you to see and set the setting of whatever you are cooking.
Factors to Consider When Choosing An Over the Range Microwave
A microwave is a kitchen appliance that can have several different features. It is up to you to choose which features you really want your appliance to have.
There are many different microwaves in the market today. You will have to determine the one you want based on these factors here.
Space
Where your microwave is supposed to sit is an important consideration in microwave selection. Over the range, microwaves are designed to be installed above your stove.
You need to examine this space to be sure an over the range microwave going to fit. If you have doubts, then it is probably not the best option for you.
Material
The most popular microwave material most microwaves are made of is stainless steel. Stainless steel is durable and corrosion-resistant, unlike other materials.
Because microwaves are used to cook and heat foods, it is important to choose one made with high-quality and long-lasting material.
Design
Many microwaves pretty much look the same. But design is still a factor to consider. You will want to choose a microwave that will fit your kitchen style and complement it.
This is something many manufacturers are also aware of. So there are many beautifully designed ovens in the market today and colors that will compliment your kitchen style well.
Venting
As already established, over the range microwaves are a 2-in-1 combo made up of a microwave and a range hood. The range hood needs venting to let out the odor, smoke, and steam absorbed.
The venting is measured in cubic feet per meter (CFM). The higher this number, the more powerful the venting ability of the range hood.
You need to look at this figure when considering an OTR microwave oven. It is recommended that for ideal venting power, you should look at a number of 300 CFM and above.
Size
The size of the microwave will include the external dimension and the interior dimension. The external dimension will determine whether it will fit the space and the internal dimension will also determine how much food and weight it can carry at once.
 The internal capacity of the microwave is measured in cubic feet. The size of your family will determine how large you will want the microwave to be you can find the internal capacity range from anything like 0.6 to over 2 cubic feet. The bigger this number, the larger the capacity.
Cooking Power(Watt)
The cooking power unit of measurement is the watt. You will often see this indicated in the microwave. This number indicates how powerful the microwave is. The higher this number, the more powerful.
If you plan on using the oven for extensive cooking works like baking and cooking other foods, then you may consider a higher power more ideal.
On the other hand, if you only need it for light cooking and heating of food, then you can opt for a low power microwave.
The low power microwaves are quieter than the ones with high power.
Sensors
The advantage of having a microwave with sensors is that you eliminate the trouble of guesswork when you want to cook or heat something.
They are more accurate at measuring the time and temperature the food needs to cook and all you need is just push the button.
However, for most traditional microwaves, you will have to choose the length of time you wish for the food to cook, and sometimes, you can guess wrongly.
Therefore, sensor-based microwaves are more accurate.
Conventional or Convection Microwave
The conventional microwaving technology makes use of the food container to pass the microwave frequencies into the food in order to cook or heat it.
This in essence is a slow microwave and sometimes, the cooking might not be evenly distributed throughout the food.
Convection microwaves, on the other hand, use a combination of basic microwaving technology and radiant heating technique to evenly distribute heat throughout the oven from the top to the bottom and through the sides. This cooks your food evenly.
This applies to only those with kids who have a home. Even though these types of microwaves are mostly mounted high above the stove, it is still a precautionary feature to take into consideration.
If you have inquisitive kids at home, in fact, it is a must-have feature on your microwave. Some kids can climb a chair to try to reach the microwave and if it is on and not locked, it can hurt them. Microwaves are dangerous.  Prevention is better than cure.
Best Quietest Over the Range Microwave Ovens
With the confusion that can come with the numerous number of over the range microwaves in the market, We did our research and gathered over the range microwave reviews and we came up with the quietest over the range microwave for you to save yourself time.
Here are our top-rated quiet over range microwave ovens.
1). Sharp R1874T Over the Range Convection Microwave
This over the range convection microwave is another high-quality and standout model from Sharp that can boost awesome features that even beats some of the most high-end microwaves in the market.
The stainless steel over the range microwave from Sharp features a stylish design and a three-way ventilation oven and 4-way convection heating.
It is a convection microwave type that by design uses a heat transfer method to circulate hot air inside the microwave using a fan. This heats and cooks the food evenly and faster than the traditional conventional microwave.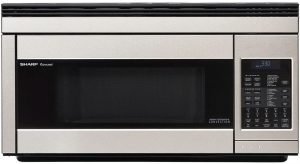 If you are a person who appreciates faster microwave cooking, then this microwave is recommended for you.
This 850-watt over the range microwave features a stainless steel material that is corrosion-resistant and has a modern and versatile beautiful look that compliments any kitchen decor.
Silver color basically fits into most kitchen decor because most of the cooking utensils in the kitchen are made of steel anyway. This makes it easy to clean off by using a wet clean cloth to wipe it down after every use.
This microwave is one of the versatile microwave ovens functions that allow you to bake, broil, crisps, and roast whatever food you want to and the even distribution of cooking power makes the cooking happen faster than you expect.
It also has instant action keys such as defrost, warm, popcorn, fresh veggies, hot water, beverage, fresh roll, etc. This makes microwaving easy because, at the touch of a button, it starts operating automatically.
It comes with a 7-digit interactive display that is easy to read and has a sensor setting that automatically detects the time required to cook accurately.
The LCD display comes in 2 colors and it is used to show you what is happening within the oven. The interactive cooking system comes with 3 language options; English, French, and Spanish.
You need not keep guessing the length of time. It does all that for you. All you need to do is push the button.
With regards to how big this appliance is, it has an external dimension of 23x14x15 inches; this tells you how much space it will cover in your kitchen. The internal dimension is 17x9x14 inches. This is also the space inside the oven. It is slightly heavy weighing 46 pounds and has a solid base.
Because the main reason you are here is to get to know the quiet over the range microwaves, this Sharp microwave operates quietly when on and you might not even notice its operation when you are in the kitchen.
It keeps warm. This means that, after heating up the food, it will allow you to keep it warm in the microwave for at least 30 minutes.
Features
850-watt cooking power

1.1-cubic-foot, stainless-steel interior with light

2-color, 7-digit, interactive display

13-inch turntable

Built-in exhaust system; hood light, powerful fan, low and high racks included

Outer Dimensions: 23x14x15 inches

Inner Dimensions: 17x9x14 inches

4-way convection system
built-in exhaust system: offers three convenient venting options – horizontal, vertical, or ductless recirculation. It is one of the best over the range microwave with quiet exhaust fan.
---
2). GE 1.6-cu FT Over the Range Microwave
GE is also another very popular brand that manufactures a lot of household appliances. It comes as no surprise that they have an over the range microwave oven.
This company also makes a lot of high-quality products for the home. The GE 1.6-cu ft over the range microwave is one of the best over the range microwave ovens.
That been said, let's look at what makes it stand out among the lot.
This OTR microwave is made of stainless steel that has a modern, sleek, clean, look making it durable and long-lasting. Plus, it is robust, has great performance, and its affordable.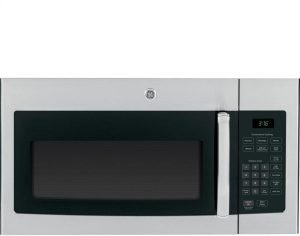 Maintaining it is easy. After each use, you take a clean wet cloth and wipe it down clean. It will be a great addition to any kitchen.
Unlike the LG model above, this GE over the range microwave is having a vertical control panel just like most microwaves that have vertical controls. The LCD screen is clear and automatic. You operate it by simply touching it.
The surface of this oven is lighted, meaning you can be able to see what is happening with the food in it, without necessarily having to open the oven all the time.
It is a 1000 watt microwave oven that has a capacity of 1.6 cubic feet. Making it ideal for individuals or medium families.
The shortcuts you shall find are; beverage, popcorn, defrost and reheat. The auto defrosts button gives you options depending on what you are defrosting so you need not do lots of guesswork on the exact length of time it would take to defrost e.g. chicken, fish, meat, milk, etc.
The venting system has an airflow capacity of 300 CFM and it operates quietly with simple two controls. One is the recirculate option that uses the recirculating charcoal filter kit to release the air and the other is the outside exhaust that releases the smoke and steam.
The venting fan which is hooked with a steam sense automatically turns on whenever you use the microwave. It extracts the steam.
The turntable can easily be turned on or off, depending on the type of dish you are using, meaning if you favor the rectangular dishes, you can easily use them.
Features
1000 watt power microwave
Venting system with 300 CFM
Clear LCD screen

Auto and time defrost Defrosting times and power levels are programmed automatically or manually for optimal results"

1.6 cubic feet capacity
Weighs 61.9 pounds
Exterior dimension:15.25 x 29.88 x 16.5 inches
---
3). Sharp SMO1854DS Over the Range Microwave
The Sharp SMO1854DS features a contemporary and stylish design that will be a great addition to your kitchen. It will fit perfectly into any kitchen decor and its amazing functionalities will give more life to your kitchen.
With edge-to-edge stainless steel, black glass, and discreet branding, this oven pairs beautifully with other stainless steel appliances
The door has a tinted glass front. However, the control panel is just a black, plastic membrane panel. Very wavy compared to the door glass.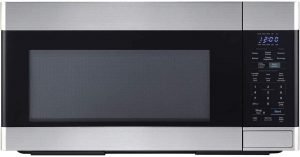 It features an LED displace that is easy to read and displays blue cool color and grey interior with a bright white light that gives your kitchen that modern feel.
The cooking power is 1100 watt giving your meals a faster cooking time than the average oven.  With a 1.8 cubic feet capacity, you can cook family meals with it with any hustle.
The turntable glass is 12.8 inches and turns to ensure you have an evenly cooked meal. Cleaning this oven is easy. You simply wipe it clean with a damp cloth after every meal. This will prevent stains and corrosion.
The powerful, 3-speed ventilation system is effective up to 450 cu. ft. per minute and features easy-to-reach filters for quick replacement.
Installation was very easy. Use a stack of books to hold everything in place if you're installing alone
Features
1100 watt cooking power

Volts: 120 Volts

Capacity: 1.8 cu. ft.

CFM: 450

3-speed ventilation system
LED display system
---
4). LG LMHM2237ST 2.2 Over the Range Microwave Oven
This LG over the range microwave is one of the best over the range microwaves in the market. LG brand is well respected worldwide as a great producer of quality home appliances. This microwave oven is no exception.
If you have a large family that needs a bigger microwave, this is one of the biggest with a capacity of 2.2 cubic feet. This can cook a large meal for the family at once. No need to be splitting the food into parts.
It is beautifully designed and has a modern, compact, and classic look that will give a cool look to your kitchen.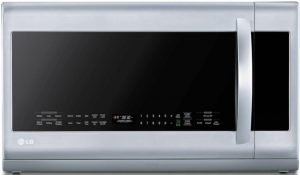 The controls for some reason are located at the bottom of the glass door not the usual familiar vertical control panel on most microwaves. It might look unusual to you but you will get used to it with time.
This 1000-watt over the range microwave is equipped with an ExtendaVent 2.0 which is a feature that offers improved technology when it comes to smoke and steam extraction.
This provides powerful ventilation over virtually the entire cooktop, back to front. LG has created the QuietPower vent, which does the job quietly, without interrupting your life.
With regards to the cooking power which stands at 1000 watt, it is pretty powerful when it comes to cooking meals or heating. Anything in the 1000s watt is powerful.
The sensor cook options go are up to 8 in total.  There is Auto, Time, Rapid Defrost, popcorn, and other convenient features to help you quickly set up and let it do its job.
It weighs almost 73.5 pounds, which is very heavy and makes installation a little hard. This might require you to get someone who is professional to help you install it.
Features
1000-watt cooking power
2.2 cubic feet capacity
Sensor cook options
Quietpower of operation
Weighs 73.5 pounds
Interior dimension: 22″ x 11 5/8″ x 14 5/8″
Exterior dimension: 33 1/2″ x 20 3/4″ x 20 1/2″
Strong venting system at 400 CFM
---
5). GE 1.6 Cu.Ft Bisque Over the Range Microwave Oven
The GE 1.6 cu ft microwave oven has a somewhat traditional look that is built to last. A high-quality brand made in the USA. The design is aesthetic and will go very well with any kitchen décor.
Not only does it look like one of those old microwaves your mother used to have in her kitchen, but it also comes in a sleek and clean white exterior with an incandescent interior oven light.
It comes with a control panel that is automatic and has a variety of options which are; popcorn, beverage, potato, reheat, and defrost.
With its 1000 watt cooking power, it means cooking or warming food is done much faster and the glass turntable ensures that the heating is done evenly throughout the food.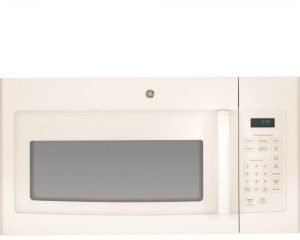 To ensure you don't wake the whole house up at midnight when warming your leftover, it is made to operate in a quiet mode without making any loud noises. Making it one of the best low profile over the range microwave ovens.
It measures 1.6 feet in cubic space, which is large enough and offers you plenty of room to cook meals for medium families or for yourself.
This combo microwave with a range hood has a ventilation system that has a 300 CFM capacity which is slightly lower than the other GE model above. It extracts steams and odor
The timer and cook time notifications have different sounds. You can set it to whatever sound you want. This will come in handy when you are doing other chores in the house because it will always let you know what is happening in the kitchen.
Features
1000 watt cooking power

Incandescent interior oven light. Express cook is 1-6 minutes

Ventilating system has 300 CFM
Capacity of 1.6 cubic feet
Weighs 60 pounds
Exterior dimension: 33.5 x 19.4 x 20.2 inches
---
Types of Microwaves
When microwave ovens first arrived on the market, many people bought them and simply placed it on the countertop. However, it didn't take much time before designers and builders started figuring out more convenient places to place it so that it would take much kitchen space.
That way how the different types of microwaves started arriving on the scene. This gives you the option to choose the one that can be placed conveniently according to your kitchen design to save you space.
Nonetheless, let's look at the different types of microwaves in the market.
Countertop Microwave
Countertop microwaves are properly the cheapest and easy to place microwaves. With less than $100, you can get a quality microwave for your kitchen.
Just as the name suggests, they are usually placed on the kitchen countertop. You can choose to place them anywhere on the counter.
You may also want to check out our recent guide on the quietest microwave for countertop here.
You need to check the space you have on your counter before you choose your microwave. If your space is not big enough, you can simply get one of the small countertop microwaves.
Over the Range Microwaves
This guide is actually about over the range microwaves. These are microwaves as range hoods mounted above the stove. This is one of the best microwave placement.
Oftentimes, the space above the stove is wasted, and hence having a microwave mounted above that space which also acts as a range hood is very convenient and space-saving. Be sure to get a color or finish that will match the oven.
These types of microwaves can be pricey. They are mostly costing more than $100.
Under Cabinet Microwaves(Suspended)
These microwaves are often mounted below your upper cabinets so that they appear suspended or drop down from the upper cabinets. This keeps the countertop clear and easy to clean. If your upper cabinets are higher, you might get some extra space on your countertop to use. Otherwise, the space below them can appear useless.
Under Counter Microwaves
These types are built into the cabinet below the counter. Not very ideal for older people or people who might have issues with bending. Because to access the microwave, you need to bend down to use it.
This is not my favorite option though if unless you don't have options, you can go for it.
Built-In Above the Counter Microwaves
This is one of the popular microwave locations these days. Space is already created when designing the kitchen. Otherwise, you have to do some kitchen renovation to achieve this type of microwave placement.
it is a great location to have a microwave. You get to use your microwave from a standing position.
Microwave Convection Oven Combo
These types of microwaves use inverter technology that makes them both microwave and a convection oven combined. This makes them cook and heat food evenly.  They are reasonably priced for a microwave and convection oven combo.
Microwave with Grill Function
These types of microwaves come with a grill accessory to enable you to grill foods inside it.
Advantages and Disadvantages of Over the Range Microwaves
There are pros and cons of any device and that includes over the range microwave ovens as well. Therefore, you need to weigh the pros and cons before you make a decision to buy.
Advantages of Over the Range Microwave
One major advantage of these types of microwaves is that they are space savers in the kitchen especially if your kitchen is already limited in space. This is because they are installed between the upper cabinets and above the stove. This saves you a lot of counter space to work with.
The other advantage is because they have a range fan built into them, they are able to help in evacuating odor, smoke, and steam. The best position for over the range microwaves is above the stove. This eliminates the need to install a range hood separately due to these ovens' dual functionality.
Another pro of having an over the range microwave, especially for people with kids is that they are inaccessible to the kids because they are installed above the stove and cannot easily be reached by children unless they climb things.
This will make you worry less about the kids using it when you are not around.
Disadvantages of Over the Range Microwave
One con of these appliances is that they are placed at a height and this might be uncomfortable for short people as they will struggle to reach them and use them.
Another downside is it can be hard to keep an eye on the food you are cooking especially if it's in a tall pot. You also have to be very careful when taking the pot out as well to prevent the food from pouring on you. These could be challenges for some people most especially short people.
Final Thoughts
A quiet over the range microwave can save you a lot of unnecessary noise that could be annoying to others. But looking for the quietest over the range microwave to buy can be challenging. It is not easy to spot one by just looking around.
That is why we have done the heavy lifting for you by gathering the best quiet microwaves that have range hoods incorporated into them for proper venting.
With these quiet over the range microwave reviews, you can choose the best low profile over range microwave for yourself and your family. Hopefully, this guide was able to help you decide on the best over the range microwave.
Latest posts by Josephine
(see all)