Quietest Flushing Toilet:7 Best Quiet Flush Toilets
Looking for the quietest flushing toilet for privacy in the bathroom?. Great!,  then you've in the right place. In this quiet toilets guide you will learn the following:
what to look for when choosing a quiet toilet
Our best quietest flushing toilet picks
Final Thoughts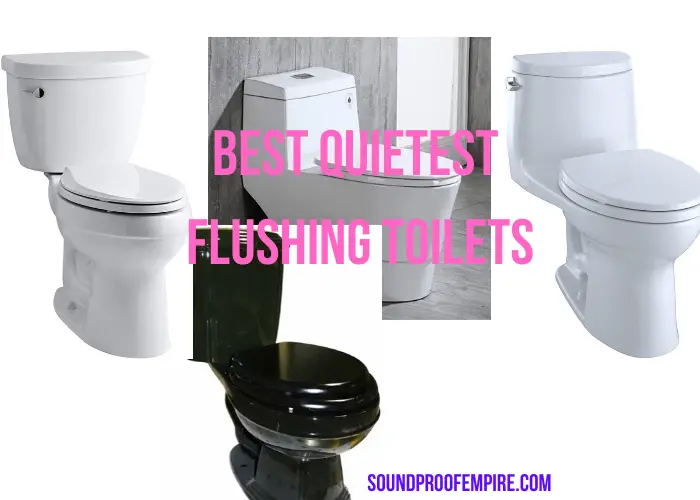 Quick Preview of the Top-Rated Quietest Flushing Toilets
Short on time? We understand. Check out this quick overview of our favorite quiet flush toilets. These are our recommended picks of The best quiet flush toilets. If you want to learn how and why we picked these products, continue reading!
WOODBRIDGE T-0019 Dual Elongated One Piece Toilet  ( Best Value for Money)
There is nothing more embarrassing than waking the whole house at night with a loud toilet flush. Some toilets are incredibly loud. This can even make you dread going to the bathroom to free yourself when you feel it.
If you have been wondering if there are quieter toilets in the market that can save you from this kind of situation, they are in the right place.
Due to the annoying loud sounds some of these toilet brands make, some brands have put in the extra effort to make the best quietest toilets in the market.
In this guide, we will look at some of the best quiet toilets to have when you want to fly under the radar.
Best Quiet Flush toilets
Here are our best quiet flush toilet picks for you to choose from. With any of these toilets, you won't have to worry about keeping the whole house awake at night when you flush the toilet at late night. If it is for a public place too, unnecessary attention won't be drawn to you.
1). WOODBRIDGE T-0019 Dual Elongated One Piece Toilet
The WOODBRIDGE T-0019 dual elongated one-piece toilet is one of the best quiet toilets around.
With a luxurious modern one-piece design that is sleek, clean, and easily complements different styles whether it is traditional, modern, or craftmanship.
It features a high-end soft closing toilet seat with stainless steel durable hinge, easy to get the toilet seat off in case you want to tighten or clean after years of use.
With this toilet comes a powerful siphon flushing system and a  fully glazed trap way. This makes it one of the top no-clog toilets and ensures that the toilet doesn't clog.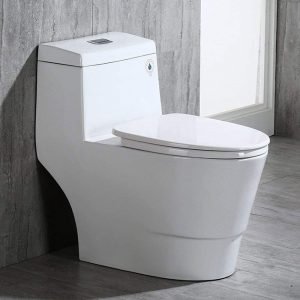 The design of the WOODBRIDGE T-0019 toilet makes it easy to maintain and clean because of its amazing skirted design. Even though it is slightly expensive which is common with one-piece toilets, it is easy to maintain.
The elongated toilet bowl makes it easy to use and comfortable to sit on because of its comfortable height. It makes your thighs sit comfortably on it and it's suitable for even disabled people as well.
The tank and bowl are well integrated to give you an excellent toilet in your home or office at a  reduced noise level.
This toilet is certified for efficiency and water-saving in the US and Canada. It comes with a 5-year warranty and service on limited on porcelain parts against fading/staining of the glaze; 1 Year on flushing mechanism & soft closing toilet seat.
Pros
Luxurious modern design
Top-rated quiet and powerful flush toilet
Comfortable to use including disabled people
Easy to clean and maintain
5-yeat warranty on service and parts

High-end soft closing seat with stainless steel durable seat hinge

High-efficiency, WaterSense Certified toilet
Cons
Not suitable for small space
---
2). WOODBRIDGE T-0020 Dual Flush Elongated One Piece Toilet
WOODBRIDGE is a known company that produces high-end bathroom and kitchen appliances. The T-0020 dual flush elongated one-piece toilet is one of their quiet toilets in the market besides the other model we reviewed above.
They have high regard for quality and hence two of their products are featured on this list.
This WOODBRIDGE model has noise reduction incorporated into it. Plus, it is also easy to clean. The skirted trapway and smooth exterior reduce your cleaning time.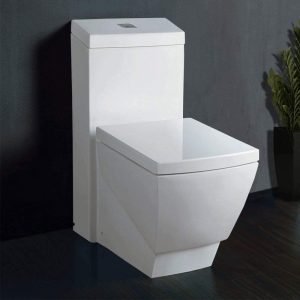 The Woodbridge uses a siphon flushing technique allowing for an ultra-quiet, powerful flush. Siphon flushing is great for preventing clogs and leaks.
This toilet also features High-end Soft Closing Seat with Stainless Steel Durable Seat Hinge: Quick Release seat design. Easy to get the toilet seat off to tighten or clean after years of use. Never Loosen Toilet seat.
The Woodbridge T-0020's height makes it very comfortable for the average adult when descending and ascending the seat
Pros
Clean, sleek look and compliment with different styles

Easy-to-Clean Design 

Fully glazed flush, bringing super quiet & powerful flushing – no clogs, no leaks

High-end soft closing seat with stainless steel durable seat hinge

High-efficiency, WaterSense Certified toilet
Cons
Packing is good for fragile goods like this toilet
---
3). TOTO MS604114CEFG#01 UltraMax II One-Piece Elongated Toilet
The TOTO Ultramax II  one-piece elongated toilet features a  tornado flush system with 1.28 gallons per flush. This makes it one of the best water-saving quiet flushing toilets.
It is has a compact elongated bowl that and a one-piece design is simple to clean and maintain in comparison to the two-piece type of toilet.
It also features a  hole-free rim design with dual-nozzle that creates a centrifugal washing action.
This TOTO quiet one-piece elongated toilet uses a patented CEFIONTECT/SanaGloss glaze. This system creates a smoother surface and prevents debris and particles from adhering to the surface to reduce the cleaning frequency of the toilet.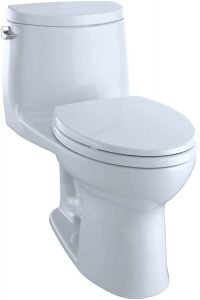 The seat is made of high-impact plastic, has an ergonomic design, molded bumpers, and high gloss polypropylene. The Ultramax II also uses a gravity-feed system which is much quieter than pressurized options.
If you are concerned about standards, this toilet meets the standards for EPA WaterSense, California's CEC, and CALGreen requirements, and its ADA compliant.
Pros
Efficient and powerful flush
Quiet flush and refilling
Comfortable seat position
Saves water consumption
Cons
It May is not suitable for big guys
---
4). Kohler K-3589 Cimarron Comfort Height 1.6 GPF Toilet
The Kohler Cimarron Comfort Height round toilet is one of the best comfortable quiet round toilets in the market.
The seat height is comfortable to sit on or stand up from when using this toilet because the chair height is similar to that of a chair. This makes it easier for most adults to use.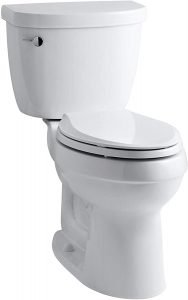 It is a water-saving quiet flushing toilet that uses 1.6 gallons per flush that uses AquaPiston technology and has two flush valves that are both quiet and powerful.
The design of this toilet is effective at disposing of solid waste compared to other standard flushing toilets around.
With this quiet Kohler toilet, you have different colors to choose from to complement your washroom decor. You should however note that this toilet does not come with the seat and supply line, as those are sold separately.
Pros
Water-efficient
Great at disposing of solid waste
Light touch flush
Comfortable height
suitable for all adults
Cons
Some customers complained about receiving a broken toilet
---
5). TOTO CST744SL#01 Drake 2-Piece Ada Toilet
TOTO Drake is one of the most common products among many households in America. This is because the TOTO brand has built a solid reputation with its customers.
This Drake toilet features a G-Max flushing system that works effectively are flushing the solid waste and thus prevents the toilet from clogging.  This is the simple reason why many people like this brand. Efficiency and easy installation are its hallmarks.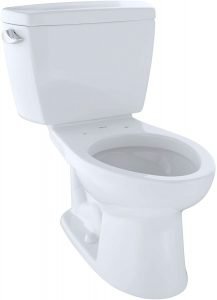 This flush system only utilizes 1.6 GPF making it good at saving you some water bills. Its universal height makes it comfortable to sit and stand up. Even though it is a two-piece design, it is easy to install.
The toilet has a 3-inch wide flush valve. It also has a large trap way and an extra-large jet. In a single flush, it will clear your toilet quietly.
This toilet is also ADA compliant and comes with a  1-year limited warranty.
Pros
High profile toilet
Powerful and quiet flush
Low water consumption
ADA compliant and comes with a 1-year warranty
Well-known brand
Cons
When you receive the package, check for all parts before removing old toilet
Height might not be very comfortable for short people
---
6). Niagara Stealth 0.8 GPF Toilet
The Niagara Stealth toilets are one of the low water consumption toilets around. Only using 0.8 gallons per flush. It is also comfortable, efficient, and good value for your money. Even at an affordable price, you get decent performance with it.
There are not many toilets like this in the market with such water-saving ability that uses only 0.8 gallons of water per flush to effectively clean the toilet.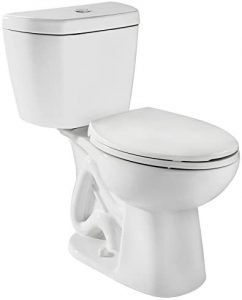 This toilet flushing system uses a combination of air and water and hence its ability to get rid of solids and liquids with quietness and effectively.
The Niagara toilet bowl is an elongated type that is compact in nature. It is comfortable to use but occupies a smaller space in your bathroom. This makes it suitable for people with small spaces.
Concerned about compliance?, this toilet is ADA compliant and also EPA WaterSense labeled. This is a perfect choice for any home.
Pros
A powerful air and water flush combination
Quiet flush and tank refilling
Uses only 0.8 gallons per flush- water-saver
ADA and EPA WaterSense compliant
Cons
Has clogging issues according to some customers
---
7). Black Dual Flush Two-Piece Elongated Toilet
This black dual flush two-piece elongated toilet from Renovator's Supply Sheffield is a  great value for the money.
Its efficient dual-flush system helps you to choose between a  slow  0.8 gallon flush and a  high 1.6 gallons flush.
The toilet also features an ergonomic design that makes it a space saver. You can use install it even in your small bathroom space yet you still will get comfortable using it.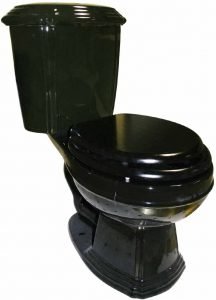 This product is also ASME and ADA compliant. Plus, you get to save both money and water.
if you are looking to save space and want to make a bold, elegant statement in your bathroom. This is a two-piece toilet and apart from its color, it's a much more traditional design.
Like the Woodbridge, the Black Dual Flush uses a siphonic flushing mechanism. The Siphon flushing method is gravity-fed which allows for an efficient, clean flush while keeping things quiet.
Pros
The toilet is ASME and ADA compliant

Extra Clean and Quiet gravity flush, siphonic washdown

Help you in saving water and money

Choose your flow – both Low 0.8 and High 1.6 gal. Flush
Cons
---
What to Look for When Choosing Silent Flush Toilets
Before you rush to start buying your quiet toilet, it is important to look at what to look out for in the quietest flushing toilet if you have not bought one before. Here are some factors to guide you to decide which toilet is ideal for your space and your convenience.
The Bowl Shape
The bowl shape of the toilet will depend on your space and your personal preference. There are two types of bowl shapes available. These are Elongated and Round toilet bowls.
If your toilet room is not big enough, you have to opt for the round toilet bowl because it does take much space but can be uncomfortable for some people. However round bowls make sense if you are trying to save space or you already have a tight space.
The other bowl type is the elongated bowl. This type of bowl is elongated or long therefore providing enough space for your thighs and is more comfortable to use especially for men.
Unfortunately, elongated bowls take much space in the room and are not ideal for space savers or if your toilet room is small.
The good thing though is that the toilet bowl shape does not affect its quietness.
Looking for One-Piece or Two-Piece Toilet Type
There are two primary types of toilets – thus one-piece or two-piece. To explain each type, we first need to know the parts of the toilet. The toilet is made up of three parts; the tank, pedestal, and bowl.
With a one-piece toilet, all the parts are combined in one with the bowl and the tank both joined together as one. The advantage of a one-piece toilet is that the installation is easier because you only install it once.
Two-piece toilet type, on the other hand, comes in two-piece and each needs to be installed separately and then get joined together. The tank and the toilet are separate.
There isn't any functional difference between the two. The one-piece toilets are more expensive than the two-piece toilet types.
Flushing System
The flushing system of the toilet is one of the determining factors of how quiet and powerful the toilet can be.
There are three main types of flushing systems and these are:
Pressured-assisted flush
Gravity flush
Dual flush
The pressured-assisted flush systems are mainly found in planes toilets and are probably the loudest. These are not recommended if you are looking for the best silent flush toilet. They use pressured air to force water from the tank into the toilet bowl.
Gravity flush toilet systems use gravity to force water from the tank into the toilet bowl. These are some of the quietest flush toilets but mostly lack the strength when you compare them to pressure-assisted flush systems.
The Dual flush system has two options for flushing. There are small and big bottoms on it to select whether you want to flush liquid like urine down( using the small bottom) or you want to flush solid waste (using the big bottom).
With the dual flush, you have control over the amount of water you use. If you want an eco-friendly system, then the dual system is more ideal.
In a nutshell, the ideal flushing system should be long-lasting, sturdy, and efficient.
Gallons Per Flush (GPF)
The amount of water your toilet drains per flush is termed the gallons per flush(GPF). Most toilets are designed to drain about 1.6 GPF. A more powerful quietest power flush toilet can take more than that.
Some toilet's flush systems have 1.28 – 13 GPF. Thereby, delivery a more powerful flush.
If you want to save on water, then you will need to consider getting a lower gallon per flush toilet but these are noisier than those with high gallons per flush.
Color
The traditional color for a toilet is either white or a white hue. With that said, there are now a number of colors in use: black, grey, blue, etc. So, the colors will be your personal choice. However, these colors are primarily neutral and flow with most designs.
Besides getting a quieter toilet for your bathroom, you will also need to soundproof your bathroom to reduce any noise coming from there for complete privacy. I recently shared tips on how to soundproof a bathroom here. You can check it out.
How to Quiet a Noisy Toilet
When it comes to toilets, anything can happen. You can start out with a quiet toilet then later it gets noisier. Will, you just remove and throw it away and get a new one?. I guess that might not be cost-effective for most people.
With that in mind, it's good to know how to quiet your noisy toilet in case it gets to that point instead of just replacing it without trying these tips I will share here.
As a toilet gets older, it can make some noise, so it will be good to troubleshoot and fix the problem if possible.
Tighten Everything
With many years of use, some parts of the toilet are bound to get loose. To fix them, get a screw and start fixing all the visible parts such as the pipes and clamps. Check for all visible loose parts and tighten them into place.
For the parts that you cant access easily, get a plumber to assist you with those and fix them for you to give you the privacy you desire.
Adjust Water Flow
Is the water pressure more than usual?. Sometimes the intensity of the noise coming from the toilet can be because of high water pressure from the water valve.
To reduce this noise, you will need to adjust the water valve to the desired water pressure level to reduce the pressure noise.
Another way will be to also check the water flow to see if you notice any echo when you flush the toilet, it may be an obstacle in the valve preventing the flow out of the water.
To fix it, you can get the valve adjusted to a suitable level.
Block the Sound Out
The other way you can reduce the noise in the toilet would be to block out the sound of flushing by using sound insulators such as weatherstripping foam tape to seal the wall gaps around the tank.
To do this you can follow these steps:
Start by removing the toilet tank lid
Ensure that all the edges are clean and dry so you can tape them effectively
Cut the adhesive foam tape and place it around the edges of the lid and tank
After that, press lightly and close the tank lid
Following these steps will reduce the noise within the toilet tank when you flush.
Final Thoughts on the Quietest  Flushing Toilet
In all honesty, getting one of these above-mentioned quietest flushing toilets will save you the embarrassment in that toilet that is currently drawing unnecessary attention to you or waking others up in the midst of their sleep.
All of the above quiet flush toilets are efficient and powerful in reducing noise. Depending on your budget, some are quieter and more powerful than others. You can choose according to your budget.
But remember a good toilet is a long-term investment and you should choose the best one for your home. Toilets take years before you change them. If you get the right type, you won't be replacing it anytime soon.
Latest posts by Josephine
(see all)