7 Quietest Electric Pressure Washer on the market
Looking for the best for the quietest electric pressure washer? Then you have come to the right place. In this guide, you will learn the following:
What is the quietest electric pressure washer
Our top-rated quiet electric pressure washer picks
Electric pressure washer buying guide
Uses of Electric pressure washer
Electric Pressure Washer Care and Maintenance
Final thoughts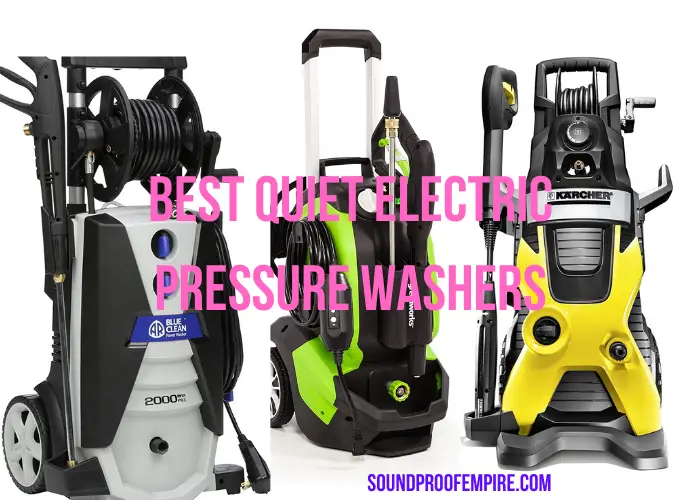 In a HURRY?, Here is a quick table preview of our best quiet electric pressure washer picks. If you want to learn more about silent electric pressure washers, then keep reading this guide.
Pressure washers are a great way to get rid of those tough stains and dirt. Cleaning with a pressure washer can be a breeze as they get rid of tough dirt easily. Electric pressure washers are popular now among many households.
However, pressure washers are not the quietest equipment in the home. Be it a gas or electric power pressure washer, they can all make noise with their motors running.
But one good thing that has happened over the years is that pressure washers have greatly improved both in quality and price. Manufacturers are also taking steps to reduce the noise levels of these washers.
If you are like me and don't like a lot of noise, then you will like this guide as it's about the quietest electric pressure washers that are reliable, powerful, and quiet. So if you are wondering what is the quietest electric pressure washer, then you will find this guide very helpful.
Understanding the Ratings of Pressure Washers
Here are basic ratings that every pressure washer has that make you understand how powerful it is and be able to select the right power rating for your needs.
Horsepower (HP)
The horsepower of the pressure washer refers to how much power the engine or the motor can produce. This is an important rating because it directly relates to how much pressure and volume the pump can produce.
Pounds Per Square Inch (PSI)
This is the pressure that is generated by the pressure washer and this pressure contributes to the cleaning force.
Gallons Per Minute (GPM)
This is a rating that tells you the volume of water produced by the pressure washer and it's measured in gallons per minute (GPM). It is also a contributing factor to the cleaning force of the washer.
Related reads:
Best quiet gas pressure washers
Cleaning Power Units (CPU)
This rating tells you the pressure washer's cleaning ability. This is determined by multiplying the gallons per minute (GPM)  x Pound per square inch (PSI). The greater this number rating, the greater the cleaning ability of the pressure washer to be able to clean deeply and effectively.
Highly-Rated Quiet Electric Pressure Washers
These electric pressure washers below are some of the best quiet electric pressure washer devices on the market. They can deliver great power for your various applications while keeping noise at bay. Although they are not completely silent in operation, they, however, have reduced sound levels when running than many of their counterparts.
1). Greenworks GPW2005 2000 PSI Pressure Washer
This electric pressure washer provides 2000 PSI and 1.2 GPM giving you a cleaning power unit (CPU) of 2400 CPU. This gives you good value for your money. It is quite powerful for cleaning dirt.
This medium-duty pressure washer is great for medium-duty applications like cleaning cars, decks, windows, and other areas around your house.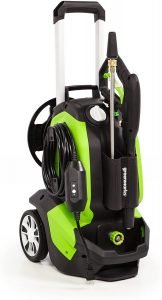 This 2000 PSI electric pressure washer runs on a powerful 13 Amp induction motor to deliver enough power for you to clean all kinds of dirt and sticky areas.
Equipped with a 25 feet high-pressure hose and a 35-feet power cord, you are able to move around and get your cleaning done with the movable wheels.
This pressure washer also comes with 3 nozzles which include: 25, 40 degrees, and a turbo nozzle. With these, you will be able to adjust the spray depending on your preference.
Weighing about 37 pounds, an electric pressure washer is quiet in operation and can be handheld in the in-built holder which is very convenient.
This a great washer for residential use because it has sufficient power and it's durable and sturdy in use.
Pros:
Great for light to medium-duty cleaning

The telescoping handle and wheels for quick and easy maneuverability

It is easy to assemble and store away
Cons:
It may not last very long
---
2). Sun Joe SPX3000-BLK 2030 PSI Pressure Washer
This pressure washer has a 14.5 Amp/1800 watt electric motor that can deliver up to 2030 PSI and it has 1.75 GPM. It has earned its place as a powerful and efficient electric pressure washer.
This quiet electric pressure washer is suitable for vehicles, patios, driveways, building walls, and more. It has a maximum temperature of 104 degrees Fahrenheit, two tanks with each capable of holding 0.9 liters of liquid and it is removable from the equipment itself.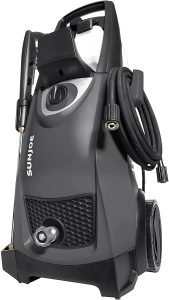 The two tanks make for more flexibility to be able to put different detergents on each tank to make for more powerful cleaning.
There are also 5-quick connect spray tips (0º, 15º, 25º, 40º, and soap) included which can tackle light, medium, and heavy-duty cleaning tasks. 
This quietest electric pressure washer also features a total stop system that automatically shuts the pump off when the device is on and not been used to save energy and prolong the device's lifespan.
Pros:
Dual detergent tank to help you handle two cleaning jobs simultaneously
Versatile in doing different jobs
For light to medium jobs
Cons:
Technical support for the product not so great
---
3). Homdox 2500 PSI Electric Pressure Washer
This Homdox 2500 PSI pressure washer comes with a maximum PSI of 2500 and 1.6 GPM making it one of the most powerful in deep cleaning so far. It has a compact and upright design with axle-mounted wheels that makes it easy to move it around.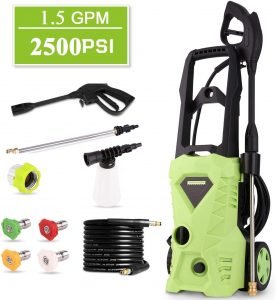 It is also equipped with a total stop system (TSS) which uses an automatic stop mechanism for the pump when it is not engaged.
With four interchangeable nozzles or sprays( 0º, 15º, 25º, 40º), you can tackle light, medium, and heavy-duty cleaning tasks easily. It is ideal for cleaning the garden, patio, cars, boats, RVs, driveways, decks, and more.
It also comes with a 33-ft power cord with inline GFCI, which can be used on all exterior outlets. With this model, even though they have specified the specific noise level, according to many reviews by users, this pressure washer has a quiet performance.
---
4). AR Annovi Reverberi AR390SS Electric Pressure Washer
This AR Annovi Reverberi AR390SS Electric Pressure Washer has 2000 PSI and is good for cleaning decks, patios, driveways, outdoor vehicles, walls, sliding, and many more.
This washer is environmentally friendly because it conserves water by using 80% less water with 40% more power than a standard garden hose.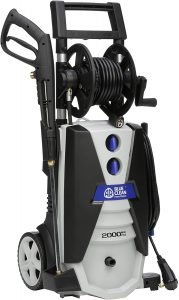 It has a 30-foot high-pressure hose, 48 oz detergent tank, and 4 different quick-change pressure washer nozzles.
This pressure washer is quick and easy to assemble, plus it is at the top of the list for the quietest pressure washer, especially when compared to gas models.
---
5). Powerhouse International New Platinum Electric Pressure Washer
This electric power washer is a superpower when it comes to deep cleaning. It has 3000 PSI and 2.2 GPM which makes a powerful pressure washer for tough dirt and stain removal.
It's about half the size of most gas-powered pressure washers while making about one-third of the noise. This makes it great for car washing, gutters, and heavy-duty hydro jet power washing. It comes with 5 quick-connect spray tips (0º, 15º, 25º, 40º, and watering) and also one universal stainless steel lance.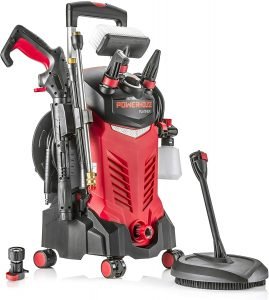 The 30-foot flexible hose will help you to reach all corners and places to clean without necessarily moving the washer itself. Included in the package are surface cleaner, soap foam sprayer, brush, turbo, angle nozzles, and other small tools.
Because mobility is an issue, especially in heavy pressure washers, this model is equipped with 4 casted which can be locked or let to roll freely.
---
6). Karcher K5 Premium Electric Power Pressure Washer
The Karcher K5 Premium electric power pressure washer is a medium power washer with  1.4 GPM and 2000 PSI. This is perfect for most residential purposes. This quiet electric power washer features Vario power spray and a Dirtblaster spray wand.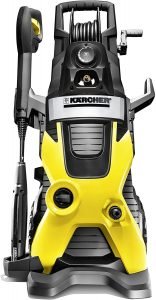 The Dirtblaster is great for heavy-duty cleaning, while the Vario is suitable for everyday sprucing up. Moreover, these wands feature a patented technology that makes this pressure washer a force to be reckoned with.
The 25-foot hose sits perfectly on the hose reel on the side to make it easy to store away.
It also features N-COR pump is a durable and non-corrosive and maintenance-free water-cooled induction motor that increases the lifespan by 5X. Maximum water inlet Temp (°F) – 104.
The detergent tank shoots with a power of 120V/60Hz. A tall vertical handle allows for simpler transport, and the entire unit weighs 32 pounds.
---
7). Ivation Multipurpose Portable Spray Washer
This Ivation multipurpose portable spray washer is a convenient option that operates with rechargeable batteries. If the application you need a washer for is light-duty, then this washer will be suitable for you.
It also comes with a home plug and a 12-volt car plug for ease of use. It features 60 watts of power and a maximum pressure of 130.5 PSI. This is one of the most quiet electric pressure washers on the market.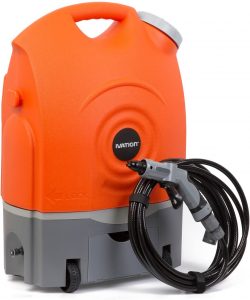 The roller wheels are smooth and functional, and clients can also choose to carry the device by its top handle.
A 4.5-gallon reservoir holds water and soap, making it a quiet pressure washer with a convenient design. The all-in-one design is compact, portable, and guaranteed to get the job done. This washer only weighs 17 pounds, making it easy to pick and move around with.
The Ivation comes with five sprayer attachments, as well as suction and turbo cleaning options. It is backed with a 1-year warranty.
---
Quiet Electric Pressure Washer Buying Guide
When choosing an electric power washer, you ought to consider some things to make sure you are selecting the right pressure washer for your needs. Here are some tips to guide you in your selection.
Cleaning Power
As I earlier mentioned above the ratings of a pressure washer, help determine the cleaning power of the washer. You will find pressure washers for different purposes. It is a good idea to decide what you intend to use it for before you make a selection.
Look out for the cleaning power units of the pressure washer, the higher this number, the more powerful the washer is.
As a general rule, any value above 2000 PSI (Pound-force per square inch) is great for tough stains and large surfaces.
medium or heavy-duty pressure washers are good for everyday use because they are durable and more powerful while light-duty pressure washers are handy for light cleanups.
Noise Level
These appliances can be pretty noisy. So it is evident that you are looking for a pressure washer with less noise. Even though you can wear earplugs or ear protection to mask the noise, you could be annoying those around you.
Therefore, it is a tip to factor in your selection. Low-noise pressure washers work great as well. Most pressure washers usually create high levels of noise at their maximum power but not all though.
Portability
Recent technological advancements have allowed powerful electric washers to be made in small and portable sizes. Most of the latest pressure washers are compact and still efficient in removing stains as heavier options.
A pressure washer that you can easily adjust can go a long way when changing locations or moving around.
Maintenance
Pressure washers are designed to be of low maintenance. You don't need to dismantle and fix the inside of your washer in any way. But cleaning and caring for it can go a long way to making it last longer.
You may also need to look out for heating issues that can cause damage. But this can be fixed by choosing a pressure washer with a water-cooling feature.
Length 
With an electric pressure washer, the length of its cord is an important factor to consider. You can decide this by deciding the length of the area and its size. This length of the cord will help you to reach quite long distances with ease.
The length of the pressure washer's hose is also important because you want to hold the washer safely. An expandable hose again is your best bet.
Uses of Electric Pressure Washer
An electric pressure washer can be used to clean a lot of things and surfaces. Here are some of the uses of your pressure washer.
Vinyl, Brick, or  Window Cleaning
You can clean your home better with a pressure cleaner. The house siding and blockhouse are the famous places you can use your pressure washer. It can clean a wide range of outsides including the outer vinyl or block alongside the windows.
You can also clean the wood decks, the front entrance stairs, walkways, tile patios, driveways, drain, canal, pool, and even the garage floors with an electric pressure cleaner.
Clean the BBQ Grills
If you are having a hard time cleaning your BBQ flame broils with a sponge and water, then you will find a pressure washer very handy. You can use a pressure washer to clean off all the BBQ flame broils that built up after you finished the party.
Autos and Trucks Cleaning
One of the main uses of an electric pressure washer is washing your autos and trucks. With an electric power washer, you need not more than 25 minutes to finish your auto wash. Just use your brush or wipe it to finish the cleaning. Some people even connect the brush to the washer and after cleaning, they don't wipe it down again.
Open-Air Furniture
Plastic, wooden, or vinyl furniture outside in the yard needs to be maintained to keep them looking clean and good for sitting. Using a pressure washer to clean and afterward polish them has become a famous practice among homeowners. It's super simple and quick to clean with a pressure washer.
Clean Various Gears
You can clean your mountain bikes, lawnmowers, boats, trailers, and more with your electric power washer. It gives them a powerful wash by getting rid of all the mud, dirt, and stains. So next time instead of spending hours trying to clean them manually with water, you can just use the washer to help you do it quicker and easier.
Silent Electric Pressure Washer Care and Maintenance
Caring for your equipment or device will make it last a long time and operate efficiently. Here are some recommended steps to help keep your electric pressure spray running.
General Storage 
After you are done using your pressure washer for the day, turn off the power switch. Unplug the power cord from the outlet. Turn the water supply off. Pull the trigger on the spray gun for 2-3 seconds to drain out all the excess water and any remaining water pressure. Please do not allow the power washer to run with no water flowing through it.
Now, you can remove the high-pressure hose from the spray gun and unscrew the other end of the high-pressure hose from the power washer.
Remove the lance from the gun. Place the gun in the holster on the side.
Discard any remaining detergent from the liquid tank. Also, make sure to flush the tank and nozzle head with clear water to prevent clogging.
Now you can wind the power cord around the L-shaped hooks which are located on the top of the machine.
The pressure hose is supposed to be stored on the hose hook located on the back of the handle.
Now, you are ready to put it away.
Pros tips for storing away the pressure washer
Do not store your power washer where it is exposed to freezing temperatures unless you are using an antifreeze designed for the pumps. You can store the washer indoors to prevent water in the washer from expanding in freezing conditions.
When the water freezes and expands, your power washer will be damaged and become inoperable. Or, if storing outdoors, it is recommended you use a pump saver (not included) to protect pumps.
Final Thoughts
Pressure washers are great for keeping your car and home clean from dirt and stains. These silent pressure cleaners or washers take in water and other liquids and use the motor to then pump the water through the spray nozzles at Hugh pressure that can remove tough stains and dirt.
The above-mentioned quietest electric pressure washers are some of the best quiet electric pressure washers in the market to help you with your cleaning.
The power capacity that you choose will be dependent on your needs-thus the application you want to use it for. For light-duty cleaning, you can get one that if not have super high pressure. There are also some that are medium to heavy-duty that can do deeper cleaning and stain removals.
There are many options in the market to meet your needs.
Latest posts by Josephine
(see all)