Looking for a quiet impact wrench to add to your set of air tools?. Perfect, then you've come to the right place. In this guide, you can expect to learn the following:
What an impact wrench is
How does an impact wrench work?
Our top-rated quietest impact wrench picks
Factors to consider when choosing an impact wrench
And more…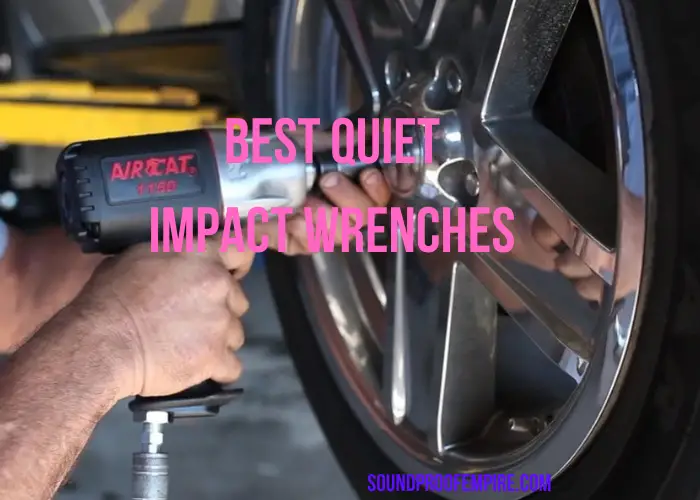 Impact wrenches are versatile air tools that are used in many industries. Whether you are in automotive repair, heavy-duty equipment maintenance, product assembly, major construction projects, or any other instance where high torque output is needed. An impact wrench is a must-have power drive tool.
Impact wrenches are tools to turn to when no other wrench is working. Sometimes, you may have the lug nut just too tightly in place and your regular wrench just can't get a good grip. Regardless of the reason, the impact wrench allows you to bring additional force and grip to hard-to-turn bolts.
However, with every power tool comes some amount of noise, and it's no different with the impact wrench power equipment. If you are noise adverse like me or you are considerate of those around you, you may want a quiet impact wrench to avoid unnecessary noise.
Luckily for us, there are some brands and models that have factored in the noise level of these tools and have made them quieter. So, you get the job done with less noise.
Today, I will cover some of the top-rated quietest impact wrenches to help you make an informed decision. But let's first look at what an impact wrench is and what it does.
Also read: Best quiet Chainsaws 
What is an Impact Wrench and How Does It Work?
An impact wrench which is also known as an impactor, impact gun, air wrench, air gun, rattle gun, torque gun, or a windy gun, is a socket wrench power tool designed to deliver a high torque output with minimal exertion by the user. It does so by storing energy in a rotating mass, then delivering it suddenly to the output shaft.
These impact wrenches come in various sizes starting from standard socket wrench drive size, from 1/4 inch for small assembly and disassembly up to 3½ inch and larger square drives for major construction.
Impact wrenches are one of the most commonly used air tools. When they are in operation, the rotating mass is accelerated by creating by the motor, storing energy, then suddenly connected to the output shaft creating a high-torque impact.
Best Quiet Impact Wrench Reviews
These quiet impact wrenches here are by no means "silent" in operation. However, they are well engineered to deliver excellent performance with lesser noise.
1). Ingersoll Rand 3/4-Inch Compact Quiet Impact Tool
The Ingersoll Rand 2145QiMAX 3/4-Inch Drive Quiet Impact Wrench offers incredible performance and features an efficient air motor that reduces air consumption to save you money.
It is ideal for the most demanding applications, such as truck and bus service, construction and agricultural equipment maintenance, as well as the MRO market. With its patented quiet tool technology, the noise levels are greatly reduced without compromising performance.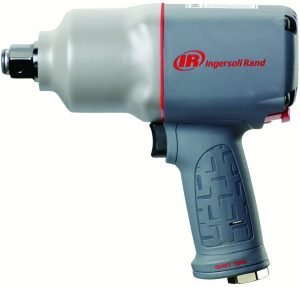 This air tool can deliver up to 1,350 foot-pounds of max reverse torque from a tool that weighs just 7.4 pounds and is compact enough to access tight spaces.
The finely tuned twin-hammer impact mechanism punishes tough bolts and powers through heavy-duty applications such as suspension work and heavy equipment repair.
This quiet air tool is designed to withstand tough use in rugged environments and last for long hours. Plus, it comes with a 2-years warranty. This air tool is one of the most powerful and quietest impact wrenches.
Features 
1,350 foot-pounds of maximum reverse torque

Designed to withstand tough use in rugged environments

Patented four-position power regulator dial

3/4″ drive size

7-vane motor delivers more power

Steel hammer case

2-year warranty
---
2). NitroCat 1200-K Kevlar Composite Air Impact Wrench
Air impact wrench delivers powerful torque output

Up to 1,300 foot-pounds of nut-busting torque ideal for heavy-duty applications

Lightweight design helps minimize fatigue

Composite housing and hammer case offers rugged durability

The twin-hammer mechanism provides maximum power and durability

Backed by a two-year warranty
---
4).  AIRCAT 1150 Impact Wrench
This AIRCAt 1150 impact wrench has a lightweight all-black composite body with a patented ergonomic AIRCAT handle to work for many hours with comfort.
This tool delivers a performance of 1, 295-Feet-pounds (ft-lb) of loosening torque, and 1, 400 Blows Per Minute makes this the strongest hard hitting Twin Hammer 1/2 Impact Wrench on the market.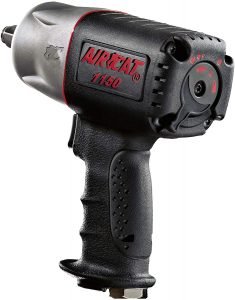 Just like the other wrenches above, this wrench also has a patented tuned exhaust system that reduces its noise level tremendously without losing its power. it's backed with 2-years parts and labor warranty.
Features
sheer power and performance of 1,295 Feet-pounds (ft-lb) of loosening torque and Max.

Torque 900 ft-lbs

1,400 Blows Per Minute 

Patented quiet technology at 86 decibels

2-year parts and labor warranty
---
5). Chicago Pneumatic CP7748 Composite Impact Wrench
This Chicago pneumatic CP7748 composite impact wrench is one of the powerful and less expensive impact wrenches in the market in its class with 922 ft.lbs – 1250 Nm of maximum real torque in reverse.
It's lightweight weighing only 4.4 lbs due to its composite housing. The contoured comfort grip handle allows for Smooth Forward / Reverse Switch on the back.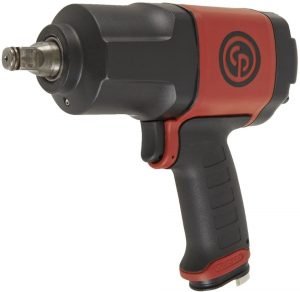 The air motor is ruggedly designed to work in harsh conditions, it has a quiet handle exhaust, a twin hammer mechanism, a free speed at 8,200, swivel air inlet, and it's a good value for your money and for professional mechanics.
Features
922 ft.lbs – 1250 Nm of maximum real torque in reverse

1/2″ composite impact wrench

Lightweight composite housing
Quiet handle exhaust
Twin hammer mechanism
---
Factors to Consider When Choosing the Quietest Impact Wrench
Been one of the popular air tools, when picking one for your tasks, you need to carefully choose one that is right for you and will get the job done properly for you.
Noise Level
Whether you are working with a pneumatic, electric, or battery-powered wrench, this tool can produce a lot of unpleasant sounds. The noise comes from both the mechanism and the part that is been worked on. If you work with impact wrenches every day, like in the case of a car service workshop, then you need to choose a quiet impact wrench to protect your hearing and that of others. Luckily, the above wrenches are quiet in operation.
Maximum Torque of the Impact Wrench
The torque is the power that the wrench can generate in a short time especially when you initially press the trigger.  The higher the max. torque, the tougher screws it will be able to handle. It makes it more convenient to work with.
But that doesn't mean you need to get a wrench with max. torque of around 2200Nm, if the job at hand requires less torque. You pick according to how tough the work is. Look for a minimum of 150 ft-lbs (1800 in-lbs).
Degree of Tightening/ Loosening
A good impact wrench always has several degrees of torque adjustments. The more degrees of torque control you have to choose from, the more precise it will become to work with the wrench. The tool also becomes more versatile. All it will take is switching gears.
Twin Hammer
The twin hammer simply stands for double hammer and in this case the two hammers when the tool is on are constantly rotating around the spindle. This allows the wrench to create a huge torque in the first moments of work.
Size
Typically, the smaller the better, however, it usually is a tradeoff between size and torque. A smaller size will allow you to use your wrench in tighter spaces, but you will sacrifice a little torque. We usually find that it's best to balance these two features.
Impact Per Minute
This is how many times the hammer strikes the anvil in a minute. Typically a higher number correlates to a wrench that can drive screws faster and will be able to loosen bolts that are torqued more tightly.
Drive Size
The most common 1/2" drive will do for most applications. 3/8″ is the second most popular size. Typically 3/8″ will come in a smaller total package but will have less torque than a comparable 1/2″ drive wrench.
Balance and Ergonomics
Not all wrenches are manufactured the same.  in this regard. Find a wrench that fits your hand, has comfortable grip materials, and is well balanced so as to reduce your fatigue and strain when using it.
Composite or Metal Housing
Most of the cheap wrenches are made of metal casing and you can easily purchase them at any DIY stores. Though it may seem like an advantage, that is not always the case as the metal surfaces are sensitive to scratches and dents. Wrenches with metal housing at simply heavier too.
On the other hand, a wrench with composite housing is lighter and less prone to dents and scratches. If you are using the wrench for long hours, then a compact housing wrench is a better option to relieve you of hands fatigue.
Latest posts by Josephine
(see all)