10 Total Silence Earplugs that Block All Sound
Noise-canceling earplugs are a great way to block out noise. But finding the total silence earplugs that block all sound can be challenging.
Being in the midst of unwanted sounds can drive anyone crazy. And sometimes, it is always almost unavoidable. in such instants, Having noise-canceling earplugs on is the best way to block out the noise.
It could be your neighbors at home, your motorcycle wind noise or your colleagues at work who are making it impossible for you to have the quietness and privacy you need to concentrate or rest peacefully.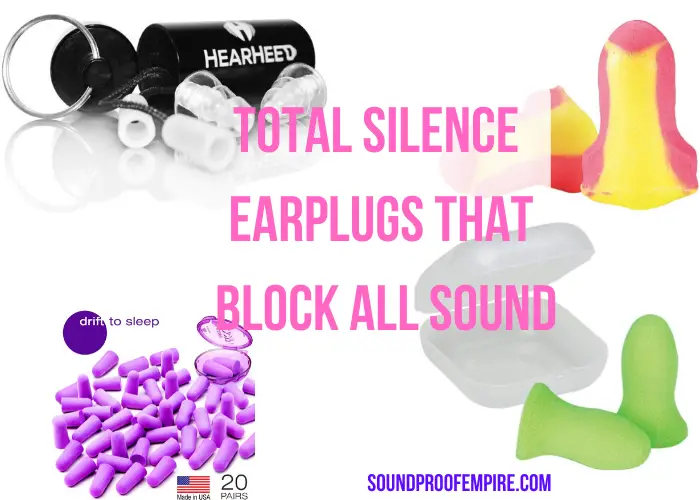 Instead of telling them to reduce their noise which might make them feel like you are insulting them or telling them what to do, you can simply plug in a pair of noise-canceling earplugs into your ears to block out any unwanted sounds that might be disturbing you.
So, after hours of research and gathering users' experience with different earplugs, I finally came up with the best quiet earplugs for your sleep, work, studying, motorcycle rides, concerts, travel and other activities that you might need earplugs to reduce noise.
Best Noise-Canceling Earplugs for Silence
Below are some of the best noise-canceling earplugs for studying, work, construction, traveling, etc.
1. Vibes High Fidelity Earplugs
These Vibes high fidelity earplugs are some of the best reusable earplugs that have noise-canceling features to filter out unwanted frequencies to ensure a clearer sound experience.
They are best for activities such as concerts, motorcycle rides, musicians, workplace noise reduction, construction, etc. When you are wearing them on, they appear virtually invisible to others. This is because they have a clearer outer shell and form-fitting low profile.
These noise-reducing earplugs not only lower damaging decibel levels by up to 22 decibels but also significantly increase sound clarity to make you enjoy your quietness.
These noise-canceling earplugs are made of silicone and can fit all ear types. To fit them on your ears, you simply mold it with your fingers and fit it into your ears. They are adjustable silicone earbuds that can fit small, medium or large ears.
Plus, these earplugs are portable to carry with you where ever you wish to travel with them.
2. Hearheed High Fidelity Noise Reduction Earplugs
Long exposure to damaging noise levels can ultimately damage your hearing. But there are preventive measures one can take to avert this situation, thus wearing noise-canceling earplugs.  These Hearheed high fidelity earplugs have active guard filters that an average noise attenuation value of up to 28 dB.
These earplugs are made of hypoallergenic non toxic natural soft silicone material that actually requires minimum maintenance. You can simply clean them and reuse anytime you want and they will still maintain their shape and performance.
These earplugs can be used for different activities to cancel excessive noise from damaging your ears.
3. Flents Quiet Please Ear Plugs
Flents is a well-known company that has specialized in providing at-home wellness solutions for personal care. Some of their products include; Insty Splint finger splints, sleep masks, hot/cold water bottles, ice bags, and eye patches.
The Flents quiet earplugs are made of soft foam and this Flent earplugs pack has 50 pairs in it for you to use. These Flents earplugs are best noise-canceling earplugs for construction, heavy machinery, hand tools, music and for reduction of other loud environment noise.
These earplugs are great for hearing protection to prevent loss of hearing in heavy machinery areas. They are able to attenuate noise levels up to 29 dB.
4. Honeywell Leight Earplugs
The Honeywell Leight earplugs are some of the best noise-canceling earplugs for workplace hearing safety. They have a bright yellow and magenta color scheme that makes it easy for supervisors to enforce workplace hearing safety and compliance by being able to identify the earplugs in the ears from a distance.
These Honeywell earplugs have a high noise reduction rating of 32 dB to ensure that loud noise in the work environment is properly attenuated.
They are made of soil-resistant soft foam that is self-adjusting. They can expand to fit the biggest ear possible. The T-shape feature allows you to easily insert and remove them anytime.
These Laser Lite earplugs are very cost-effective and a great choice for any workplace. There are 200 pairs of these earplugs per pack. This makes them last for a long time.
5. SoundWave Earplugs for Noise Reduction
SoundWave earplugs are some of the best earplugs for studying and earplugs that block all noise from interfering with your studies. They can also be used as noise-canceling earbuds for sleeping.
For the light sleepers who are always struggling to sleep because of external loud noise around them. These earplugs might come in handy for you.
The pack comes with 2 pair of corded earplugs. One pair has a noise reduction rating of 23 dB while the other pair has a noise reduction rating of  27 dB.
They are made from soft silicone rubber that makes them comfortable to wear all day long and fit all ear types whether small, medium or large ears. They can also easily be worn under the helmet for quieter rides, hats and workplace headgear.
With the portable and multi-functional lightweight aluminum case, you can easily fit them into your pocket and go with them anywhere you like. They can also be used for concerts, sporting events, on the airplane, sleeping, etc.
6. Decibullz Custom Molded Earplugs
In February 2012 Kyle created the world's first thermo-fit custom earphone and Decibullz was born. He created these custom earplugs after being fed up with headphones that wouldn't stay on his ears and created undesirable sounds.
These custom noise-canceling earplugs are designed to custom fit your ears easily and quickly. They provide the needed comfort, hearing protection, superior noise isolation, and cant easily fall out. They have a noise reduction rating of 31 dB.
To customize them to your ears, simply heat the Decibullz custom thermoplastic molds in boiling water for a bit and shape them to your ears. You can now fit them inside your ears.
These re-moldable earplugs are great for activities such as shooting, working, loud concerts, traveling and hearing protection safety.
Included in the package are Two Decibullz Thermoplastic Custom Molds, Three Sets of Triple Flange Tips S, M, L, One Set of Max Protect MEDIUM Foam Tips, Earplug Carrying Pouch with Decibullz Logo.
7. Moldex Soft Foam Earplugs
The Moldex soft foam earplugs have two different pack sizes to choose from. There is 20 count pack and 40 count pack.
They are earplugs for sleeping, snoring, motorcycling, construction, lawn mowing, studying and among other activities that require noise blocking. Plus, their noise reduction ratings are tested to be as high as 33 dB.
These earplugs are soft and comfortable to wear such that you might even forget you are wearing them. They are designed to easily adjust and fit most ear canals to block out noise.
The Moldex soft foam earplugs come in a pocket-size carrying case for easy Hygenic storage and transporting.
8. Mack's Pillow Soft Silicone Earplugs
Mack's Pillow Soft Silicone Earplugs are versatile, blocking out water and reducing noise by 22 decibels (dB). They're great for sleeping, swimming, traveling, snoring, studying, loud music concerts, motorsports, etc.
These are some of the best molded silicone earplugs that provide you with protection from hearing loud sounds and non-allergenic waterproof protection.
The mack's molded silicone earplugs can be used for swimming, sleeping, traveling on a plane to relieve ear pressure, loud events, bathing, motorcycles, snoring, etc. They are versatile in use.
If you need earplugs for snoring, Mack's is the #1 Doctor recommended brand to get a good night's sleep when your partner is snoring. They are also recommended by Doctors for swimming.
9. Flents Quiet Contour Earplugs
These Flents quiet contour earplugs have a noise reduction rating of 33 dB. these are perfect for construction, heavy machinery, hand tools, music, and other loud environments. Also great for creating silence when focus or concentration is needed.
There are 3 different package sizes to choose from. Namely; 10, 50 and 55 pairs respectively. Depending on how many you need, you can choose the package respectively. The Flents contour earplugs are very affordable and good quality.
They are made of soft foam to fit your ear perfectly after insertion. It easily compresses and sits comfortably in the ear.
10. Etymotic Research high-Fidelity Earplugs
Hearing loss can be prevented if only you use the right hearing protection earplugs. Good earbuds work well to effectively attenuate loud noise to sound levels that will preserve the sound quality clarity without damaging your ears.
these Etymotic high fidelity earplugs have been perfectly engineered to replicate the natural response of the ear so that sound quality is the same as the original but much quieter.
These are reusable earplugs that are ideal for concerts, clubs, theaters, aircraft, construction, yard work, airshows, parades, and athletic or motorsports events.
However, even though these earbuds are reusable, but with continuous use, the ear tips may lose their elasticity. It is recommended by Etymotic that to maintain the best performance and retention, you should consider replacing them every 3-6 months.
ETY-Plugs is not recommended for use with impulse noises such as gunfire or for sleeping.
Similar Reads:
Best noise canceling headphones for studying
Best noise reduction headphones/earmuffs for kids with  autism
Bluetooth headphones/earmuffs for mowing your lawns
Buyer Guide to Silent EarPlugs
To ensure that you get the right earplugs, here are some tips to guide you in the selection process.
Are the earplugs noise blocking enough for you?. This is a question that will guide you to select the right pair of earplugs.
The earplugs are not blocking enough noise, then the purpose of purchasing them will be defeated. Everyone has slightly different ears, so, what might fit one person perfectly might not fit you.
You need to consider how comfortable you will feel in the earplugs. Especially if you are going to be using them for longer hours like sleeping with them on. They will be inserted into your ear canal in order to work.
Therefore, if they are uncomfortable, you will probably need to re-adjust them every once in a while to make yourself feel comfortable.
They should fit snuggly without being uncomfortable or applying pressure to the eardrum, and they shouldn't irritate your ears or overheat after wearing them for a while.
Earplugs of all kinds exist today in the market. Some earplugs have incorporated high-tech into them that gives them noise-canceling properties.
However, you should also be aware that such earplugs come with a high price tag. But such earplugs give you the maximum benefits of using these devices. This will now depend on you whether you want to invest more money for high-quality earplugs.
Choose Material that Fits Your Personal Needs
There are silicone, wax and foam earplugs in the market. With silicone and wax earplugs been more durable than wax earplugs even though they are pricier.
You can mold silicone and wax earplugs by softening using the heat from your hands before placing them on your ears to create a tight seal that can block the noise.
With regards to maintaining them, silicone and wax earplugs are easy to clean as well.
Foam earplugs, on the other hand, are more popular and are made of memory foam material which is the same as the material used for memory foam mattresses.
The foam s compressed and when it is inserted into the ear, it then expands. Foam earplugs are not usually durable and therefore are much cheaper. Another disadvantage of foam earplugs is bacteria can easily grow in them after some time.
Price is the number dictator of quality. Going for the cheapest might result in low-quality product and it might not do the work of blocking the sound.  You should aim for earplugs that will give you value for money.
Are the Earplugs Reusable or Disposable
As previously mentioned, reusable earplugs and the moldable options are usually more expensive than disposable ones. However, they are usually more durable than disposable options, and they can be reused for several nights. Disposal earplugs can usually be worn just once or twice.