7 Best Noise Canceling Headphones for Kids with Autism
According to the Centers for Disease Control, autism affects an estimated 1 in 59 children in the United States today. It is a real problem many children and adults face, so don't worry you are not alone.
Several factors may influence the development of this condition such as genetics and the environment. Some of the come characteristics of an autist child may include; sensitivity, seizures, sleep disorders, anxiety, depression, attention issues, etc.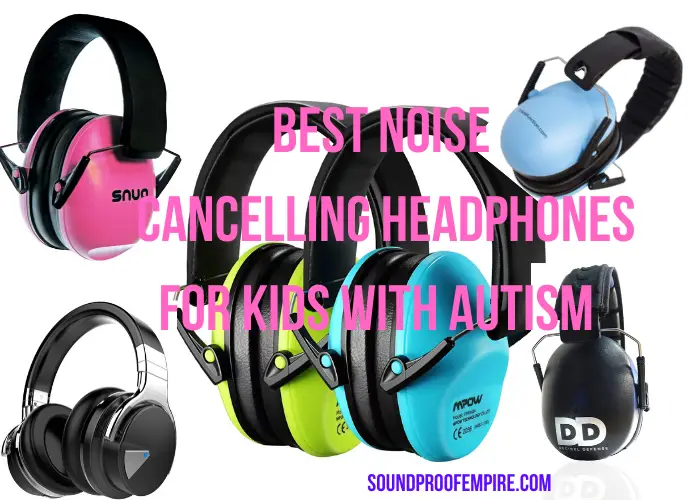 Loud noise is a problem that many of these children fight with day in and day out. That is why it is a good idea to get noise canceling headphones for kids with autism. This way, they are able to block out or reduce the impact of background noise on their already sensitive souls.
Wearing noise reduction headphones can be a very helpful thing to these children.
However, you need to consider the environment the child is going to be wearing the headphones. There are scenarios that might not be ideal when wearing these noise canceling headphones such as crossing the road, or when their name is been called and they cant hear. These can land them in trouble.
On the overhand, they can wear their headphones in places such as:
In the school cafeteria
Movie theater
Restaurants
School bus
Shopping mall
Concerts
without much I do, let's dive into the best noise canceling headphones for kids with autism.
Best Headphones for Autistic Kids
The headphones help kids with autism and sensory issues manage sound challenges.  These autism headphones feature a discreet, flat black, low-profile design that makes them a great choice. They can help manage stress and anxiety when sound-sensitive kids enter loud environments.
1. Soundcore Anker Space NC Wireless Headphones
The Soundcare Anker wireless headphones with Bluetooth are some of the best music headphones for autistic child. These headphones can be
Space NC's active noise cancellation constantly studies the world around you to ensure ambient noises are blocked out. This technology cancels out up to 93% of low frequency sound and up to 96% of high frequency sound.
This ensures that background noise is not interfering with your listening experience. They are great for slightly bigger kids and teenagers.
They have an on ear control commands that allow you to adjust the volume and change songs from your favorite spot. You can either choose to operate them using Bluetooth wireless mode or in wired mode by using the AUX cable when there is no battery left.
These headphones are long-lasting after charge with the Li-ion battery. They can last up to 20 hours on Bluetooth noise canceling mode or 50 hours in wired noise canceling mode.
For easy handly, they can easily be folded for storage and won't occupy a lot of space in the kid's bag.
2. Fun and Function Noise Reduction Headphones/ Earmuffs
The fun and function noise reduction earmuffs have been specifically designed for kids with special needs like autism. They are kid-sized headphones that are very lightweight and powerful at blocking out background noise to reduce stress and anxiety.
These headphones are able to reduce external noise tremendously yet allow the kid to hear nearby conversations and be aware of their surroundings.
They are ideal for lunchrooms, sporting events, airports, or birthday parties that can easily overwhelm the kid with sensitivity such as sensory overload, auditory defensiveness or hyperacusis, ADHD sensory integration disorder.
 They are durable and therefore you get true value for your money when you invest in this headset.
These Fun and Function headphones are very portable and can easily be folded and taken with you wherever you are going. Great headphones for kids, teens, and adults because they can easily expand to fit all.
3. Spiderman Kids Ear Protectors Earmuffs
The Spiderman 2 in 1 headphones have a noise reduction and digital stereo built-in one. With a noise reduction rating of 21 dB, these are great for kids with sensory sensitivity who are startled by the sound of any loud sound such as fireworks, concerts, etc.
This unit includes a detachable audio input cable to transform your Ear Protectors into Headphones with ease to enjoy whatever music or content they like.
They are very easy to fold and lightweight to carry wherever you are going.
There is a parental control switch integrated into them which is located on the bottom of the unit. It is an adjustable volume limiting switch that provides a safe and optimal listening experience for any type of smartphone user with either iOS and/or Android operating systems.
The padded headband and soft foam ear pads ensure these earmuffs sit comfortably on your ears.
4. Decibel Defense Professional Safety Earmuffs
These earmuffs are save for both kids and adults alike. With a noise reduction rating of 37 dB, you can use them for hearing protection for the kids and also adults can use them if they find themselves in a noisy environment that requires them to use hearing protection such as construction sites, shooting, lawn mowing, etc.
The Decibel Defense headphones have an ultra-comfortable headband with smooth, padded cell design that provides many hours of comfort if worn for long hours.
You can easily fold them into a compact size that allows for easy carrying and transporting.
These headphones come in about 7 different colors to choose from and different sizes. Depending on the user's head, you will adjust the size accordingly to fit. These will make for a perfect gift for any kid or adult.
5. Mpow Kids Ear Protection Headphones
The Mpow kids headphones are designed with kids in mind from the ages of 3 to 12 and there are no sharp corners or edges that can hurt the kid in any way.
Any sound over 125 decibels for even a short period of time would do harm to kids' hearing. Mpow Kids Safety Earmuffs have a noise reduction rating of 29 dB. These earphones are designed to protect your kids' ears from the damage of loud noise.
They are made of durable and flexible materials that are why even babies who have the tendency of putting anything in their mouth can use them in a noisy environment for their hearing protection.
It doesn't matter the size of the kid's head, they are adjustable and a universal fit for all. With vibrant colors that make them stand out on the head. They are designed with noise-dampening sponge, soft ear cushions and solid ABS ear cups that seal around the kids' ears perfect thereby blocking out the external environmental noise.
Related Reads:
Top noise canceling headphones for college students
Best earplugs to block all sound
Best bluetooth headphones for mowing lawns
They are very compact and foldable for easy carry in the drawstring bags that come with it. There are two headphones in a pack.
6. LilGadgets Untangled Wireless Bluetooth Headphones
The LilGadget wireless headphones are high quality and high-performance headphones that are designed with the needs of kids in mind. they are some of the best Noise Canceling Headphones for Kids with Autism. They cater to kids of 4 years and above for their hearing protection and convenience.
These are Bluetooth earphones and therefore give the kid a hassle free handling of wires that can be limiting movements and also could trap the kid's legs. The kid can move wirelessly about 30 feet from the connected device.
The SoftTouch breathable mesh material gives the kid comfortable wear and the headphones are made of polycarbonate and stainless steel material which gives the headphones a more sleek look.
These headphones come with a patented SharePort feature that allows the headphone to be connected wirelessly and this allows the kid to share his or her music with others.
The battery lasts 13 hours on a single charge and about 180 hours on standby.
A USB charging cable is included to rejoice. A 3.5mm cable is included as well so even if you outlast the battery, you can still listen on them the old fashioned way.
Every headphone also comes with a micro-fiber travel bag to make transporting easy and so you have something to clean your device screens.
The LilGadget wireless headphones are offered in 6 amazing colors for you to choose which color the kid will like.
7. Snug Kids Earmuffs
These Snug earmuffs are designed for kids from 6 months and older. They protect the little one's ears against loud noise such as sporting events, fireworks, monster trucks, or even everyday household items like a lawn mower, edger, or vacuum cleaner. Snug ear muffs muffle any intense sound around.
They are designed such that they sit comfortably on the ears and can easily be adjusted over the head to fit the little one's head comfortably.
The noise reduction rating is at 25 dB. This offers significant noise reduction in a noisy environment that might trigger autistic kids' stimuli.
Despite their well padded ear cups, these earmuffs are actually very lightweight and foldable for easier carrying or storage.
They are made kid tough for rough and tumble play. Plus, they are bendable and can handle dropping and twisting. These earmuffs come in many wonderful colors that kids love. Perfect for kids on the autism spectrum for blocking out crowds and other triggers and also be used by adults too. They come with 5-year warranty.
Buyer Guide to the Best Headphones for Autistic Child
Getting a pair of headphones for an autistic child is not the same for every other child. These are children with special needs. Therefore you need to consider certain factors when you are choosing noise canceling headphones for children with sensory overload.
Below are some factors to consider before you make a purchase of the best headphones for autistic child.
Noise Canceling headphones vs Noise Passive Reduction
Noise canceling headphones usually employ the use of active electronics to canceling out the outside noise. The way they work is, the microphone's pickup the noise signals and the internal circuitry of the headphones generates an opposite signal to cancel the noise signal out.
That way, you are able to block out background noise more effectively. Some of the headphones even give you the ability to set the level of external noise you would want to hear and if you wish to have complete silence, it is possible.
If your child has a bit of control over electronics and stuff he or she can use a noise canceling headphones or otherwise, the child has to be helped in certain the headphones properly and possibly when you are with him or her.
This is to prevent them from messing with controls like the volume that might rather increase their exposure to noise.
Noise reduction headphones, on the other hand, are made using sound blocking material such as soundproofing foams to help in reducing the environmental noise around the child.
Padded Headband
Using headphones with padded ear pads will increase comfort for extended period of use. Over the ear headphones which completely cover the ear are the most comfortable and best at blocking external noise.
Earmuffs that do not go into the ear
Earmuffs are some of the best headphones for kids. They are able to reduce substantial noise in the environment from entering your child's ears.
Kids with autism or sensory processing disorder would not want earphones that go into their ears as this could cause a lot of discomforts. The best alternative, therefore, would be earmuffs that go over the ears without really going in.
Lower Clamping Force
Most headphones are foldable when not in use. This feature helps in saving space in the bag. For kids bags that are small, this type of headphones will come in handy.
However, you will find that as you unfold and place them over the ears, this a clamping force that the earphones have. If the clamping force is loud or hard, it can irritate or hurt the child's ears.
To avoid this, you need headphones that have lower clamping force.
Soft and Smooth Edges
Children's bodies are very soft and tender and as such any small rough edge can hurt their tender skins. So, You need to look out for headphones with smooth and round edges to prevent bruising the child's skin.
Latest posts by Josephine
(see all)