7 Best Bluetooth Hearing Protection for Mowing Lawns
Having the best Bluetooth hearing protection for mowing lawns is the best gift any lawn mower could ever ask for. Whether you are a professional lawnmower or you do your house lawns yourself, the levels of noise generated by a mower are on the high side and this can lead to hearing loss over prolong use.
And the best way to protect your hearing is to wear hearing protection which will significantly attenuate the levels of high noise to a lower level that won't hurt your hearing.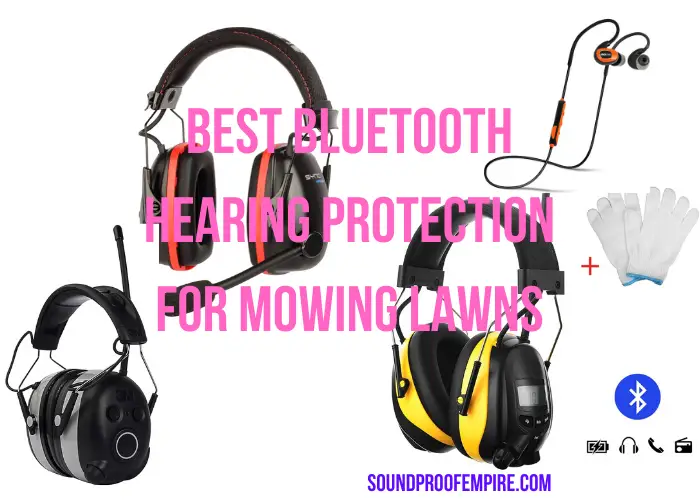 There are a lot of hearing protections for mowing lawns in the market today. You can find different headphones, earmuffs, and earplugs that can protect your hearing against the excessive noise created by the mower or leaf blower when mowing the lawns.
some people prefer the Bluetooth hearing protection for mowing lawns because these types of headphones give you the flexibility of listening to your favorite music from a distance without wires getting in the way.
With the best ear protection for lawn mowing that is Bluetooth wireless, you won't have to carry the music device with you while working.
Best Hearing Protection for Lawn Mowing
Hearing protection is important in a noisy environment where you are exposed to very loud noise. In this case, you need hearing protection and these are some of the best hearing protection for lawn mowing.
1. 3m Worktunes Connect Hearing Protector with Bluetooth Technology
The 3m Worktunes AM/FM headphones are some of the best Bluetooth hearing protection headphones for working and
The 3m Worktunes hearing protector has a Noise reduction rating of 24 dB. With this NRR you can effectively reduce the high-level noise produce by the lawnmower to levels that are not damaging.
Besides, the noise reduction levels, you now also have a wireless Bluetooth headphone that enables you to listen to music from your phone, computer or any music device or AM/FM radio while you are working.
The integrated microphone headphones also allow you to make calls without having to remove the protector from your ears.
They 3m worktunes wireless hearing protection with Bluetooth technology and AM/FM radio is easy to control with the easy-to-find button on the side of the headphones makes it possible.
Even though these headphones use a battery that is rechargeable with the standard USB and when charged, they can last up to 2 hours.
The lightweight, soft, low-profile ear cushions ensure that the pieces are comfortable so that you aren't exhausted even when you spend hours on your lawn.
The best hearing earphones for lawn mowing, unfortunately, do not have the volume control on the headphones. Rather, if you want to control the volume, you have to go back to the device you are connected to and control it from there.
These Worktunes headphones are some of the best selling headphones in the market for lawn mowing because they have a good NRR, are comfortable and wireless that makes them not obstructing while working.
2. Honeywell Sync Wireless Earmuff with Bluetooth 4.1
The Honeywell Sync Wireless Earmuff With Bluetooth 4.1 is designed for workers who want to stay connected and at the same time want to reduce the high noise levels coming from the surrounding environment.
These have a noise reduction rating(NRR) of 25 dB which will help in blocking out a substantial amount of noise from the lawnmower.
With these Bluetooth hearing protection headphones, you can stream music wirelessly when working which will help in blocking out additional noise from the lawnmower.
The Honeywell Bluetooth wireless earmuffs are durable by design and they have enough cushions on the headband and the ear cups for increased comfort when wearing for long hours.
The hearing protectors are only 10.9 ounces which means that they are light thus you can wear them comfortably the entire day without worrying about them getting worn out.
These ear protection earmuffs also have a rechargeable battery that lasts 16+ hours at the highest usage. It can even last up to 20 hours of active calling and streaming for up to 2 years.
3. GimGem Hearing Protection with Bluetooth Technology
In order to prevent the noise-induced hearing that many American workers suffer, you need proper hearing protection to help reduce the background noise that you are constantly exposed to during your lawn mowing session.
The GIMGEM wireless hearing protector with Bluetooth technology and AM/FM digital radio is a great choice. Besides the hearing protection, you get with it, you also can enjoy your favorite music or radio stations with them while working. There are 40  radio preset stations and memories.
Unless the Worktunes headphones, the GIMGEM headphones, has all the controls integrated on the headphones for you to leave your music device where it is. Plus, You can even answer calls using the built-in microphone that is on the earphones.
These headphones have an NRR of 25 dB which will reduce the rumbling noise of the lawnmower, weed wacker and any other loud equipment you choose to protect your hearing from. These are ANSI S3.19 Certified headphones.
The GIMGEM headphones are suitable for the workshop, job site, yard, etc.
The rechargeable battery can last up to 20 hours or more for you to use all day without having to worry about a low battery.
4. WULFPOWERPRO FM MP3 Bluetooth Radio Headphones
These FM MP3 Bluetooth headphones have a noise reduction rating of 29 dB making them effective at protecting your eyes from hazardous sound levels.
With their soft PU leather headband, they sit comfortably over your ears and are a universal fit for all head sizes.
The Bluetooth technology enables you to seamlessly stream music from your phones or any Bluetooth enabled device and you can receive a phone call without taking off your headset to do so.
Furthermore, if you wish to listen to the radio instead, there is a built-in FM digital radio that allows the radio ear defender to scan radio station frequency automatically and allow you to listen to your favorite radio FM station with the highly sensitive built-in antenna.
Additionally, there is a channel memory function to enable you to quickly select your favorite programs without having to search again.
Among the many activities that you can use these earphones for include; hunting, mowing, racing, shooting, indoor gunfire, construction sites and other outdoor noisy environments to protect your hearing.
They are powered by rechargeable lithium and its equipped with an LCD display that can display time, Bluetooth, FM frequency, and battery status.
5. Mpow Bluetooth Earmuffs
Using passive sound reduction technology, the pieces are made using two layers of professional noise dampening foam, high sealing solid cup and a unique double shell that ensures that the earmuffs provide you with all the silence you need when working.
They are designed to dampen the sound using the soundproof foam. When you wear the pieces, you will reduce the noise of up to 28 decibels.
The earmuffs also feature retractable stainless steel at the end that makes it easy for you to fold and unfold them. This means that even if you have a large head like mine, you can adjust them to your liking.
These hearing protectors feature a soft foam that not only aids in reducing noise but also makes the pieces comfortable to wear even for long periods of time.
These ear protection devices are not only comfortable, but they are also lightweight.
Once you are done with the lawn mowing, the pieces come with a carrying pouch that you can use to carry them.
The earmuffs are made in the USA. Just like any other product made in the united states, you can have peace of mind that they will last for a long time.
The ergonomic design of the units also comes in handy in ensuring that headband stays as close to your head as possible without causing any pressure and discomfort to your ears.
6. ISOtunes PRO Bluetooth Earplug Headphones
These ISOtunes PRO Noise Isolating Bluetooth Earbuds provide a smart solution for listening to music or taking a call in high-noise situations such as mowing lawns. This great this about them is that, they are OSHA approved and compliant for noisy work environments.
These earplugs feature an aptX® high definition audio and NRR 27 noise blocking, which effectively reduce high noise levels to the safe limit. They use noise canceling technology which is built into the microphone to filter out loud noise on the background.
With their custom fit memory wire, these earplugs fit well on your ears while you move around working. The heat-activated memory foam eartips expand like earplugs to significantly reduce outside noise.
Plus they have a long battery life of 10 hours of music/talk time and 240 hours of standby time.
These earplugs come with 4 pairs of foam eartips and 1 pair of silicone triple-flange eartip to enable you to change worn out tips.
These are great earplugs and an alternative to those who might not like the earmuffs or headphones that go over the ears. These will fit snugly on your ears and reduce the loud noise from, mowers, blowers, circular saws, welding, and other noisy activities to the acceptable limits.
The only downside of the ISOtunes Bluetooth earplugs is that they are wired and might make maneuvering with a lawnmower a bit difficult.
7. CONNEX Bluetooth Hearing Protector Earmuffs
These ear defenders with Bluetooth have a good noise reduction rating of 25 dB which makes them also another great choice for those who love to listen to music and receive calls or alerts while doing their lawn work.
Their Bluetooth technology allows you connectivity to your Bluetooth enabled device to stream music for very long hours or even days without having to recharge the batteries again. The batteries can last up to 60 hours of continuous use.
The built-in microphone makes it possible to receive the calls and alerts when you are not close to your phone. This device comes with 3 AAA batteries inside the package.
The Connex Bluetooth headphones have a well-cushioned headband and well-padded ear cups. This gives you the maximum comfort that you need to wear them for long hours.
Similar Reads:
 Top 12 hearing protection for lawn mowing
Best noise reduction headphones for students
Best noise canceling headphones for dogs and pets
Buyer's Guide on the Best Bluetooth Hearing Protection for Mowing Lawns
There are a couple of factors to take into consideration when you are looking to purchase the best Bluetooth ear defenders for your lawns work.
Below are the highlighted factors that will help you in choose the best noise protection headphones for your needs.
Optimized Noise Reduction Rating(NRR)
This is probably the number factor you should consider before your purchase any noise protection headphones with the purpose of reducing noise from damaging your ears.
Manufacturers of active or passive noise reduction headphones usually have them tested to determine how much noise they can block or cancel.
The NRR is an industry-standard that determine how well the headphones are good at noise reduction measured in decibel and the higher the NRR number associated with a hearing protector, the greater the potential for noise reduction.
Therefore if you are serious about protecting your hearing during mowing or leaf blowing, you need ear protection with high NRR to prevent hearing damage.
Because lawn mowers and leaf blowers can create high levels of noise above the 85 dB which is said to be the point from which long exposure can cause hearing damage.
For example, if your mower is generating an environmental noise of 85 dB and your hearing protection headphones are rated 30 dB for NRR, then the hearing protection headphones will reduce the environmental noise getting to your hearing by 30 dB and you will now be hearing 55 dB of the noise.
This will protect your hearing because the noise exposure levels are well below dangerous levels.
Weight and Confort
No one wants heavy headphones on their ears. They can make you feel uncomfortable especially in the hot sand. You would want to choose earphones or ear protection that are comfortable on the ears.
For earmuffs, look for ones with comfortable paddings and headband cushions. If you get a plug, make sure it fits comfortably in your ears and it is easy to get in and out of them.
Since you have decided to look at hearing protection with Bluetooth, you will need those that will fit well and make you feel comfortable while wearing them, especially if the work will take long hours to complete. They should be too tight over the ears and if possible have adjustability.
Battery Life and Charging Time
Battery life and charging time is important as well especially since they are Bluetooth and you wish to use them without any wired connections.
These days you will find a lot of these headphones are able to last for long hours after charging. Some can last the whole day after charge while others might even last longer. But some too don't last that long.
If you will be using them for long hours then you need long battery life. You might also find that other headphones also use batteries. This might add a bit of weight to them.
Durability
to save yourself the hassle of going through another buying process and also save some money, it is always best to get the best ear protection for lawn mowing that will last for a long time while protecting your hearing.
As such quality earphones that are made from strong materials and feature a great build are the options to go for.
Are Noise Cancelling Headphones OSHA Approved?
For those who might not know OSHA. OSHA stands for Occupational Safety and Health Administration.
The role of OSHA is to ensure that all working men and women are provided with fair working conditions. They ensure that all worker's safety is a priority in any working environment to prevent injuries whether long or short time.
So how do headphones come in here you may ask. Hearing protection is important especially in noisy work environments like construction sites, manufacturing plants, etc.
Workers need to have their hearing protected from the loud noise and therefore ASHA has a requirement for such workers to hear hearing protection earphones or earplugs.
So, now the answer to your question, are noise canceling headphones OSHA approved?. The answer is NO but with few exceptions. On the whole, noise canceling headphones are not approved by OSHA since these types of headphones drown out the worker or environment noise. However, some brands have  been approved because they are considered safe for the working environment
Why Do I need Hearing Protection for Lawn Mowing?
There are two main reasons why you need earing protection while mowing lawns. Firstly, to help eliminate the distractions from the lawnmower.
Secondly, to protect yourself from noise induced hearing loss. Noise induced hearing loss a hearing loss that occurs when you are exposed to long periods of excessively loud noise mostly as high as 85 dB and above.
Many Americans suffer from hearing loss due to occupational activities and that is why OSHA is making sure that this doesn't happen by making sure you wear the right protective gear.
According to research by the national institute of health, 15% of Americans between the ages of 20 and 69 suffer from high frequency hearing loss resulting from occupational activities such as lawn mowing.
Hence, I am sure you can see a reason to wear ear protection headphones for your lawn mowing works.
Hearing protection such as headphones, earmuffs or earplugs can go a long way to protect you from hearing loss.
You will need a moderate, but not extreme, level of hearing protection. Since a lawnmower exceeds sound levels of 85 decibels, hearing protection must be used.
You should have hearing protection rated at a minimum of 25 NRR, to bring a 90 dB mower below 85 dB. Generally, either earplugs or earmuffs on their own will bring the noise to a safe level.
Is It Wise to Listen to Music While Mowing Lawns?
Well, this will depend on you. Some people might find music distracting while they are at work. Such people might find it difficult to have music on while working.
One the other hand, some people too might find it boring working without music. Some types of music can uplift the soul. Therefore, it is up to the person mowing the lawns to decide whether they like music on while working or not.
If you choose to have music on, just ensure that your volume isn't too loud such that you might even be doing yourself more harm than good. Which will defeat your purpose of using the hearing protection.
Can I Connect the Bluetooth Headphones to two Bluetooth Enabled Devices at the Same Time?
None of the above-reviewed headphones is able to support two devices at the same time.
Even If any does support more than one Bluetooth device connectivity, It is not often recommended to connect to two Bluetooth devices.
Doing a dual connection sometimes do worsen the Bluetooth connection stability/
But just in case you really need to connect to two devices at the same time, you should rather do this.
Get an additional external Bluetooth receiver, pair it with your second device, and connect it wired (via the 3.5 mm audio jack) to your earmuffs.
On the Best Bluetooth Ear Protectors
Protecting your hearing should be of paramount importance to anyone involve with loud machinery or work in a loud background because permanent hearing damage is not recoverable.
To prevent that, wearing the right hearing protection headphones or earmuffs will block out excessive loud noise from reaching your eardrums.
Therefore, the above reviewed Bluetooth headphones for hearing protection were selected based on users' experience and extensive research and they are the top Bluetooth headphones for mowing your lawns or other activities that required ear defenders to protect your hearing.
some are over the ear headphones while the only earplug which is the ISOtunes earplugs is also ASHA compliant and great choice for people who don't like over the ears headphones. The custom-fit material expands and fits your ears perfectly.
With any of these hearing protection devices, you will preserve your hearing.
Latest posts by Josephine
(see all)