10 Best Noise Canceling Headphones for Studying Students
Student life can be pretty busy with lectures, commuting, studying and all that stuff that is associated with been a student. Distractions are inevitable most of the time. To control the amount of noise you are exposed to, you need the best noise canceling headphones for studying to help you concentrate on your studies.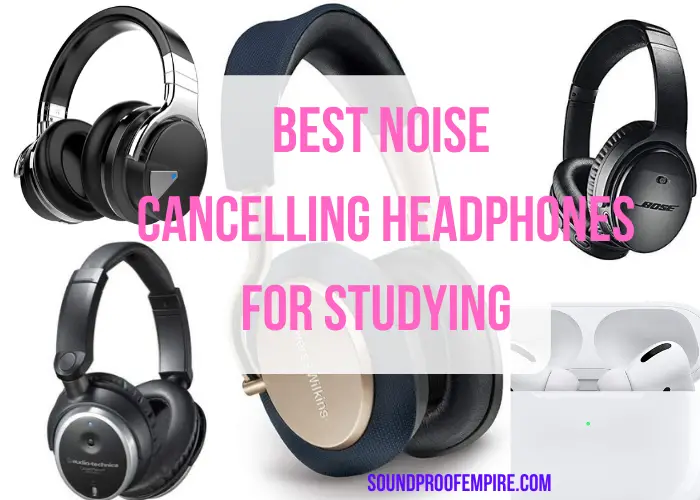 Whether you are trying to study at the dorm or in the library. Roommates and other students moving around you or talking can distract your concentration on your books.
Sometimes, you just want a quiet time to reflect on the day's activities but external noise is getting on the way. In that case, noise-canceling headphones can come in handy.
Best Headphones for College Students
Here are some of the best headphones for college students for concentration on their studies.
1. Bose QuietComfort 35 II Wireless Bluetooth Headphones
The Bose Quietcomfort 35 II headphones are about the best noise canceling wireless headphones in the market today. Bose has specialized in premium headphones that also come at premium prices.
If you seek headphones that can provide you with total silence, then these headphones are a great choice.
These headphones feature three levels of world-class noise cancellation that gives you the best experience in any environment.
The Bluetooth pairing enables you to move around freely and you can use the Bose Connect app to adjust the level of noise cancellation, unlock Bose AR*, enable music sharing, manage Bluetooth connections, and access software updates.
These Boss headphones are versatile.  You can use them with your iPhone, iPad or your android phone. All you need to do is ensure that your device firmware is up to date through the Bose Connect application.
Not only are they the perfect library study session headphones, but they also work with Alexa voice controls  for better access to your chosen content
These headphones when fully charged can last up to 20 hours for you to keep the music going or enjoy your quietness. A quick 15-minutes charge can last you about 2.5 hours.
2. Apple Airpods Pro
The Apple Airpods Pro has been designed for the Apple lovers who which to reduce the noise around them using a pair of headphones. These headphones deliver active noise cancellation for you to have proactive control over the noise in your environment.
These Apple headphones are feature two microphones, one is an outward-facing microphone and the other, an inward-facing microphone that helps in creating superior noise cancellation by detecting noise from outside and inside the ear, then effectively create an anti-noise signal to cancel it out.
The AirPods Pro offers a customizable fit with three sizes of flexible silicone tips to choose from. With their internal taper design, the securely conform to the shape of your ears easily thereby blocking out noise leakage.
They also have a custom speaker driver which is a  high dynamic range amplifier and an H1 chip which enables the headphones to great high quality sound. The battery life when charged takes a longer time to deplete. More than 24 hours of charged battery life.
3. Sony MDR7506 Professional Large Diaphragm Headphones
As the name suggests, it's a said to be a professional stereo headphone for sound monitoring in recording studios, radio, film production, videos, and electronic newsgathering, etc. Sony is a household name and it doesn't disappoint when with its products.
I am sure you are wondering what could a student possibly be needing this type of headphones for. Well, these headphones are great for pretty much any application that requires external noise reduction.
I just couldn't exclude them from my list of noise reduction headphones for students. They feature a closed-ear design that provides the comfort that you need to use them for long hours without hurting your ears.
The 40mm PET diaphragm and neodymium magnet provide performance exceeding the requirements of digital audio sources. These are wired headphones and the 9.8-foot coiled cord provides more than enough length for easy movement. The only downside of wired headphones is that the cord can sometimes get in your way.
They can effortlessly fold up for taking them on-the-go whenever you need (we suggest getting a carrying case, though).
4. Jabra Elite 85h Wireless Noise Canceling Headphones
The Jabra Elite 85h wireless noise canceling headphones allow you to personalize your sound experience for different situations with the Jabra Sound+ app.
They work with both android and iPhone.  These noise canceling wireless headphones offer you a revolutionary way to experience audio based on your own setting that you have set for yourself using the  SmartSound.
The headphones will adapt automatically based on your prior settings.  this way, you effectively block unwanted background noise that is distracting you while studying.
With up to 36 hours of battery on a single charge (with ANC switched on), and fast charging of 5 battery hours in 15 minutes; you can use them all day long without the need to change them again. This way you can focus on the most important thing, which is your studies.
They also feature 8 advanced microphones. 6 out of the 8 built-in microphones block out background wind noise. This gives you the clear sounds that you need or the require privacy you need.
Water can easily spoil a good pair of headphones but with these pair of wireless noise canceling headphones, you won't have to worry about water spoiling them because they are equipped with water-resistant technology to prevent water from damaging them.
Also, you can have more freedom moving around without any wire interfering your way with the Operating range: Up to 10 m (33 ft). USB cable length: 30 cm.
5. Sennheiser HD 4.50 Bluetooth Wireless Headphones with Active Noise Cancellation
Sennheiser has been in the business of innovation for the past 70 years. The company is well-known for producing premium quality hearing and audio products. These Sennheiser wireless Bluetooth active noise canceling headphones are just some of their numerous products.
The Sennheiser headphones feature a  closed-back around-ear headset with the Sennheiser NoiseGard that actively cancels background noise for you to enjoy your music or studies without external noise distractions.
Additionally, the NFC allows you to simply pair them with compatible devices. Plus, because of ease of use and convenience, the headsets have controls mounted on the right ear cup which includes; the power button, volume and call controls for you to easily make calls and change tracks from your favorite spot.
With the long life charged battery, you can use these wireless Bluetooth headphones for up to 19 hours without charging them again and by turning it off you can get an extra 6 hours of battery life. If you prefer a battery free listening mode, it is possible to do so via the supplied detachable cable.
With its side-swiveling ear cups and robust foldable headband design, you can easily fold them into a compact form for portability and easy fitting into your school back.
Taking a quick look at the Sennheiser HD 4.50 you will see that these headphones are pretty lightweight which translates into enhanced comfort, thanks to their plastic bodies they weigh just 238 grams in total.
6. Bower & Wilkins PX Wireless Headphones
The Bowers & Wilkins PX  has over 50 years of experience under their belt when it comes to producing high quality high-performance Hi-Fi, personal sound, and home cinema products. They work with companies like BMW and Maserati to provide sound systems for them.
Their products are classy and high quality to contend the top brass in audio systems.
The bower & Wilkins PX wireless headphones have a stylish and elegant design. They are considered to be some of the best sound performance and noise canceling headphones in the market with amazing features.
They allow you to customize them to your exact preference whether you are studying, working, or in the plane. They are some of the best adaptive noise canceling headphones around.
Even though they are pricey like their counterparts above, they are of high quality.
The headphones have a lightweight aluminum construction and a material that the company refers to as a Ballistic nylon shell that is located on top of the headband and the outer part of earcups.
From the companion app, you can change the tone of your headphone to more suit your preferences and in terms of battery life, it is good as well achieving about 22 hours in a single charge.
7. Audio-Technica ATH-ANC7B Headphones
The Audio-Technica ATH-ANC7B headphones feature an active noise canceling circuit that effectively reduces background noise to about 90% making them some of the best headphones for students. Even though you can use them for other activities as well.
They are designed to be versatile usage. You can use them with Apple iPod, iPhone, music and DVD players, laptop computers, and in-flight entertainment systems.
Furthermore, these headphones are very lightweight and compact. Their ability to fold into a flat shape makes them easy to travel with. As a person who has been a student before, these kinds of headset comes in handy because school bags can get full of books easily.
Their cushioned padded comfortable earcups fit easily over your ears to ensure that there is not noise leak.
The Audio-Technica headphones will require 2 AAA batteries to operate actively.
8. Beats Solo Solo3 Wireless On-Ear Headphones
These high-performance wireless Bluetooth headphones can give you up to 40 hours of battery life after charging them. Giving you the ability to use them all day and night long.
Beats is another well-known favorite that's earned its reputation. You can even take phone calls and activate Siri to help you out. They even have a protective case and charging cable for convenience and storage.
They are designed to be compatible with Apple operating devices and android devices.  The Beats Solo3 headphones have many different colors to choose from that will suit your taste.
9. COWIN E7 Bluetooth Headphones
These are some of the best noise canceling headphones under 100 dollars for college students. There variety of colors to choose from. They can be used for different activities where you want to significantly reduce the noise levels.
COWIN E7 provides high-quality built-in microphone for hands-free calls, Which is convenient for you to free yourself from wires. NFC pairing aided by voice prompts promises a quick and stable connection with your Bluetooth enabled devices.
You can have the noise cancellation function in both wired and wireless modes. This will enable you to focus on whatever it is you are using them for. They are able to offer you up to 30 hours after charging.
These headphones from Cowin feature comfortable ear-pads that swivel. There's bass control for when you want music. They are so light that you'll forget you have them on.
10. Mpow 059 Headphones
The Mpow 059 Bluetooth headphones can easily and quickly connect with smartphones, tablets, TVs and other Bluetooth devices within 33 feet.
Mpow's 059 Bluetooth headphones tailored specifically for immersive and Hi-fidelity sound. They are stylish and foldable headphones that deliver exceptional sound quality and crystal clear clarity.
They have charged battery life of up to 20 hours. This is good for especially long hours of studies, work concentration or long flights.
They are among the best noise canceling headphones under 50 dollars. This is because even though they are priced cheaply, but they give you a well balanced exceptional sound quality for music.
Also, the memory-protein earpads deliver maximum comfort and create a seal that isolates outside noise and keeps your music inside your ears only.
It is worth letting you know that the Mpow 059 headphones are passive noise isolating, NOT active noise cancellation(ANC), it can't cancel the noise completely but it won't drain the battery and damage the sound.
Buyer's Guide to Best Noise-Canceling Headphones for Studying
In your attempt to get the best noise canceling headphones for studying, you might come across a lot of information that can be confusing. In order to help you clear that confusing, below is a buyer guide to help you choose the right noise canceling headphones for yourself.
Active or Passive Technology
This is probably the most essential factor to consider when selecting a pair of headphones.
Active noise canceling headphones has an active electronic circuit inside them that is able to mute external noise. With this type of headphones, you can even wear them without music. So if you are looking for noise canceling headphones without music, you should look at these types.
The active noise canceling headphones uses active systems such as the microphone, electronic circuit, internal speaker and even the batteries.
The way they work is that the microphone listens to the noise and the electronic circuit processes the signals.
From there, an opposite signal is created and sent through the speaker to cancel the unwanted noise signals.
With passive noise cancellation, sound absorbing materials, like high density foams are used to absorb the unwanted sounds before they reach your eyes.
Wired or Bluetooth Wireless Headphones
wired headphones are your usual headphones with a cord for connection to your audio device.
Whereas the Bluetooth wireless headphones use the Bluetooth connection to connect to your audio system. In recent years, wireless Bluetooth headphones have become very common. They are however expensive compared to the wired headphones.
similar Reads:
Top earplugs to Block Out Sound
Best noise canceling headphones/earmuffs for autistic kids
With wired headphones, your movement is limited while with Bluetooth headphones, you can move around with them on your ears without any wires restricting your movement.
The Bluetooth connection actually allows you a few meters away from the audio device while listening to whatever you are listening to.
Over the ear, on the ear or in the ear headphones
Another factor that you have to decide is how you will wear the headphones.
Over the ear headphones will give you the best performance but they do usually cost much more. These kinds of headphones are comfortable to wear for long hours such as for studies and on long flights.
On the ear headphones means the cup of the headphones does not completely cover your ears. the foam cups rest on top of the ear, these are not very suitable for wearing over long hours as you might end up with sore ears. They also leave enough space for noise to leak into your ears.
Noise isolating in ear headphones are the most compact of the three, but because of their size, you don't always get the biggest sound. In ear headphones that are shaped to plug up your ear canal are actually pretty good at blocking out sound, but not at active noise filtering.
Are Noise Canceling Headphones Good for Studying?
Noise canceling headphones whether active or passive have the ability to block out unwanted sounds from your hearing or reduce the noise volume tremendously such that you won't feel that it's distracting your concentration.
So the answer to this question is YES.  A good quality Noise canceling headphones help you to focus your mind on studying instead of the noise distractions from others around you. This is because you are able to block the environmental noise around you.
But for noise canceling headphones to work in your favor, you need a high quality pair and that means investing a good amount of money to get the best quality pair.