Soundproof Blinds:Best Noise Reduction Acoustic Blinds
If you are trying to reduce noise coming in through the window, then hanging soundproof blinds is one of the great ways to reduce noise through windows.
But you have to also know that if you are dealing with serious noise issues acoustic blinds are not going to 100% soundproof all your window noise. This guide will show you how to use blinds effectively to reduce noise.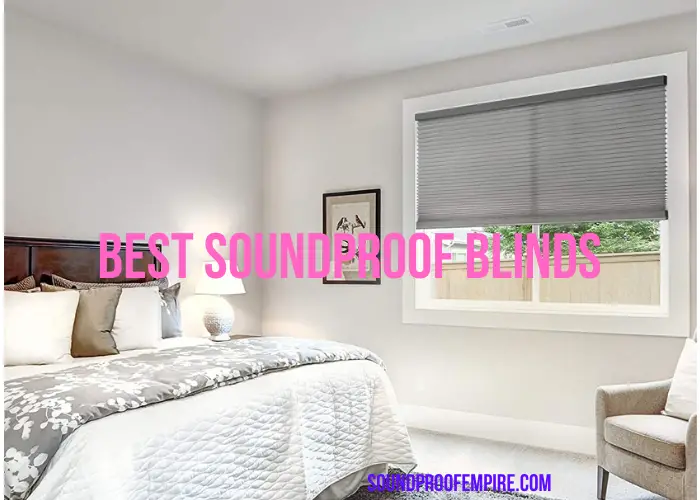 but will reduce the noise levels drastically provided you choose the right noise reduction blinds.
In this guide, you will learn how to be able to choose to right soundproof blinds and I will also review some of the best soundproof blinds in you can potentially use to reduce noise through your windows.
Quick Preview of the Best Soundproof Blinds
Windows can let in or out a lot of noise than you actually think. If you are truly serious about soundproofing your room, whether it is for office or home, you will want to look at your windows and seal of any gaps or cracks between the window and the frame plus the wall.
Some windows glasses themselves are even a culprit to sound hence the noise reduction blinds can do the trick for you.
Now, how do you choose the right blind for your window to help in reducing noise?. Here are some factors to guide you.
Factors to Consider When Choosing Soundproof Blinds
There are many blinds in the market today, so how do you know the right blind to choose that will block sound from entering or leaving your room?. These tips here will guide you to select the best blinds for your needs.
Types of  Soundproof Blinds
There are different types of acoustic blinds today. These blinds serve different purposes and knowing the make of each blind will help you make the right choice.
Honeycomb Cell Blinds:
Honeycomb blinds which are often referred to as cellular shades are designed using closed cells and this help in trapping air. The name is derived from the hexagon honeycomb-like shape of their tubing.
The honeycomb cell blinds tubing opens a similar way to that of accordion and the cells are collapsible.
The most common kind of honeycomb blinds is the single-cell blinds with only one roll of a single honeycomb cell. However, the less common type of honeycomb blinds which are double cell honeycomb shades is more effective at noise control.
Honeycomb blinds are also a great way to not only control noise but to also control heat transfers because of the pockets of air that they lock inside their cells.
Infact, the R-value of honeycomb cell blinds can double from about  3.5 to 7.
Benefits of using honeycomb blinds are:
They keep heat out during summer, helping you stay cooler.
They keep heat in during winter, helping you stay warmer.
Typically honeycomb cell blinds use breakaway cords. This makes them user and kids friendly. When the cords disconnect from the blind, they can easily be fixed and snapped back into place. No worries about kids damaging them.
The only downside of honeycomb cell blinds is that the cells do not allow you the option of tilting the slats to allow light in. They are either up or down.
Insulating Blinds:
Insulating blinds are also known as acoustic roller blinds or acoustic blackout blinds. These type of blinds are generally thicker than the regular blinds with multiple layers of fabric or they may use special thermal coating,
You may be wondering if insulating blinds are not only for thermal insulation. But it is worth knowing that any window cover that can insulate thermally also has noise blocking features embedded into it.
Acoustic roller blinds are often sold as blackout blinds and with the ability to block light from the room, they can also block sound out as well.
When looking online for these blinds, you may find different fabrics make of these blinds such as wooden, polyester, cotton, or even paper.
You should look for the thickest materials as much as possible and also look out for blackout and room-darkening features. With these, you will more likely have some privacy and quietness than the ordinary blinds.
Window Shutter:
Window shutters are wind blockers, especially in windy areas. They can either be installed inside or outside the window. Because of their thickness and ability to block wind, they are also useful in soundproofing windows.
Window shutters are made with different materials, you should avoid the metallic window shutters if you want to reduce noise as they themselves will create noise. You should rather choose the bamboo or wooden shutter.
The good thing about them is that you can use them in conjunction with the soundproof blinds.
Size and Color
Size important for it to fit perfectly on the window without letting beams of lights into the room through the corners or edges. If you are day sleeper, then acoustic blackout blinds are the way to go.
When selecting a  blind, you should try and get one that is wider and longer than you expected. If it is bigger you can always trim it down to fit the window as most of these blinds are actually customizable.
There are also many colors you can choose from as these noise reducing blinds come in different colors. You will determine the color that fits your needs and complement your home decor.
 Method of Installation
Blinds can be installed in different ways. You can either have it installed using the snap-in brackets method inside the window frame or have it mounted on the outside of the window frame. Most of these blackout blinds come with their hardware for the installation.
You should check the blinds you are purchasing to know the type of installation it will be before you buy to avoid unpleasant surprises.
Whichever way you choose to have them hanged, it won't necessarily affect their soundproofing ability.
Best Acoustic Noise Reduction Blinds
To save you time, I have done the research and come up with some of the best soundproof blinds for you to choose from. These acoustic window blinds were carefully selected to assist you in making your choice of window blinds to reduce noise in your room.
1). Windowsandgarden Cordless Top Down Bottom Up Cellular Honeycomb Shades
These cellular honeycomb blinds come in many sizes and colors. There is pretty much any size of honeycomb blind size you can choose with this cell.
There are also 9 trendy shade colors to select your choice. There are two options of these shades. The cordless option provides an easy and effortless way of raising and lowering the blind. This option is also safe for children because there is no hanging cord.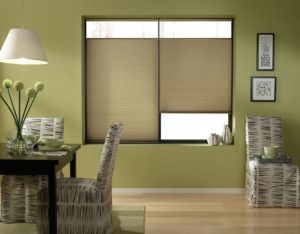 The other option is the top down bottom up option which provides a way to raise the blinds from the bottom up. This is the traditional way. This option also allows you to lower the shade from the top down in case you want to le lights in while still keeping some privacy.
The Windowsandgarden honeycomb cell blinds come with a lifetime warranty.
Features
They are USA made.
100% polyester – so they are nice and lightweight.
They are fully customizable.
They are child-safe (cordless).
The top and bottom rails color match the shade.
2). Easy Lift Trim-at-Home Cordless Shade
This Easy Lift Trim-at-Home cordless shade as the name suggests does not require a cord for installation and easily be trimmed with a knife in the house to fit your window frame width. It's a peel and stick shade.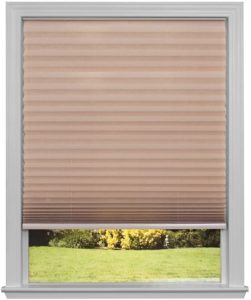 This, however, requires your window frame to be about 1.25 inches deep.
There two colors to choose from namely; natural and white colors. There are not many sizes like the above blinds. Only four sizes are available; 30 Inch x 64 Inch, 38 Inch x 64 Inch, 48 Inch x 64 Inch and 60 Inch x 64 Inch respectively.
These blinds can cover windows 19 to 60 inches wide and with length up to 64 inches long. Width is trimmable but the length is fixed and can not be trimmed.
Features
Custom Fit- Trim your shade with a straight-edged kitchen knife using included patented trimming scale and guide.
Clean with dusting or light vacuuming. Spot clean for stains
Natural colors
3). CHICOLOGY Cordless Cellular Blackout Shades
The CHICOLOGY cellular blackout blinds are some of the best noise reduction blinds in the market with a lot of sizes to choose from and about six different colors to choose from.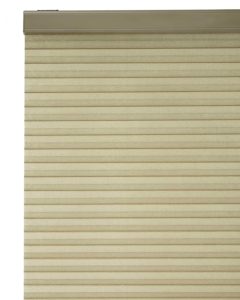 These honeycomb cellular shades give you to choose whether you want blackout shades or privacy and light filtering shades. These cordless honeycomb cell blinds have the hexagonal unique structure that I mentioned earlier to help in creating a barrier for heat, draft, and sound.
The honeycomb design does a marvelous job at trapping air keeping your home cool in the summer heat and a great insulator in the winter; Saving you money on summer/heating energy bills year-round.
Features
100% polyester yarn
MOUNT: inside or outside mount
Blackout or light filtering
4). KARUILU Roman Window Shades
If you are into Roman shades and want something colorful then these KARUILU blinds will do the job. However, woven fabrics are not going to be enough for loud noise.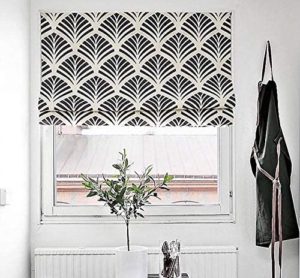 There are many assorted colors to choose from and the nine different sizes. Eight sizes are with fixed length while the last size is for custom make. You can issue your own personal details for a custom shade for your window.
These shades are easy to maintain because you can easily wash them off when they are dirty. They are good for people with allergy issues.
Features
Handmade with cotton and linen blended thick fabric which can block out 65% of light
Lifting track is made of a robust aircraft aluminum alloy
The shade is attached to the headrail with a velcro strip
5). SBARTAR Cordless Blackout Cell Honeycomb Blinds
These blinds are only single-cell so if you have a serious noise problem you are best off going for one of the blinds above. If you just want to turn down the background noise a little bit then these could work for you.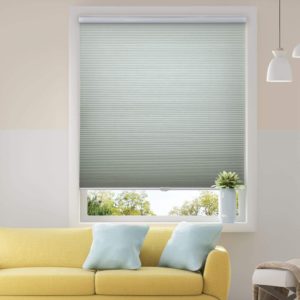 The cells are constructed with long-lasting spun lace fabric and they are available in the cordless design. This makes them a good option if you have a home with young children.
Available in a wood effect beige as well as white these tidy looking blinds will add a bit of continental style to your home.
You can either choose to fit them inside or outside the window frame but the ideal fitting for noise reduction is inside the window frame.
Because these blinds are only single-cell they are very slim profile making them ideal for using in partnership with other window coverings such as curtains or a wooden slat blind.
Features
Fabric: 100% Polyester

Built-in environmental friendly

Aluminum headrail & Bottom rail
How to Properly Soundproof Window Using Blinds
To get the most out of your blinds to help you soundproof the window effectively, here are some things you can do or add to make them effective.
Get Double Cell Blinds
Double cell blinds are the best when it comes to using blinds for noise reduction. If you are using the honeycomb blinds, make sure they are made of double cell layers.
What the double cell layer does is double up the insulation and that means more noise reduction.
The single-cell layer is not that effective compared to blinds with cells back to back.
Make Sure They Fit Well on the Window
A well-fitted blackout blind will reduce noise better than one that is not. So how do you make sure it fits well?. You measure and measure again your window dimensions.
The blind has to fit well inside the window frame for it to be effective in reducing the noise.  Loose fitted blind will still let in or out sound which will defeat its purpose.
Ensure that your blind covers the entire window and if possible it should overlap a few inches.
With these tricks with the blinds alone. I am sure you will notice a significant difference in the noise levels in the room.
Use Weatherstripping Tape to Seal Gaps and Cracks
This is particularly for those with an old window with a damaged frame. If you notice that when you close your windows it doesn't close entirely because of gaps and cracks, then you will need to get a weatherstripping tape for windows.
This is one an effective soundproofing material for sealing gaps and cracks. You can use it on the door frame as well to seal around to prevent sounds from leaking in or out. Plus, it is inexpensive. With less than $10  you will get one.
These weatherstripping tapes come in different colors, material make, with self-adhesive. You simply peel off the sticky part and stick it on the frame where the window will meet it when closed.
This will block any air gap that sound can come in from into the room.
Hang Blackout Blinds with Curtains
If you are dealing with a lot of loud sounds through your window then you might want to add another layer of window cover such as a soundproof curtain. If the noise is not that high, then blinds alone might do the job.
However, if you there is so much loud noise coming through the window, you using a curtain will not only block any sound that makes it way through the blinds but will also add visual appeal to the room. Yes blinds have different colors but they are not as beautiful as curtains.
Thick blackout curtain will go a long way in muffling any sound.
Rearrange Furniture in the Room
Simply rearranging your room and putting furniture and items at vantage points can improve the acoustics of the room.
Simple changes to your feng shui (the positions of your furniture) can dampen incoming sounds.
For example, if you have a big fabric sofa then try positioning it with it's back to your window – this will help absorb incoming sound vibrations.
Sounds can also be muffled on the hard surface floor like wooden, tiles, etc by placing a carpet, floor rug, or a floor mat on it to absorb some of the sounds.
On Acoustic Blinds
Using blinds to reduce noise is possible only to a certain extend. You do expect a noisy room to all of a sudden become quiet without soundproof blinds though.
These blinds can go a long way to reduce low background noise but not soundproof loud sounds. If the noise you are dealing with is loud, I suggest you use the blinds in conjunction with the other window soundproof methods I mentioned above.
You can add soundproof curtains to the blinds to increase the level of noise blocking. Rearrange your room to improve its acoustics or even add window inserts or cover to it. All these will reduce loud noise.
Latest posts by Josephine
(see all)