Looking for the quietest RV water pump?. Then in this guide, you will find some of the best quiet RV water pumps that will enable you to deliver water to your sink, toilet, faucets, and showers in your recreational vehicle.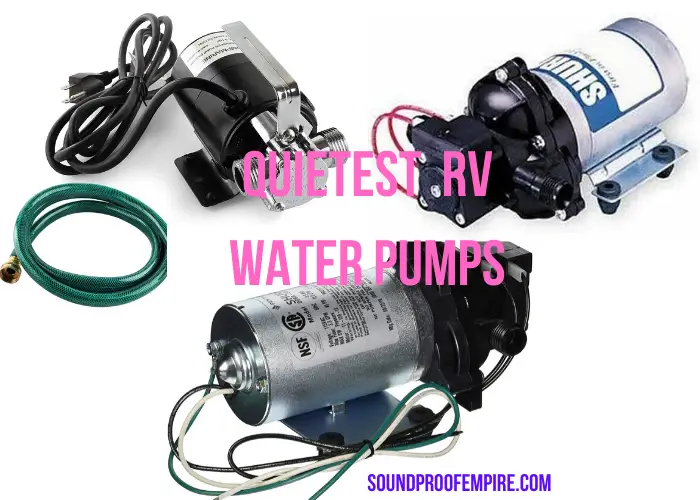 A water pump is essential in every in your recreational vehicle tumbling system. But not all RV Water pumps are the same. Their performance varies and so does the way the sound when in operation.
I am sure you won't want a noisy water pump that will disturb your peace. To prevent such a situation, it is important to choose a quiet water pump for RV that won't make noise.
However, there are a lot of RV water pumps in the market and it is difficult to choose the right one. Because of that, I have done to save you the time and frustration, I have done the research and compiled some of the best Quiet water RV pumps for you to make your work easier.
How to Consider When Choosing  a Quiet Water Pump for RV
There are many RV water pumps in the market and choosing one can be difficult if you don't know what to look for. Here are factors to consider when choosing a quiet RV water pump.
Some RV water pumps sound louder than others. Therefore, it is important to look for a quiet operating RV water pump. If it's operating quietly, it won't disturb those around you.
At the heart of every RV water pump is a motor and it gives life to the water pump. Choose a water pump that has a  strong and powerful motor. The motor will determine how water can be pumped out at once and it should be reliable and a longer lifespan.
RV water pumpers need the energy to run. It is therefore important to consider this also when choosing your whisper quiet RV pump. This will help you reduce the cost of energy when using your pump.
The design of your RV water pump should be easy to install and maintain. A good RV water pump is compact and small-sized and the installation is not that difficult. If it is complex, then maintaining it will likely be complex.
The auto switch on the pump is a good feature because it ensures that the water pump turns on and off when it reaches preset water pressure.
How much water pressure do you want?. It will give you an idea of the pressure capacity of the water pump you should be looking for. You should choose according to your water pumping and PSI needs.
This refers to the water level needed to operate. For instance. If you want to pump water on a flat area like draining a flooded area, you need a water pump with a low suction lift to make it possible to drain all the water.
There are different price points for water pumps. You will need to find a good spot for performance and price. If you choose a very cheap pun, you are likely to end up with low-quality performance. But it doesn't also have to cost you an arm and a leg. You can get a good pump with a decent budget and the maintenance will still be good.
Quiet RV Water Pump Reviews
Here are some of the top-rated quietest RV water pump reviews. You can choose the one that fits your needs.
1). SHURflo Industrial Pump
This SHURflo industrial pump is able to pump water at a speed of 3 gallons per minute and is a  self-priming pump with up 9 vertical lift feet.
This is a great water pump that is self-regulating. It comes with an in-built pressure switch. This switch controls the water pumping system. When the water pressure is sufficient, the pump goes off. Then when the pressure reduces, the switch turns on the pump to pump the water at the required pressure. This is accomplished by the adjustable pressure setting that turns off or on at 45 PSI.
The SHURflo industrial pump also features a built-in check valve that prevents the fluid from flowing back to the pump chambers. This prevents damages.
This quiet water pump for RV is having only one diaphragm with internal by-pass As a result, the pump can achieve a long-life performance with its RV system.
If you are looking for a super quiet RV water pump, the SHURflo industrial pump is recommended.
Features
One-piece diaphragm
Built-in check valve
Self-priming
2). SHURflo 2088 Fresh Water Pump
This SHURflo 2088 is one of the quietest RV fresh water pump around for both fresh water and any other type of water. It can pump 3.5 gallons per minutes and it is self-priming up to 9 vertical lift feet.
The SHURflo 2088 fresh water pump is designed to be lightweight. It can be mounted either vertically or horizontally and is easy to maintain.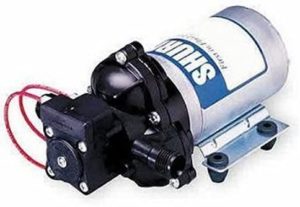 The SHURflo pump is designed to deliver reliable performance in high flow and moderate pressure application and its specially made to pump potable water for your camper or recreational vehicle.
The check valve is a one-way operation. this prevents water from flowing back into the chamber to damage the pump.
This RV water pump also has 3 chamber diaphragm for positive displacement.
Features
3 Chamber Diaphragm Design
Powered by a Permanent Magnet and Ball bearing motor
One-way check valve
3). SumpMarine Portable Transfer Water Pump
This SumpMarine transfer water pump is a high-performance pump that can output up 330 gallons per hours and that makes it approximately 5.5 gallons per minute.
Even with its high capacity flowing pressure rate, it is still lightweight and portable to use, store and maintain.
It is one of the best quiet RV water pump for household, light commercial, and emergency use. If your recreational vehicle is large and there are enough people in it that might be using a lot of water, then you might want to have a water pump like the SumpMarine pump.
On the other hand, the self-priming feature ensures the pump evacuates air from the suction line without the need of an external auxiliary device. The pump can control the pressure in the pumping system, and switch on and off when necessary.
It is a great pump for everyday use such as watering lawns or garden, draining waterbeds, clogged sinks, and aquarium.
Features
Heavy duty
Metal hose connectors
Lightweight making it portable
4). Lippert Components Water Pump
This quiet water pump for RV by Lippert Components has a superior pressure performance and can deliver on an average 3.30 gallons per minute water flow and 45 PSI.
This Lippert Components water pump is designed in such a way that it can even run dry without damage. You don't have to the water hose connected and all that starts before it can work.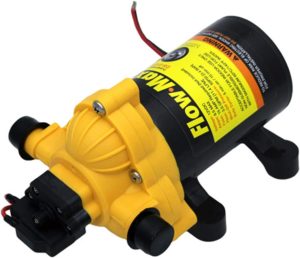 It is able to deliver a steady flow of water to your RV in a quiet, disturbance-free operation.  This water pump can actually pump water from 6 feet below it and it is also able to pump from 30 feet away horizontally which is really great.
Another good thing about this Lippert water pump is that you can mount it in different directions. You can mount it on the wall, on the ceiling, or even flat down.
This water pump is also certified to NSF/ANSI 372 by CSA  and its also a self-priming water pump.
Features
Self-priming

Quiet, Disturbance-Free Operation

Averages 50 PSI with 3 gallons per minute water flow

The pump can run dry without incurring damage

Heavy-duty, corrosion-resistant motor
5). Flojet Quiet Quad II Water Pump
This Floret quiet quad II water pump has a self-priming technology and is of high quality. It has 9 feet suction lift capacity meaning it can drow water 9 feet below it.  Also equipped with three main chambers, it can run dry without damage.
The reason why this Floret water pump is quiet is that it comes with soft-noise absorbing materials mounted on it to help in reducing the noise coming from the pump. That explains why it is quieter compared to other models.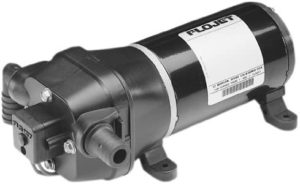 The automatic pressure switch turns the pump on when the pressure drops below 20 PSI. When the pressure hits 30 PSI, the automatic pressure switch turns off the pump.
Additionally, it has a built-in bypass that gives less pulsation in the flow, which in turn reduces the need to have an accumulator tank. With the built-in bypass, the pump achieves a high flow rating of up to 50 PSI. If you are looking for a quietest RV water pump for your vehicle, then this pump comes also highly recommended by verified customers.
Features
Self-priming of up to 9 feet suction lift
Magnetic ball bearing permanent motor
Ability to run dry without damage
6). Arterra PDSI-130-1240E RV Fresh Water Pump
This  Arterra PDSI-130-1240E RV Fresh Water Pump can pump up to 3 gallons per minute with 40 PSI.
It is also one of the quietest water pumps for RV and it's listed among the best pumps for fresh water.
It has a by-ass flow technology to control the flow of water in the pump. With technology, the pump can run quietly when dry without any damage. The same technology features pressure and thermal protection.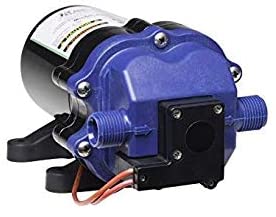 The  Artic pumps have a  patented engineering design of four chambers. With each chamber ensuring a steady and efficient liquid flow which is better than other pumps in the market today.
The power needs of the pump are a 12-volt system that powers 40 PSI allowing a steady flow of bet 0.5 to 3.0 gallons per minute. The by-pass flow system ensures that water flows with stability both in low and high amperage.
Features
Power drive technology
Self-priming up to 6 feet
By-pass control technology
Benefits of Using Quiet RV Water Pump
With an RV water pump, you can get a lot of benefits such as:
Pump Water Consistently
With the pump, you will be able to get water into your RV kitchen, shower, and bathroom faucets. Depending on the model, the water pressure can be maintained in the lines or pipes and it will shut down automatically when it is reached.
Energy and Less Bulky than 24V Used on Trucks and Buses
These types of water pumps are less bulkier and are compact than the traditional and older models of water pumps.
Energy-efficient and money-saving
RV water pumps are smaller and therefore require less energy to operate. Some can even run off your rig's battery. There are easy to install and have quiet operation.
So, they cant cause spikes in your electricity bills or water bills because they don't consume much electricity.
Great Pressure and Provides Gallons of Water Per Minute
The best of them can consistently provide an even water flow. However, you must look for one that can offer enough pressure and a high water flow rate. Some can even offer a high water flow rate per minute averaging 3GPM.
How Does An RV Water Pump Work?
Wondering how these quiet water pumps for RV work?. They are an essential part of the RV plumbing system.  The RV system design kicks on only when needed. It is a water pump system that gives on-demand services when installing in a house.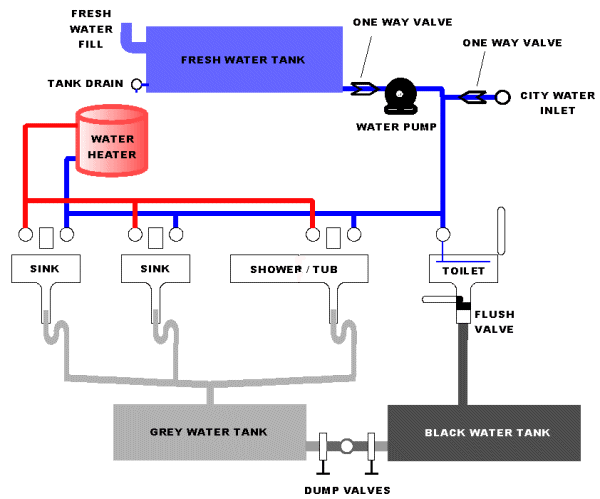 When you install the RV pump on your RV, it only pumps the water when need and turns on when needed. The process works by pumping pressure on the pipes on a set of pounds per square inch(PSI).
On the Quietest RV Water Pump
The above reviewed quiet RV water pumps are the best pumps for your RV if you seeking a quiet system that won't make a lot of noise when in use.
Some can perform at a higher pressure than others. Each has its ideal capacity and high much water pressure you may require on your recreational vehicle. The overall decision will still depend on you. Depending on your budget, you will be able to select one that will fit your needs.
Latest posts by Josephine
(see all)