Looking for soundproof curtains for door to reduce noise through your doorway?. Then you have come to the right place. In this guide, you will learn the following:
What are soundproof curtains?
Advantages and Disadvantages of soundproof curtains
Best soundproof curtains for doors
Our Final thoughts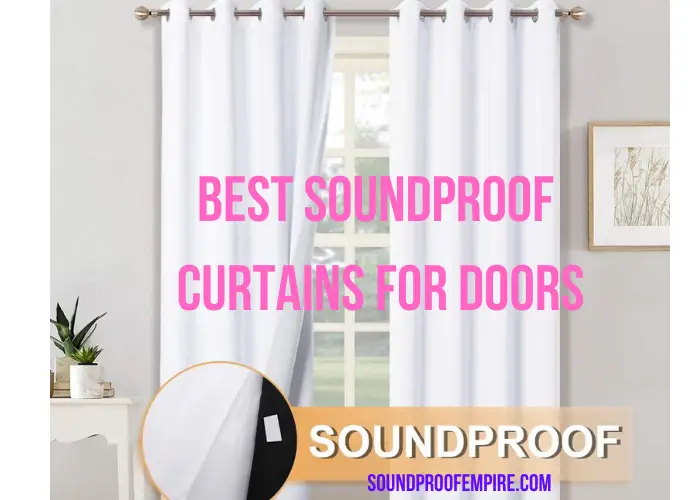 Quick Preview of the Top Rated Soundproof Curtains for Door
In a HURRY?. Here are The top-rated soundproof curtains for doors to help reduce the noise in your doorway.
I know you are here because you are looking to soundproof your door from the noise that is disturbing your peace. Well, I am not surprise considering the fact that most doors in the homes and apartments are hollow core doors.
The doorway is one of the biggest paths of noise leakage already and having a hollow core door adds to your noise woes. Luckily, there ways to reduce the noise through your doorway, and using soundproof curtains is one of those ways.
So, today, we will be looking at some of the top-rated soundproof curtains for doors. How you can use soundproof curtains to effectively reduce noise through the doorway.
What are Soundproof Curtains?
Soundproof curtains at the base of it all look like ordinary curtains. If care is not taken you might just dismiss them like such unless you hang them in a room to actually notice the difference in noise reduction.
The unique thing about soundproof curtains is that they are made with fabrics that are denser and thicker than the standard room curtains.
Their design is such that they can block a certain amount of noise from entering the room.
Soundproof curtains also have multiple dense layers of fabric to help in noise absorption. These curtains come in different sizes, fabrics, colors, and designs. The most common fabrics we have in the market are satin, velvet, and polyester.
These noise reduction curtains are versatile in use. You can hang them with a rod on the door, window, or walls. They are perfect for the living room, the bedroom, the kid's room, or any other room you may want to use them for.
Soundproof curtains come in different beautiful colors to choose from.
Similar Reads:
Best soundproof blinds for windows
Best Soundproof Curtains for Doors
Whether you are looking for soundproof curtains for a French door or just soundproof curtains for any doorway, these soundproof curtains are our top picks for reducing noise through the doorway.
1). Moondream 3-in-1 Sound Insulation curtain
The Moondream sound insulation curtain is made of three layers consisting of 100% polyester first layer, the second layer consists of 99.9% polyester and 0.01% aluminum, and the third layer consists of 100% cotton.
This patented soundproof curtain provides you with sound insulation, thermal insulation, and blackout. This makes it one of the best soundproof curtains for doorway and windows.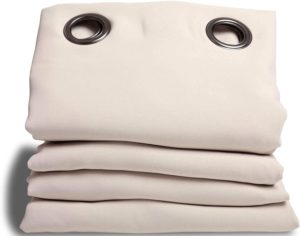 The way this curtain works is that, the sound(noise) which is usually consisting of different frequencies gets trapped in between the multiple fabric layers of the curtain which prevents the noise from going through the curtain.
but some of the frequencies which were not blocked by the curtain when they get into the room will bounce around and they get absorbed again by the curtains again. Even if there is any sound you will hear, it will be muffled and won't be loud.
The size is 57 inches wide and available in different lengths (63, 84, 95, 108 Inches) which can easily be adjusted with the provided iron-on hemming tape. There are also multiple colors to choose from.
Features
1.6-inch inner diameter
lengths (63, 84, 95, 108 Inch) and 57 Inch wide
3in1 solution: Soundproof, Blackout and Thermal insulation – Patented Technology
Multiple colors available
---
2). Audimute isole – Sound Barrier and Absorption Sheet
The combination of high-density materials makes the Audimute isolé ideal for absorbing and blocking sound—in fact, up to 75 percent of soundwaves that contact the curtain are absorbed.
This soundproof door curtain is a good choice if you're eco-conscious. The proprietary eco-C-tex sound absorption material consists of a blend of recycled cotton and requires less energy to produce than other sound-blocking materials.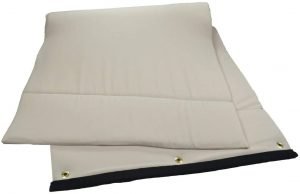 There's a Peacemaker 3.2mm green material included in each sheet to block sound, which contains more than 80 percent post-consumer recycled rubber.
This cover is safe for your family's health as it contains no toxic, carcinogenic, or fiberglass materials. It is a standard size, at 82 inches by 34.5 inches, and weighs approximately 20 pounds.
It comes with included hardware to hang the metal grommets from at the top. There's no side or bottom connectors, but it's heavy so hangs pretty flat to the wall.
Features
isolé measures 34.5″ wide x 82″ long

0.75 NRC rating

Each isolé includes a layer of Peacemaker Sound Barrier, providing excellent sound blocking properties

Made in the USA, Eco-friendly, & Safe for your health
---
3). NICETOWN Thermal Insulated Noise Reducing Curtains
NICETOWN sells some of the best curtains in the market. They have different high-quality products across the board.  These Noise-reducing curtains are designed to help keep some of the unwanted sounds away from the room.
These NICETOWN curtains are made with 100% polyester and have two-panel curtains with each blackout curtain that have a dimension of 52″ wide x 95″ length with unique designs of silver grommet(1.6-inch inner diameter). This makes it easy to install these curtains.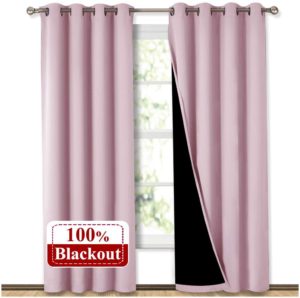 The curtains will comfortably cover a window or door of width 104″ wide or anything less than that.
If you would like curtains that give you thermal insulation during the winter but also give 100%blackout, then these curtains might be good for you.
If you also don't care much about the out appearance of the curtains, then you will find them a good choice. However, if the appearance is a key factor as well, then you will notice that these have only classic colors with no lining.
There are different colors and sizes to select from to suit your taste.
Features
Two polyester panel curtains
Each with dimension 52 inches wide and 95″ long
Absorbs twice as sound as regular curtains
Thermal insulating lining
Weighs 7.05 pounds
8 different colors to select from
---
4). RYB HOME Soundproof Divider Curtains
This RYB HOME soundproof curtain is another noise reduction curtain that comes with three layers that has a total width of  104 inches.
The first layer which is in front is pure white, the layer which is a detachable felt fabric lining in the middle, and the last layer at the back is the greyish white fabric.
So how does this curtain absorb sound?. Well the middle layer which is the detachable felt fabric liner in the middle of the three layers that make up the curtain is the one that absorbs the noise frequencies.
Then all the three layers no work together to dampen the noise and thereby creating a peaceful environment for you to live in.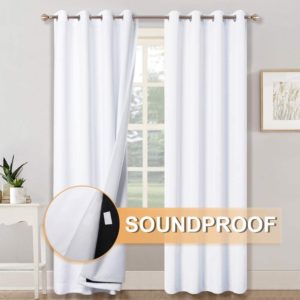 Hanging this curtain on your door will reduce any noise that is trying to find its way into or out of the room by absorbing some of the sound energy.
These curtains are also blackout curtains that can block any harsh light and UV rays. They also act as thermal insulation curtains by insulating the room against winter cold and summer heat. This help you save on electrical bills.
However, it is worth mentioning that these curtains alone cant block your high pitch road traffic noise that is coming into the room unless you add other soundproofing techniques to the door. Here is my recent post on soundproofing an apartment door that will help greatly.
Features
Two polyester panels
Each with dimension 52 inches wide and 95″ long
Absorbs twice as sound as regular curtains
Thermal insulating lining
Three layers curtain
100% blackout curtain
---
5). Sun Zero Barrow Energy Efficient Grommet Curtain
The Sun Zero Barrow energy efficient curtains can reduce noise energy of up to 25%. They are made of 100% polyester fabric just like the ones I mentioned above.
These curtains are also two-panel curtains with each having a dimension of 54″ x 95″. So they can also cover a door or window area of up to 104″ wide. The less wide the better the noise blocking.
If you have noticed already almost all sound reduction curtains have blackout and thermal insulation. This is because, for a curtain to be able to reduce noise, it has to be made of thicker and denser fabric that light can't penetrate through.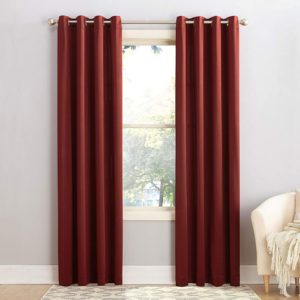 The thicker and denser the curtain is the better it will be at noise reduction. This also makes them good at thermal insulation.
This curtain's built-in metal grommets fit curtain rods up to 1.5″ in diameter. The curtains are similar to the NICETOWN curtains I reviewed above. They don't have any lining on them.
The outer color is same as the inner hence if you desire some more appealing color to appear on the outside, you may need to pair it with a curtain lining.
Features
Two-panel curtain with each panel sold differently
Multiple sizes and colors to choose from
Noise reduction up to 25%

Built-in metal grommets fit curtain rods up to 1.5″ in diameter

100% polyester
Blackout and thermal insulation properties
---
6). Deconovo Room Darkening Rod Pocket and Back Tab Curtain
These Deconovo curtains have a lot more beautiful and vibrant colors than the previous ones. But the interesting colors like blue, green and others get sold out quickly. If you are interested in such colors then you should purchase it as soon as possible.
These curtains also made with polyester material that is high-quality triple weave fabric and has the same color back and fronts. They have a silk-like texture that will give your room an opulent look if you hang them on the window or the door.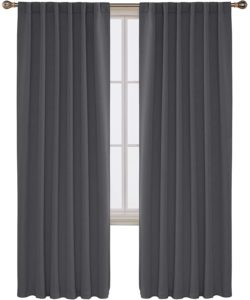 There are many sizes and colors for you to choose from depending on your style.
However, when it comes to the size, for noise reduction purposes, I recommend you choose a longer and wiser curtain that can cover the entire door from top to bottom. This way, there won't be any opening or space left open.
The ultimate set contains 2 panels with each having a width of 52 inches and 95 inches long. There are also 3 hanging styles to choose from which include: the back loops, rod pocket, or with your own clip-rings.
Plus, the added benefits of getting these curtains are the room's darkening properties and their energy efficiency. They lock out excess light and help converse energy.
Features 
Two-panels with triple weave technology
Many beautiful and vibrant colors
Back loop or rod pocket
Same color on both sides
Weighs 2. 65 pounds
Room darkening and thermal insulation properties
---
7). Best Home Fashion Basic Thermal Insulated Curtains
This curtain is also made with 100% polyester that uses the innovative triple weave technology. This design enables the fabric to lockout sunlight and harmful UV rays that may want to enter the room through any openings or gaps on the door.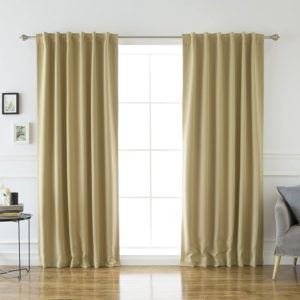 The Best Home Fashion Basic Thermal insulated curtains also feature both rod pocket and back tab hanging styles but there are no tie backs included in the package.
The dimension of each panel is 52″ W x 96″ L. so the Set is 104″ W x 96″ L. This is long and wide enough to cover your entire door to help in noise reduction, insulation and give you the privacy you deserve.
Features
Two panels curtains
Multiple colors and sizes to choose from
Thermal insulation and noise reduction properties
100% polyester
---
Advantages and Disadvantages of Soundproof Curtains
Soundproof curtains definitely have a lot of advantages but they also have a few drawbacks. It's the way it is with every product or anything. You will have good and bad sides.
Fortunately, soundproof curtains' advantages outweigh the disadvantages.
Hanging these curtains on the door or window will require a rod. These types of curtains are mostly heavy, so it is important to know whether your current rod will be able to support the heavy curtain. If not, get a new rod to hang them on.
Here are some of the pros and cons of noise reduction curtains for doors.
Pros
Noise Reduction: This is probably the main reason why you will want to use a soundproof curtain over the door. Due to their thickness and high density, they are able to absorb or block sound energy passing through them. In noise control, mass, and isolation matter.
Thermal Insulation: Soundproof curtains can help keep cold air out during winter while conversing the heat in the room for long hours. Likewise, during summer, the warm air is blocked out and the room remains cooler for longer hours.
Blocking Light: If you are a night shift worker you probably already know what this means. During the daytime, if you don't like excessive light in the room, then these curtains can black out the room for you especially if you want to get some sleep.
Easy to Install: Installing these curtains is like hanging your ordinary curtains. You can use a rod that can support their weight and install them.
Cons
Blocks Light:  Blocking light is an advantage depending on what activity is happening in the room at the set time. If you are working from the room, you might find blocking light out won't be convenient but if you are sleeping then, it's a good thing.
Final Thoughts Soundproof Curtains for Doorway
Soundproof curtains are versatile in use. You can use them on the doors, windows, and walls of any room. They are beautiful to behold and adds a visual appeal to the room. You have many beautiful and vibrant colors to select from to meet your style.
Using them on the door as a way to reduce noise is one way you can use them. However, you have to know that if you are dealing with serious noise issues, these curtains alone won't do the trick.
You have to add other door soundproofing methods like using a weatherstripping tape to seal the door frame, installing a door sweep at the bottom of the door, if possible even add the door soundproof panels to add more mass.
In a nutshell, soundproof curtains for doors can work but to a certain extend. If you are dealing with a not very loud noise, they can muffle the sound and absorb the echoes in the room making it quieter.
Latest posts by Josephine
(see all)