Top 5 Quietest Recurve Bow Models in the Market
Looking for the quietest recurve bow for hunting?. Great, then you've come to the right place. In this guide, you can expect to learn the following:
What a recurve bow is
How does it work?
Our top-rated quietest recurve bow picks
How to choose a recurve bow
How to silence a recurve bow
And more…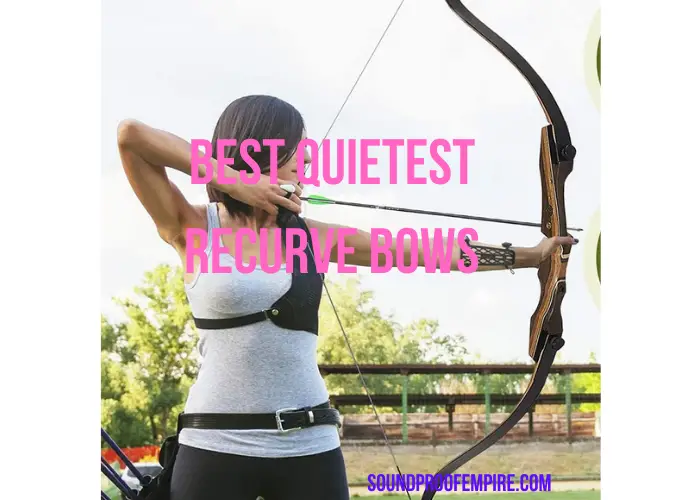 Quick Preview of the Quietest Recurve Bows
In a hurry?. I understand. Here is a quick preview of some of the top-rated quiet recurve bows in the market.
History has it that the first recurve bow originated from Asia and other also say it came from the Middle East. Some even claimed it was the ancient Egyptians who invented it first. There are a lot of different variance in the story.
Whatever their origin story, this bow is a compact style made for both hunting and archery that was found to be superior to the longbows used by western cultures.
Today, in this guide, you will find some of the recurve bows that are quieter when in operation. Finding a quiet recurve bow can be challenging for some people because of the many models in the market.
That is why I put together this guide to help you find the right silent recurve bow for your needs. Keep reading to find out more…
Also Read:
Best quiet crossbows in the market
Top-rated quietest zero turn mowers
What is a Recurve Bow and How Does It Work?
A recurve is simply a curved portion of the tip of the bow limb. Recurves can either be static (rigid) or working (bending).
A recurve bow is a type of bow with limbs that curve away from the archer when unstrung. When you compare a recurve bow to a straight-limbed bow, the recurve bow stores more energy and delivers energy more efficiently. This gives greater energy and speed to the arrow.
So how does a recurve bow work? while the string is contacting the belly surface of the recurve limb, the bow acts like it is a shorter bow. The bow behaves as if it is only as long as the distance between the two contact points of the string on the limbs.
Now, when you draw the bow and the string lifts off of the recurved limb, these contact points become farther apart, and the bow behaves as if it is getting longer.
This is the secret of how a contact recurve works…it is a short recurved bow that can be drawn as far as a longer, straight bow without losing leverage and without stacking.
Best Quiet Recurve Bows Reviews
If you are struggling to get a quiet recurve bow, here are some of the quietest recurve bows to consider.
1). Samick Sage Takedown Recurve Bow Package
The Samick Sage Takedown Recurve Bow was designed to be an affordable, all-around choice for novice to intermediate archers- a choice you learn on, experiment on, rely on, and hone in your skills.
This bow has the option to choose between right and left. There are also many draw options to choose from 25 pounds to 60 pounds draw. This allows you to choose one that fits you perfectly.

The bow is lightweight and highly durable with a comfortable ergonomic grip. It also features pre-installed threaded brass bushings for various attachments and upgrades such as a brass plunger, stabilizer, sight, quiver, bow fishing reel, etc.
This recurve bow has a total length of 62 inches and up to 28 inches recommended draw.
The only downside to this bow is that, some customers complaint of receiving used product.
---
2). SinoArt Takedown Recurve Bow
The SinoArt takedown recurve bow is also available in many draw weights from 30 pounds to 60 pounds with the option to choose either right-hand or left-hand bow from the hand orientation options.
This bow is also ergonomically designed with impressive rounded edges and a fine finished wooden handle making it very comfortable to use.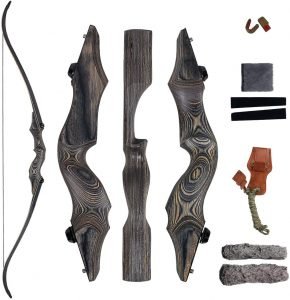 With its takedown feature, you can always be able to change your limb to increase the weight as you grow or decrease it. It is also recommended that for the best shooting experience, you shoot with a real feather arrow. The bow length is about 58 inches long.
---
3). Tongtu Takedown Recurve Bow
Best for Beginners
The Tongtu takedown recurve bow has only two draw weight options namely 30 pounds and 40 pounds and it is a right-handed recurve bow.
The bow length is 50.79 inches and the riser material is alloy. This bow is easy to use, and dissemble for storage when not in use.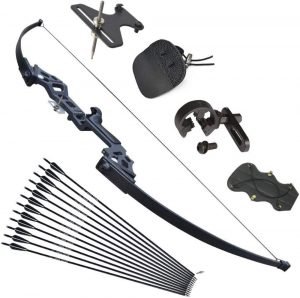 With its draw weights, you can take it with you for smaller games and it can be used by both beginners and intermediate bow hunters.
This Tongtu takedown recurve bow is a complete package to kickstart your hunting adventures.
---
4). Neutral Black Hunter Original Takedown Recurve Bow
The Neutral Black hunter takedown recurve bow is another quiet recurve bow that comes in two draw weight options; 40 and 45 pounds respectively. This perfect for hunting or target practice.
The bow is made of ergonomically designed high elastic fiberglass limbs and bamboo laminates, each joint between them is fixed with sturdy screws.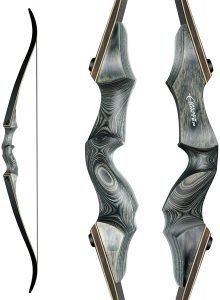 It is also easy to assemble and disassemble when you want to put it together for hunting or dismantle it for storage.
With the takedown feature, you can also change your bow limb to increase or decrease the weight. This product comes with a 12-month warranty.
---
5). KESHES Takedown Recurve Bow
This KESHES takedown recurve bow has a lot of bow options to choose from. From 15 pounds to 60 pounds draw weight options. This gives you a variety to choose from whether you are doing target practice or hunting.
You can also choose between right-hand and left-hand orientation. It is lightweight, elegant, and very comfortable to handle, making it perfect for both youth and adults.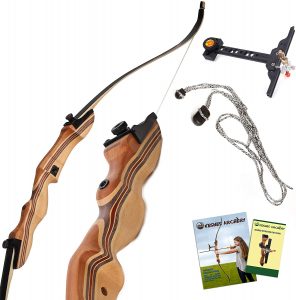 Also, whether you are a beginner or advanced hunter, you can choose a draw weight that will work perfectly for you.
It features pre-installed threaded brass bushings for any type of upgrades such ass brass plunger, stabilizer, sight, quiver, or bow fishing reel.
If you are looking for a budget-friendly quiet recurve bow, then this bow is recommended for you.
---
How to Choose a Quiet Recurve Bow
Choosing a recurve bow may be somewhat straight forward for a pro but rather confusing for a beginner because of the many models out there. So, if you are new to recurve bows and need some guidance in choosing your bow, here are some tips to help you.
Purpose
What do you want to use your bow for, target practice, or hunting?. The purpose will help you to choose the appropriate bow for the intended use.
For target practice,  pretty much any bow will do. You can choose any recurve bow that works fine for you and is within your budget.
For hunting purposes, it's not the same as target practice. Not every recurve bow is suitable for hunting. The main parameter that determines if you can hunt with your recurve is the draw weight on the bow, not necessarily the model.
The draw weight is the amount of force you need to apply to the bowstring in order to pull it over a distance of 28 inches. The higher the draw weight of your bow, the more powerful it will be and the farther your arrow will travel.
For hunting purposes, choose a recurve bow with a draw weight of 40 pounds minimum. For smaller games like turkey and rabbits, you can do so with 30 to 35 pounds draw weight.
But for larger pray, like deer, elk, you will need 40 pounds draw weight or more.
Noise Level
There is no doubt that most recurve bows are noisy. So, if you desire a quieter bow, then you need to pick one that is designed to work quietly. Luckily, there are models out there that are quiet especially the models I mention above.
Weight of the Bow
The actual weight of the bow itself also matters as just like the draw weight.  When hunting, you would often keep the hang the bow in front of you for extended periods. If your bow is too heavy for you especially as a beginner, you will need something you can handle comfortably. The majority of solid recurve weigh between 2 and 3.5 pounds.
Length
Generally, the longer the bow, the more accurate it is. So, if you want a bow that is at least twice as long as your draw length, if your draw length is 28 inches, then your recurve should be 56 inches or more.
Do You Want Accessories on Your Recurve
Bow sight and other accessories are options you may want to consider when getting your bow. Some bow comes pre-drilled for such attachments, and some do not.
You can choose to have these accessories or not. It will depend on you.