Top 3 Quietest Zero Turn Mower Picks
Looking for the quietest zero turn mower?. Perfect, then you've come to the right place. In this guide, you can expect to learn the following:
What zero turn mower is
How does a zero turn mower work?
Our top-rated quiet zero turn mower picks
Factors to consider when choosing a zero turn mower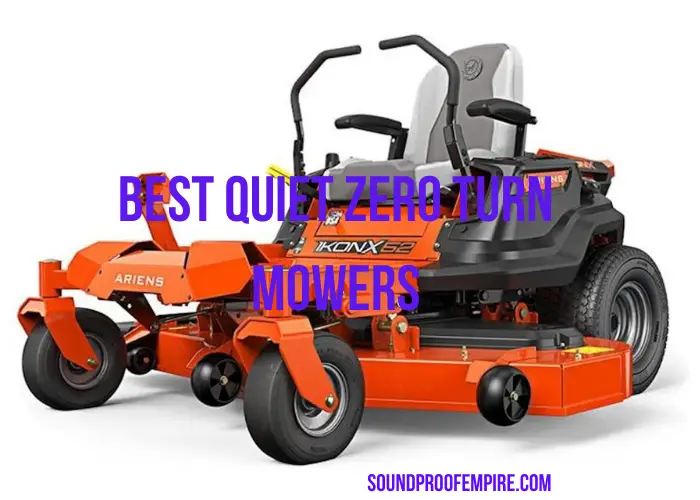 Quick Preview of the Quietest Zero Turn Mowers
In a hurry?. I understand. Here is a quick overview of the best quiet zero turn mowers in the market.
When it comes to speed, power, and maneuverability, zero turn mowers are ideal for keeping large swaths of grass tidy or even. They are ideal for getting into higher parts of your lawn on your estate. Zero turn mowers are also great machines for mowing sports fields, allowing for precision cutting of soccer pitches and football fields.
If you're a professional landscaper, then a zero-turn mower is a must-have machine for your business. Property managers or individual owners of large estates and farms will also benefit from having a zero-turn mower in the toolshed.
They are designed in such a way that they can pivot 180 degrees, so there's no circle of uncut grass left after you turn.
However, with all these capabilities also comes the noise issue. Some of the zero turn mowers are quieter than others. So if you are noise adverse and seek the best quiet mower machine that has low noise, then these lawn mowers are for you.
Also Read:
The quietest recurve bow  models 
What is a Zero Turn Mower?
A  zero turn mower is a lawn mower that has its mowing deck in front of the machine, rather than underneath like a traditional tractor. This type of lawn mower is great for people who dont necessarily consider themselves landscapers but want to look after their lawns.
It is a standard riding lawn mower with a turning radius that is effectively zero. Different brands and models achieve this in different ways but hydraulic speed control of each drive wheel is the most common method.
These types of lawn mowers exist in both commercial and homeowner models with varying engine power options, size of cutting decks, fuel type ( gasoline or diesel), and prices.
A  zero turn mower can be a riding mower, or a stand-on mower, or a walk-behind mower.  Most of them are four-wheeled with two large drive wheels in the back and two swiveling wheels in front.
Best Quiet Zero Turn Mowers
Here are some of the top-rated zero turn mowers that operate at a reduced noise while delivering quality cut, comfort, and performance.
1). Husqvarna MZ61 61 Inch 24 HP Kawasaki Hydrostatic Zero Turn Riding Mower
Big lawns are where zero turn radius mowers really shine. The larger the lawn, the more the ZTR ground speed advantage comes into play. In this category, you'll want to maximize your deck size, engine performance, and speed.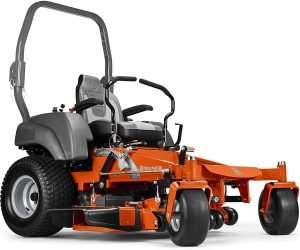 The Husqvarna MZ61 has a massive 61-in. cutting deck and a 24-hp Kawasaki engine with hydrostatic transmission, along with rollover protection. It also has a high-backed seat and vibration dampers to make the time spent on your mower as comfortable as possible.
The MZ61 mower is ready to handle your residential or light professional lawn maintenance.
2). Husqvarna New RedMax RZT  48 Inch Deck Riding Zero Turn Mower
This Husqvarna RedMax RZT Deck Riding zero turn mower features a Kawasaki engine that offers smooth, quiet, reliable power and comfort. The heavy-duty components used in manufacturing gives it a long life and an electric start as standard.
Also the individual, hydraulic wheel-drive provides very precise maneuvering and allows the mower to rotate around its own axis.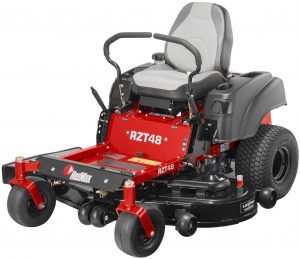 The robust selection in engine, drivetrain, decks, and components deliver commercial-like capability at home making it perfectly balanced for superior traction, featured with standard roll-over protection and seat belts.
This zero turn mower has 48 inches cutting width, 10-gauge fabricated cutting deck type, and cuttings methods include; collect, mulch, and side discharge.
Tackling difficult terrain won't be a problem for anyone who purchases this unit for mowing his/her lawns.
---
3). Ariens IKON-X 52 Inch Zero Turn Mower
This Ariens zero turn mower also features a powerful 23 hp/726 cc Kawasaki FR V-Twin engine which is designed to operate smoothly and quietly.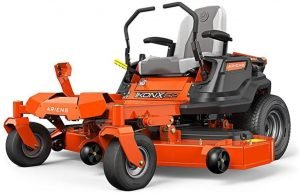 It has a high-back padded seat with armrests for comfort, dial-operated cutting height selection, fully tubular steel frame, and commercial-style 4-point dual-arm deck hanging system.
The 52" fabricated deck is 4½" deep and made of 11-gauge steel, makes it great for handling large acres of land in your residential or commercial property.
---
How to Choose the Quietest Zero Turn Mower
When it comes to choosing a zero turn mower, there plenty of options in the market. If you have decided that zero turn mower is right for you, then it's time to understand what to look for when stepping up to this new experience with your landscaping.
From offering superior cut quality with a comfortable ride to durable and easy to maintain features, there are several characteristics to look for when picking a zero turn mower for landscaping activities.
Excellent Cut Quality and Performance
It is important to choose zero turn mower that is going t give you the best cut possible without sacrificing performance. That means finer clippings, fewer clumps, and a uniform cut.  Since there are different brands and models in the market, it is important to choose a zero turn mower, you should pick a deck that is focused on maintaining a quality cut.
But it should also be easy to adjust from a height standpoint. Having a mower with superior performance is a major bonus.
Size
Generally, zero turn mowers often have a breadth of deck sizes. So you can choose the right size fr your lawn. When dealing with a larger yard with many acres of grass, choosing a larger deck will help reduce the amount of time it takes to mow your lawn.
On the other hand, when dealing with small yards, it isn't practical to use the same deck size as it will be impractical and limiting.
Noise Level
Lawn mowers are generally known for their loud amount of noise. With the many models out there, it's not easy to know which ones are less noisy if you are someone concerned with the noise levels.
Luckily, there are some brands that have factored noise into their manufacturing process so as to reduce the level of noise that a stand zero turn mower makes. All models covered in this guide are considered low noise compared to most brands in the market.
Comfort
It's nice to have a comfortable mower that has comfortable features like a high back adjustable seat with armchair, ample leg room, ergonomic rubber hand grips, seat isolators for a smoother, quieter ride on any terrain you need to work on. Comfortability is just as important as quality and speed.
Strength
Strength and durability are a must for any zero-turn mower you purchase. You'll want to look for a machine that's built on a strong frame, houses a powerful engine, and resists corrosion. Mowers that are built on a continuous square tubular frame will make for a strong, durable machine.
Style
Zero turn mowers usually stand out among the lot and are a thing to be a proud owner of. They offer an automotive-inspired compelling design that captures attention and exudes performance.
Therefore, style is a feature to also look out for like the cut quality, strength, comfort, maintenance, and style are some of the features to look out for when choosing the quietest zero turn mower for your landscaping.
Easy Maintenance
Maintaining your lawn machine will make it last longer. Because zero turn mowers are expensive machines and you dont want to be spending thousands of dollars every now and then to purchase a new one. Therefore, the model you choose shouldn't be a  headache to maintain. Mowers with maintenance-free spindles mean fewer parts to worry about while hinged floor pan also makes it easy to deck access.
Latest posts by Josephine
(see all)