5 Quietest Compound Bows in the Market
Looking for the quietest compound bow for your hunting adventures?. Perfect, you've come to the right place. In this guide, you can expect to learn:
What a compound bow is
How does it work?
Our top-rated quiet compound bow picks
Types of bows
Factors to consider when choosing a compound bow
What may cause noise in a compound bow
And more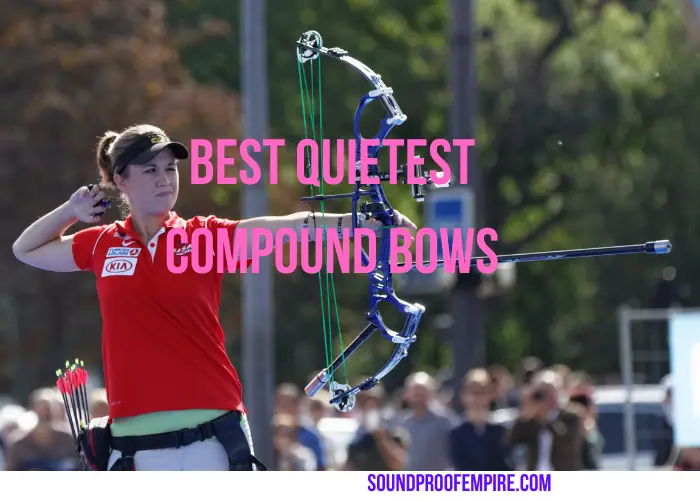 Quick Preview of the Top-Rated Quietest Compound Bows for Hunting
In a hurry?. I understand. Here is a quick overview of the best quiet compound bows in the market for your hunting adventures.
TOPOINT ARCHERY Daibow Momentous Compound Bow (Best Overall)
Sanlida Archery Drago

X8 Hunting Archery Compound Bow (

Best for Beginners

)

Southland Archery Supply SAS Outrage  Compound Bow ( Best for the Money)

iGlow Archery Hunting Compound Bow (Best Cheap)

Diamond Archery Edge SB-1 Compound Bow (Best Left-Hand)
Speed and noise are important to most archers. Picking a compound bow that fits you and your hunting style is a critical choice.
Not only will you have to carry your bow around for the entire hunting season, but it is also a huge factor in that deciding moment that ultimately determines whether or not you are successful.
Picking a bow that is the right choice for a given hunter is like an extension of their body. They can operate it smoothly and it is a precise fit for optimum efficiency.
Since picking the quietest compound bow, is important to you, here I have put together this guide to help you pick the right quiet compound bow for your hunting adventure.
With the myriad of compound bow options out there, it's a challenge figuring out which ones are the quietest. This article will guide you through the process and hopefully, you get the best silent compound bow you desire.
Also Read:
Best quietest crossbows in the market
What Really is a Compound Bow and How Does It Work?
Firing a bow is no longer a case of pointing it into the sky and lobbing an arrow into the distance. Now you can point your arrow at your target and actually hit it, thanks to the technology behind compound bows. Let's break down what a compound bow is and how it works.
A compound bow is a bow that has a pulley and levers attached to it. A modern compound bow uses a levering system, usually made of cables and pulleys to bend the limbs.
It uses mechanical systems to provide an advantage to the archer in terms of the energy they use to pull the limbs. This makes compound bow easier to draw shots than other bows.
In general, compound bows are widely used in target practice and hunting.
So, now how does a compound bow work?. Well, the goal of any type of bow is to take the force the archer puts into it and transfer that energy to the arrow. As you draw the bow back, you exert energy that is stored in the bent limbs.
When you release the bowstring, the limbs spring back to their neutral state, thereby exchanging their potential energy for kinetic energy that's applied to the arrow.
The more energy that is applied to the arrow, the faster it will go, and the faster it goes, the flatter its arc, and in bows, a flatter arc means better accuracy.
Best Quiet Compound Bow Reviews
If you are having a hard time finding the quietest compound bow, here are some options for your considerations.
1). TOPOINT ARCHERY Daibow Momentous Compound Bow
Best Overall
This TOPOINT ARCHERY compound bow is one of the quietest compound bows and is very quiet. There three different color options to choose from. Plus, this compound bow package comes with a lot of accessories to aid your shooting or targeting activities.
The arrows are also of decent quality.  This is a great bow package for those starting out, not only is it affordable, but it also comes with clear instructions to put it together nicely.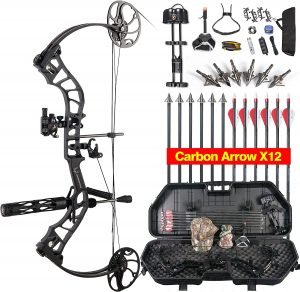 It comes in a very nice case. It's very thick and hard plastic that is very strong and durable. Inside it has a foam lining so there's a lot of protection from shock and it stays firmly in place so it can't move around.
The bow itself is of great quality, easy to adjust, durable and strong.
This bow is a right-handed bow and below are the specifications.
Features and Specs
IBO Rate:Up to 320 fps
Physical Weight:3.91 lbs.
Axle to Axle: 31″
Brace Height: 7″
Let-off: up to 80%
Draw Weight  and  Length: 19-70 lbs and 19 – 30″
String Length: 59.25″
Cable Length: 34.25″ x 2
---
2). Sanlida Archery Drago
X8 Hunting Archery Compound Bow
Best Budget-Friendly
This compound bow comes in two colors to pick from.  You may notice that it is labeled beginner package, but do not let that deceive you. It is a compound bow that is extremely capable and can be used by both beginners and advanced users.
It is a decent and affordable bow for those on a tight budget but wants a bow that is of good quality at an affordable price.

This bow shoots smooth and quiet. No vibration. It is also a light, easy to use and compact 30″ axle to axle ideal for the tree stand and/or ground blind.
Features and Specs
Axle-to-Axle:30″
Brace Height:6.6″
Draw Weight:0~70 LBS,
Draw Length:18″~31″,(Each 0.5″adjustment),
IBO Speed:310FPS
Net Weight:3.8 LBS,
String Length:58.13″
Cable Length:33.23″.
---
3). Southland Archery Supply SAS Outrage  Compound Bow
The bow features a 35" axle to axle, 30" draw length, 270 FPS. This compressed ABS limb spans balance, weight, and strength to continue the life of the bow.
This compound has a strong piece of layered limb used to draw weights up to 70 lbs. Loosening the bolt will decrease the draw weight by 5 pounds & tightening it will increase the weight by 5 pounds.
When the string is pulled back, the bow takes 70 lbs of force and it happens prior to the twin cam idlers activate. When the string is released, an arrow is launched at an outstanding speed of 270 feet per second.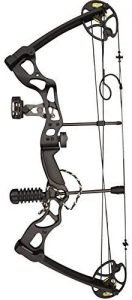 It is sturdy and comfortable to use which makes it functional for hunting. It is accurate and consistent right from the setup.
If you are the type that is interested in bow hunting or compound bow shooting, but when you see the price tags of the bows you are turn off, be no more. This SAS Rage is budget-friendly and gives you the best value for the money.
Features and Specs
Draw Length: 25″ – 31″
Draw Weight: 55 – 70 lbs.
Axle to Axle: 35″
Let Off: 70%
Max Speed: 270 FPS
Recommended Arrow: 30″ Carbon and Aluminum arrow recommended
Net weight: 4.4 lbs
---
4). iGlow Archery Hunting Compound Bow
New shooters may be looking to dive into the bow world without spending a ton of money. It's understandable when it comes to a new and expensive hobby like archery.
The iGlow 55 lb lets shooters try their hand and archery and have that opportunity to get hooked on tossing arrows down range.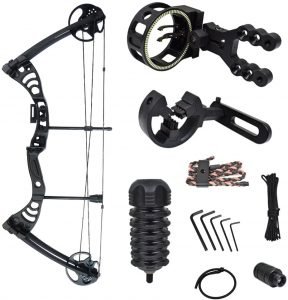 The bow doesn't come with fancy features that complicate shooting. It focuses on brilliant basics that will make you fall for it.
The bow gives an easy, accurate, and quiet shoot.
Features and Specs
Speed: 310 FPS
Weight: 4.4 lbs
Brace Height: 7.5"
Axle to Axle: 31.5"
Draw Weight: 40 to 70 lbs
Draw Length: 25-31"
---
5). Diamond Archery Edge SB-1 Compound Bow
When you are a left-handed shooter, it can be challenging to identify the best compound bow. And this is why we are presenting Diamond Archery Edge Sb-1 to you.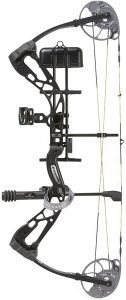 This is a quiet and powerful left-hand compound bow you should buy for yourself.
This bow will give you ease of use, accuracy, safety, and comfort. You will love every bit about it.
Features and Specs
Draw Length: 15-30″

Draw Weight: 10-70 lbs.

Speed: 315 FPS

Mass Weight: 3. 4 lbs.

Axle to Axle: 31″

Brace Height: 7″.
---
  The Different Types of Bows
There are quite a number of bow types that you can shoot. Here are some common and popular types of bows available in the market.
Recurve Bow
The recurve bow is so-called as, unlike the longbow which has one arc towards the archer, the limbs on a recurve bow curve away at the ends.  This curve stores and delivers more energy more efficiently than an equivalent straight-limbed bow.
LongBow
Just as the name suggests, it is quite tall and usually takes the shape of a curve. Unlike the recurve and takedown bows, it is not recurved. It has the advantage of allowing the archer to have a long draw, which gives the arrow a lot of impetus while on a flight.
Compound Bow
As already explained above, modern compound bows have metal risers and composite limbs.  The limbs are short and stiff and the string is connected to a pulley system mounted on wheels or cams.
Composite Bow
Composite and traditional bows are great fun to own and shoot.  Only in the World Archery field and 3D are they internationally competitive within the instinctive division.  Within Archery GB they are classed as recurve barebow.
Crossbow
This can be viewed as a highly mechanized bow. It uses the same principles as a compound bow, but it's mounted on a frame called a tiller. The bow-like structure, in this case, is called a prod.
It is handheld like a gun. The archer here must manually pull the string to a fixed position before releasing the arrow, in this case, called a bolt, with the use of a trigger.
American Flatbow
This type of bow is also referred to as the American Longbow, it was developed in the 1930s as an experiment against the English Longbow.
Modern American longbow uses laminations of fiberglass layers and carbon cores to create stable limbs that are fast and smooth to pull making it dependable.
Recurve Barebow
Barebow recurve archery is very popular in the UK especially in the field and 3D archery where it is an international division under World Archery rules.  It is also recognized in the UK for target and clout.
Takedown Bow
This type of bow is can be assembled and disassembled at your will. It has a simple composition comprised of a riser, the limbs, and the strings. The assembly usually takes place on the riser from where the limbs are attached. This makes it easy to transport compared to others.
 Factors to Consider When Choosing a Quiet Compound Bow
If it is your first time choosing a silent compound bow, you may not be sure what exactly to look out for.  That is why I have put together these tips below to guide you in your shopping.
noise Level
For some obvious reasons, the quieter the bow is the better. That is why almost all archers prefer a quiet bow over a loud one.
I believe you prefer a quiet bow too, that is why you are here.  Bow noise is mostly caused by the energy that does not get transferred to the arrow. This causes vibrational noise. When a bow is fired, the energy that was stored in the bow's working components gets transferred to the arrow to release it.
Thankfully, modern compound bow designs have minimized this energy loss that causes vibrational noise. You can also purchase a vibration dampener to absorb the vibrations from your bow and make it quieter.
Eye Dominance
The simple rule of eye dominance in bow shooting is to choose a bow for your most active hand. When you are shooting, one eye is seeing clearer than the other.
This is the dominant eye. It is important to choose a bow that matches the dominant eye. This is mostly the eye that you write most of the time with.
Draw Length
The draw length refers to how far you can draw back the bowstring.  Your draw length should not be too short or long. Generally, compound bows have a limit of the draw length before the string stops, the good thing is, most also have a  range that you can adjust to a comfortable to fit the draw length of the shooter.
Draw Weight
Most archers make the mistake of choosing a bow with the heaviest draw weight. Though it is good to have a heavy draw weight, if the draw weight is too heavy for you, it can be uncomfortable and lead to stress while trying to shoot.
If you are stressed while shooting, it will cause shakiness and lack of focus which will throw you off even if you a pro archer.
Axle-to-Axle Length
Perhaps the most important thing about bow length, or axle-to-axle length, its maneuverability and stability with the bow. You would base the desired length on the purpose you want to use your bow for.
Speed
The speed of a bow is measured in feet per second (FPS) that each arrow travels when shot. This is determined by the draw weight of the bow. The larger the draw weight, the quicker and farther the arrow will travel.
Other factors that also influence the speed of the arrow are; the archer's strength, external conditions like the weather, and the weight of the arrows you used.
Noise and speed are key elements of every shot for an archer, whether you are doing target shooting or practice.
Price Range
You will find quiet compound bows in all the price ranges. If you are a beginner you can start off with a cheaper bow, then upgrade later as your skills improve. However, you must be careful not to give up quality for the price.
Today, you can often find many cost-effective bows that are of high-quality and that will provide stellar accuracy. Getting the quietest compound bow with good speed will help you greatly in your hunting or shooting.