Quietest Crossbow:5 Best Quiet Models in the Market
Looking for the quietest crossbow for your outdoor activities?. Perfect, then you've come to the right place. In this guide, you can expect to learn the following:
What a crossbow is
How does it work?
Our top-rated quietest crossbow picks
How to choose a crossbow
How to make a crossbow quieter
And  more…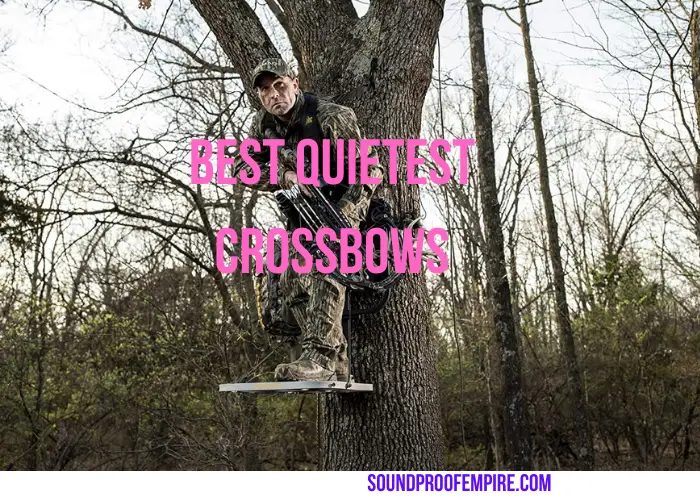 Quick Preview of the Quietest Crossbow Models
In a hurry?. I understand. Here is a quick preview of the best quiet crossbows in the market.
Barnett Whitetail Pro STR Crossbow (Best Overall)
CenterPoint Archery CP400 Crossbow ( Best for Beginners)

CenterPoint Sniper 370 Crossbow ( Best Budget-Friendly)

Barnett HyperGhost 405 Crossbow (Best Value for the Money)

Ravin R20 Crossbow (Best High-End )
A crossbow is a fascinating ranged weapon that dates way back. Many bowhunters prefer a crossbow due to its outstanding speed and power.
Crossbows continue to grow in popularity despite ongoing controversy. As technology continues to advance, we have seen different kinds of crossbows in the market and it seems like these devices are here to stay.
They are excellent tools for hunter retention and recruitment. Many vertical bow archers are aging and unable to shoot their bows effectively.
Gun hunters are using the crossbow as an introduction to archery hunting. First-time and youth hunters are also embracing crossbows as they lack the painful recoil and loud report of firearms.
Now, when it comes to choosing a quiet crossbow, it may be a challenge to some bow hunters. That is why I did deep research and put together this guide to help you find some of the top-rated quietest crossbows in the market. Keep reading to find out more…
Also Read:
Best quiet compound bows in the market
Our top-rated quietest recurve bows in the market
What is a Crossbow and How Does It Work?
A crossbow is classified as a ranged weapon that uses an elastic launching device that is similar to a bow. Generally, it consists of a bow-like assembly called a prod, mounted horizontally on a mainframe called a tiller, which is hand-held in a similar fashion to the stock of a long gun.
A crossbow and bows use the same launch principle. The only difference between a bow and crossbow is that crossbow uses a locking mechanism to maintain the draw limiting the shooter's exertion to only pulling the string into a lock and then releasing the shot via depressing a lever/trigger.
This not only enables a crossbowman to handle stronger draw weight but also to hold for longer with significantly less physical strain, thus potentially achieving better precision.
These two weapons harness the power of stored energy. When you cock a crossbow, the string pulls the prod's limbs closer together. This creates elastic potential energy. By releasing the string, the potential energy becomes kinetic energy and launches the bolt.
Best Top-Rated Quietest Crossbows Reviews
Here are some of the top-rated quiet crossbows in the market. I hope you find what you are looking for.
1). Barnett Whitetail Pro STR Crossbow
Best Overall
This Barnett Whitetail Pro is another quiet crossbow that can shoot an arrow at a speed of 400 feet per second. Barnett has a range of crossbows models in the market that are of great quality and makes a good companion in the field.
The Barnett Whitetail Pro crossbow is popular among hunters. It has a draw weight of 140 pounds and axle to axle width of 17.625 inches. The length of the stock is 36.5 inches and the overall weight is 6.9 pounds. This is perfect for your hunting activities.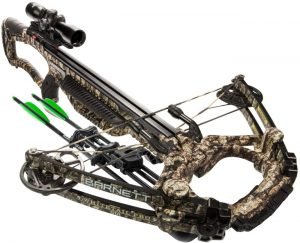 It comes with a patented step-through riser, string dampeners for quieter, smooth, and accurate shooting.
To ensure your safety, the crossbow is equipped with Nock Sensor and an anti-fry fire trigger system to eliminate dry fires, finger guard, and finger safety reminders. This is the best overall quietest crossbow in this guide.
Features and Specs
Draw Weight: 187 lbs.

Kinetic Energy: 140 Ft. lbs.

Power Stroke 16.375″.

Overall weight:6.9 lbs.

Dimensions: 36.5″ L x 20″W.

Axle to Axle 17.625″

Arrow Speed:

400 Feet Per Second
2). CenterPoint Archery CP400 Crossbow
Best for Beginners
This CenterPoint Archery crossbow combines cutting edge technology together with affordability in one package.
The CP400's extremely narrow axle-to-axle width is an incredible 6-inches when fully-drawn, produces speeds of up to 400 FPS, and generates a knock-out punch of up to 142 FPS.
This evolutionary design delivers amazing power and downrange accuracy and is lightweight and compact enough to handle with ease or carry into your favorite hunting spot.
Featuring anti-dry fire and auto safety, a unique dual-purpose folding stirrup/bipod, a 3x32mm illuminated scope, and CenterPoint Archery's 5-year limited warranty.
Features and Specs
Arrow Speed: 400 FPS with 142 FPS for downrange accuracy

axle-to-axle width: 6 inches

3×32 mm illuminated scope and rope cocker
---
3). CenterPoint Sniper 370 Crossbow
Best Budget-Friendly
Looking for a low budget friendly crossbow?. Well, then you will like the CenterPoint Sniper crossbow because it is one of the cheapest and affordable crossbows that is quiet.
This crossbow has good performance and its recommended for any hunter on a budget or anyone shopping for his or her first crossbow.
This crossbow features a fully adjustable stock and fore grip to accommodate your shooting style and it ensures great accuracy.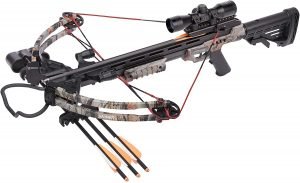 The quad limbs are fitted with a precision CNC-machined cam and a rail system that delivers speeds up to 370 fps, shoot-through riser, and narrow 18-inch axle-to-axle width when cocked. This Sniper 370 crossbow is easily maneuverable with comfortable 185-pound draw weight.
Additionally, the Sniper has integrated string suppressors to keep shots quiet and vibration-free. This weapon is also equipped with an anti-dry fire/ auto safety mechanism. This is my quietest crossbow pick on budget.
Features and Specs
quiet and vibration-free
Arrow Speed: 370 feet per second
Safety mechanisms are in place
18-inch axle-to-axle at full draw and 185-pound draw weight
---
4). Barnett HyperGhost 405 Crossbow
Best Value for the Money
The Barnett HyperGhost series are fast and features a new upgraded stock and  patented step-through riser with single bolt assembly and anti-dry fire TriggerTech trigger | Single Bolt Assembly allows for quick and easy setup.
This crossbow is good value for your money especially if you dont have plenty money to invest in a high-end crossbow but want something in the midrange price.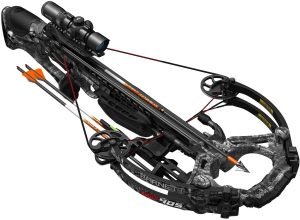 It delivers an arrow speed at 405 feet per second, Weight of 7.7 Lbs, Axle to axle width of 17.6″, Dimensions: 36.25″ X 20.37″.
It is also equipped with CNC machined aluminum flight track and Pre-Installed String Dampeners which makes the Hyper Ghost 405 extremely quiet and accurate. This is my top quietest crossbow with the best value for the money.
Features and Specs
Arrow Speed:

405 Feet Per Second

Weight of 7.7 Lbs

Axle to axle width of 17.6″

Dimensions: 36.25″ X 20.37″
---
5). Ravin R20 Crossbow
Best High-End
Ravin crossbows are popular among hunters and shooters because of their high quality.  This Ravin R20 model has an arrow speed of 430 feet per second which is very fast to be able to kill your target.
It also features a compact 6-inch cocked axle-toaxle with Helicoil technology. This crossbow only weighs 7.1 pounds making it easy to carry with you when you are hunting.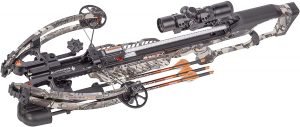 This product comes fully assembled and pre-tuned for ready to use when it arrives. Unlike other brands of similar price that you still have to spend time to put together.
The built-in mechanism and anti dry fire/auto safety protect both you and your crossbow. Although this product may be on the high end, it is worth the investment.
Features and Specs
Arrow Speed: 430 feet per second
6-inch axle to axle with Helicoil technology
Weight: 7.1 pounds
How to Choose a Quiet Crossbow
When choosing a crossbow especially if it is your first time, you may not be sure what to look out for. This can make you feel overwhelmed. Here are some tips to guide you to pick the right crossbow.
Type
There are two types of crossbows in the market. These are one-handed crossbow and two-handed crossbow.
One-Handed Crossbow – This type is lightweight, ideal for target shooting, small games, and hunting. IT is also low in price and the right choice for beginners and for kids.
Two-Handed Crossbow – Very frequent and universal in use. It is satisfactory for target shooting, fishing, hunting, and even military purposes.
Crossbow Weight
There are various heavier and lighter crossbows in the market.  It will be helpful if you considered your physical limitations when choosing crossbow weight.
Lighter crossbows are more compact and easy to move. Heavier crossbows are longer to focus but are steadier to shoot.
Arrow Speeds
There are crossbow arrow speeds between 265 to over 400 FPS. These arrows carry a lot of energy and smoothly pass through an animal and are safe to shoot.
The faster the arrow's speed, the flatter and farther it can shoot. Faster bolts ensure shooting better with mechanical broadheads as compared to fixed blade broadheads.
Cocking Weight
The heavier the draw weight is, the more speed an arrow will get. According to the cocking weight, the arrow weight and draw weight should increase. It means you have to pull the pressure until you reach the latch.
The heavier the crossbow is, the more extended advantage you have when it comes to shooting. As it alleviates the weight making it easier to put it in a cocked position.
Sizing
The size of a crossbow plays a crucial role in what you intend to use it for. If target shooting is your intention, then the size of the crossbow isn't that important. However, when hunting, you may want to choose a smaller crossbow because it offers more mobility.
The size of the power stroke is important to consider because a longer power stroke gives more challenges to shorter stature.
Also, if you are a beginner to crossbows and you select a giant crossbow, the more complications you may encounter. So, keep in mind when choosing a crossbow, you take the right size and weight.
Safety
Safety is important when it comes to handling firearms. You ought to consider safety when choosing our crossbow. Safety features like anti-dry fire and auto engaging safety.
Dry fire is when a crossbow is fired without an arrow in any place. This can cause more stress on the crossbow's limbs.
Thankfully, many modern crossbows have a mechanism in place to prevent the string release unless an arrow is in place. To simply put it, it doesn't this safety mechanism doesn't allow you to fire without an arrow.
Auto-Engaging Safety- This is the best feature keeping the trigger from releasing the bowstring. Many crossbows in the market also have these safety features that keep the trigger from releasing the string when set.
It automatically sets during the action of drawing the bowstring. It keeps the Crossbow safe until you are ready to put the trigger.
How to Make a Crossbow Quieter
If you are afraid your noisy crossbow will scare away your targets, then it is time you do something about it. If acquiring a quiet crossbow is much of an investment for you at the moment, then you can use these tricks and tips here to help make your crossbow quieter.
Install a String and Cable Dampening System
A string and cable dampening system will decrease string and cable slapping noise. Strings stops are becoming more and more common in the crossbow world. You can now find both high-end and low-cost crossbows with string stops. You can get a rubber silencer on the limbs to reduce the noise.
Get a Wrench
Check your crossbow to ensure all the fasteners on it are tight. This a very cost-effective way to reduce sound in your crossbow. Loose parts can create vibration at the time of the shot and vibrations are form noise.
Go Heavy
The sound of a crossbow is energy leaving it. The arrow leaving the crossbow also absorbs a lot of energy and also sound. That is why a dry fire of a crossbow makes a lot of noise.  By using a heavier arrow, more of the energy is transferred to the arrow and the is less energy left in the crossbow.
This is a great way to quiet your crossbow without a lot of work or expense. Sure, it will slow down your crossbow but the arrow will carry more momentum and hold its energy further downrange.
Keep your Crossbow Well Lubricated
A well-lubricated crossbow will not cause any friction between fasteners. So, it is important that you keep the crossbow well lubricated at all times.
Latest posts by Josephine
(see all)