Looking for the quietest electric fuel pump for your vehicle?. Perfect, you've come to the right place. In this guide, you can expect to learn the following:
What an electric pump is
How does it work?
Our top-rated quietest electric pump picks
Factors to consider when choosing an electric pump
And more…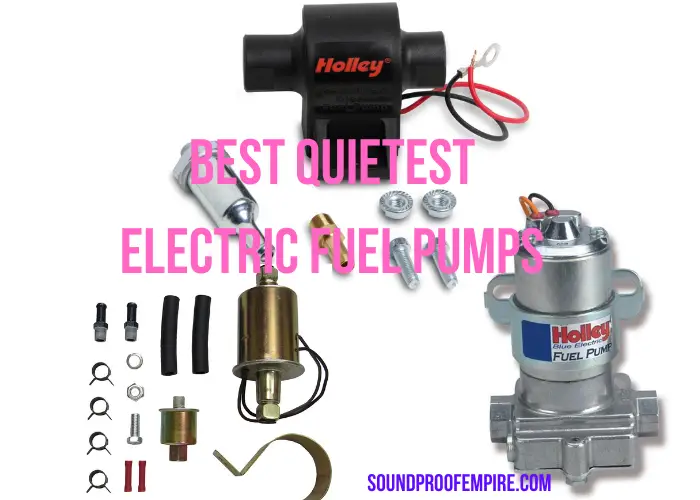 Quick Preview of the Quietest Electric Fuel Pumps in the Market
In a hurry?. I understand. Here is a quick overview of the top-rated quietest electric fuel pumps in the market.
Electric fuel pump is found in most vehicles today. With the many different brands and models in the market, it is easy to just shelf out a couple of bucks and gets one for your vehicle.
But if noise is a concern to you, then you will need to choose a fuel pump that has a quiet operation. Luckily, there are a couple of models in the market to help you achieve the quietness you desire from the fuel pump.
Today, we look at some of the best quietest electric fuel pumps that will help you choose the best for your needs.
Keep reading this guide to find out more…
Also Read:
Best quiet straight-through mufflers for your vehicle
What Really is an Electric Fuel Pump and How Does It Work?
An electric fuel pump is a device that is used on engines with fuel injection to pump fuel from the gas tank to the injector. Generally, they are mounted inside the fuel tank, though some may be mounted outside the tank.
Basically, the way the modern electric fuel pump works is that it utilizes a DC motor in the pump assembly to draw in the fuel sitting in the gas tank.
From there, it then sends it up the fuel line and into the fuel rail where it can be injected into a cylinder. Then from there, it mixes with air and a spark to create combustion.
There's a filter on the end of the pump that keeps any impurities in your tank from entering the fuel line.
Best Quiet Electric Fuel Pumps Reviews
If you are looking for a quiet electric pump for your vehicle or machine, these quietest electric fuel pumps will interest you.
1). Carter P4601HP In-Line Electric Fuel Pump
This is a perfect electric fuel pump for people who are looking for a quiet 14 to 66 PSI output. Carter is a pump that will give you all that plus a 100 gph free flow.
This Carter fuel systems universal fit rotary vane pumps are internally regulated, the free flow design prevents no shaft seals leak and no burnout.
It is suitable for Carbureted Street/Strip applications that can be used with leaded, unleaded, or diesel fuels.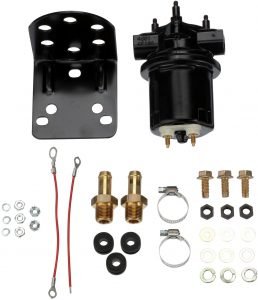 And to make the installation easier for you, the pump comes with a simple to follow installation kit with all instructions – you won't worry about installations.
This is a pump that will deliver solid performance and quiet operation. It's a pump for anyone looking for a medium- to- high-pressure application and needs a steady flow of fuel.
---
2). Holley Blue Electric Pump W/O Regulator
Here is a classic pump that will perform well and quietly. If you are looking for a superior pump that will give you powerful performance and yet produce less noise.
All thanks to its lower housing casting, the fuel flow is constant without any pulsation and it operates quietly.
The motor draws only 3 amps of current to run effectively, so you dont have to worry about the pump been a drain on your vehicle power.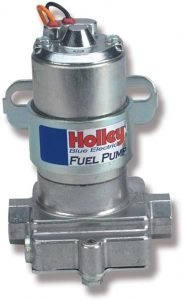 Holley pump delivers a 88 GPH and 110 GPH free flow at 9 psi. At it's highest performance, the pump delivers 14 psi, enough pressure to supply enough fuel to your engine even when working at it's maximum.
The pump is designed for Methanol and alcohol fuel. Plus, the rotor/vane pump design makes it more tolerant of contaminated fuels.
If you want a high-performance electric fuel pump that can work with your boat, car, or any other automobile, then this Holley quiet electric fuel pump is a great choice.
---
3). Holley 12427 Fuel Pump
This Holley fuel pump is ideal for carburated applications and can deliver from 4 to 7 psi, making it great for low to medium applications.  It is compatible with all fuel types. This makes it a versatile pump for anyone who is looking a pump that can work with different fuel types.
Holley is a well-respected brand that is of high quality and durable to stand the test of time.
This fuel pump is very affordable, budget-friendly, and goes for less than $60.
With regards to its installation, the instructions are straight forward and it is easy to install by yourself without the help of any professional.
Overall, this electric fuel pump has a quiet operation and you won't hear any noise from it when the engine is running.
---
4). Autobest F4027 Externally Mounted Universal Electric Fuel Pump
This electric fuel pump from Autobest is a universal fuel pump that can fit any vehicle and it's externally mounted unlike the other brands above.
This is also one of the cheapest electric fuel pumps that are under $50. So, if you are really tight on budget but require a decent quiet electric fuel pump, then this pump is recommended for you.
This pump is lightweight just about 1 pound.  It is one of the most popular pumps that is quiet for carburated low-pressure engines. Whether it is a diesel or a gasoline fuel type engine, it will work perfectly.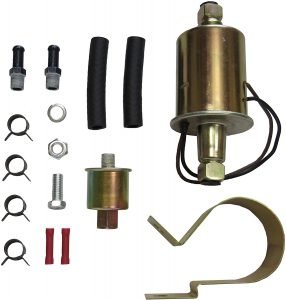 It delivers a pressure of 4.5 psi and a constant flow rate of 30 ghp when connected to its 12V source.
For ease of installation, the pump comes with a mounting bracket, installation hardware, and clear installation manual.
Another great feature of this fuel pump its ability to tolerate ethanol and this makes it a perfect choice for modern fuel systems.
---
5). Aeromotive A1000 Red Fuel Pump
This Aeromotive red fuel pump is durable, reliable, visually appealing and it supports high horsepower of up to 1500 HP.
This fuel pump is a perfect option for the daily driver. It supports naturally aspirated engines up to 1300 HP with EFI  and up to 1500 HP carburated.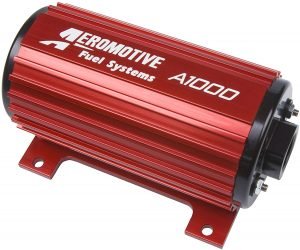 It also supports forced induction engines up to 1000 hP with EFI and up to 1200 HP carbureted. Even though this pump is compatible with other engine fuels, it is not suitable for diesel fuel.
If you are looking for a high-end quietest electric fuel pump that supports high horsepower, then this electric fuel pump is recommended for you.
6). Airtex Universal Electric Fuel Pump
If you are looking for an electric fuel pump with low PSI for carbureted vehicles, look no further. This is a quiet electric fuel pump that will fit different trucks and cars.
The check valve upgrade provides optimal flow while reducing pump noise, and the isotropic super-finishing provides lower amperage draw and quieter operations.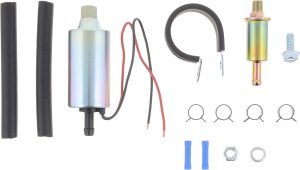 The pump operates quietly.
It is a durable product that is made of solid metal hence it is a preferred pump for most low power but tough vehicles like tractors.
This is another affordable fuel pump that gives a good performance.
---
Factors to Consider When Choosing The Quietest Electric Fuel Pump
if it is your first time purchasing an electric fuel pump and you don't have any mechanical expertise, you may not know what to look out for. Here are some important factors to consider when choosing the quietest electric fuel pump.
Purpose
What do you intend to use the electric fuel pump for, is it for small or heavy-duty machines?. Clarifying this will enable you to choose what kind of fuel pump would be suitable. There is no need to invest a lot of money in a pump for heavy machinery if is only going to be used for a small car.
Compatibility
This is an important consideration you need to keep in mind before buying your electric fuel pump. Choosing a fuel pump that is not compatible will render your pump useless.
Luckily, most marketplaces like Amazon will list the models that the particular fuel pump is compatible with to prevent mistakes. The filter needs to be able to fit on your engine.
Fuel Type
Some electric fuel pumps are designed to work with specifically certain types of fuels. While others can work with different types of fuels. So, before buying any filter,, you need to check carefully whether it can work with your fuel type on your engine. This will ensure that you buy a fuel type that matches the fuel in your engine.
Reliability and Durability
After buying the electric pump, it should perform the purpose which you intend it to. Fuel pumps are the most critical part of any machinery. If it doesn't function, the entire machinery will fail to function also.
So, it's important to buy an electric fuel pump that will do the work that it's intended to. You wouldn't want your vehicle to breakdown on the road.
With regard to durability, you need something that will last longer and has some sort of warranty to cover it. This will prevent frequent purchases and also save you money and time.
Installation
A pump that is easy to install will save you a lot of problems and the need for a professional. Some pumps are installed inside the tank will others are installed outside it. You will need to decide which one works best for you.
Price
You will find electric pumps with different price ranges. Some on the lower end will others are quite pricey. It will all depend on your budget and how much you are will to invest in it.
First list the non-compromising features and then check for those features in the pump you want to acquire.
Why is My Electric Fuel Pump So Loud?
Fuel pumps are not exactly noise-free when operating, they usually make some whirring noise in the course of their proper operation. This noise is commonly drowned out by the running engine.
These common noises can easily be heard briefly when the key is first turned to the " IGN) position with the engine off. At that point, the pump is priming the downstream fuel delivery system.
Any other noise from the fuel pump should be considered an advanced warning. Here are some noises that you should pay attention to.
Clattering, Knocking, and Grinding Noises
This kind of noise is heard when the impeller comes loose from the armature. A knocking noise will be heard If the bearings fail, and you will hear a grinding noise if contaminants enter the pump from the tank.
Other Common Issues
If you are hearing other noise especially if the noise is noticeable when the tank is close to empty, but not when it is full, there is a high chance there is a pre-pump in-tank filter assembly in the system that primes the main fuel pump.
Usually, in-tank pumps rely on their submersion to remain cool. So, if your vehicle is operated with low fuel levels, the in-tank pump is likely to fail prematurely.
Latest posts by Josephine
(see all)